Agents Of S.H.I.E.L.D. Takeaways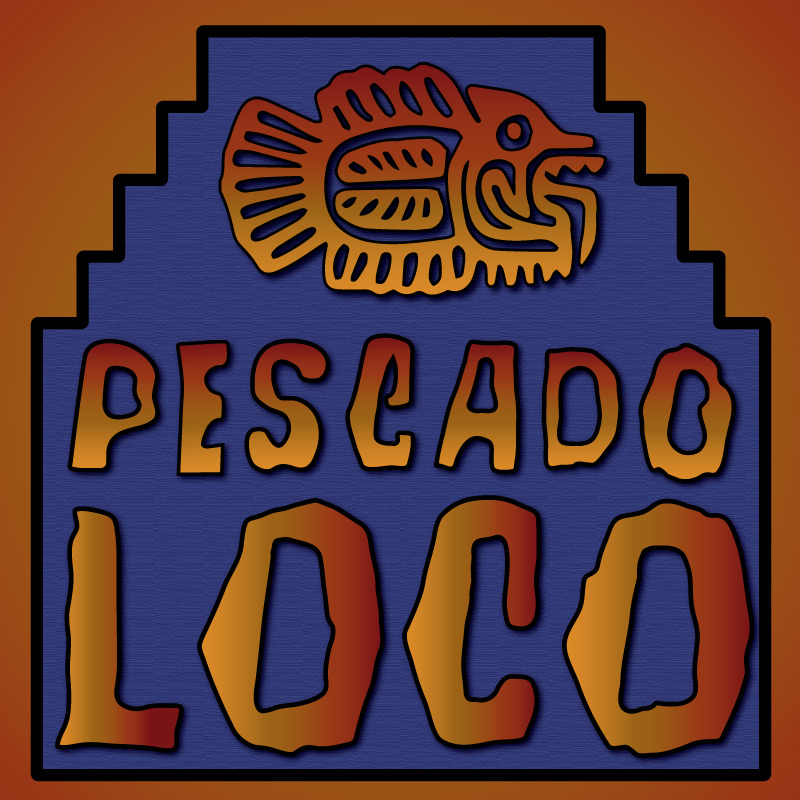 A couple of possibly related things in the Agents of SHIELD universe, first is my version of the Pescado Loco (Fish Crazy) takeaway shop logo that has been seen a couple of times in AOS.

It was spotted in the second season when Simmons was undercover in Hydra, and again later when Talbot's wife was accused of being Agent 33 in disguise.

Anyone thinking of Breaking Bad's Los Pollos Hermanos ?.

I created this after that early episode but only posted it on Twitter before as I thought it would be done after that episode.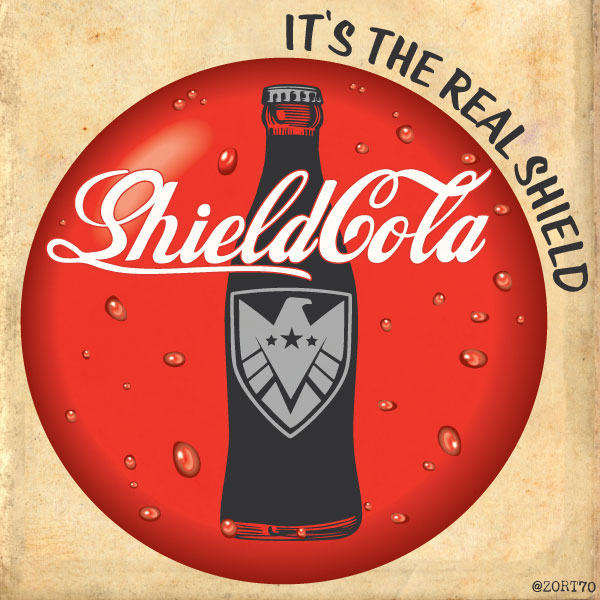 The second thing is possibly a beverage that might be served in the fast food restaurant :-)

The idea was triggered by a discussion on the Phantastic Geek Agents of SHIELD podcast, when they were discussing the introduction of the "Real S.H.I.E.L.D." organisation.

"SHIELD Cola, It's the real thing"
The 100 Marcus Kane Quote T-Shirt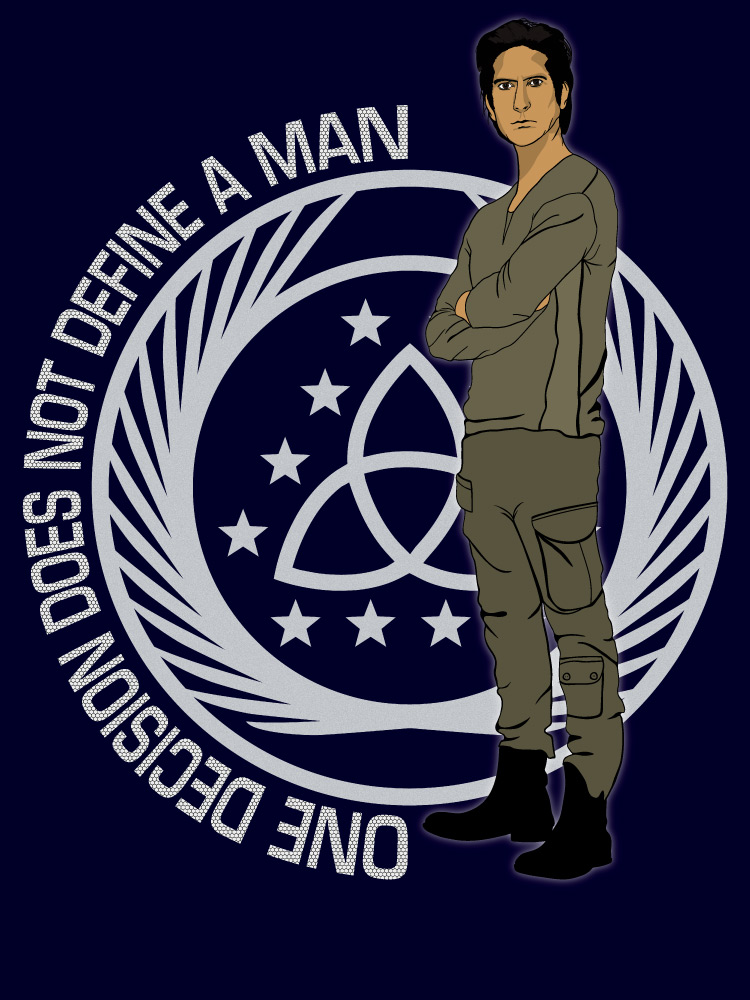 Something for fans of The 100, a Marcus Kane quote t-shirt design.

Set on top of the ARK Guard logo and the quote text has a hexagonal pattern to echo the 100 logo.

Below is a close up of Kane

I have put this up for sale on my Tee Public store along with a few other designs that are only available there.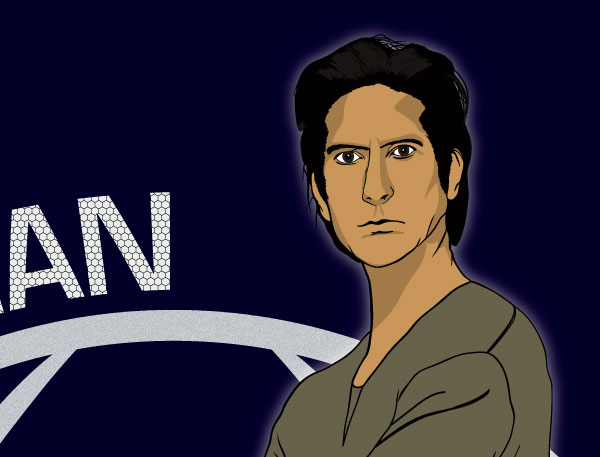 2015 Solar Eclipse
I took a few photos from our garden in Staffordshire, and stitched them together into this animated GIF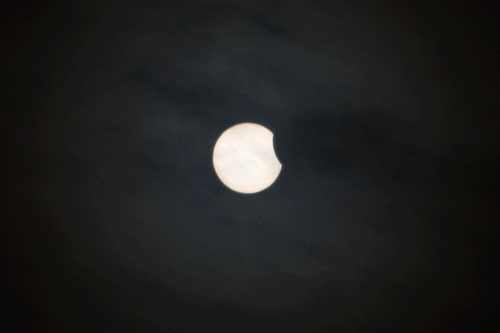 Defiance- Tarr Traxx Records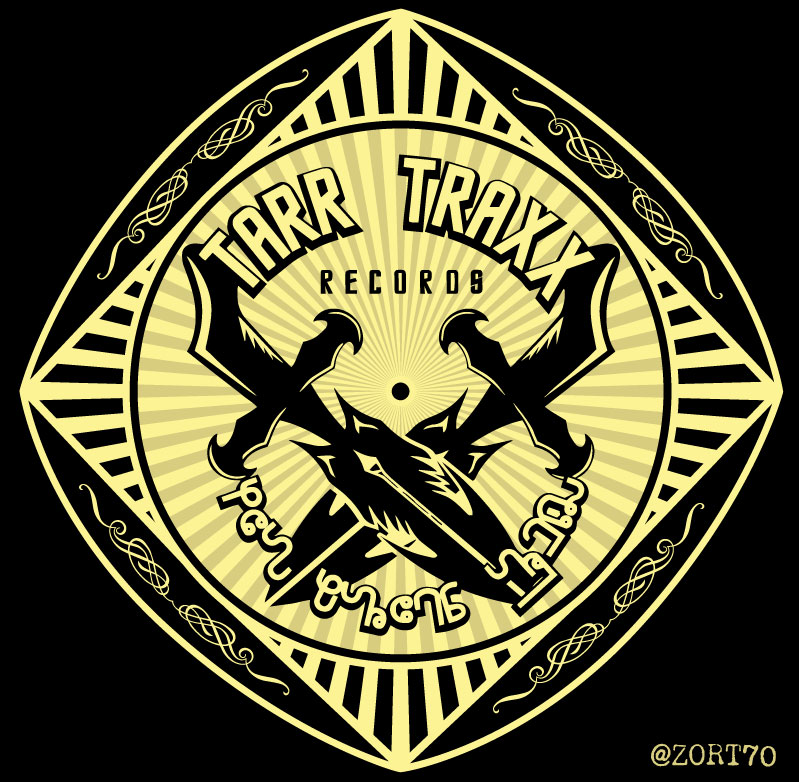 In the town of Defiance it is so hard to make a "legitimate" living, but one young Castithan man is making a name for himeself

Tarr Traxx, the new Hip, Groovy name in music.

This t-shirt design is now up for voting on -

Qwertee

Tee Busters

Thanks for taking a look, and any votes that come my way
Arrow Ale - It Has Never Failed This City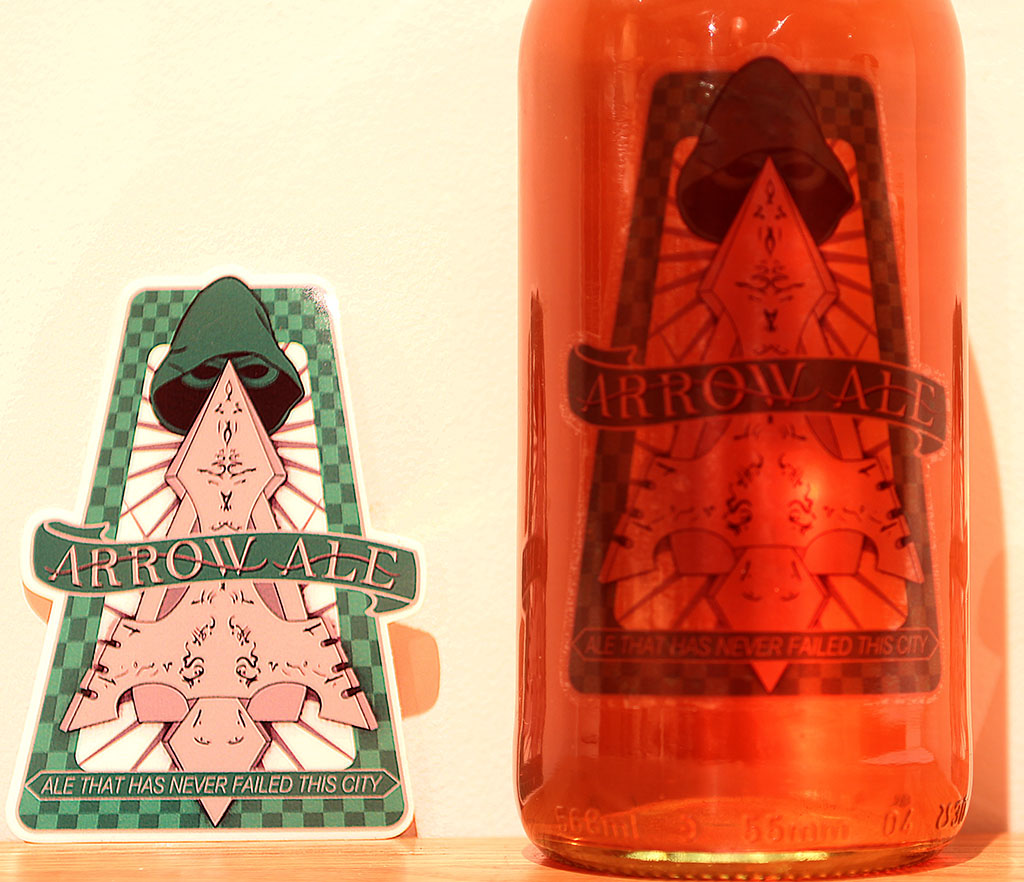 **Update** I thought it might be cool to get this design printed on a sticker that you could actually put on a beer bottle so had a couple of prototypes printed.

To my surprise when they arrived the few had turned into many as the printing company had printed 10 times as many as I ordered !

However their mistake is your good fortune, I have put these up on my Limited Editions Store and the first 50 people that use the discount code "ARROWZ70" will get their sticker for free !!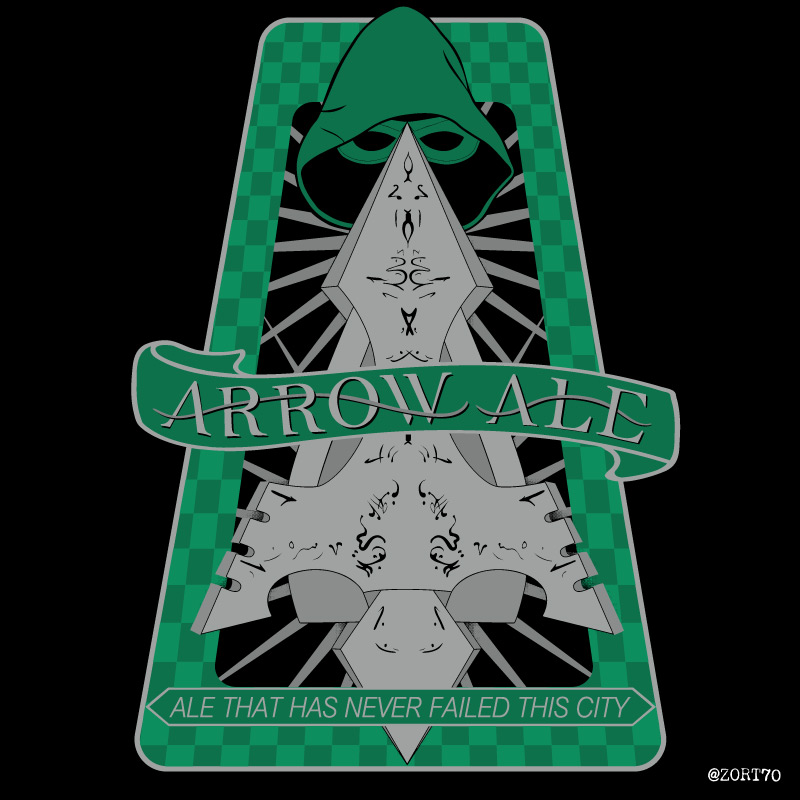 What do vigilantes in Starling City drink ? As you can see they drink Arrow Ale !

An idea I had when waiting for the second half of season 3 to start after the Christmas break.

I had an idea a while ago to recreate the arrow that is now part of the season 3 opening credits, that along with the idea for a pun / motto with Ale and Fail in it.

The original motto was going to be "We have Ale'd this city" but ultimately decided against that as it might have been too much of a stretch.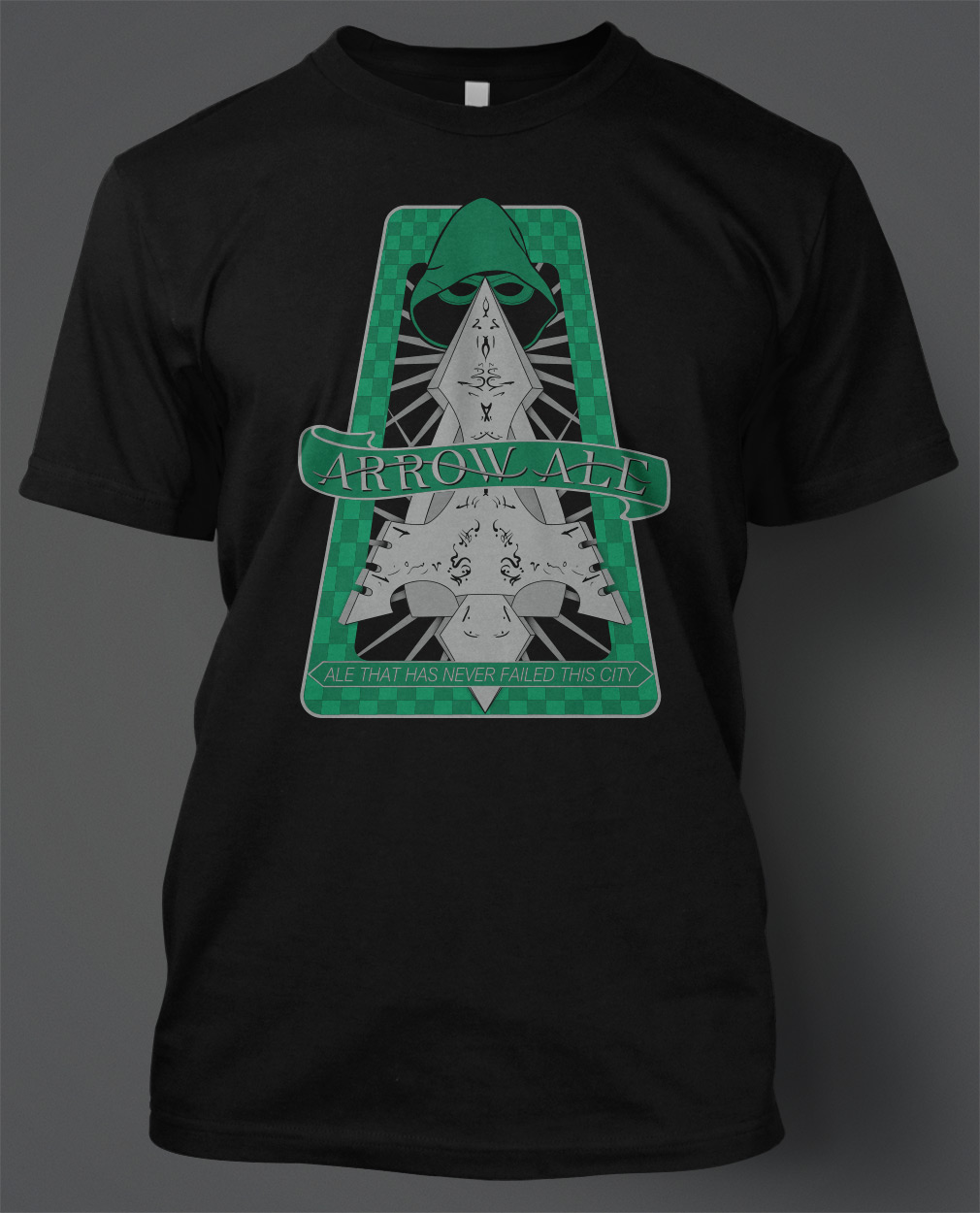 I have submitted this to some t-shirt voting sites, I very much appreciate any and all votes -

Vote at Qwertee

Vote at Tee Tournament

Vote at Tee Busters


Reddit Doctor Who T-Shirt Competition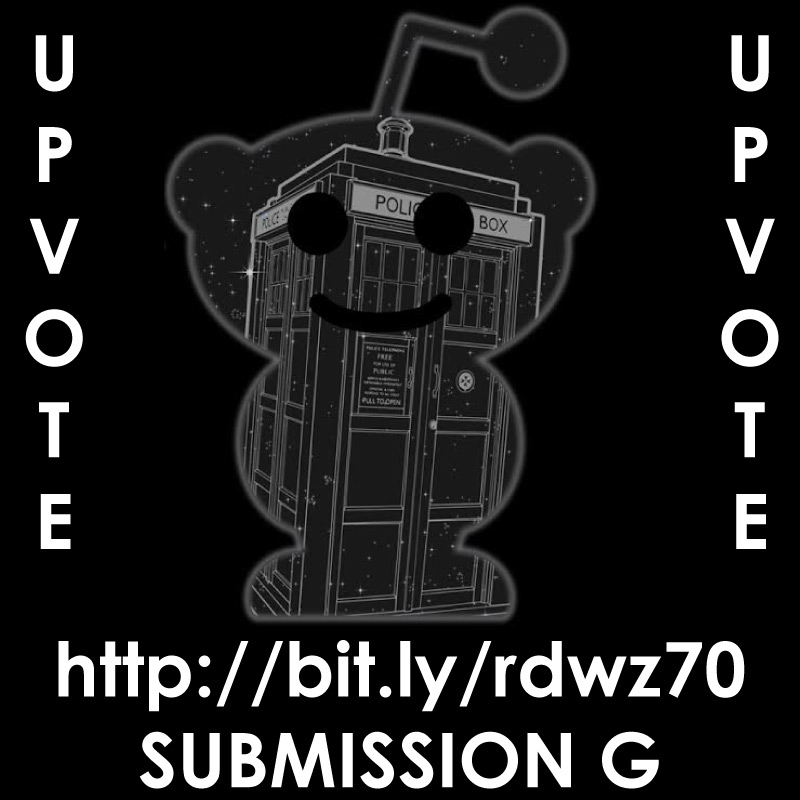 A little while ago I saw that the Doctor Who subreddit were having a competition so I thought I'd have a go.

The competition is to design a t-shirt for the r/DoctorWho subreddit that will be sold in aid of Doctors Without Borders.

So if you like my design or want to see what other designers have done, visit the competition page and upvote at least one of the designs to show support.

If you want to read the original competition details this is the page to visit
Dominion Senate Houses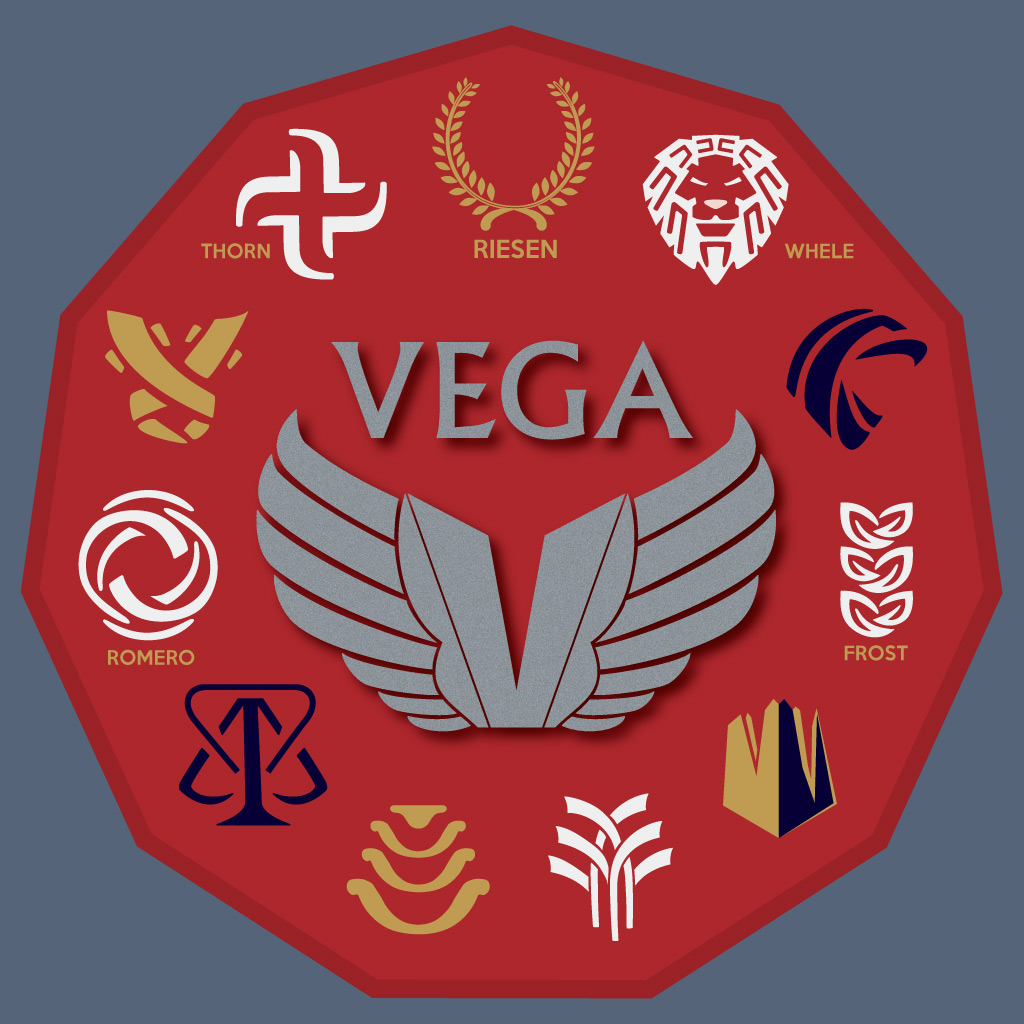 After watching the very satisfying conclusion to the first season of Dominion I have to say I was impressed by the whole story arc and multi dimensional characters.

While watching I loved trying to spot all the emblems that represent the senate houses, I managed to find all 11 in the end, although one came from the SyFy Welcome to Vega website . Not 100% happy with all of them, but they are the best I think I can get based on the limited screenshots I have managed to grab.

I sent a few tweets out with the simple version (below) and the Dominion Fan Site DominionFans.com asked me for a higher resolution version, with the names of the houses, for their fan art pages. The first problem is that I don't yet know all the house names, and I certainly don't know which emblems relate to which, so I have only added the ones I am sure of for now.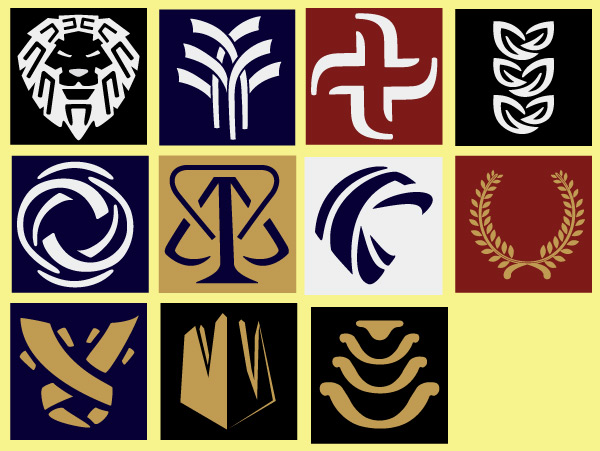 I decided to create something else to be a little more arty, and the design above is the result. It features the senate house emblems and the logo of the Vega military. I'll update it when more senate names / emblems can be matched.

One final thing or now is that I have created a new Dominion category page on this website so you can simply jump to all the posts relating to it that are posted here.
Phantastic Geek - New Logo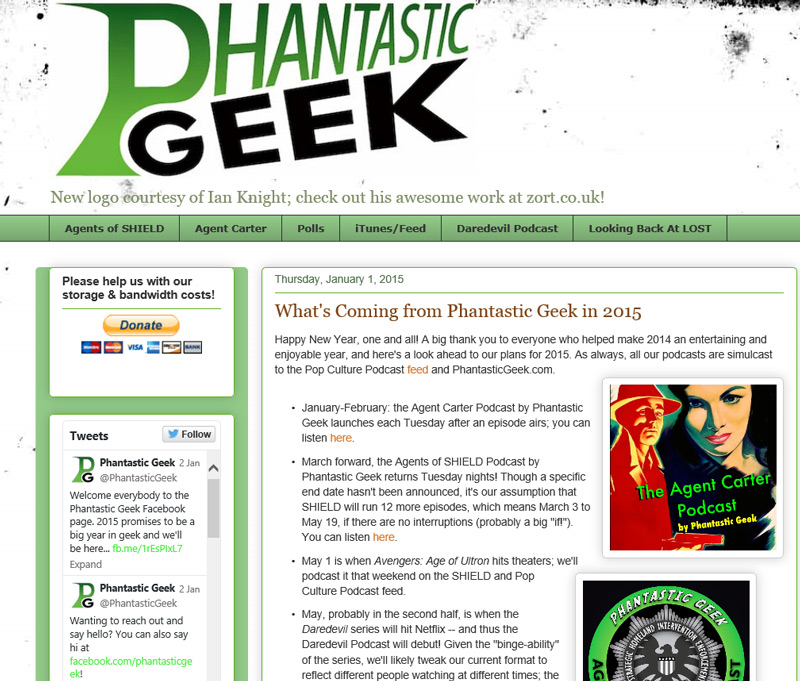 As you may have seen in the past I have created a couple of things for Matt and Pieter the excellent voices behind the Phantastic Geek Popculture podcast.

A little while ago they asked me if I could have a go at designing a new logo for the website and associated icon for the social media feed. I was happy to give it a go and after coming up with a few ideas the general shape and style was decided.

A few more refinements and tweaks and things were good to go, there are more variations available to the guys, but I'll let them reveal them as and when they want to.

The new logo was launched at new year and it is great to see it on screen and get some great feedback from the podcast listeners.

So head on over to PhantasticGeek.com to see it in action and to listen / read what Matt and Pieter have in store for you in the coming year. I have to say I am excited for Agent Carter and will definitely be listening in to see what they have to say about it and find out all the connections and references I usually miss !

They have also launched a new Facebook page and there is a competition in January if you like the page plus their is currently something else I designed in an idle moment or two over there.
We Can Narf It !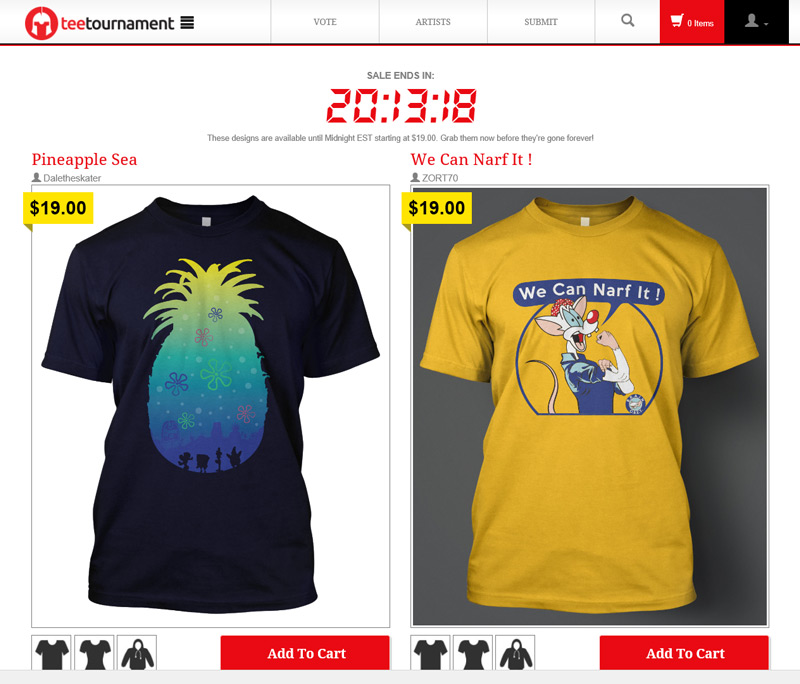 The daily site Tee Tournament have picked me again and now have my We Can Narf It ! t-shirt design up for sale today (30/12/2014)

So go grab yourself a new year bargain, especially as this is on a yellow shirt which is quite rare in the t-shirt printing world.

Head on over to Tee Tournament to get your hands on one while they are on sale.
Dont Touch Lola - T-Shirt For Sale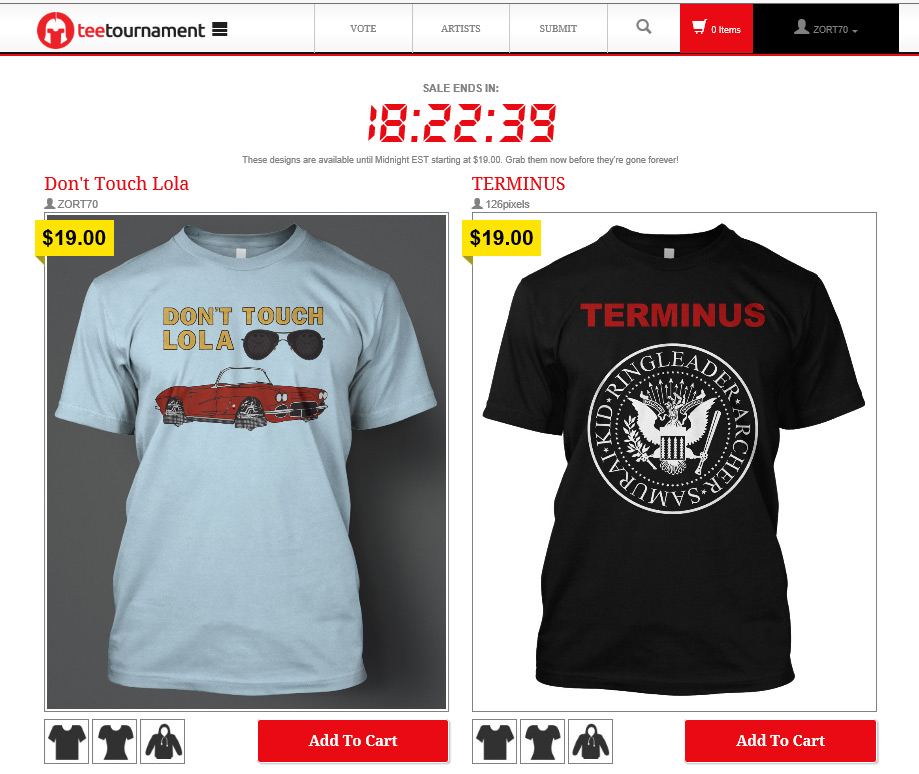 New player in the limited edition t-shirt market Tee Tournament have my Agents of S.H.I.E.L.D. Don't Touch Lola t-shirt up for sale today !

Head on over to their website to take a look and purchase it.

It is going head to head with a Walking Dead t-shirt design, so any support would be appreciated.

Below is the original version of this, originally conceived as a poster design, but never put into production.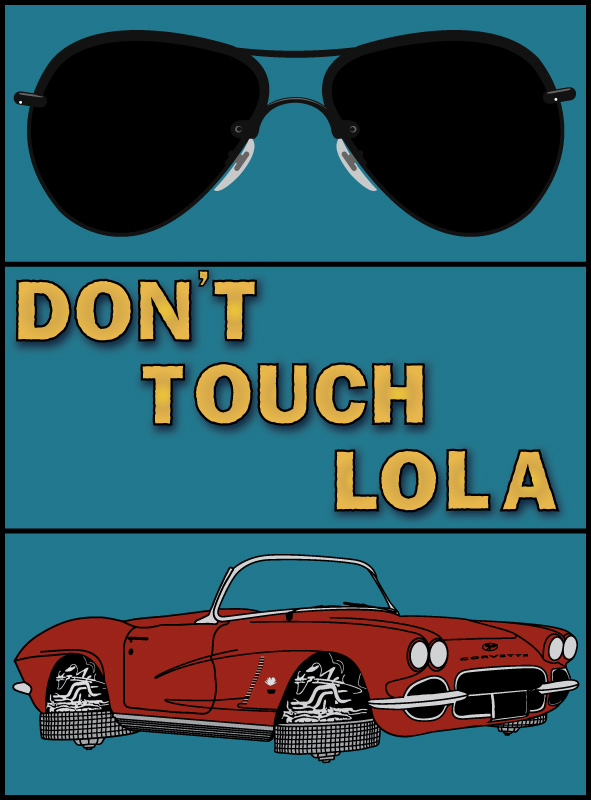 LOST 2014 in 3D !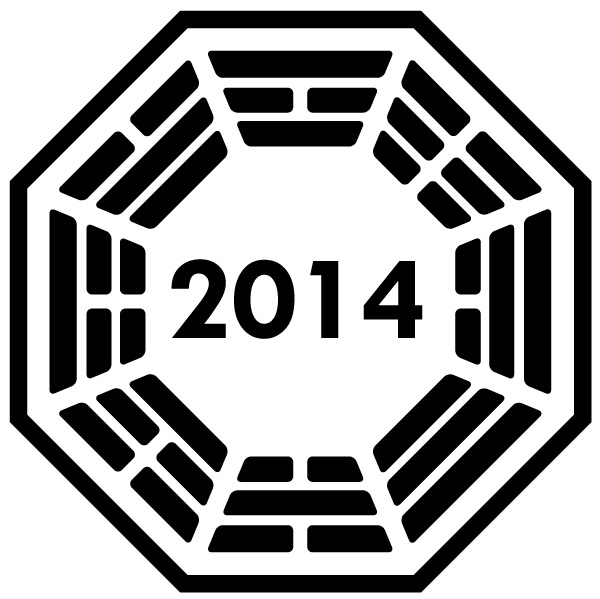 This is another thing I created for LOST 2014, although I kept it as a surprise until I got to Hawaii as I wanted to present Kelly (event organiser), Jo Garfein and Jorge Garcia with what I had created.

The idea was simple, turn this flat image (left) into a 3D object and get it printed.

Problem, first I needed a 3D model to print, and although there are a few models out there of the DHARMA logo that are free to use, I wanted this one to have LOST on one side and 2014 on the other, which none would have. The second issue is finding someone to actually print it.

The first problem I tackled by using Adobe Photoshop and teaching myself how to use its 3D capabilities, someone I had met through all the Fringe and Almost Human activity over the last few years works for Adobe and regularly posts articles and information about its 3D capabilities on Twitter (@Nikolai3D), he gave me some great tips and pointers.

I wouldn't call myself an expert yet, but I did manage to come up with a model that looked pleasing to me, I worked out that the 3D object although simple in 2D was made up of many parts that needed aligning in the 3D world.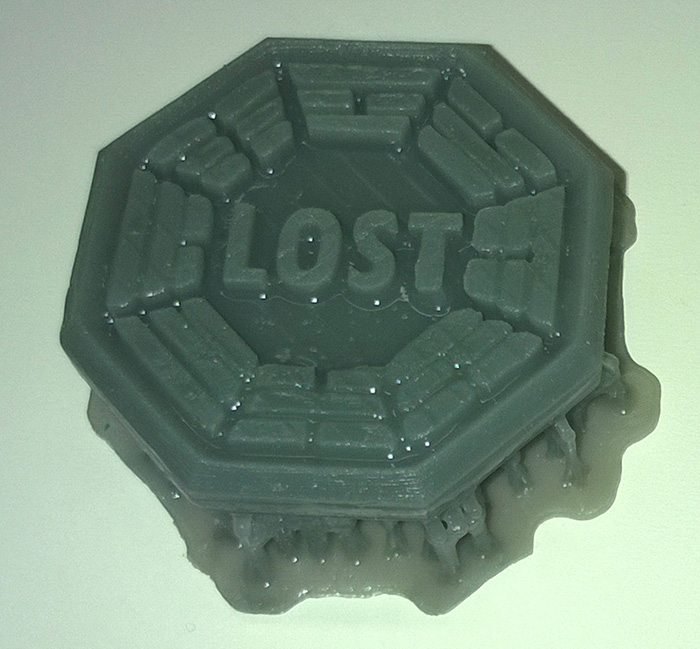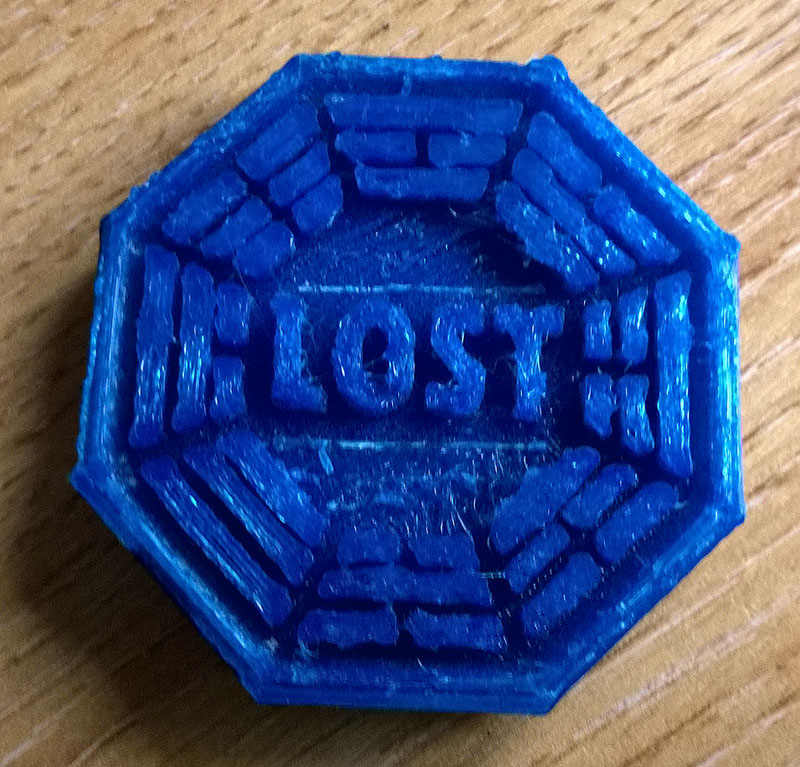 Next was the printing of the object, after searching around I found 3D Hubs. They are a central website resource, where you can upload your model and get quotes from many independent people that have 3D printing equipment around the country.

The first people I looked at were based in Sheffield, and as I was going there on business regularly and the printer was just down the road from the office I asked them to print it.

They produced two samples one in Resin (Left) and one in ABS Plastic (Right), these are test prints before going ahead with the full order I wanted and the Resin one looked good, but the plastic one looked fairly poor quality.

I agreed to ahead with the resin version and waited for my order to be completed, unfortunately I waited a long time and after several email exchanges I was told they would not be able to produce the requested order.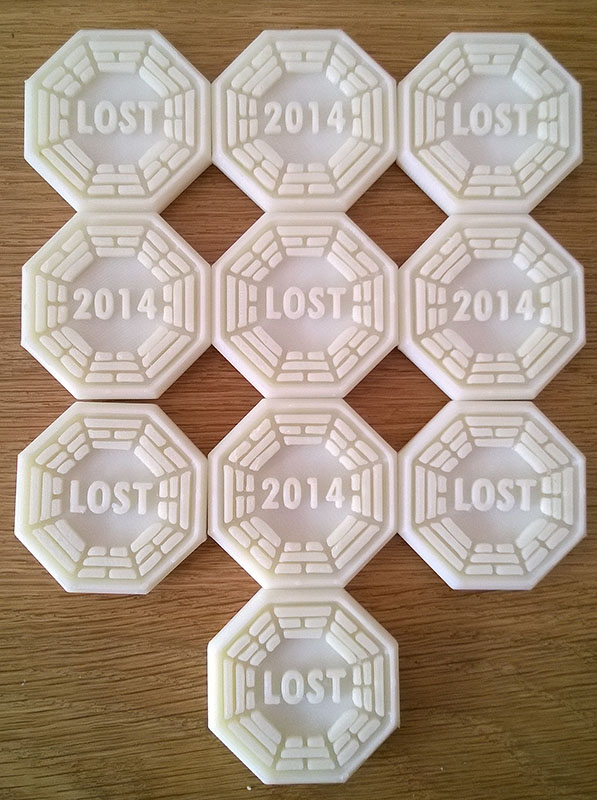 So on to plan B, there was also a 3D hub near to where I live so I contacted them for a quote. Again I asked for a test piece to be printed in plastic and this time the printed piece looked vastly superior to what was produced by the other company, so I went ahead with all 10 pieces.

The company is called Mediacopy and this is the link to their page on 3D hubs. Their customer service was excellent and I'd thoroughly recommend them to anyone looking for a 3D print like this.

As you can see what I got was the 10 pieces I had asked for in white plastic, and they look excellent on their own, but I had decided at the outset that I wanted them to have a metallic gold / bronze like look. In the end I decided to do this to 5 and leave the other 5 as they were.

So out came the paint and brushes, below are a couple of photographs from the various stages, click on them (and all the pictures) to get larger versions.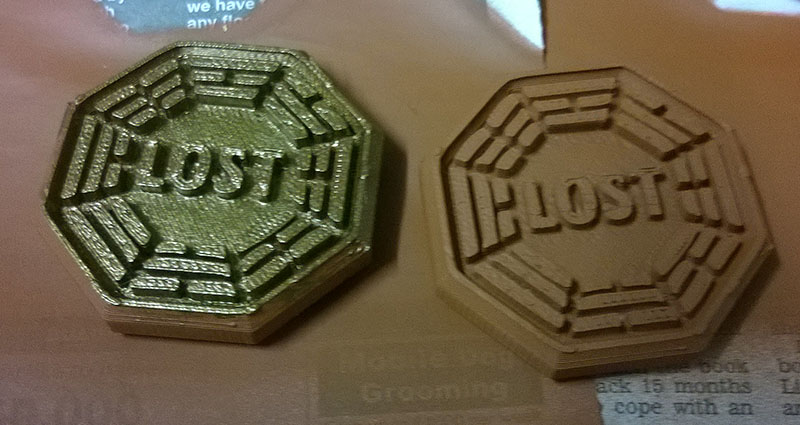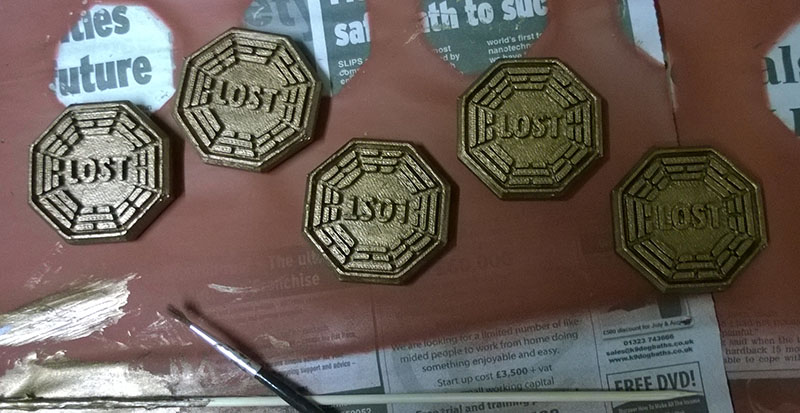 While painting these I found it was actually quite nice to do something outside of the digital world for once !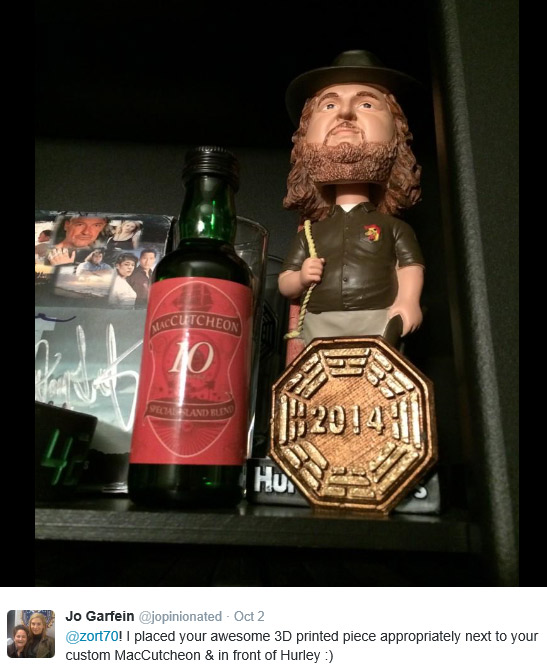 So I finally arrive at LOST 2014 and gave them to Kelly, Jo and Jorge, there were also a few given out as a prize for the Barracks Notice Board competition (more of which later)

It was great fun to do, once I had worked out how to do it, and all I can say is the future is here and it involves 3D printing, I have a couple of great ideas for future projects.

I'll give the final word to Jo, who sent me this picture of her token back at home.
Dominion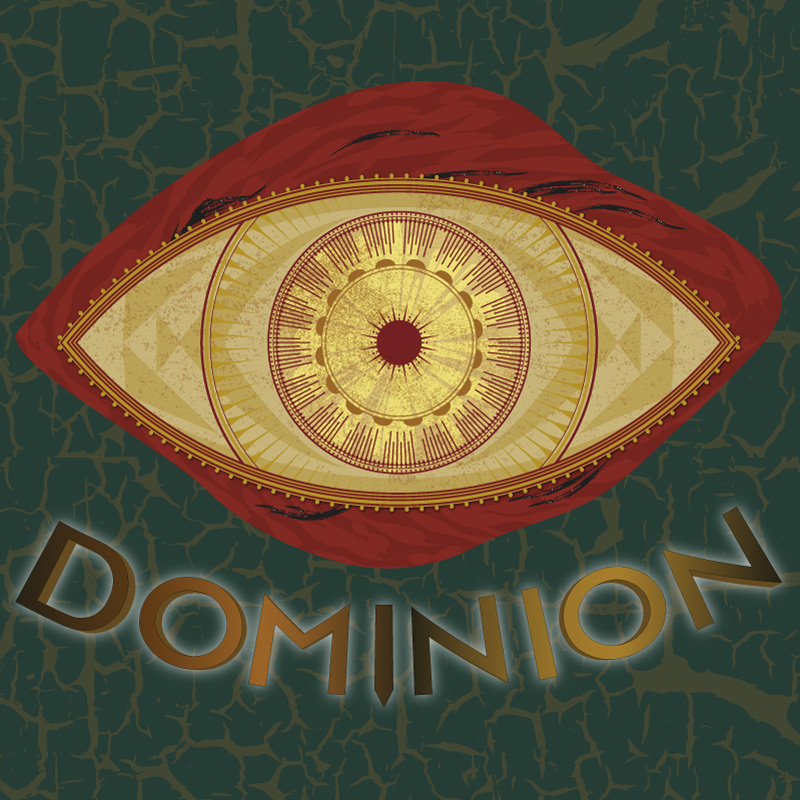 Anyone seen the SyFy tv show Dominion ? I have seen the first few episodes and it looks really good

Here are a couple of items for those interested in the show, both with my version of the eye image that is seen in the pilot episode credits.

The version with the wings has a quote, also from the pilot.

Doctor Who - Seige Of The TARDIS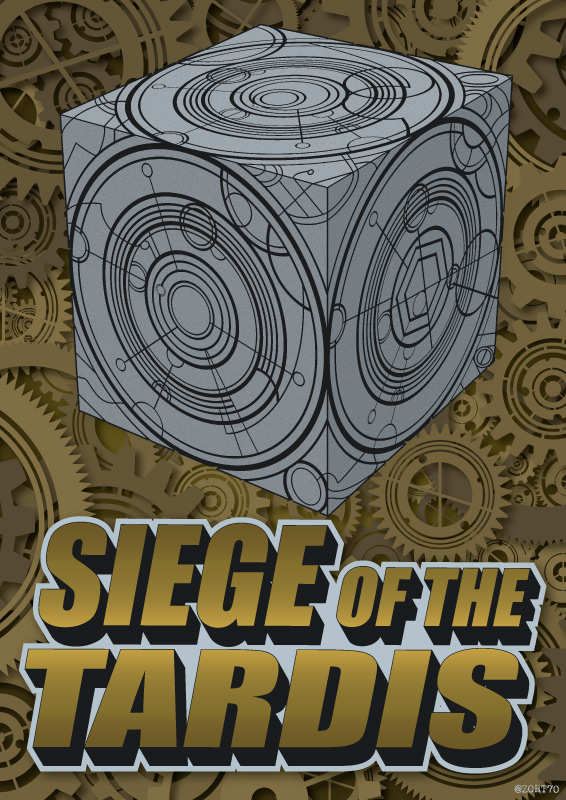 So Peter Capaldi's first year as the Doctor is nearly at an end, it has been quite a ride

There have been some fantastic moments in this series, and some quite frankly dodgy plot holes and pseudo science. I know it is Science Fiction but without a decent grounding in the science part the fiction part quite often fails.

Anyway mini rant over, I did love the new siege mode TARDIS and wanted to try and create something featuring it, so I came up with this poster idea, sort of inspired by a cheap 80's straight to video movie.

Featuring the siege mode TARDIS and a background of cogs taken from the new opening credits.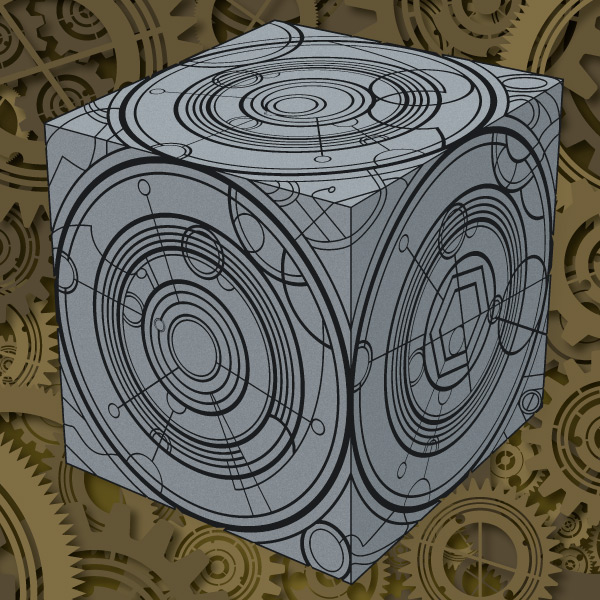 I also created this icon version of the design if you want to use it on social media, if you use it just tell people where you got it.

Click on both the images to get the full size versions.
LOST - Drive Shaft - Not going to Guam Tour 2014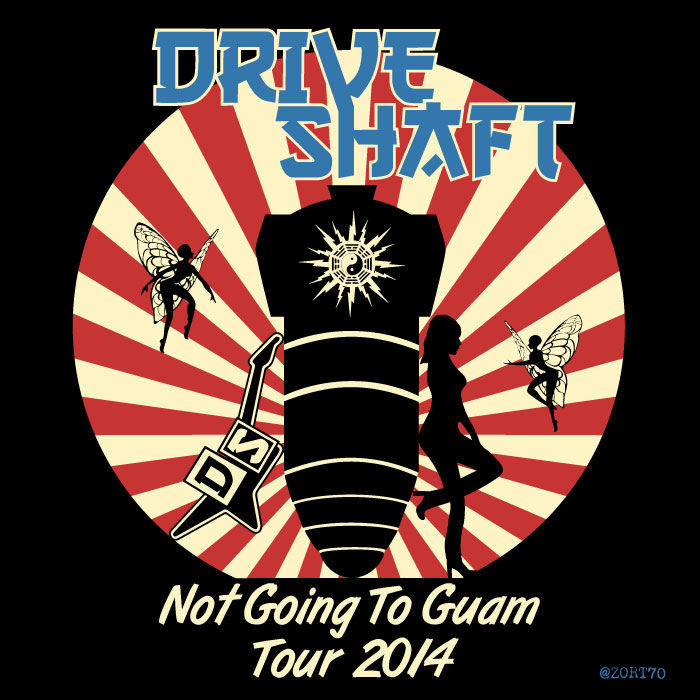 So after LOST 2014 and the emotional highs and lows that the even gave me I thought it was time to share a couple of things that were created for the event.

If you were at LOST 2014 in Hawaii recently you may have seen me wandering around in a few of my own t-shirts (I still get a kick out of saying I was there !)

One of those t-shirts you wouldn't have seen before and that's because I wanted to take something that I knew no one else would have.

A lot of you commented and very kindly said how cool it was so I decided to put it onto my Cafepress store for those that want it.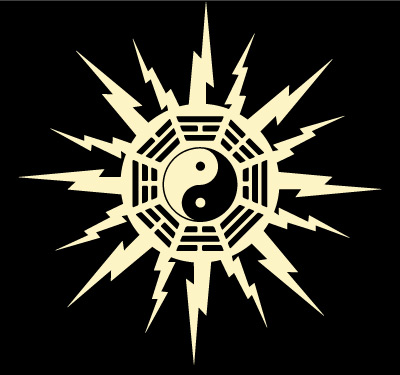 So what is it ? Well it isn't specifically about any moment in the show I just decided I wanted to create a Drive Shaft tour t-shirt, you could consider it a flash sideways kind of a thing.

I named the tour the "Not going to Guam" tour in honor of Lapidus and it features fairly prominently the Jughead, the Drive Shaft guitar logo, a few other rock and roll staples and no I won't say who the sillhouette of the woman is based on ;-)

The shirt on CP is actually a front and back print, on the back is the little DHARMA / Yin Yang / lightning burst symbol.

Link to my CafePress store

and just to prove I wore it, here is a picture of me in Hawaii, hiding from a smoke monster in a Banyan tree.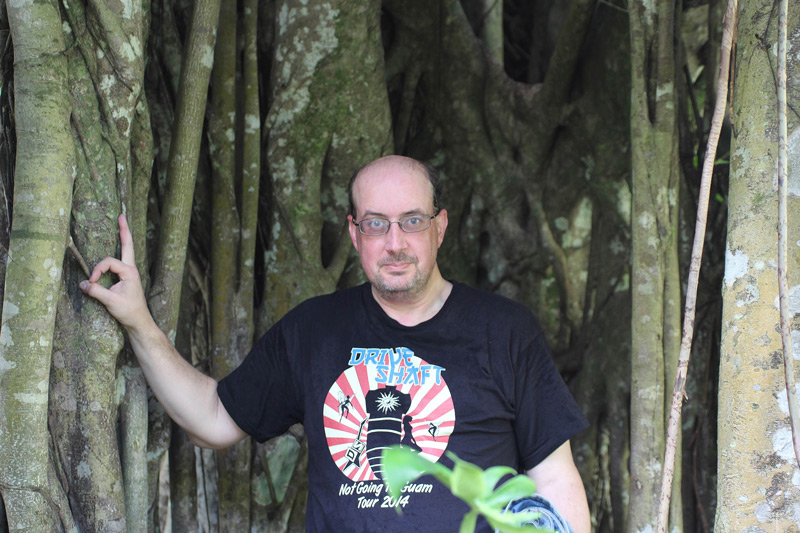 You can see all my LOST 2014 pictures on Flickr - Z70 Photos
LOST 2014 - An Epic Journey
Back from LOST 2014 now and have reflected a lot on what happened, it was a few weeks of utter highs and one very sad low.

To touch on the low for a moment, it was heart wrenching to learn of Bonnie Craft's passing moments before boarding our plane back to the UK, we had seen bonnie a couple of times briefly during the stay in Hawaii and I can't imagine what life is going to be like without her for her family and friends. She was so supportive of me personally and all I can say is I will miss her so much.

During the stay in Hawaii we saw some of the most beautiful sights and places I have ever seen and with the link to LOST it was pretty much a perfect place to be.

The picture above is a sunrise on the morning after LOST 2014 finished, it was well worth getting up very early to drive over to the East side of the island to witness it.

All the photographs from the trip can be found on my Flickr site Z70 photos


At the event we got to meet Jorge Garcia of course and he is a genuinely lovely person to talk to, he signed my poster and another artwork which I will mention in a later update on this site.

Talking of the poster, do you remember back in September 2013 I was a joint winner in the LOST 2014 competition to design a logo. Kelly, the fantastic organiser of the event, decided to print my design as a small poster and include it in the gift bag for every attendee of LOST 2014.

I can safely say that this is the biggest run of any poster design I have ever created !


One of the other designs I created for the competition a year ago was this one based on the McCutcheon whiskey bottle label and on the night of the Cancer Gets LOST charity auction both Paul and I wore our t-shirt version and held the replica bottle that was in the auction.
You can see al the photographs by using the link above, but one final thing to bring things full circle, this is me on Hurley's Golf course which we visited on one of the island tours and this was actually my prize for winning the competition a year ago !
Queen Fan Club Convention 2014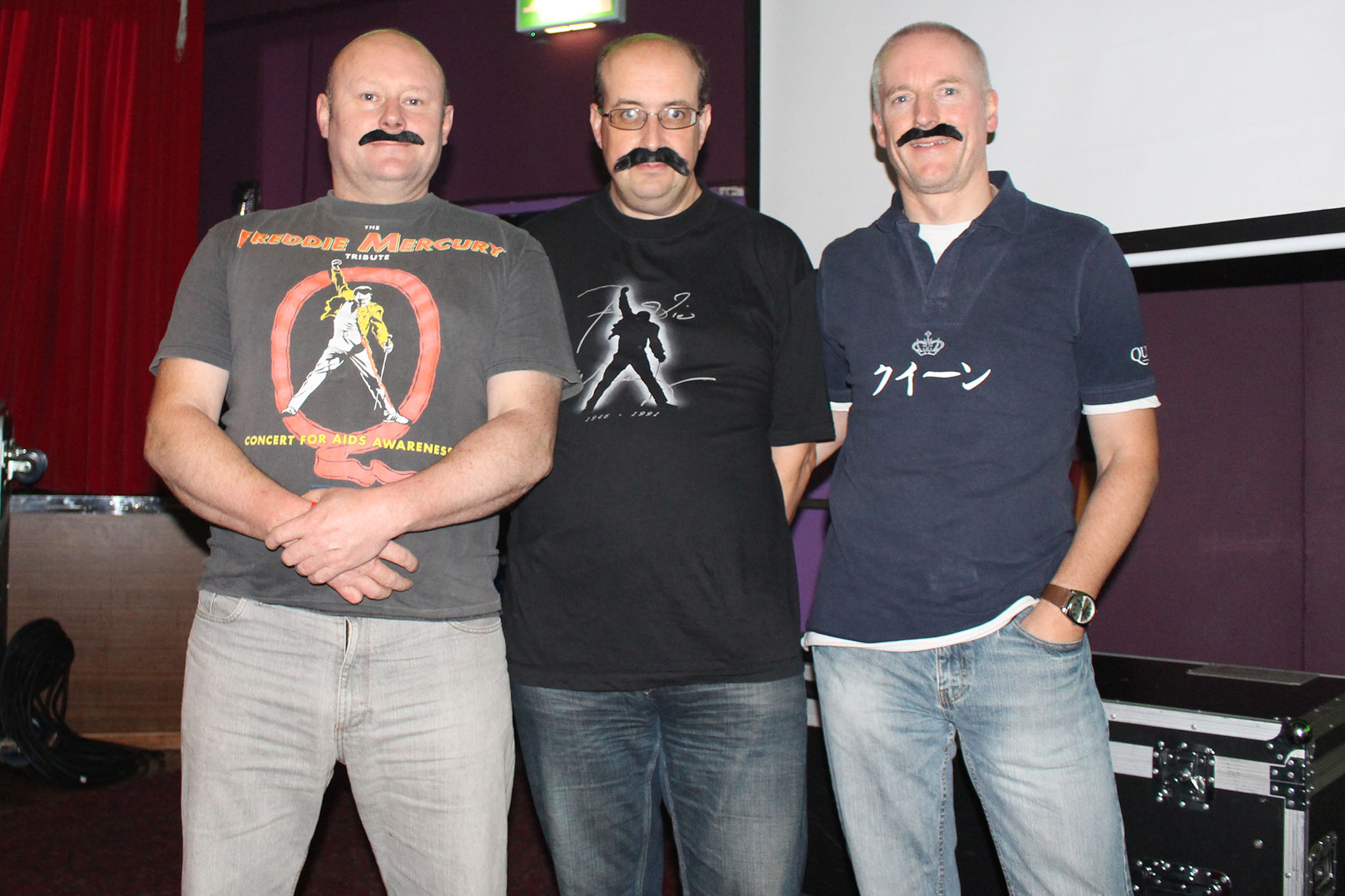 Photographs from the Queen Fan Club Convention in Presthaven Sands holiday Park near Prestatyn September 2014

I was the official photographer at the event, so I hope you like them.
Independent State of Eyebrows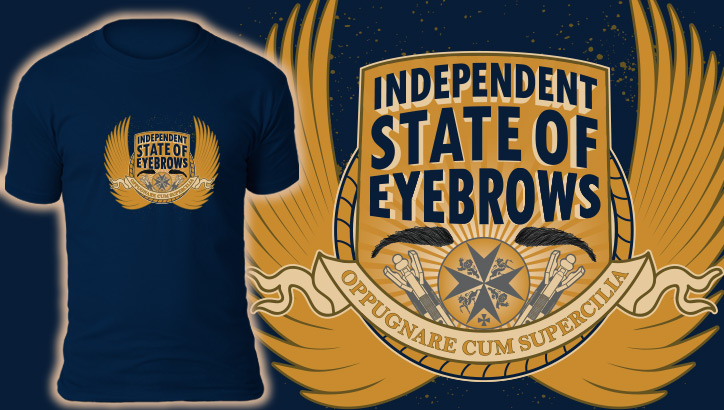 The new series of Doctor Who has started ! With a new Doctor !

I'm undecided on the first episode whether I'm fully on board the Capaldi train or not, but the next few weeks will be interesting.

During this first episode there was a quote by the 1st doctor about his eyebrows, so in the spirit of my Doctor Who quotes project I thought I would create something to mark the occasion.

If you don't read Latin the motto is "Attack with the Eyebrows"

I have also put this up for voting on Qwertee

UPDATE - I have now also put this up for voting on the new limited edition t-Shirt site 24 Tees
LOST Quotes T-Shirt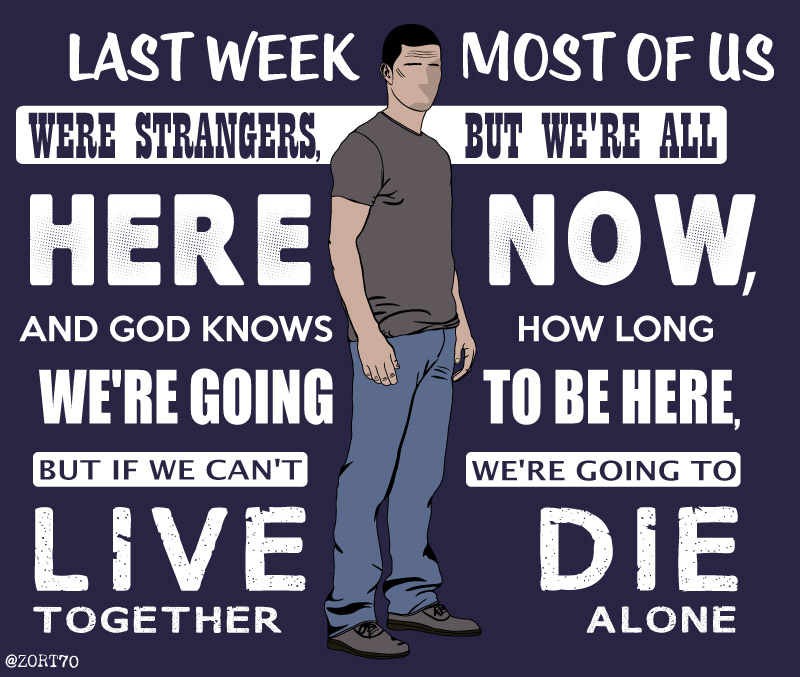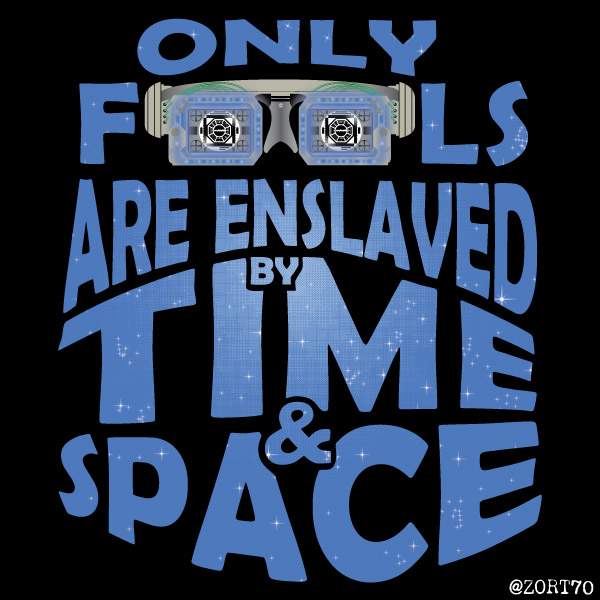 With the upcoming trip to LOST 2014 on the horizon I have created a couple of t-shirt designs featuring my favourite show.

The first features the famous Jack Live Together Die Alone speech.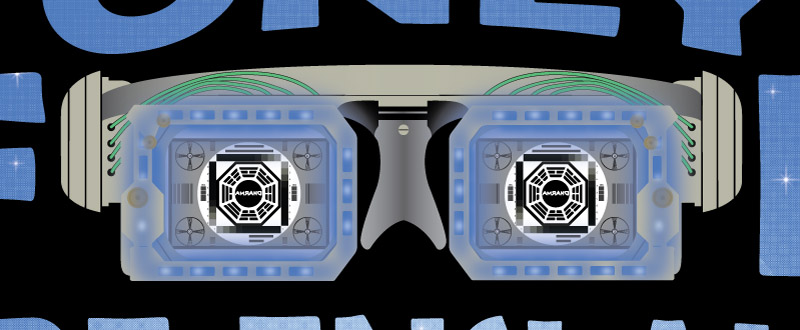 The second is a little more obscure, but a big part of LOST mythology, the glasses that are part of the design give the clue, as it is from the Room 23 scene.

In that scene, in amongst the noise and flashing images there is a voice played backwards that says "Only fools are enslaved by time and space"

I have put these designs in various places for purchase or voting, so here are the details of where to look -

Visit my LOST Cafepress Store

or

Vote for Live Together Die Alone on the daily t-shirt site Qwertee
Agents Of S.H.I.E.L.D. Season 2 Poster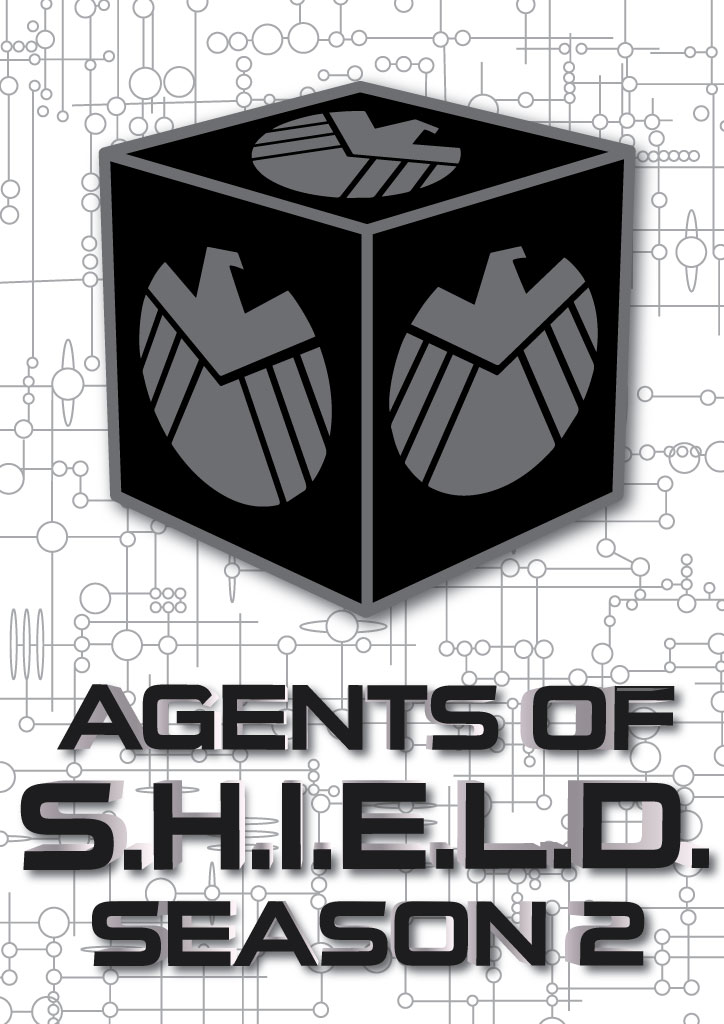 At the end of Season 1 of Agents of S.H.I.E.L.D. we were left with a few questions and a mystery box.

I thought I would create a poster for season 2 featuring the box and the (Alien ?) writing that Coulson was scratching into the walls.