Quotes for Sale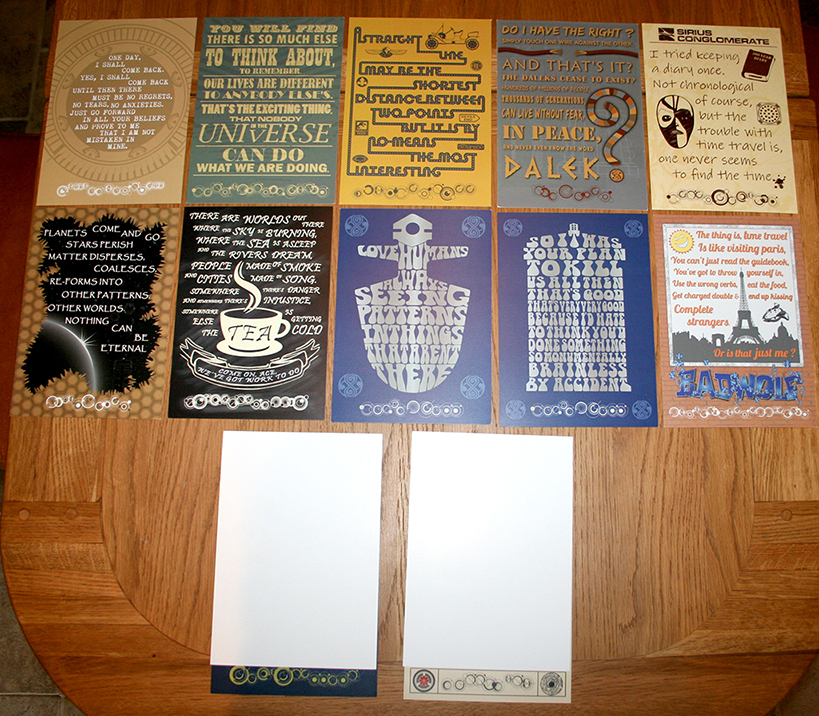 Since I started the quote project people have asked whether they will be for sale and at the start I had no illusions that people would do that !

So with me going to the Nerdfest Comic Con in Nottingham I thought that now would be the right time to see if I could find some way to let people purchase them.

I looked at quite a few options and yes I could have just put them all on Cafepress or Redbubble individually, but I really wanted to keep the collection together and have some sort of control over how they were printed.

After a lot of searching and weighing up options I found a company that would print them in bulk on A5 cards, the result of which you can see in the picture.

You can also see a small sneak peak of the final two cards :-)

The final "product" will be a set of 12 cards, 11 doctor quotes, plus the 8th Doctor Big Finish quote as a bonus, and there will only be 50 sets printed and sold.

They will be available first at Nerdfest in Nottingham, and assuming they don't sell out there they will be sold online shortly afterwards.

Follow me on Twitter - @Zort70 - to get the latest information on the sets.

One last thing, there will be some special sets in the 50 with a little extra, but I'll let you discover that for yourselves.
<< Return to the zort.co.uk home page