Ding ! Alcatraz Warden James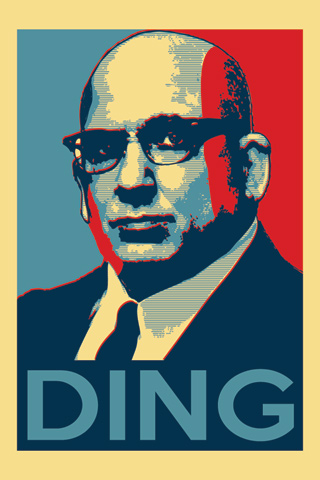 Warden Edwin James is fast becoming one of the best characters on the Fox TV show Alcatraz.

Jo from the Inside Alcatraz blog mentioned, in her writeup for the episode Johnny McKee, that she would really like an image of the warden saying Ding as he had said this several times in the episode.

So in a moment of late night inspiration I created this image for Jo, based of course on the Shepard Fairey Hope poster image.

When Jo retweeted the picture I got several comments including one from Michael Eslinger (@Monteray_Mike), who is a real life expert on Alcatraz, saying he had used it as a phone background.

So what I did was to create some versions of the image specifically for a few different mobile phone screens.
Click the link for the size you want, or right click and save the file.

640 x 960 (e.g. iPhone 4)

320 x 480 (e.g. iPhone 3)

480 x 800 (e.g. Windows Phone 7)

Finally a few hours later Jonny Coyne (@JonnyCoyneActor), who plays Warden Tiller on the show tweeted back to say, what else but - "Ding, Ding, Ding !"
<< Return to the zort.co.uk home page