Three Counties Open Photography Exhibition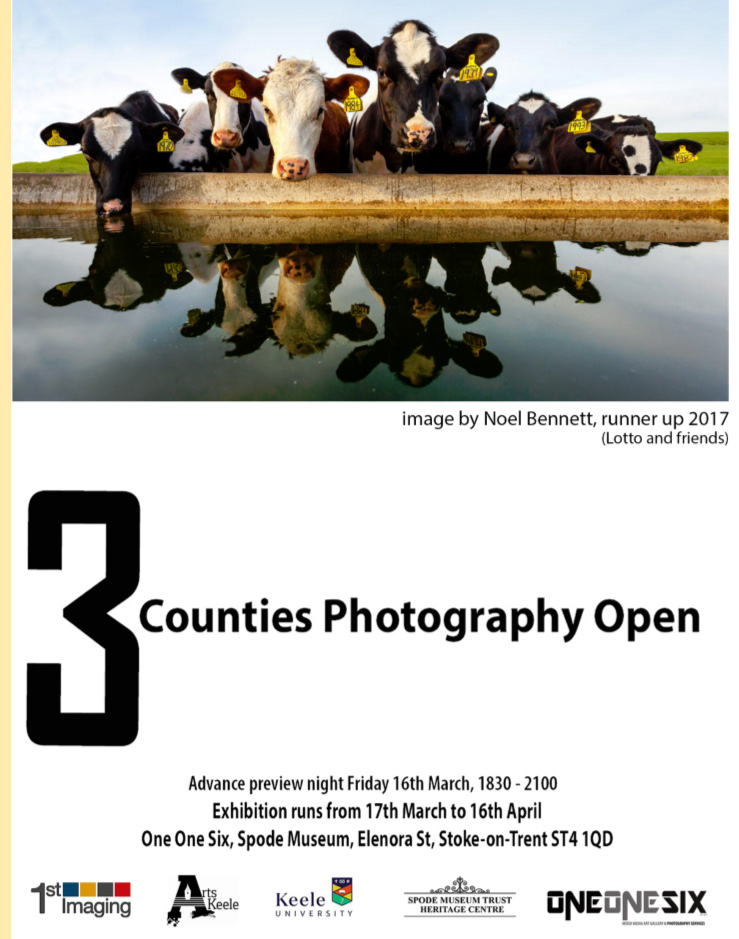 I got some good news at the weekend, three of my photographs were accepted into the 3 Counties Open Photography Exhibition this year.

The exhibition will take place from the 17th of March 2018 to 16th of April at the One One Six gallery located on the Spode Museum factory site in Stoke On Trent.
2018 Calendar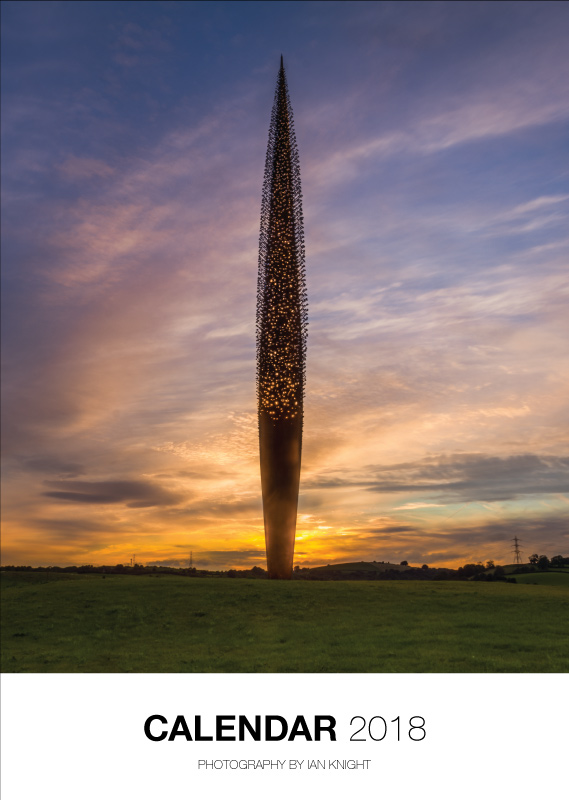 It's that time of year again, this is the second photographic calendar of mine that has been available for sale.

Featuring 13 images (including the front cover) of mine taken in the last 12 months, and yes it was hard to choose just 12 to include ! A preview of the months is below.

The calendar is available now in my online shop and the price includes free delivery.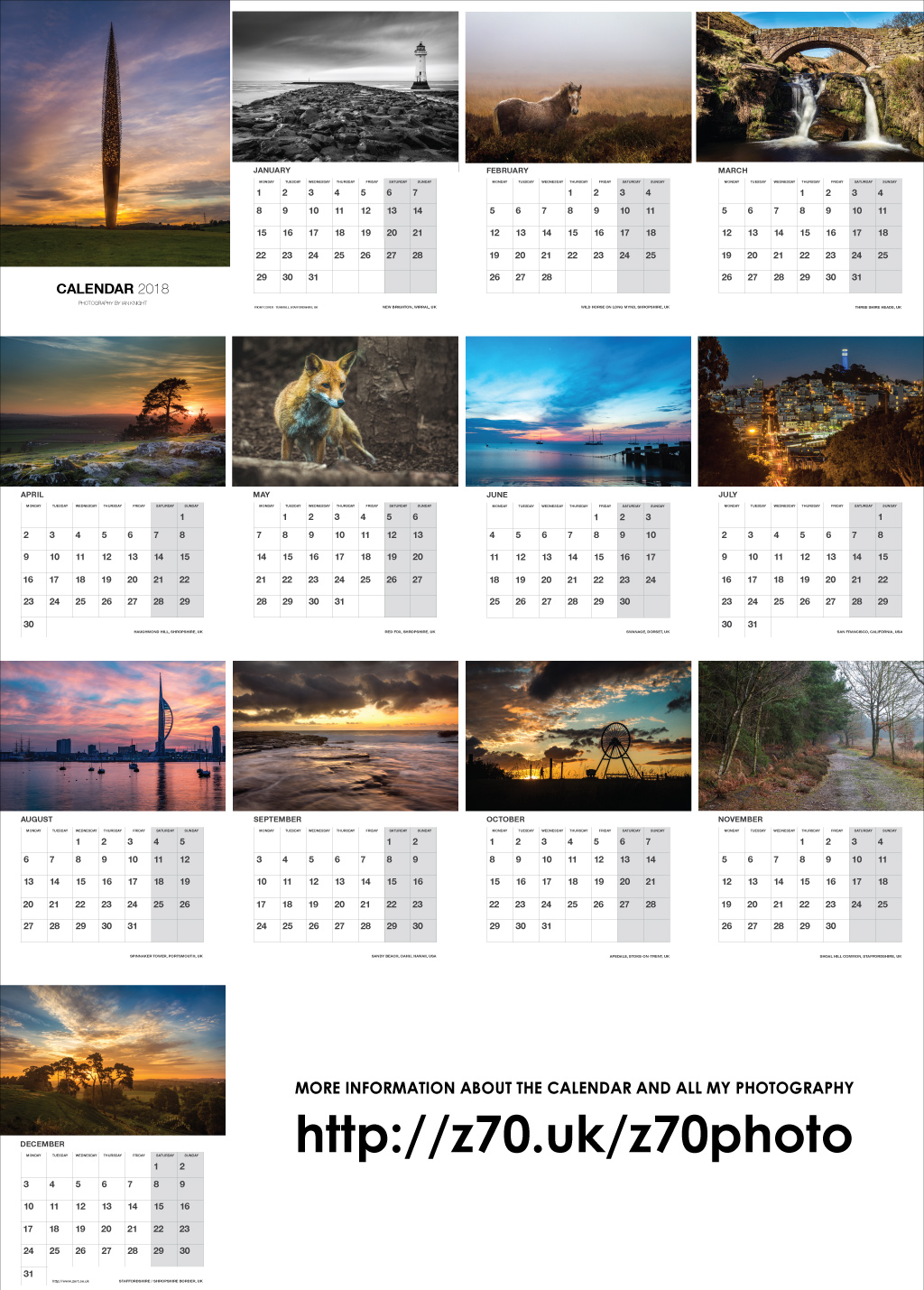 This Is Britain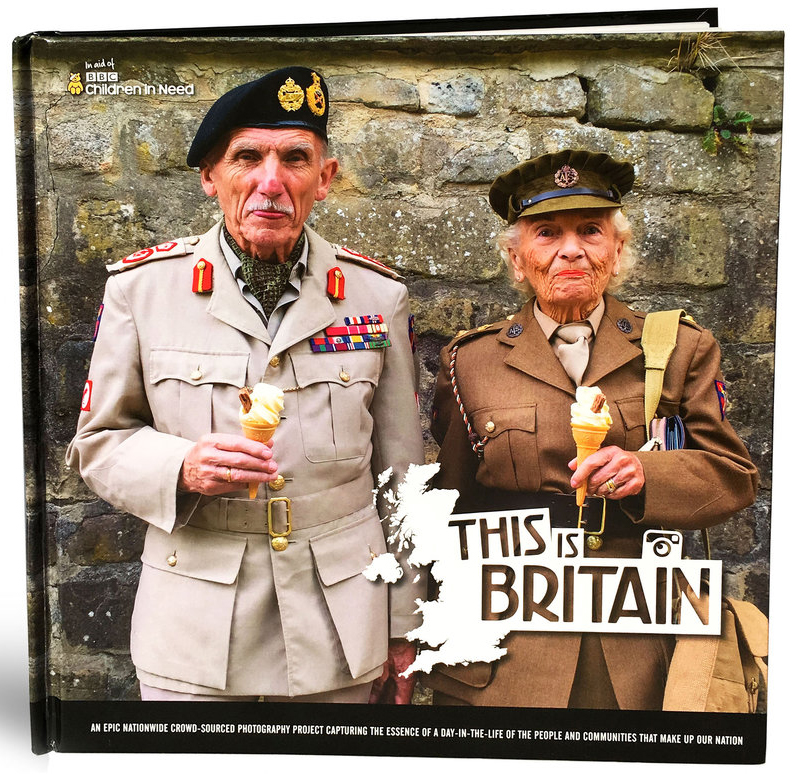 "This is Britain was as simple as it was ambitious: to capture the essence of a day-in-the-life of the people and communities that make up our nation. The faces and places, moments and rituals, at work and at play – as shot by thousands of everyday people going about their daily lives over a long weekend in October"

That was the pitch I heard 2 days before the deadline i.e. the Friday before the last day on Sunday ! The idea was to create a crowd sourced book to be sold in aid of Children in Need

As we usually go out with a walking group on the Sunday I decided to ask the people on the walk if they would mind me taking a picture to submit. A few weeks later I got an email to say, to my great surprise and delight, that my image had been selected for the book

The book was available for sale on Children In Need night (17th November) and as you can see below the book arrived very quickly.

Love the quality of the book and there are some great pictures in there that describe a weekend in the life of Britain.

You can purchase a copy of the book at the project website - www.thisisbritain.me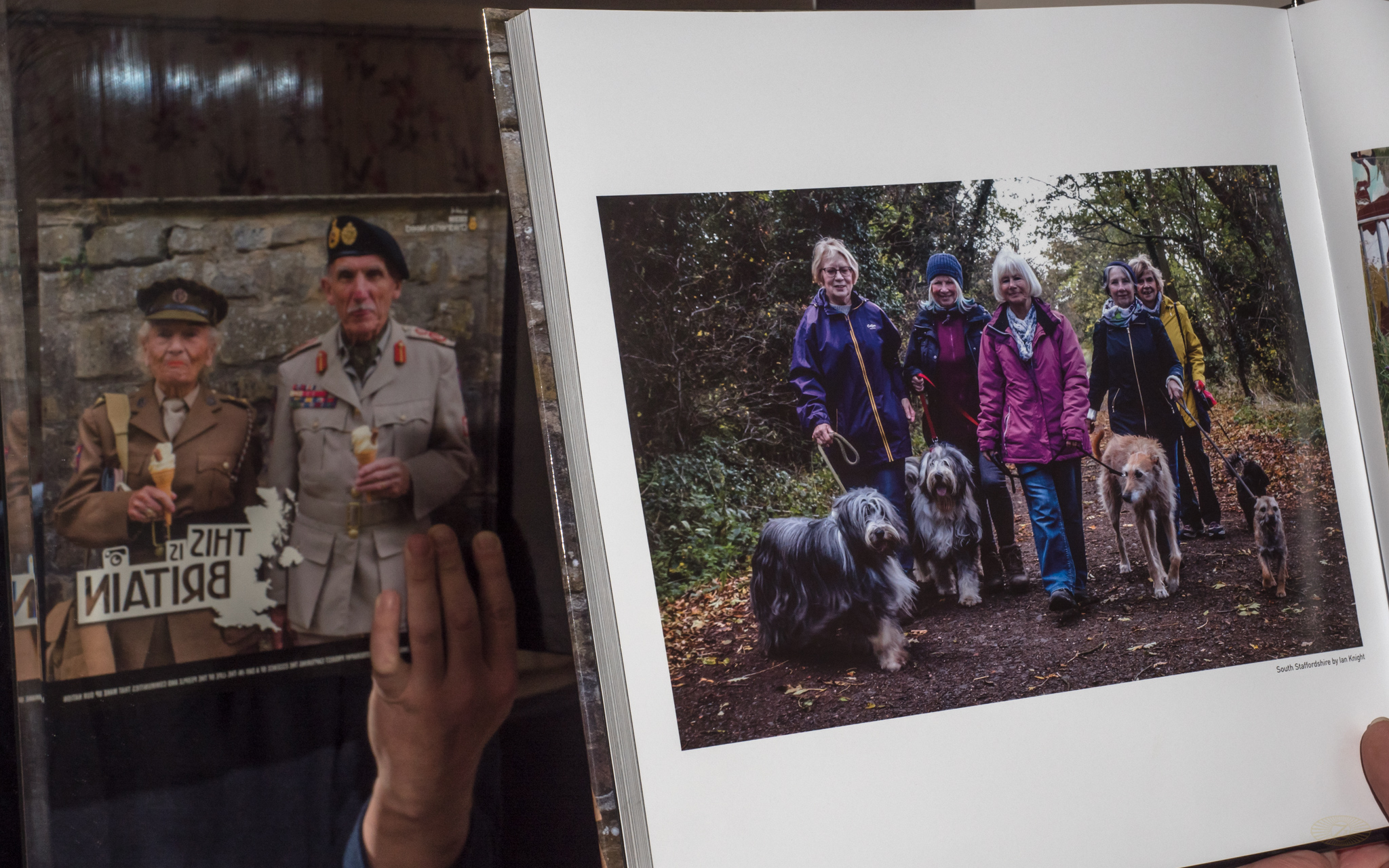 Weather Watcher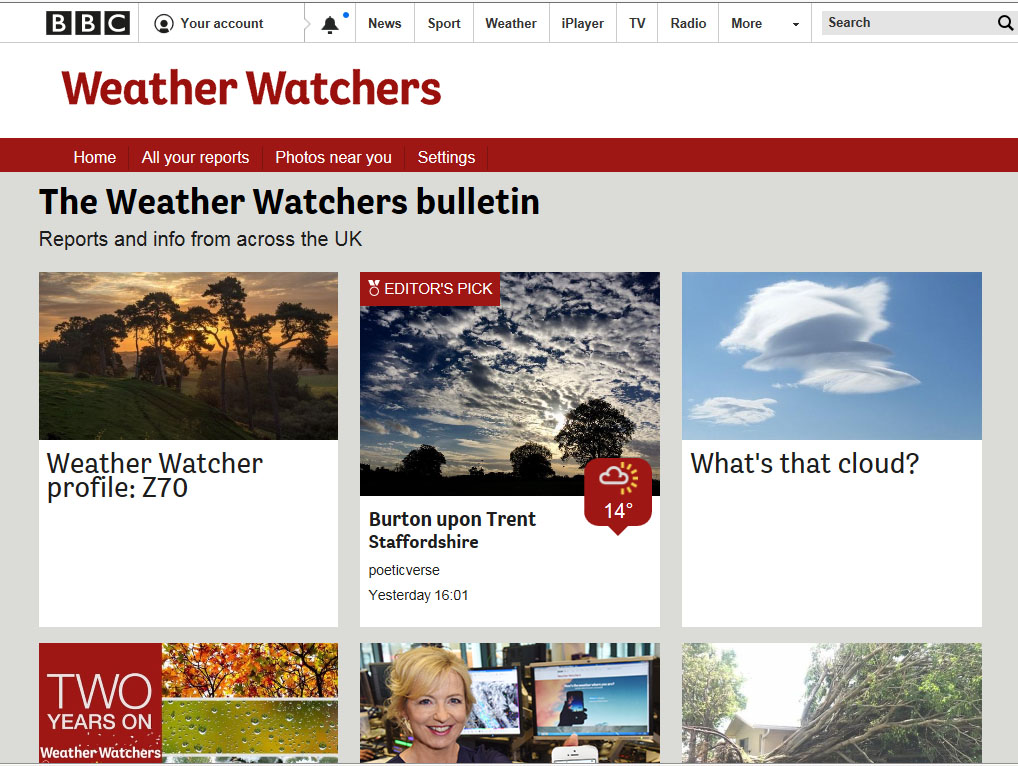 In case you didn't know I have been posting pictures on the BBC Weather Watchers site for almost a year now.

The Weather Watchers is just a simple site for anyone to submit pictures of the weather where they are. There is no specific requirement other than the picture must show the weather !

Each day a small selection of the submitted images is chosen as an "Editors Pick" and can be used as to illustrate the day's weather on the BBC weather broadcasts or via their social media channels.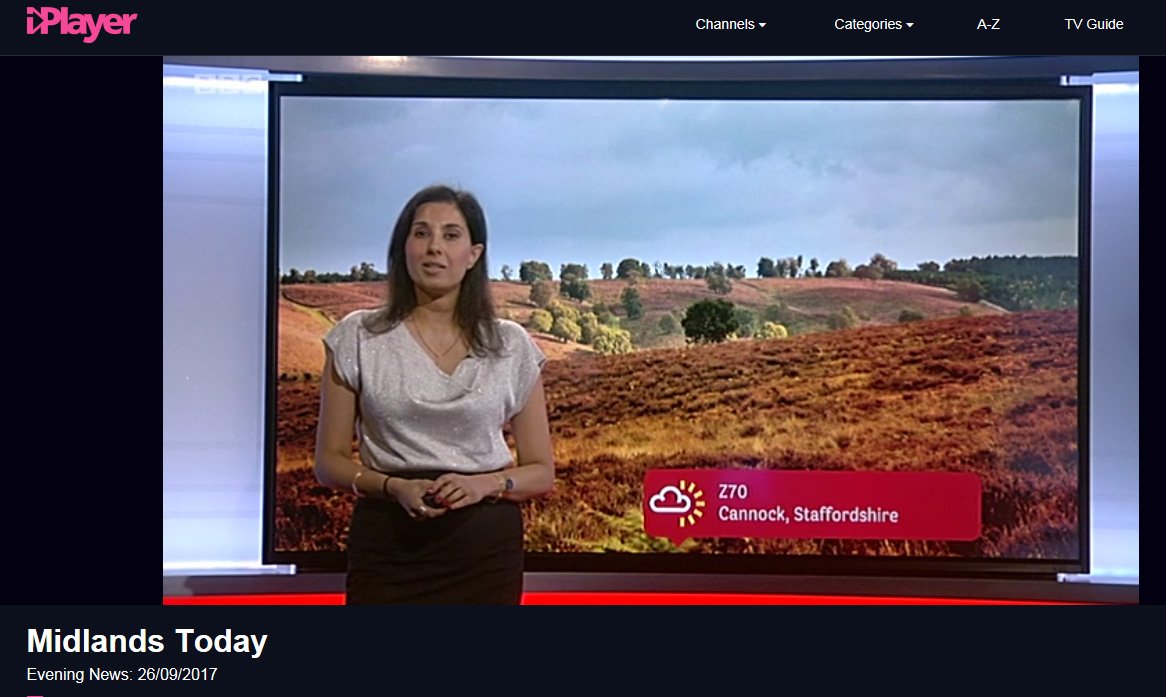 I have had several of my pictures chosen as picks and quite a few have appeared on the Midlands Today weather broadcast.

Recently I was contacted by the Weather Watchers team and asked a few questions about my experience with the website and my thoughts on the weather. This resulted in a small profile of me being created on the site which you can see here.
Damon & The Chicken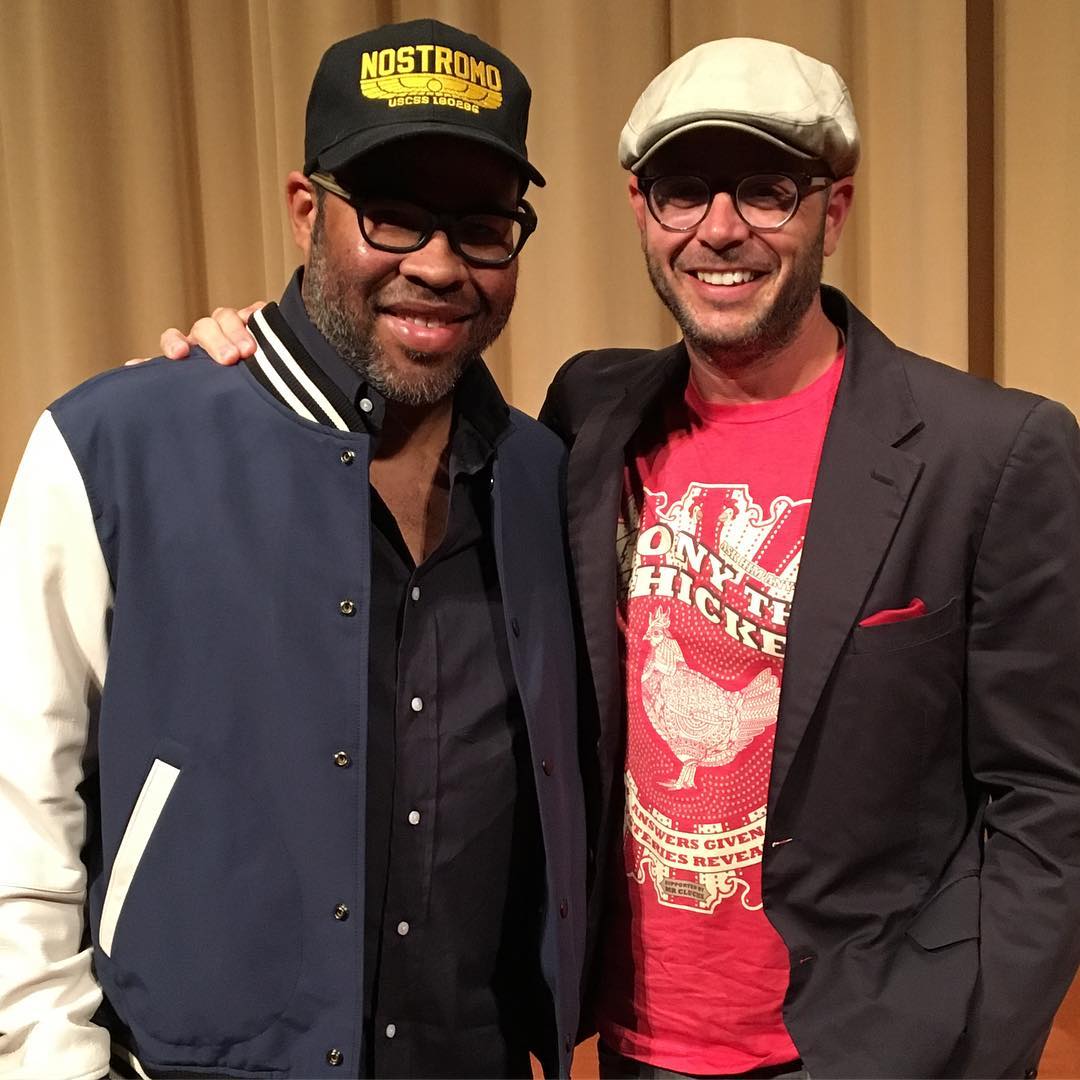 Imagine my surprise as I scrolled through my Instagram timeline when I see a picture of Damon Lindelof wearing one of my t-shirt designs !

It is my Tony The Chicken design I created for The Leftovers a few months back. I got a notification that someone had bought one a couple of days ago, I had no idea it was Mr Lindelof himself that had ordered it !
Twin Peaks - Shovel Yourself Out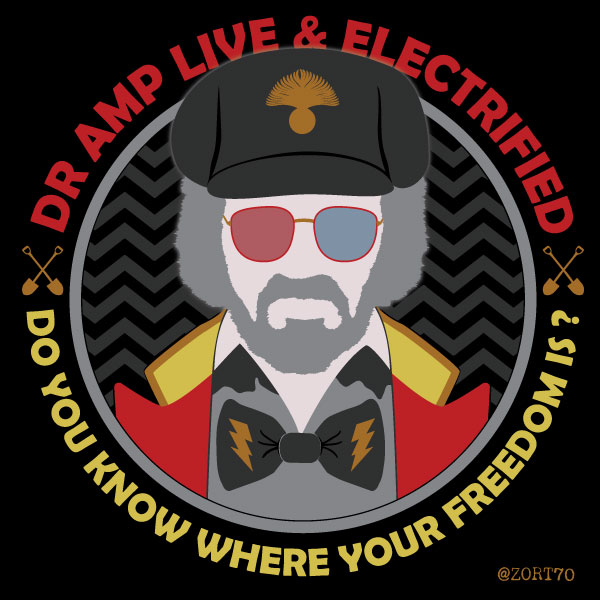 After watching the utter mind blowing madness that is Twin Peaks The Return, I thought I would make an attempt at a design based on the new elements to the TP story.

If you are watching the new series you will recognise Dr Amp and his broadcasts about freedom and shovelling yourself out of the shit with one of his golden shovels.
Photographs For Sale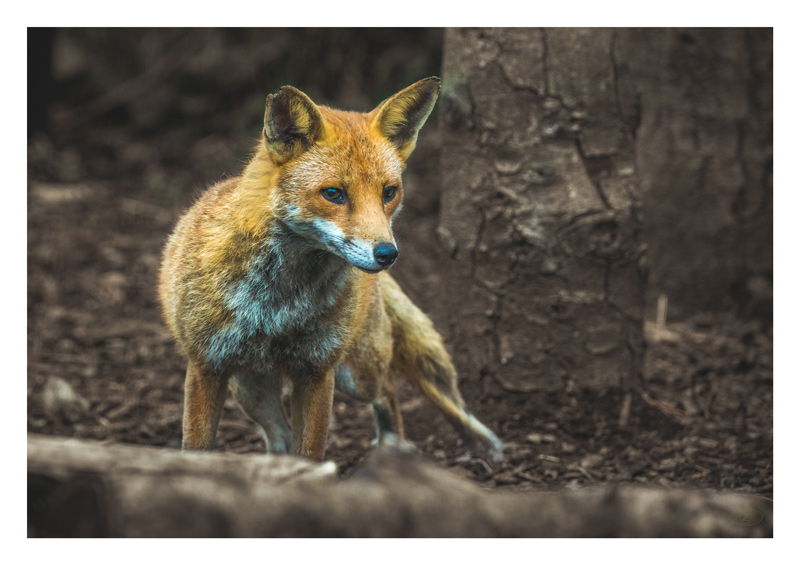 I have mention before the website ClickaSnap which uses a micro stock photography model so I get a tiny payment every time someone views an image.

The website also allows me to sell photographs as either instant digital downloads or physical prints, printed by clickasnap and sent out to anyone who would like them.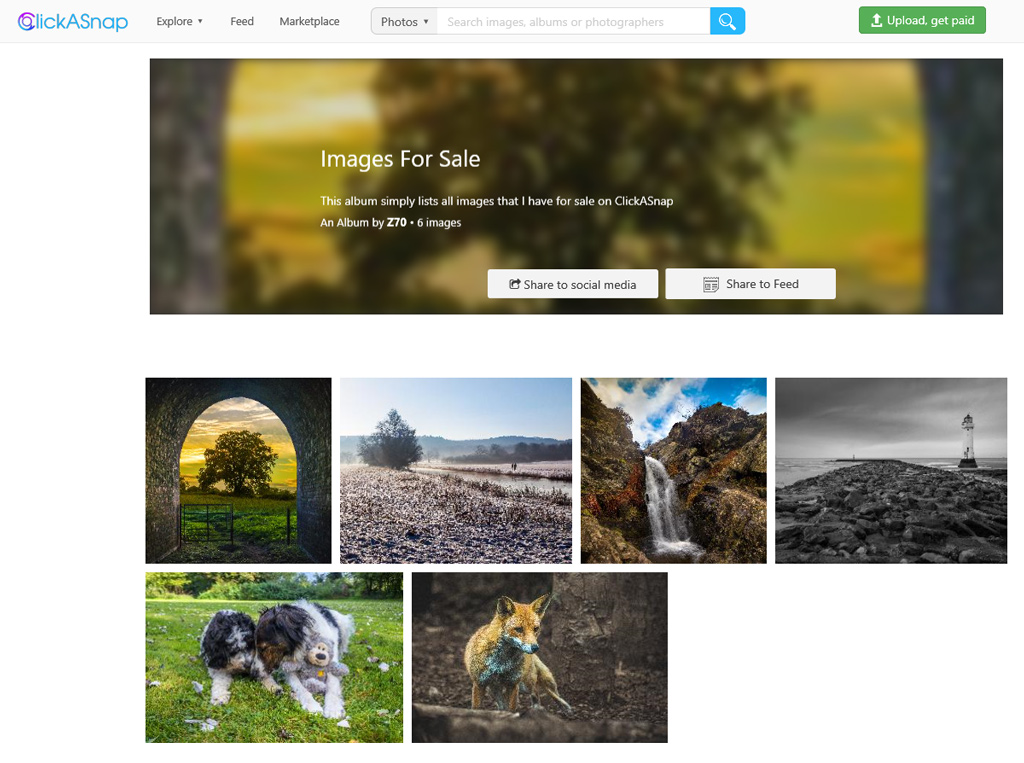 Use this link http://z70.uk/z70clicksale to view an album of all the images for sale on the site. Just click the one you are interested in and you see any purchase options below the photograph.

The photograph you can see at the top is of a Red Fox taken in June and is one of the latest ones on sale. I had gone out with a small group of people to photograph Badgers, unfortunately the Badgers were being shy and didn't appear.

Another photograph taken recently is below, hopefully it is obvious that it is of London. Fiona and I went on a short getaway to see a concert and visit our capital city. There are over 200 photographs of our trip on Flickr, including city views, Robbie Williams, Sunset Pictures,and Dragon Boats ! There was so much to see and do, and after a fairly disappointing weather day this magnificent sky presented itself with moments to spare before sunset.



Twin Peaks - Silver Mustang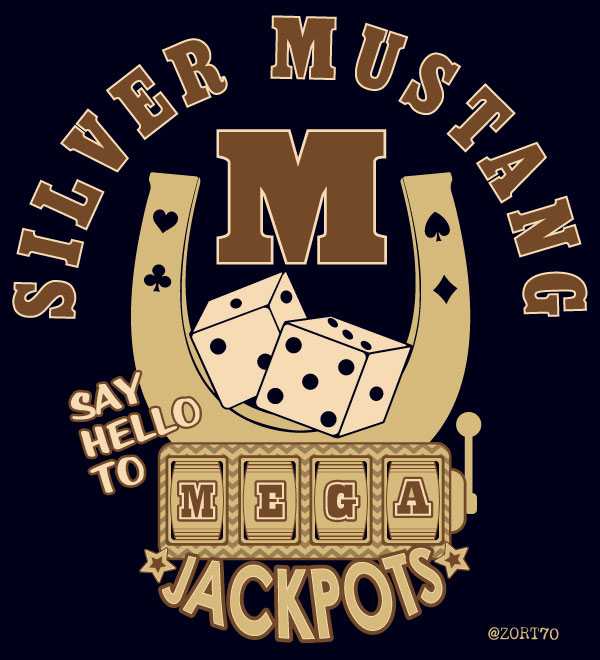 Are you watching the new Twin Peaks series ? I am and although it is early on there is a lot of very good weirdness going on.

I wont spoil where this comes from but in the first few episodes we see the Silver Mustang Casino and it plays host to an important event.

If you have seen the scenes set there you will know what this means. I also recreated the original version of the logo as closely as I could, although I haven't quite identified the correct fonts yet.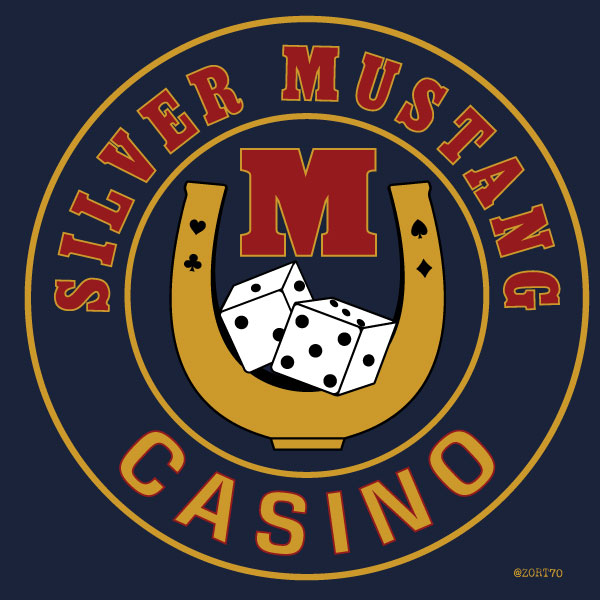 Doctor Who Nowhere Else To Go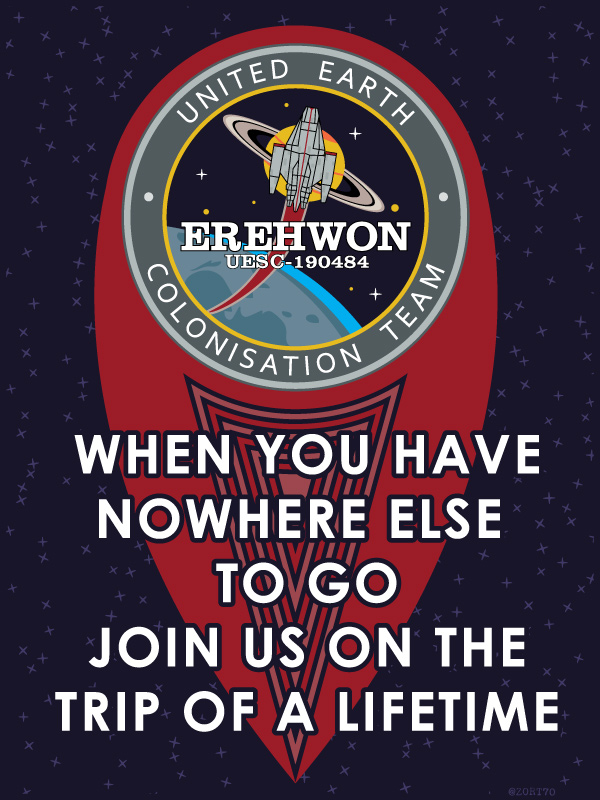 Watching the 10th series of the New Doctor Who era, the third episode "Smile" was a really great story with lots of interesting elements.

One of which was the colonists patch / logo. I decided I wanted to create my own version of it and this is the result.

In the end I added it to a small poster design using part of a quote from the episode and because the name of the mission is Nowhere backwards.

After I created it I found the original patch designer on Twitter @Mr_clark and I think I made quite a good copy.
The Leftovers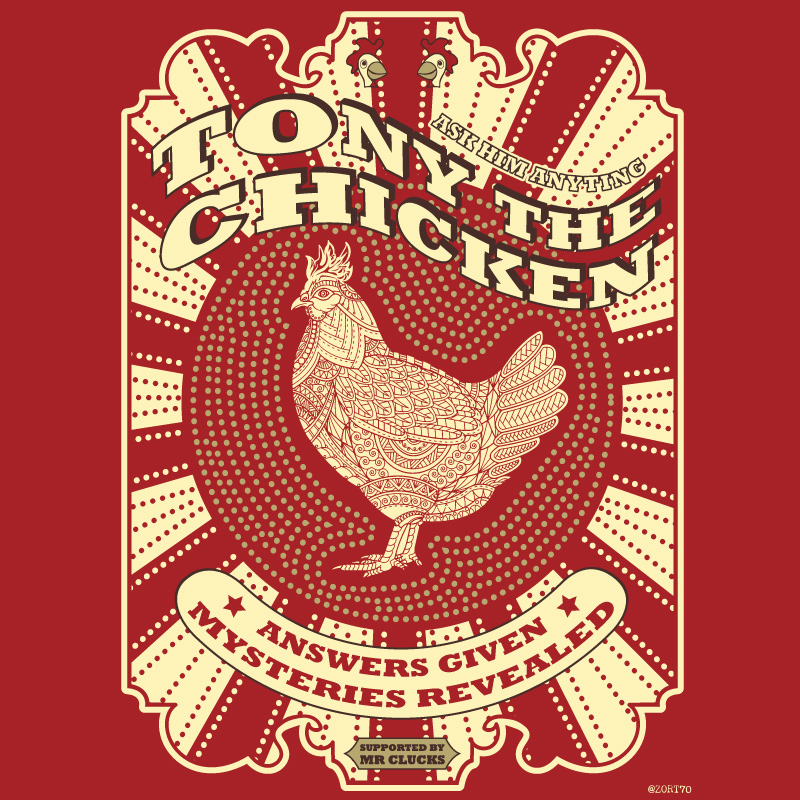 If you haven't watched The Leftovers do yourself a favour and start watching immediately. The series has just finished its final season and was one of the TV highlights of the last three years.

These are three designs inspired by the final season, and if you want to know more about them you will need to watch it !

Bonus points if you spot the LOST reference I sneaked in there.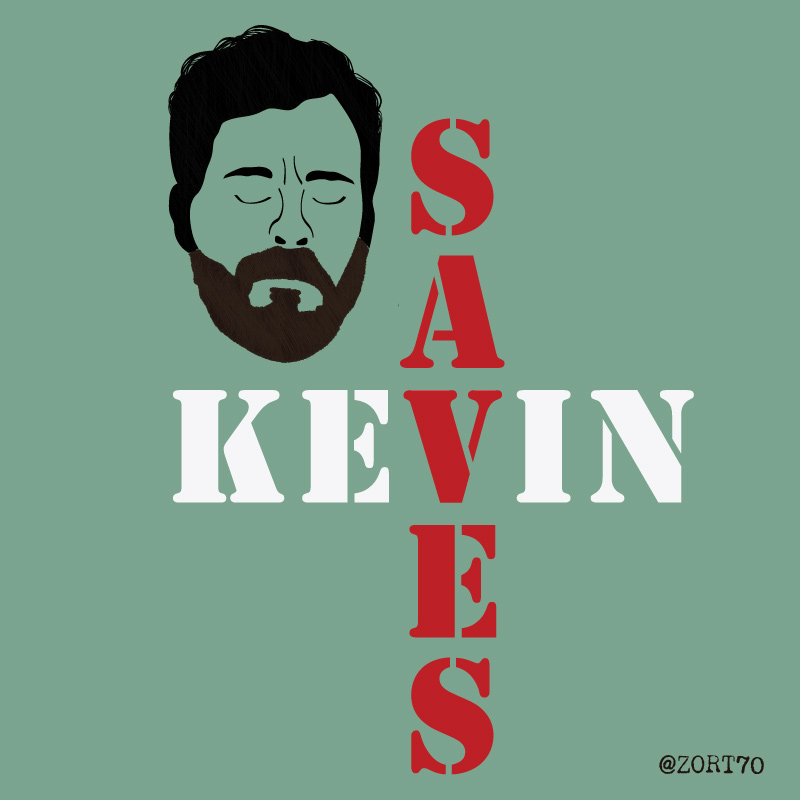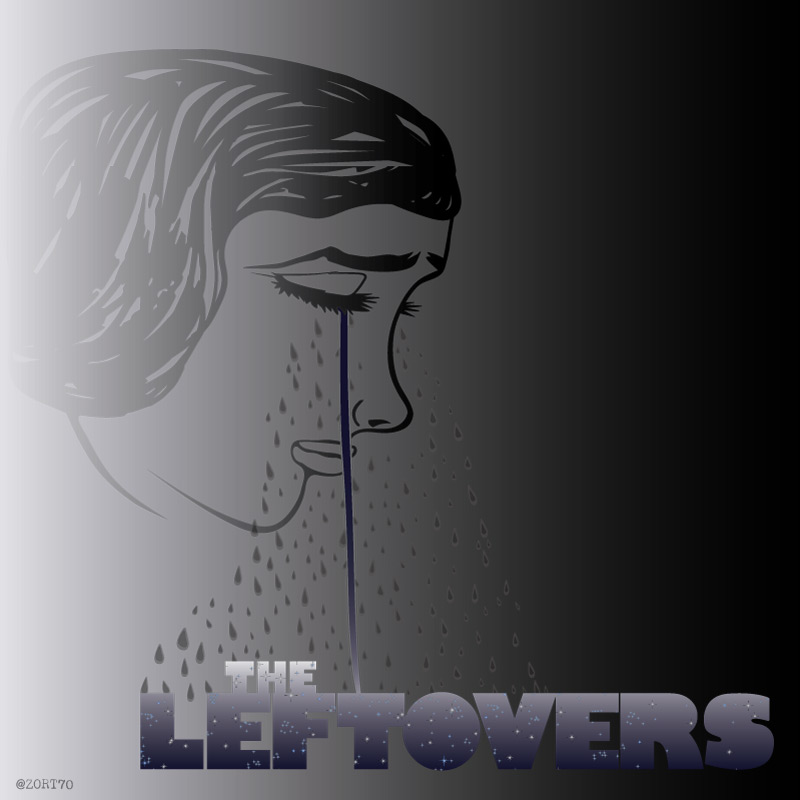 Rouge One
The previous web site article about "Strange Rhapsody" reminded me that I hadn't posted about the t-shirt design you can see in one of the pictures.

When the trailers from the most recent Red Dwarf series were being shown I saw one very brief shot of Red Dwarf moving across a triple sun arrangement.

I knew that I wanted to recreate that scene and I had had the idea of using the words "Rouge One" and a Star Wars type of title ever since the film title Rogue One was announced. So it was a natural fit to combine the two.

I have put this up onto Redbubble if you want one, although there is a minor modification, I simplified it to a Red Dwarf story rather than using the series number.
Strange Rhapsody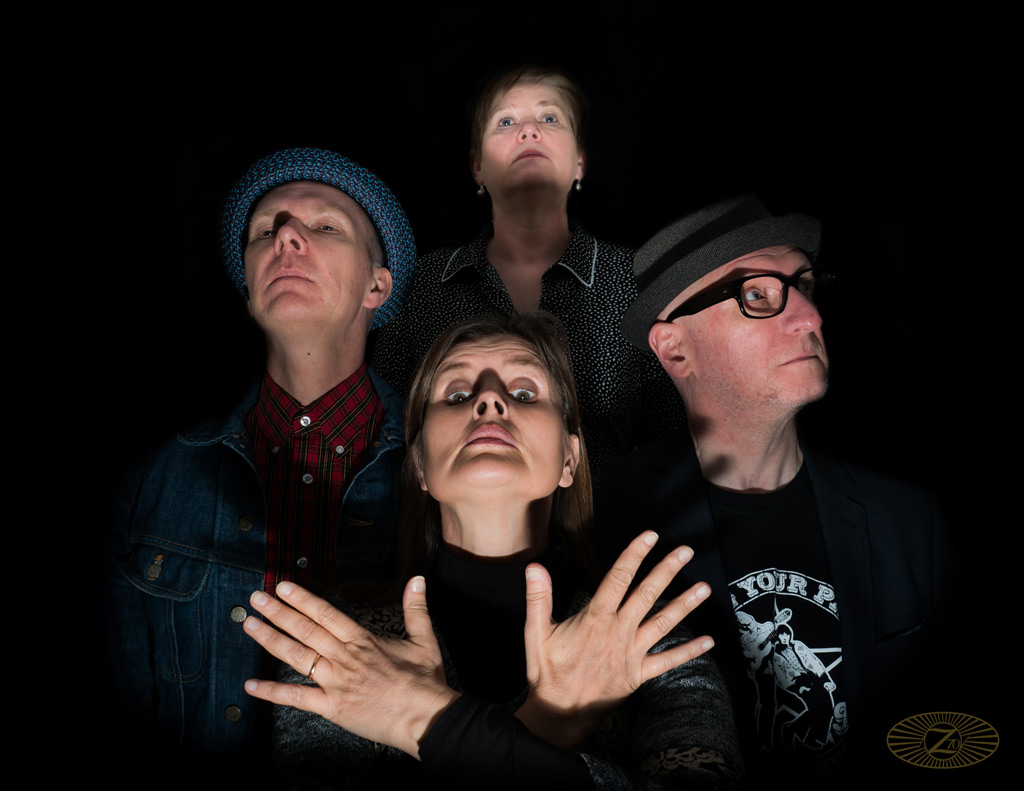 You know those moments when you have a completely odd idea on the spur of the moment, and events fall into place so it can happen, well this is one of those times.

I went to the Stoke-Con-Trent scifi / comic convention last weekend, I knew there were a few people I wanted to say hello to including the team from Strangeness In Space

If you don't already know Strangeness In Space is a free SciFi Comedy audio series written by and staring "Trev and Simon" from UK Saturday Morning TV. It also stars Sophie Aldred from Doctor Who, and a whole host of supporting characters from the world of TV and film.

I knew there would be at least four people at the convention, Trev, Simon, Sophie and Clare Eden who is the producer as well as performing many other roles for the series. This is where the odd idea comes in, I thought why not recreate the classic Queen photograph featured on the Queen II album and Bohemian Rhapsody single. It isn't a massive leap, knowing that I am a big Queen fan, but I thought it would be interesting to know if I could achieve it.

After saying hello and re-introducing myself I asked the question and to my delight they agreed to try. It didn't take long to find a quiet spot and organise the picture to be taken.

I then decided that, as the convention is fairly local to home, it would be a great idea to go and process the picture, mainly some small background adjustments, and print a copy to present to the team.


I did just this and about an hour later went back with the picture you can see above. To my delight the Strangeness team were very pleased with the result and decided there and then that the picture could be used to raise some funds for the final part of crowd funding that is currently in progress. By the way I'm the odd looking 5th person at the back in this picture.

What they are doing is raffling off the A3 sized print signed by all four people in the picture. The question is what are you waiting for, go enter the draw it doesn't cost much and will help fund a great audio series - strangenessinspace.com
Living The Staffordshire Life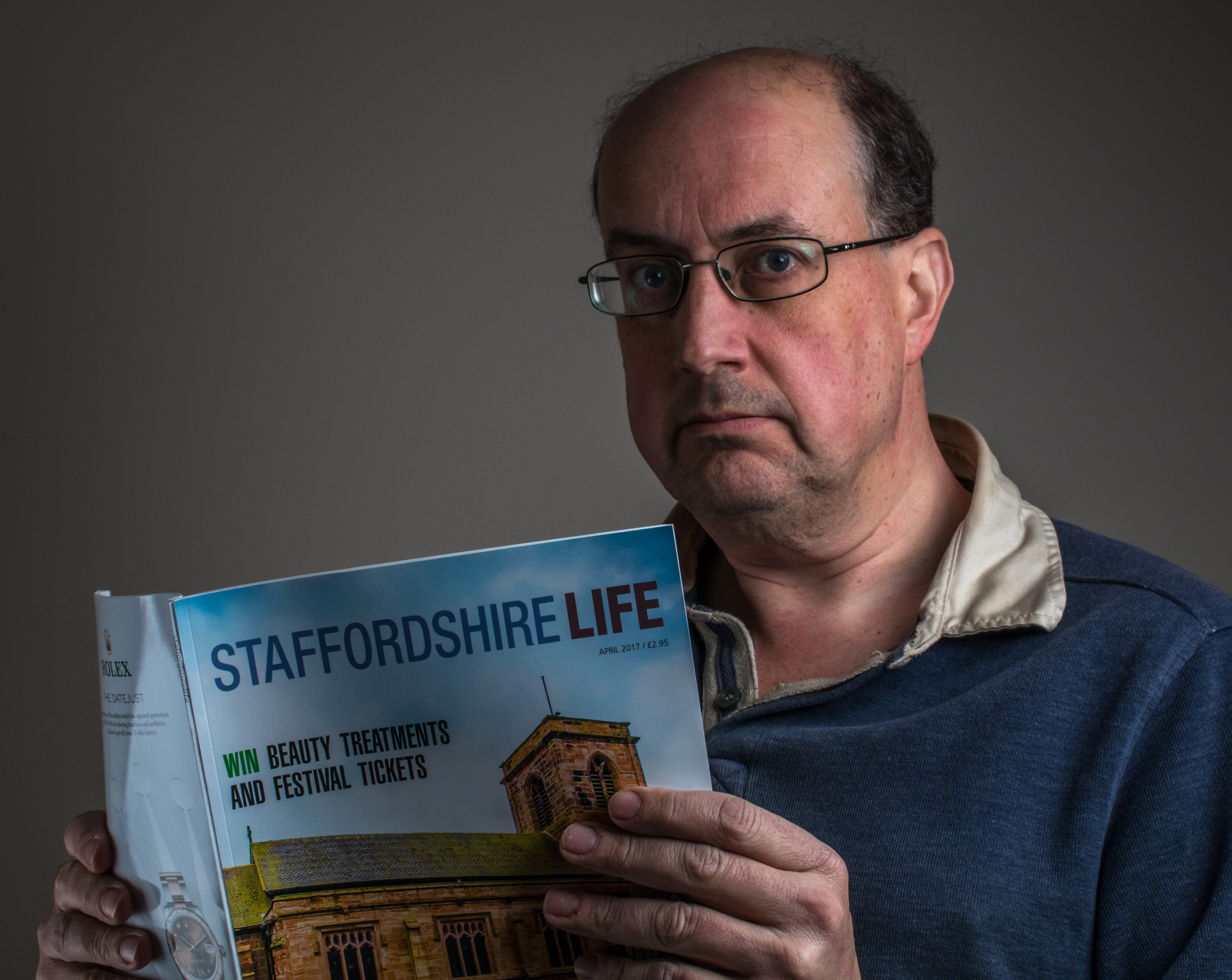 The very lovely people at Staffordshire Life magazine have published a small article in the April issue about my Jessops and Olympus "WINter" competition win.

To celebrate the occasion and to test out the new equipment I purchased at the recent UK Photo Show I took a selfie !

Ok, not the sort with a mobile phone at arms length, but a studio portrait style picture using remote triggers for flash guns and the shutter.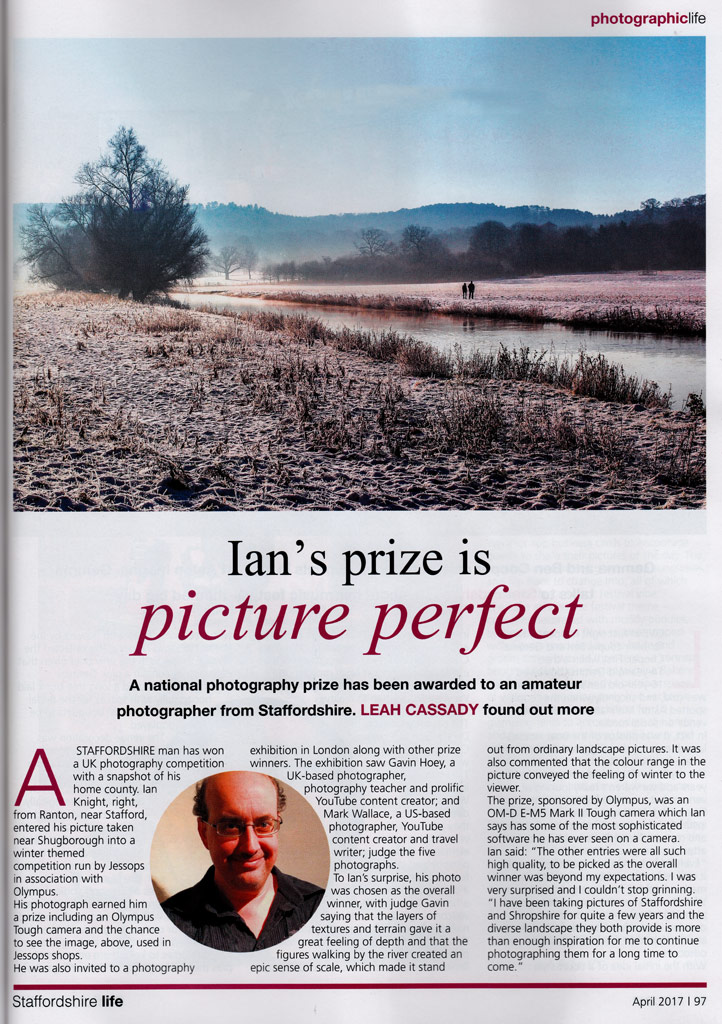 Apart from the quality of the model in the picture, and how grumpy he looks, I'm quite pleased with the result and look forward to taking some more portrait pictures soon.

If you want to read the article then you can purchase the magazine, or you can click the image to the right to look at a jpg version of the article.

On a related note this winning picture and a few selected others are now available to purchase through the ClickASnap website if you do order any of them please let me know what the experience was like.
Infiltrator Droid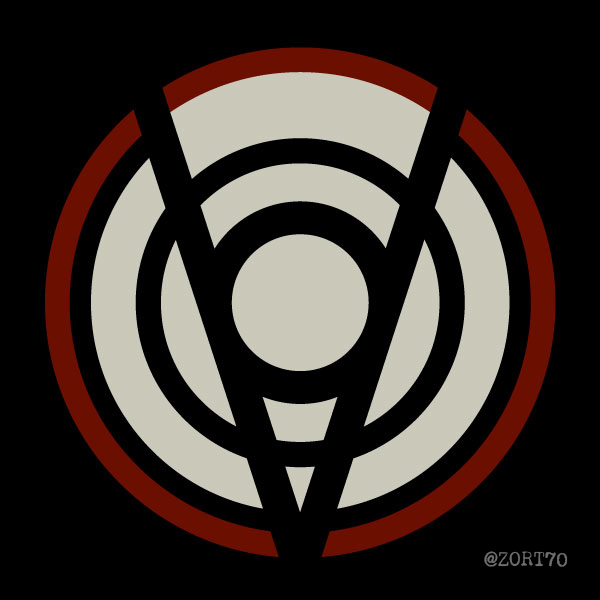 Anyone who is a fan of Star Wars Rebels will recognise this logo, it is the one C1-1OP - Chopper has on it's alternative droid dome when spying on the empire.

This is just my simple version of it, created after watching a recent season 3 episode.

I've also just heard that Rebels will be getting a season 4, which is excellent news and will hopefully tie in even more than it already has to Rogue One and Episode Four.
Nardole Is My Co-Pilot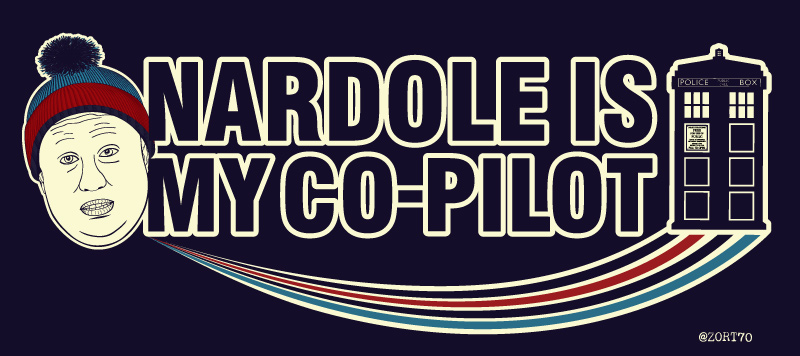 After watching the trailer for the next series of Doctor Who I had this t-shirt idea.

It seems that Nardole is around for a little while and as he is well versed in TARDIS operation this seemed appropriate.

I have uploaded it to Redbubble if you like it.
Wild Horse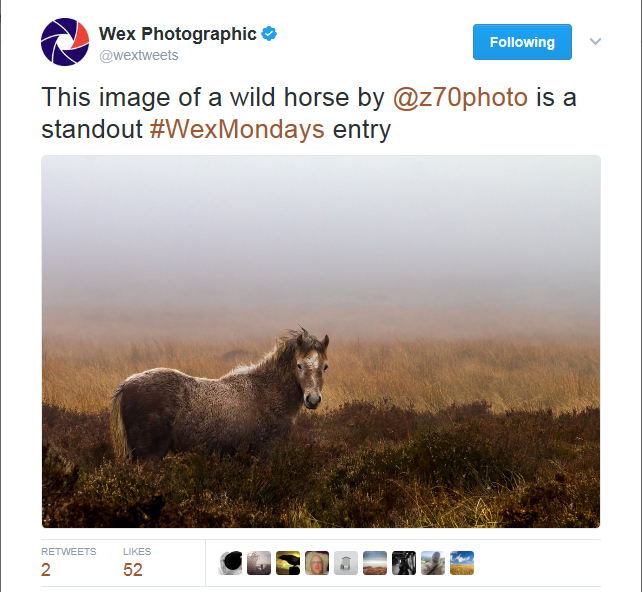 I recently started entering two or three weekly photography competitions, they are great to practice on and give me something to keep in mind during the week when taking pictures.

This picture of a wild horse on top of Long Mynd in Shropshire was a runner up.

I post all the competition entries and some of my best work on a relatively new twitter feed @z70photo I'm trying to keep that as a post only feed, if you want to talk or keep up with my usual utterences and daft stuff keep following @zort70.

I also have a dedicated photography feed on this website if you don't want to see anything else.

If you want to get in touch or just want a chat all my contact details can be found here
Olympus EM-5mkII First Thoughts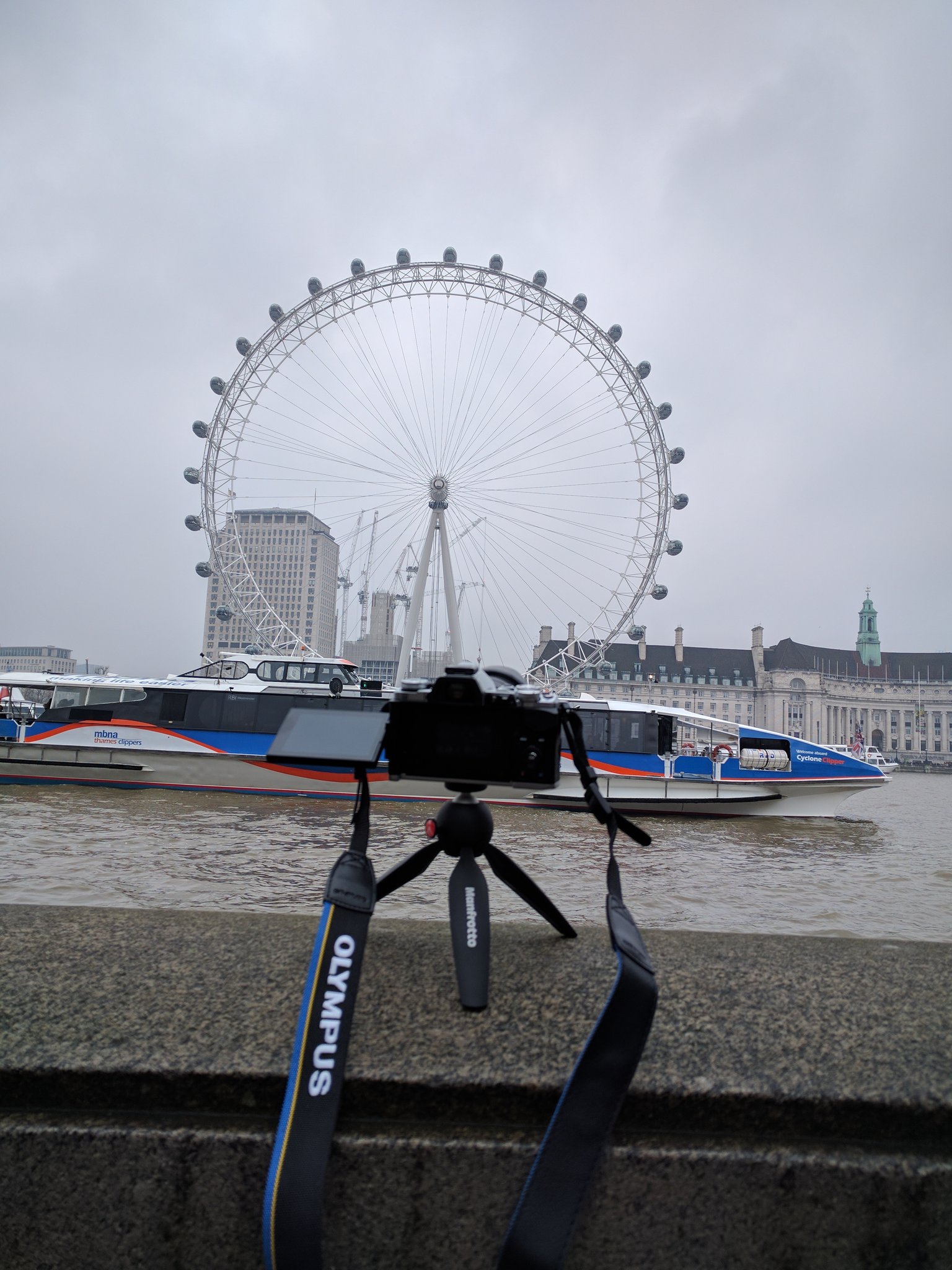 I had taken my Canon 80D with me to London as I had no way of knowing that I would win a new camera, but as soon as won the Olympus EM-5MkII camera I knew I was going to be testing it as soon as possible. After getting back to the place we were staying, I hurriedly took it out of the box and got the battery charging.

Looking over the contents there was the usual assortment of cables, straps, pouches and the tiniest flash gun I have ever seen.

No instructions to speak of, just a simple quick start guide in a multitude of languages, I assume the full manual is on the included CD but I didn't have anything to read that so I looked it up online. After a few pages it became apparent that this camera has some of the most sophisticated software I have ever seen on a camera !

Read the rest of the post



After getting some food and relaxing I grabbed the charged battery, a small

Manfrotto tripod

I had got for free at the opening of

Jessops new Oxford Street store

in London, and headed out towards London Bridge which was a 10 minute walk from where we were staying.

As I walked I tried to figure out the controls, got it into manual mode and started playing with settings. Once I worked out which dial, switch or button did what, and there are a lot of them to try, I felt quite confident and started taking a few pictures.

I have to say after about 5 shots I was dialled in and taking some quite remarkable pictures considering it was gone 10pm and the shutter speed being used was very low.

I got to the bridge took a couple of long exposure shots using the small tripod and headed back as it started raining. On the way back I downloaded the Olympus phone app, connected to the camera, transferred some pictures to my phone, edited them slightly and uploaded them to social media, quite remarkable how far technology has come for me to be able to do all of this within a couple of hours of getting a camera that I've never used before.
After a good nights sleep it was time to hit London and see some sights.
I had taken a couple of pictures the day before (image of the Millennium Bridge below) with the 80D and although I took it with me, along with a couple of lens' and filters in a big bag, I didn't use it until the very last part of the day.
We started off by a trip to the viewing deck of The Shard, unfortunately the view was somewhat marred by fairly heavy fog, so we didn't see a huge amount from up there, then proceeded to travel around the city, if you look at the
pictures in the Flickr album
you can probably follow our route.
As I was going and taking pictures I was getting more and more used to the camera and which buttons, dials and switches do what, but I don't think I scratched the surface of the capabilities of the camera as there is so much to choose from.
We had bought a Day / Night ticket for The Shard so we headed back there, unfortunately by the time we got back up there the battery had started to run out, so there aren't many night pictures from the view, but there are a couple in the album. The pictures below of St Pauls are taken with the Olympus 17-40mm pro lens and a Canon 80D 70-200 IS L lens
Regarding processing of the pictures I did fairly minimal work in Lightroom and took a decision to apply no noise reduction to any of the Olympus photographs so you can see what they are like without it, I have to say I think it is excellent at handling noise up to 800 ISO as I didn't go any higher than that.
I loved using the camera, and there are so many features that it will keep me busy for quite some time figuring them all out. The electronic viewfinder is new to me and once I understood what it was doing it was really useful, but it caught me out a couple of times as I couldn't decide if I had taken a photo or not, especially in silent mode.
There were a couple of niggles that I think I have to let you know about, there are so many buttons, learning what they all do is a bit of a task, but they are all reprogrammable so if you don't like which button does what you can swap things around. Because of my fairly large hands and the smallness of the camera I did find myself pushing buttons without meaning to at inopportune moments, especially shifting the focus point to the right for some reason.
The battery didn't last all day, which is why there is only a couple of pictures from the Shard at night. I know I was using it for a long time and with all the features including the EVF it isn't surprising, but a spare battery will be the first thing I buy for the camera. The photo above is one of the few I got at The Shard in the evening (the window had a lot of water droplets on it)
When using the mobile phone app I couldn't transfer the RAW images directly to the phone I had to convert in camera first and then transfer the JPG. Not a big problem, but imagine you have a full card and want to get one picture, you wouldn't be able to without deleting a picture first to free up space.
Those are all fairly minor things really, and the quality of the pictures taken by a digital Olympus newbie is really superb (I did use an OM-10 film camera a *cough* number of years ago).
If you have any thoughts on the pictures I took or the camera in general please let me know, the easiest way to do that is via Twitter -
@zort70
Winter Winner - The Judging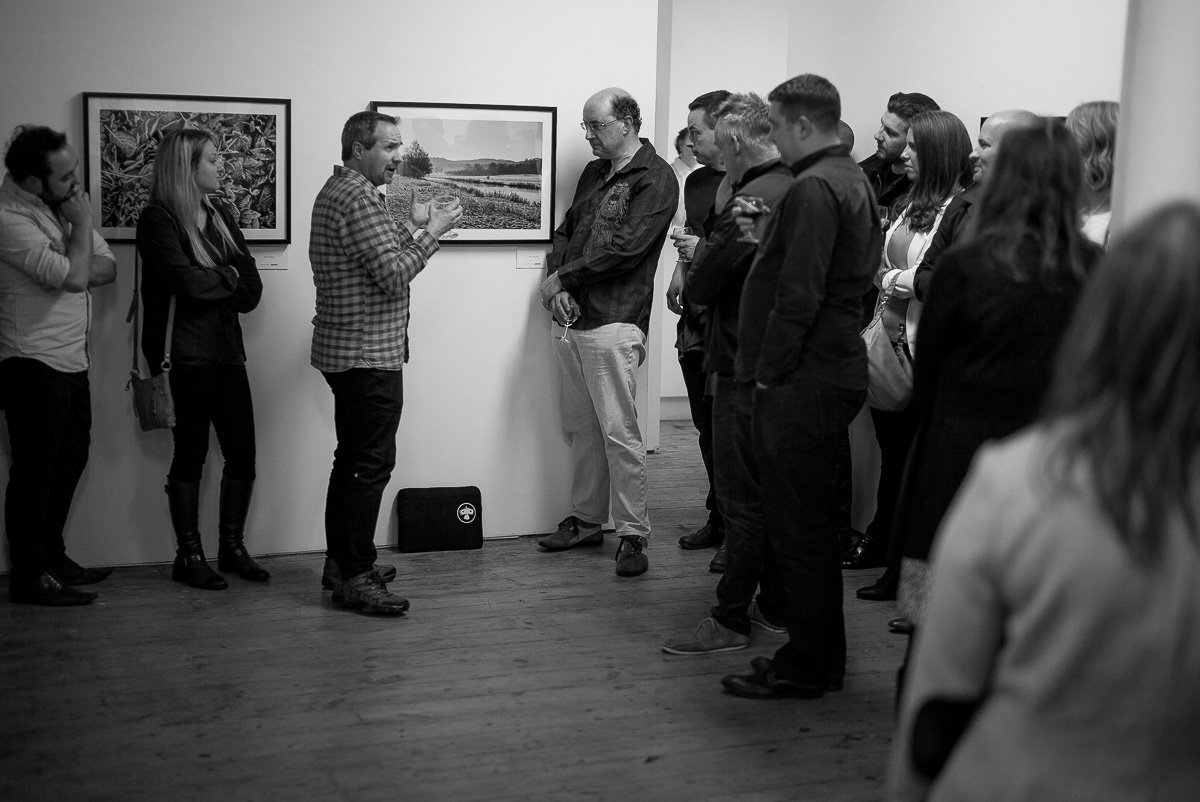 Although I had won one of the weekly prizes in the Jessops and Olympus UK competition there was still one more stage to the competition. All of the weekly winners and runners up were invited to London where the Project Art Space Gallery would be hosting a small exhibition.

I had arranged to be in London to attend the judging as Fiona and I wanted a couple of days in the city as a pre valentines get away.

I got to the gallery slightly later than I wanted to so I was a hot mess after walking from where we were staying, a glass of wine steadied my nerves and I had a look at all the other entries close up.

If anyone every asks why I take pictures the answer will be to see them displayed so other people can see them, especially like this. Viewing them online is good but there is nothing like seeing something you have created printed and framed hanging on a wall. The look and feel of a printed photograph is so much better than seeing it on a small mobile phone display.

I talked to a few of the people there including Gavin Hoey and Mark Wallace (credit goes to Mark for the picture above) who are both prolific photographers and YouTubers, and it was a pleasure to meet both having seen quite a few of their videos and guides over the years.

Then it was time for the judging to be announced, Gavin walked around all of the photographs explain what he liked about them all and finally announced the winner, which to everyone's surprise, mostly my own, was my picture !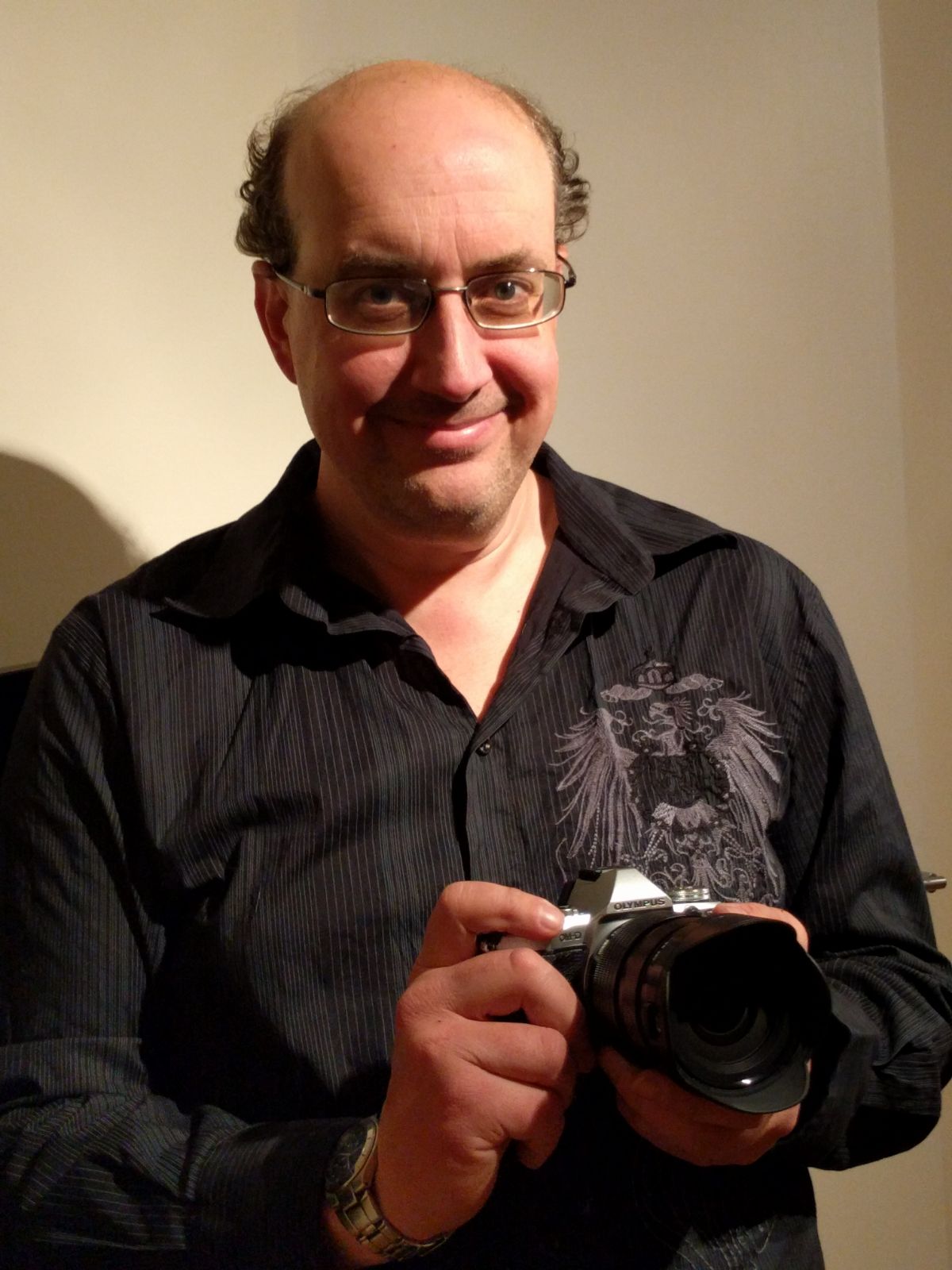 I think I stumbled out a few words of thanks, accepted the prize which is an Olympus OM-D EM-5mkII and posed for a couple of photographs in front of the winning entry.

There were then some talks from Gavin and another photographer giving their impressions of the Olympus cameras and showing some fascinating pictures taken with them.

Needless to say I am very grateful to Gavin for judging, Olympus UK for the prize and Jessops for hosting the competition in the first place.

As to the camera I won when we got back to where we were staying it was straight out of the box and as soon as the battery had some charge I disappeared out to use it. I'll write another post soon to explain and give links to the pictures taken.
The Ghost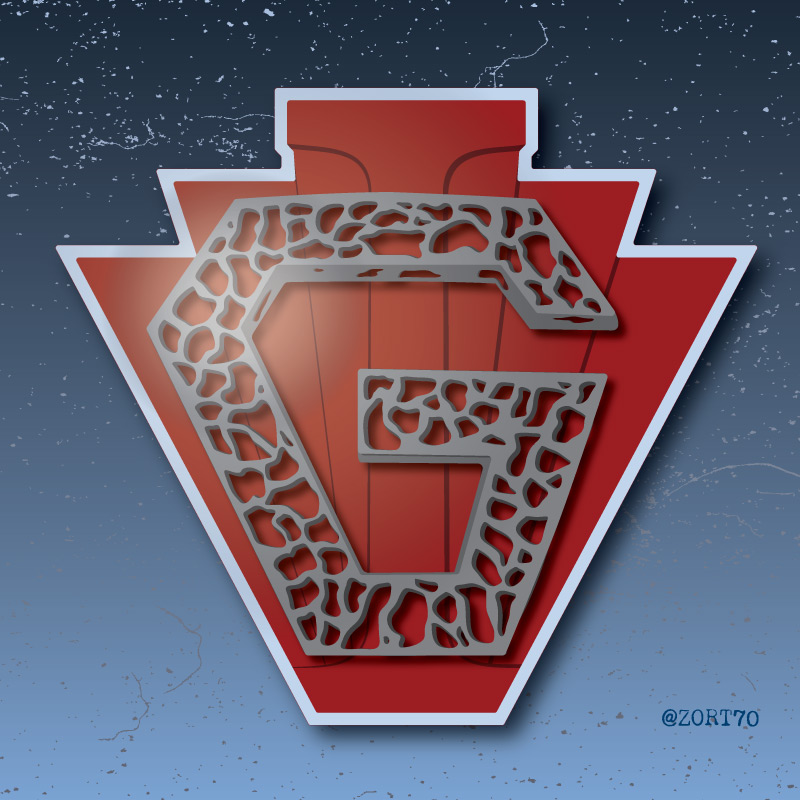 After watching the Doctor Who Christmas special I was taken back to a time of old school super hero movies, before all the massive computer generated set pieces.

I loved that they managed to find a way to bring superhero action to DW and I thought what I needed was a Ghost t-shirt like the Super ones of old, and this is the result.

I think I managed to draw a decent 2d representation of the 3d logo on the suit.

It is available on Redbubble at the moment, let me know what you think, all my contact details can be found here
Winter Winner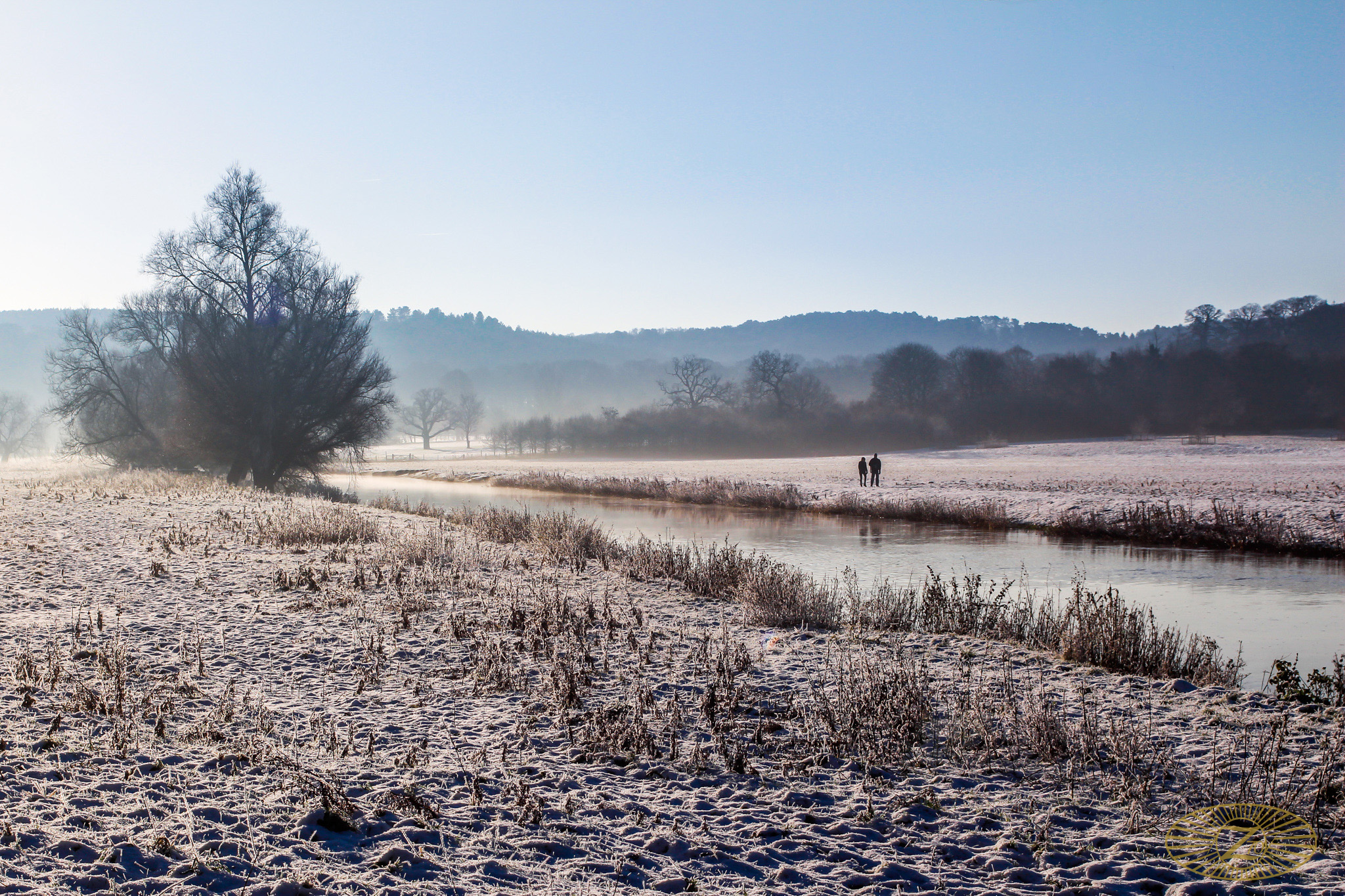 Late in 2016 the UK high street photography store Jessops held a photography competition with the subject of "Winter"

I entered this picture and to my delight it won one of the weekly prizes.

The competition was held in association with Olympus cameras and part of the prize was an Olympus Tough camera which I looking forward to using and abusing in the best way possible :-)

The other part of the prize was a place in a small photography exhibition in London in February, where an overall winner of all the weekly winners will be chosen. I'll post more details of that when I have them.

If you go to the exhibition I'd love to know what you think of all the exhibits, let me know on Twitter - @ZORT70

You can see more of my work on the portfolio page (link in the menu above) or see all the photography related articles on this website

You can see lots of my photographs on the photo sharing sites ClickASnap and Flickr