12 Monkeys Temporal Storm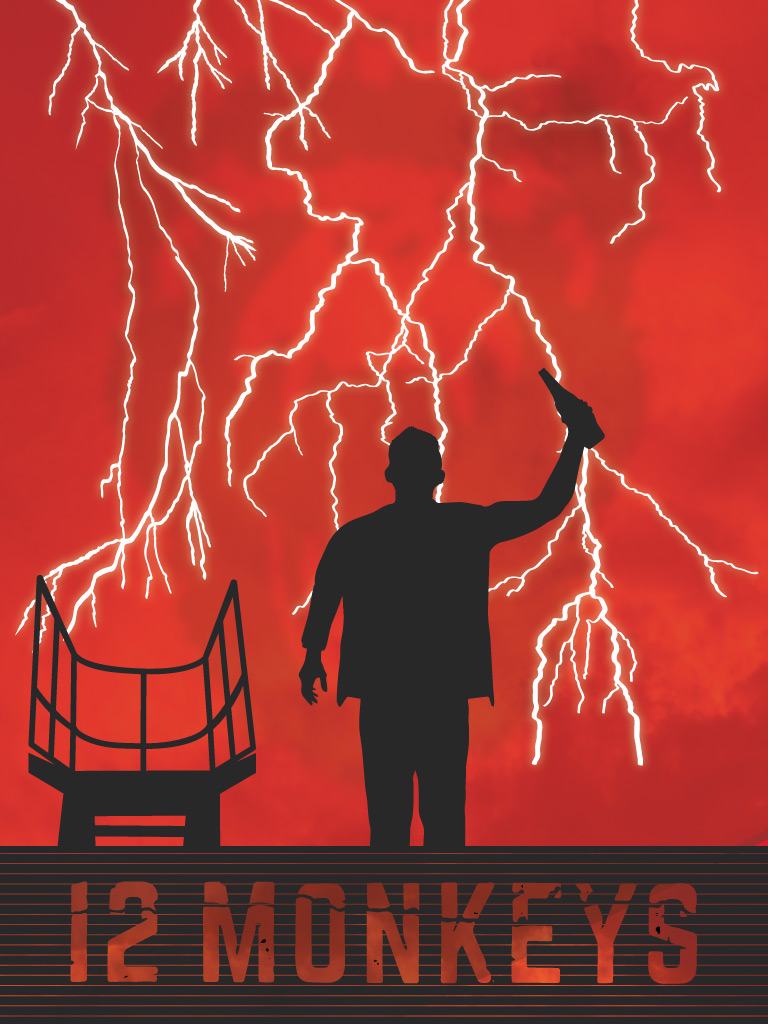 While watching a recent episode of Season 2 of 12 Monkeys I was struck by the final scene where Deacon (Todd Stashwick) is on the roof of the time travel facility drinking during a time storm that is threatening to end the world as we know it.
12 Monkeys Designs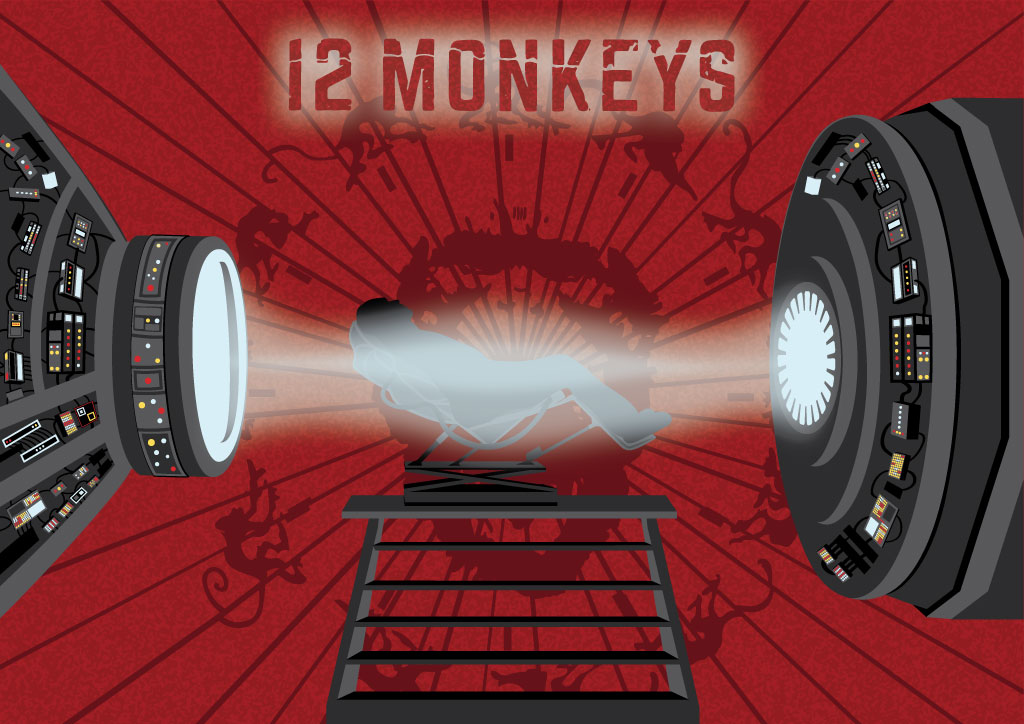 One of my favourite shows at the moment is the TV version of 12 Monkeys.

Far removed from the Terry Gilliam film version, but it does contain some nice easter eggs and references to the film.

One of the main sets / locations of the TV show is the splinter room where al the time travel magic takes place, and it is such an iconic part of the TV show that I wanted to try and capture it's essence on a poster.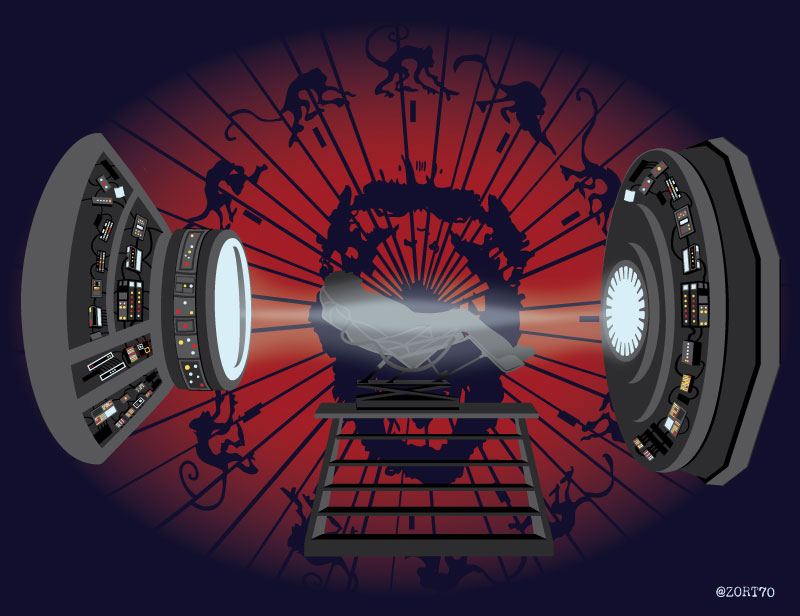 Hopefully you like my view of the Splinter machine.

I also created a t-shirt version that has been uploaded to Redbubble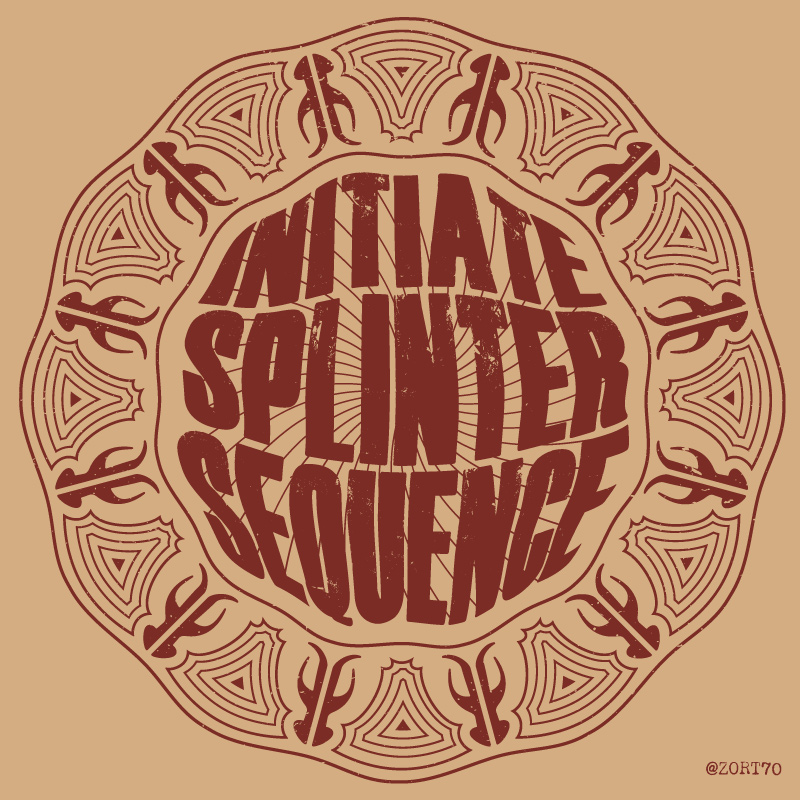 After the splinter machine, I thought I had to create something around the "Initiate Splinter Sequence" sound bite that Jones says before each time jump.

I went for a pretty simple text based design surrounded by the mysterious symbol that we have now found out means "Titan" in the style of the ancient plate containing the USB drive.

This is also available in various forms on Redbubble
Weasleys Wizard Wheezes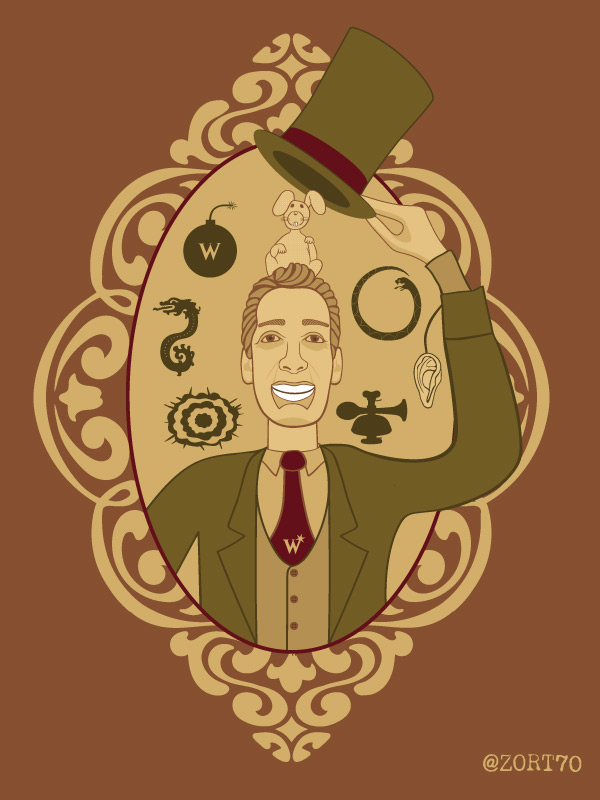 We were watching the Harry Potter films again recently and I thought I'd have a go at drawing the oversized animated mannequin outside the Weasley shop in Diagon Alley

The mannequin is of course based on Fred and George, the Weasley twins, but it is more than just a facsimile of them.

It turned into a little more than just the mannequin, almost an advert for the shop but I took the decision to not use any words on it just let the image speak for itself.

Surrounded by some of the magical products that the Weasley's produced and of course the rabbit under the hat. If I ever get a chance I'll produce a special edition of this with a glow in the dark rabbit that you can't see when it is light.

I have added this to my Redbubble store as a t-shirt design or small art print if you want one.
Doctor Who - The Long Way Round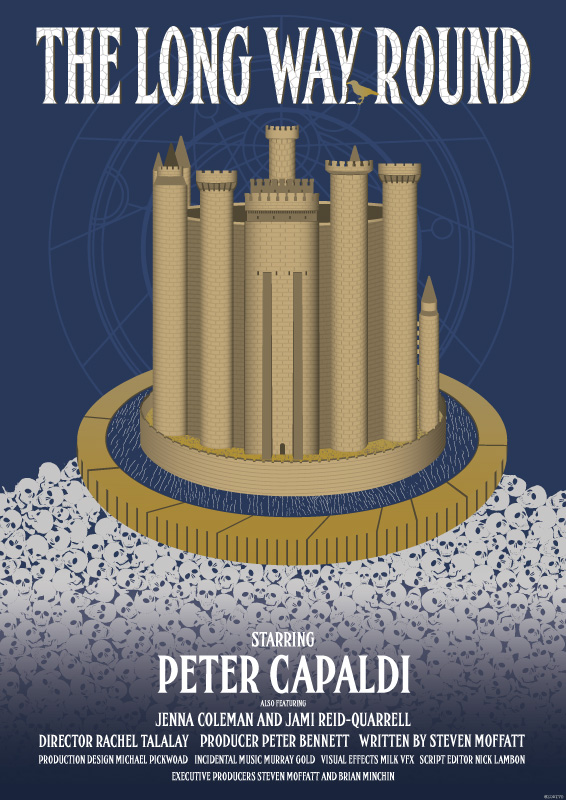 Say what you want about Peter Capaldi's incarnation of The Doctor, this episode of the new series was a tour de force of acting, writing and production.

It had me thinking and contemplating long after the episode was broadcast and that is a hard thing to do in today's instant gratification style of TV.

So I knew I had to create something based on the episode and this alternative episode title poster is what I came up with.

Even if you had seen this before the episode I don't think it gives away any mysteries fully and gives a few clues to the contents.

I wanted to feature so many things, and dropped quite a few along the way ! The castle had to be featured in what I think it would look like when fully rotated into it's starting position.

I haven't got any plans to make this avilable to purchase yet, but I may do in the near future so keep an eye out on twitter.

Below are a couple of closeups of some of the detail as you can't see all of it in the small preview, click on each one for a larger version.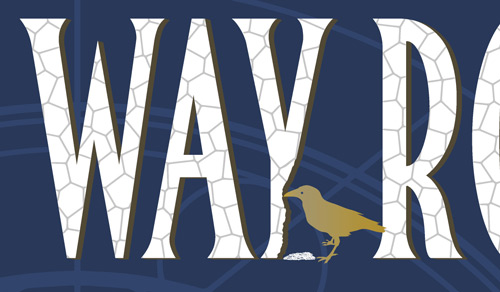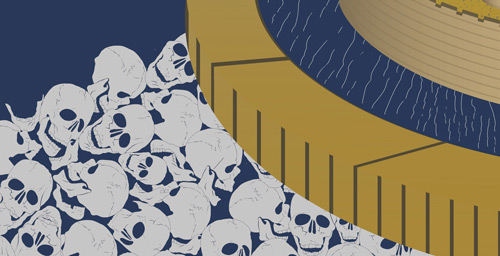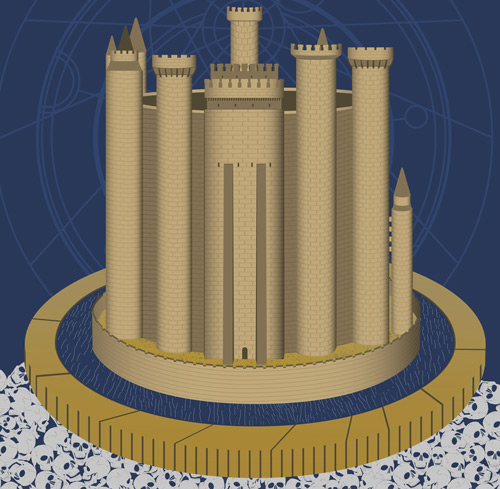 Ghost Benders at Teebusters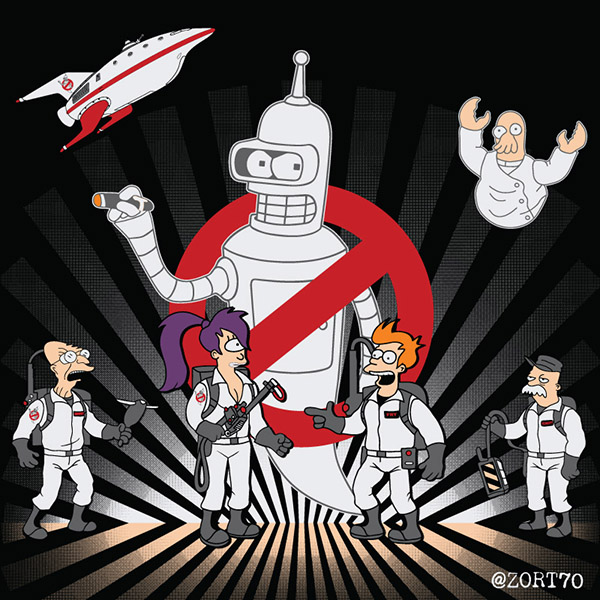 The very nice people at Teebusters, the limited edition t-shirt website, have chosen my Futurama "Ghost Benders" design to go on sale, starting on Friday the 21st of August.

It will be available for just 48 hours on a high quality screen printed t-shirt and hoodie at the incredibly cheap price of just £7.50.

If you like the design and want a poster version of it I do have a very small number available in my online store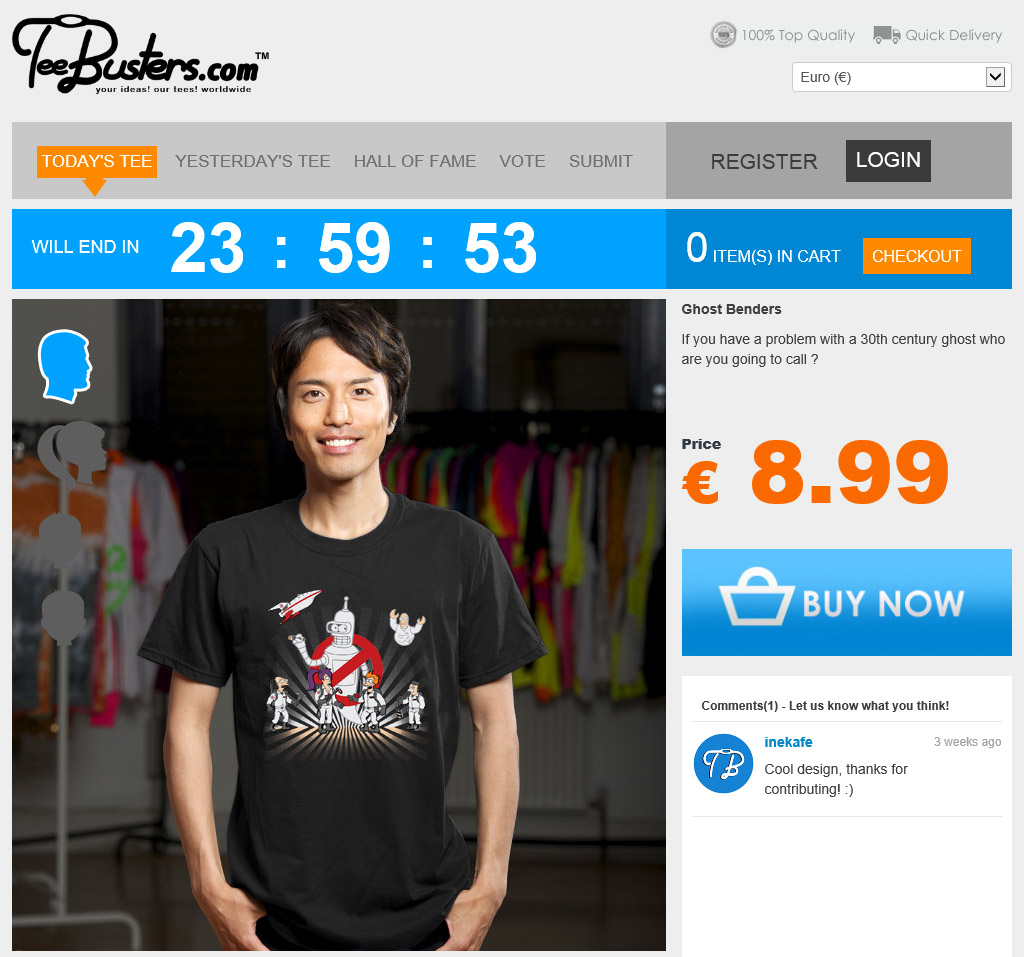 The shirt is now live, head on over to Teebusters and take a look and if you can share the details on social media I'd appreciate it.
Strangeness In Space
What do you do when you are stuck orbiting a far off planet with a square sun and caught in a shoe storm ?



Yes I did say shoe storm :-)
I was inspired to create this after listening to the first episode that was just released of Strangeness in Space.
This is a brand new original comedy audio play / podcast starring Doctor Who's Sophie Aldred and Saturday Morning TV favourites Trev and Simon, plus a cast of many other famous voices.
Find out more and listen to the first episode for free by clicking here.
Siege Of The TARDIS at Comic Con !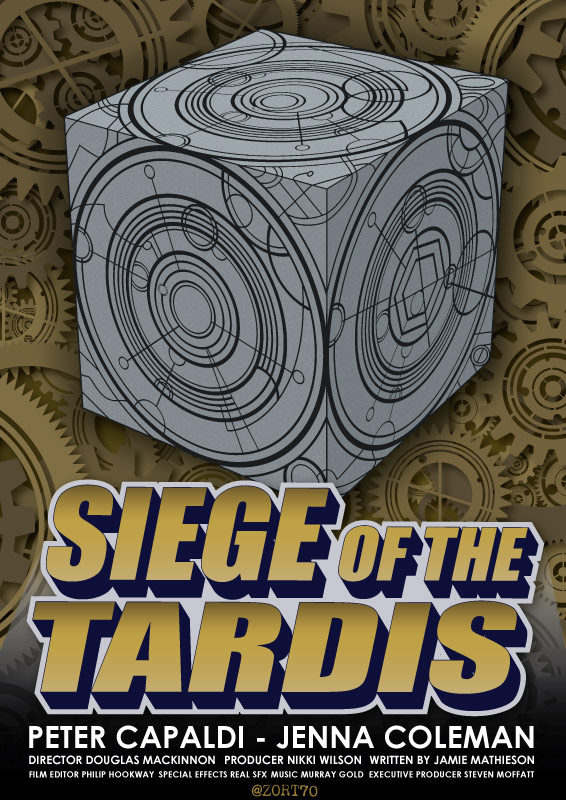 We all want to go to San Diego Comic Con right ?

At least the geeks that I know do, but what would it be like if you were featured at SDCC as an artist ? I am about to find out !

BBC America put out a call for people to submit fan art from the most recent series / season of Doctor Who, I decided to update my Siege of The TARDIS poster to make it a little more complete, with the names of the cast and crew involved and make the title stand out a little more.

What you see to the left is the end result, and this is what I submitted.

To my astonishment a few weeks later I received an email to say they had selected it for display at the BBC America booth at the SDCC event. I am still buzzing with the news that they wanted to feature it !

As this is a special occasion I am going to have a little competition, where if you are at SDCC you can win one of my "Round Things" scarves.

All you have to do is take a picture of the poster up at Comic Con, with yourself in as well if you want :-), and follow / send the picture to me on twitter @ZORT70 or like and tag Z70Designs on Facebook

I will draw a random person from all the entries the Friday after SDCC finishes and they will be the winner, I'll also have a couple of small prizes for other entrants. If you can't get to SDCC send me a picture of something you have bought from one of my online shops or from a limited edition t-shirt sale and I can send some other small prizes out.
LOST 2017 - Official Poster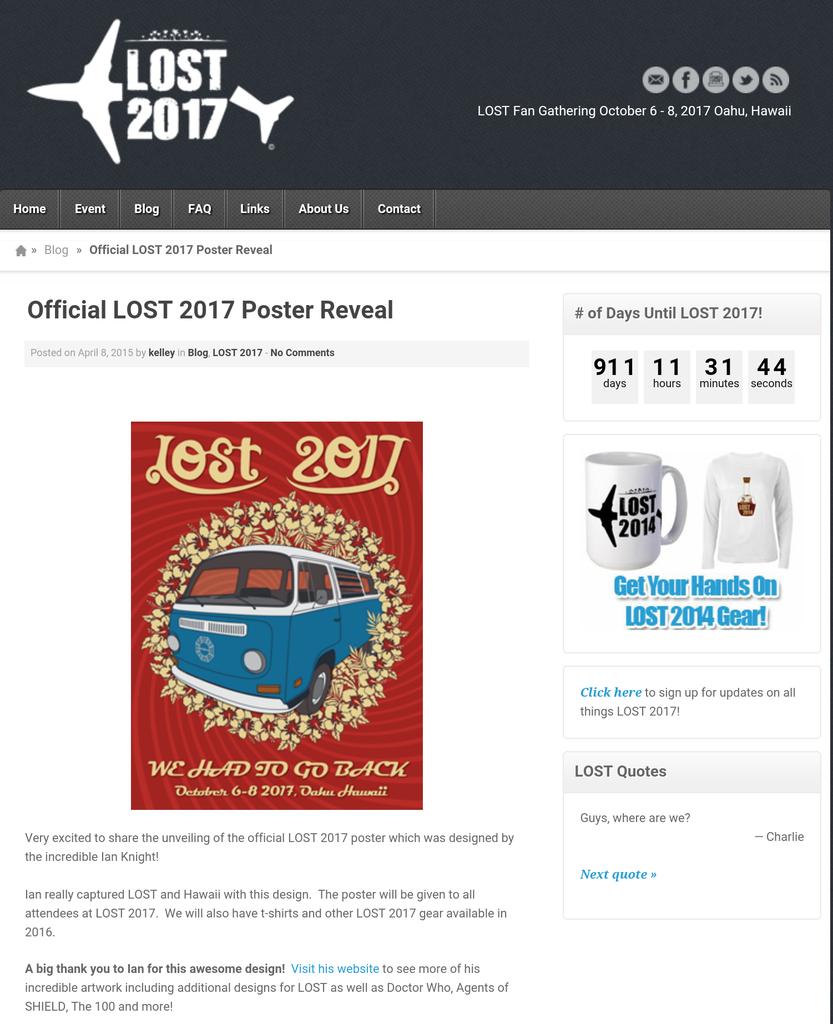 The news is out ! Revealed on Twitter on LOST day (or at least it was for the US fans) - 4/8/15 16:23:42 - by @2017LOST

I had the idea for this while at LOST 2014, after it was announced there would be a 2017 meet up, and after a few (cough) iterations this was the end result. I originally created it just because I wanted to, not knowing that it might be used for the 2017 gathering, but I am so happy that it was deemed worthy.

I did think about adding a Hurley or other characters into the van, but decided against it to keep it simple and relaxed, like the 2017 gathering is sure to be.

Head on over to the LOST 2017 website to keep up to date with what is happening and meet some like minded LOST fans.
Doctor Who - Siege Of The TARDIS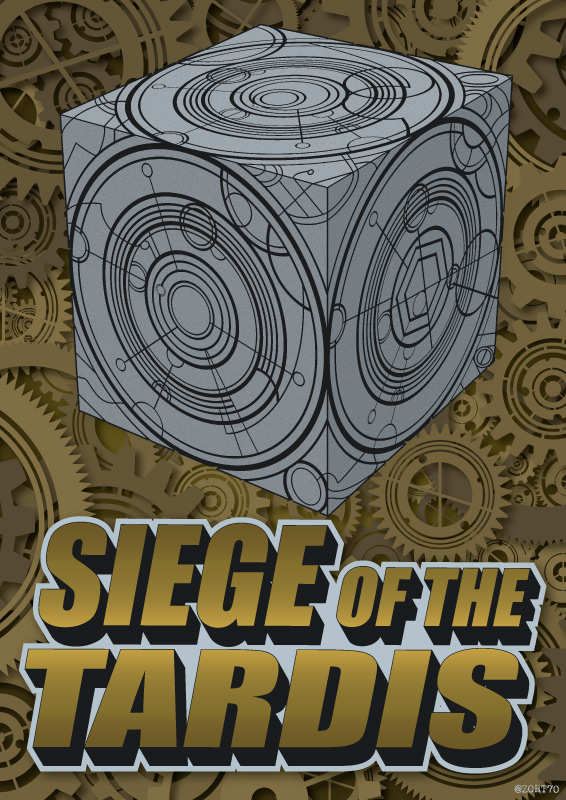 So Peter Capaldi's first year as the Doctor is nearly at an end, it has been quite a ride

There have been some fantastic moments in this series, and some quite frankly dodgy plot holes and pseudo science. I know it is Science Fiction but without a decent grounding in the science part the fiction part quite often fails.

Anyway mini rant over, I did love the new siege mode TARDIS and wanted to try and create something featuring it, so I came up with this poster idea, sort of inspired by a cheap 80's straight to video movie.

Featuring the siege mode TARDIS and a background of cogs taken from the new opening credits.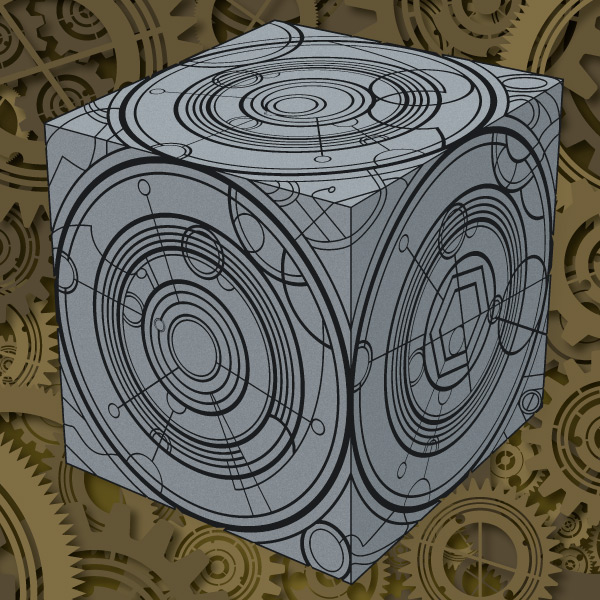 I also created this icon version of the design if you want to use it on social media, if you use it just tell people where you got it.

Click on both the images to get the full size versions.
Agents Of S.H.I.E.L.D. Season 2 Poster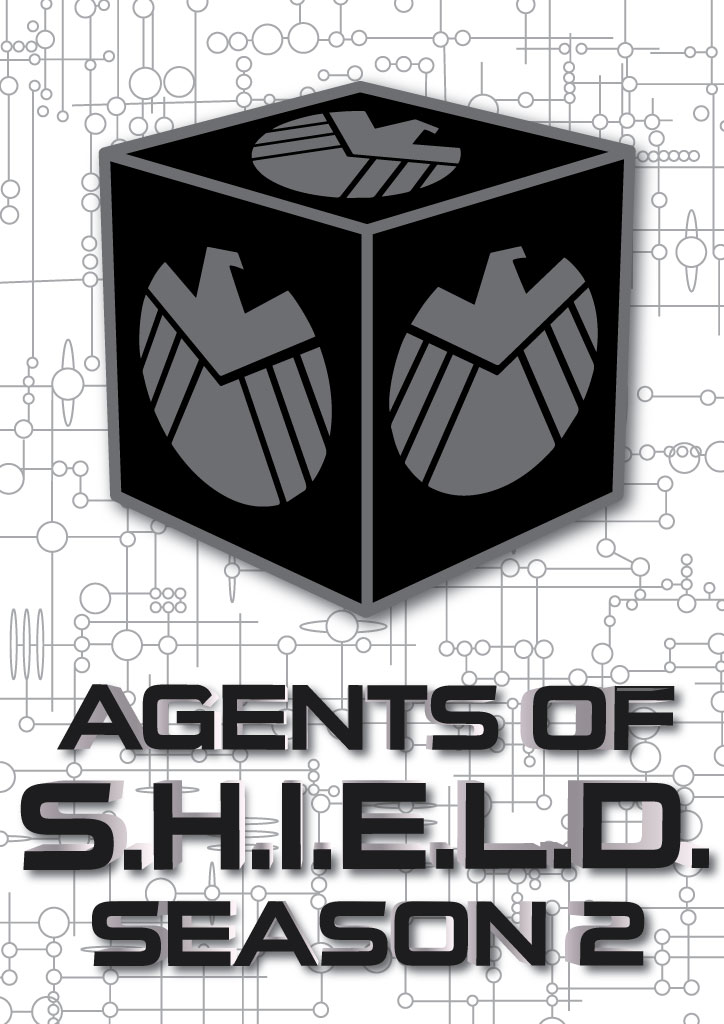 At the end of Season 1 of Agents of S.H.I.E.L.D. we were left with a few questions and a mystery box.

I thought I would create a poster for season 2 featuring the box and the (Alien ?) writing that Coulson was scratching into the walls.
Minister Of Chance - Frost Bridge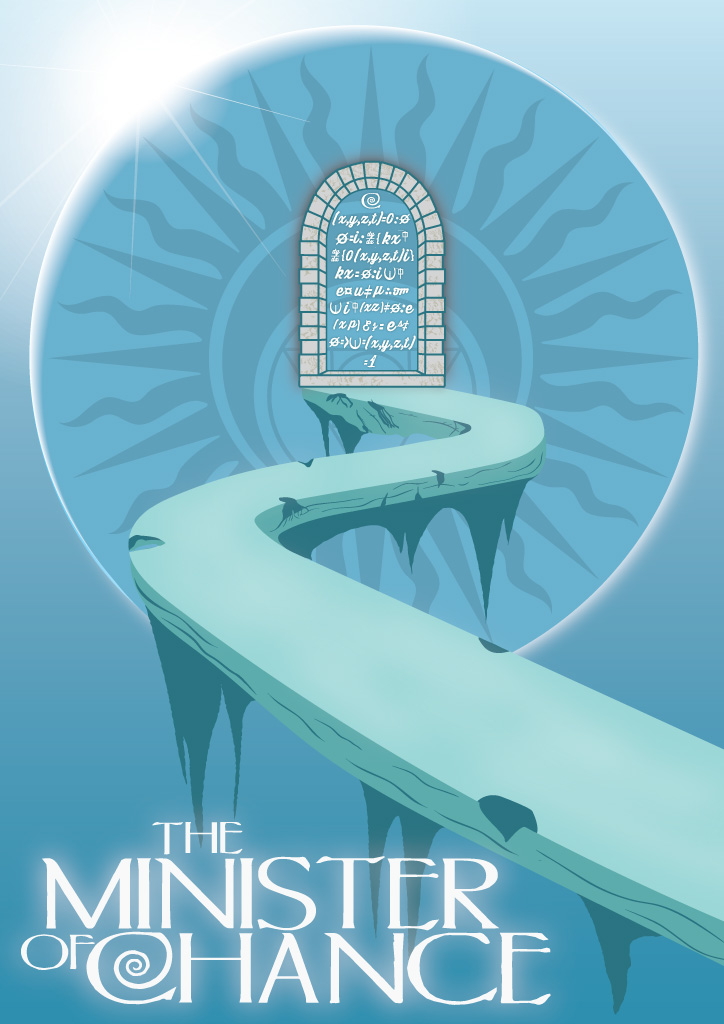 Have you heard the Minister of Chance Audio Series yet ?

If not do yourself a favour and go listen - MinisterOfChance.com - It's FREE !

This poster is my interpretation of the frost bridge used by the minister, when you have listened see if you agree.

I created this to give to the main man behind the series at a little premiere party for the Minister of chance live action prologue preview in Cheshire.
Almost Human Comic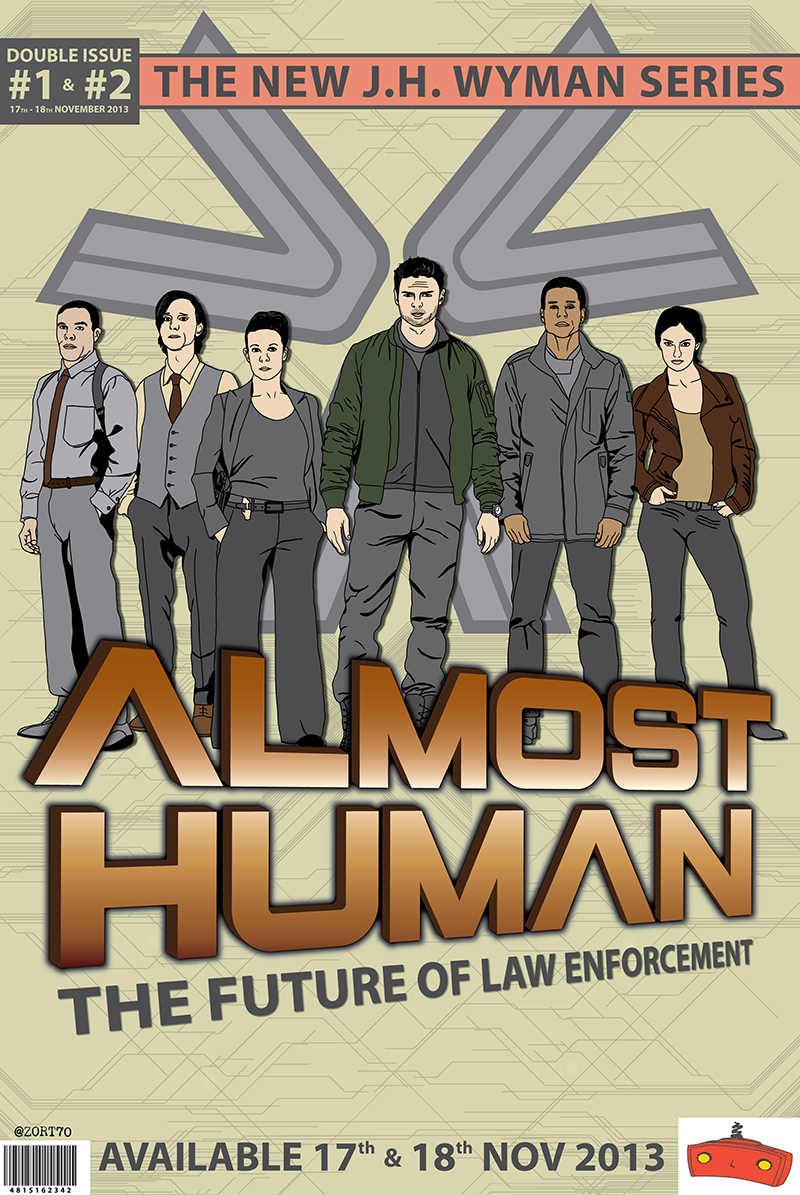 This is something I created around the start of the TV show Almost Human, but forgot to post it to this website

It is my version of a comic book cover announcing the show starting.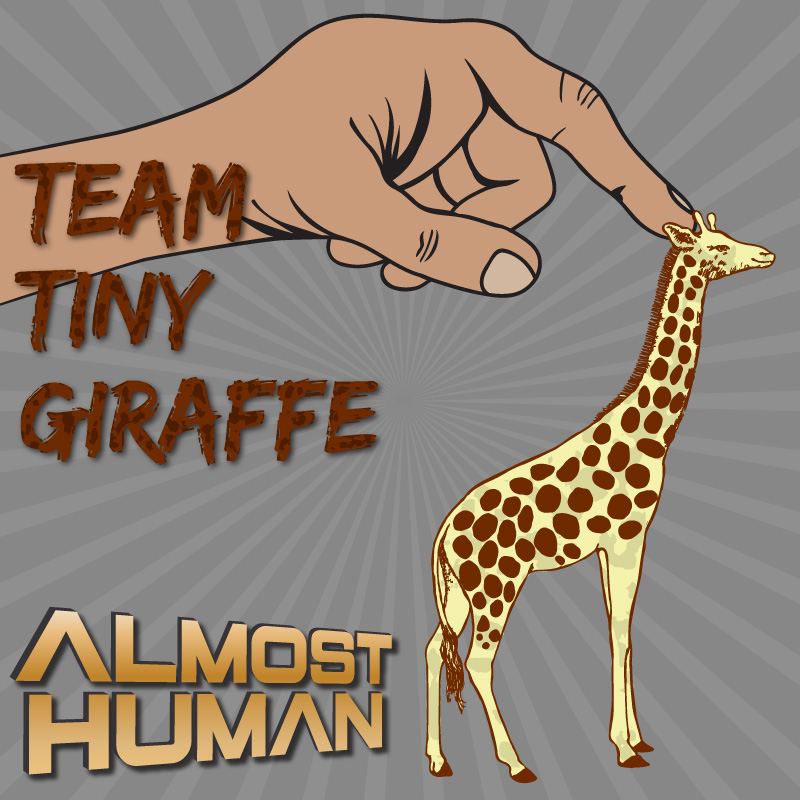 Also included here is a small icon I created to show support for almost Human on the sad news that it wasn't being renewed.

Fans of the show will know what it is all about
Friend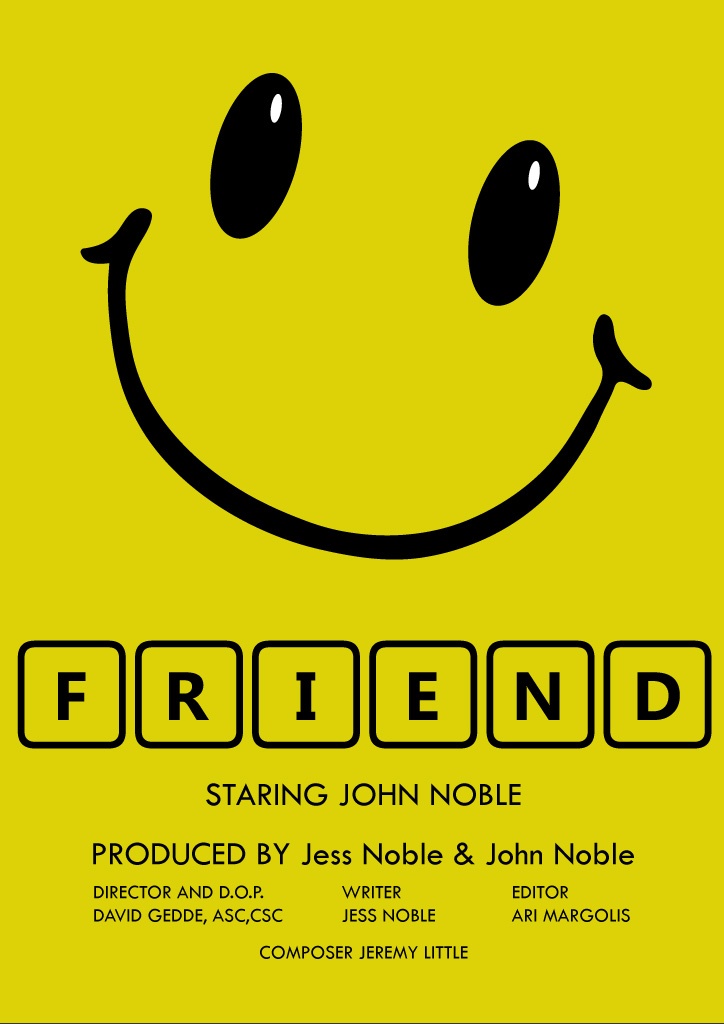 John Noble had been such a delight playing Walter Bishop in Fringe, and this short film produced by his daughter and him came out shortly after Fringe ended.

I created this very quickly just to show support for the film.
Agents Of S.H.I.E.L.D. Slingshot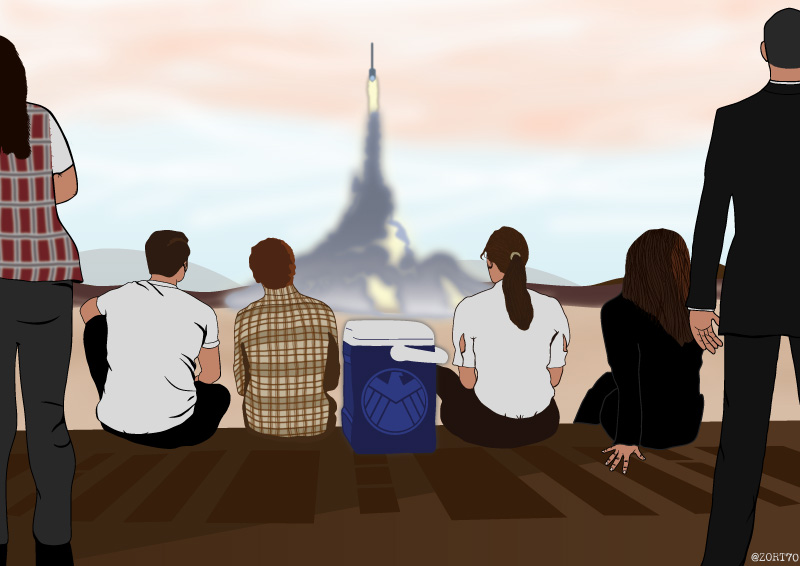 A poster created for the Marvel TV show Agents of S.H.I.E.L.D.

This was a sweet moment early on in the first season, and I wanted to capture the moment.

It is available as a limited edition poster in my web store
Helix Poster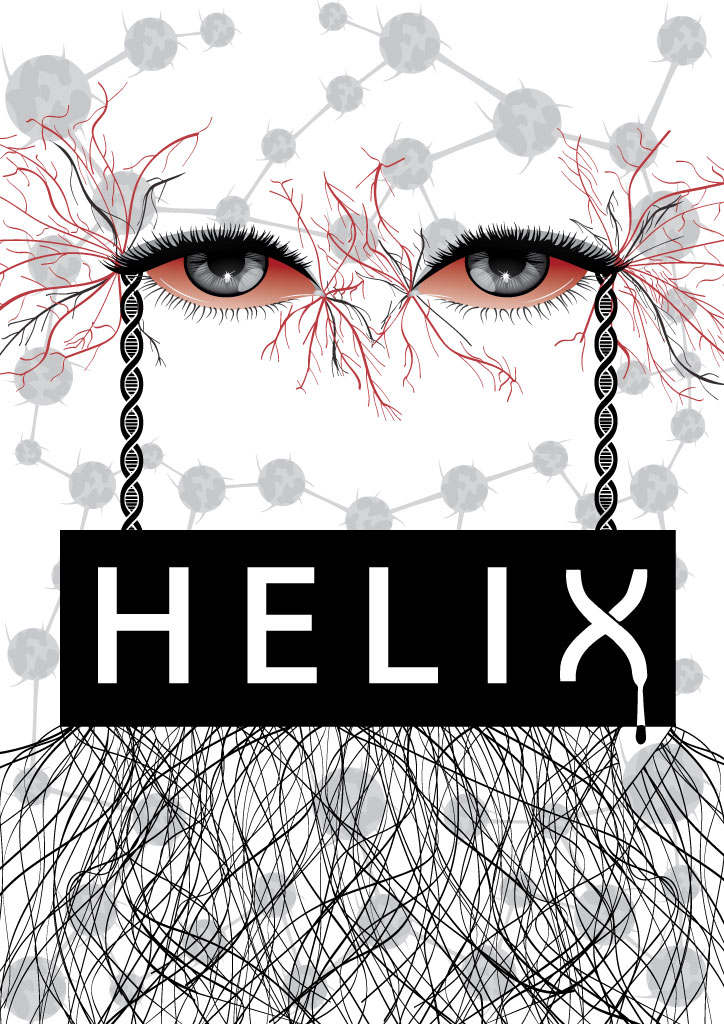 A poster I created at the end of the 1st season of the TV Show Helix
Fringe Anniversary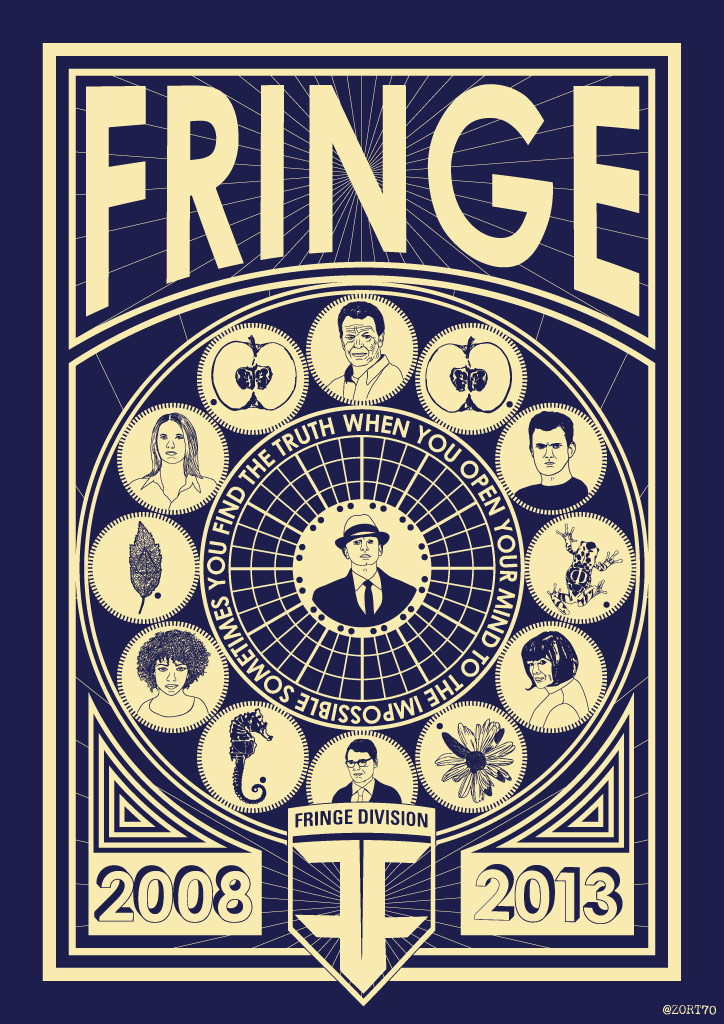 On the 18th of January 2013 the little show that could ended, at least for now ;-)

Fringe was a special part of my TV history in all sorts of ways and I wanted to do something to mark the moment.

The good folk at @FringeFridayNet let us know about an event on the 18th of January this year to get #WeRememberFringe trending at some point on the day.

I decided a few days ago that I wanted to create something to mark the occasion, and here you see the end result. There is of course a red version and a blue version :-)

This design went through several versions and I played around with which characters to use until I settled on this combination. (Sorry Broyles fans)

I have made the poster available in my limited editions store as a limited open edition. Which means it will be available for sale for 1 week starting today and ending on the 25th of January 2014, so how ever many posters sell that will be the edition size.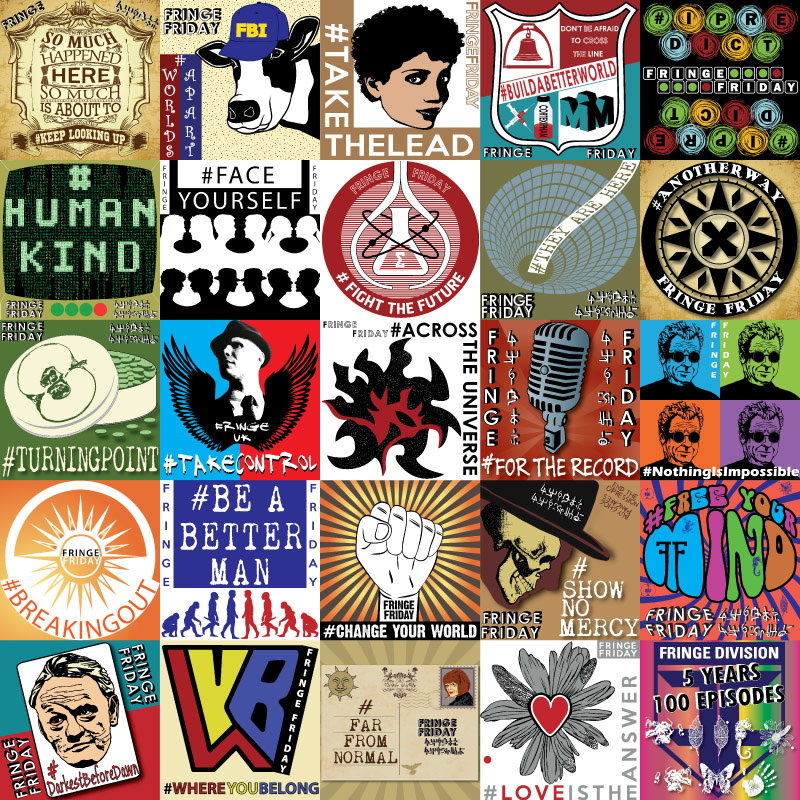 For early birds the first 10 orders will get a bonus fringe icon print that isn't available anywhere else.

It will be interesting to see if the red or the blue poster sells more !

Talking of icons it wouldn't be a Fringe twitter event without an icon, so I created this icon version based on the poster, click on each one to see the large version.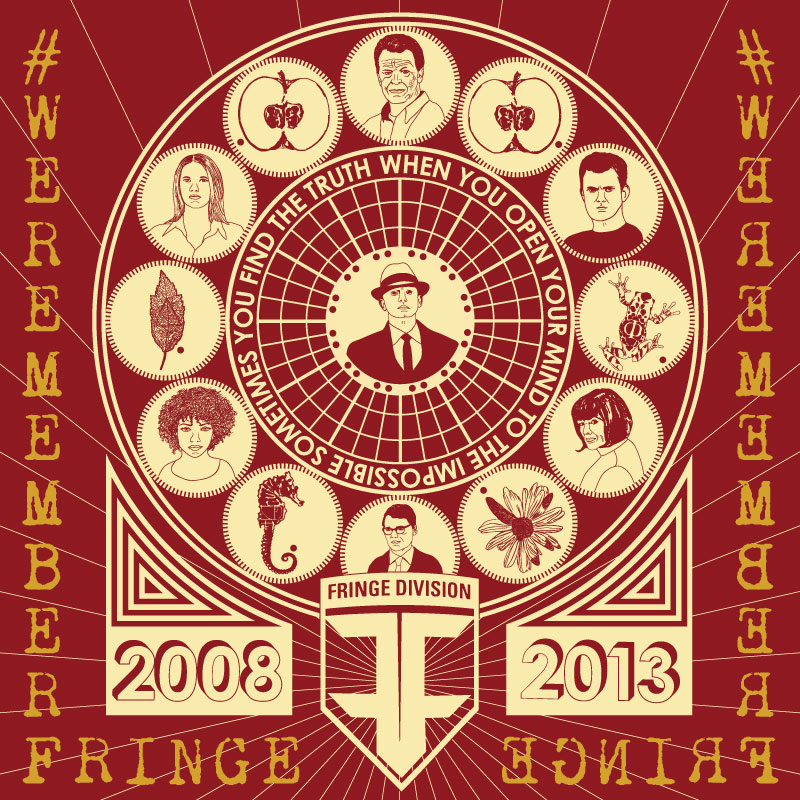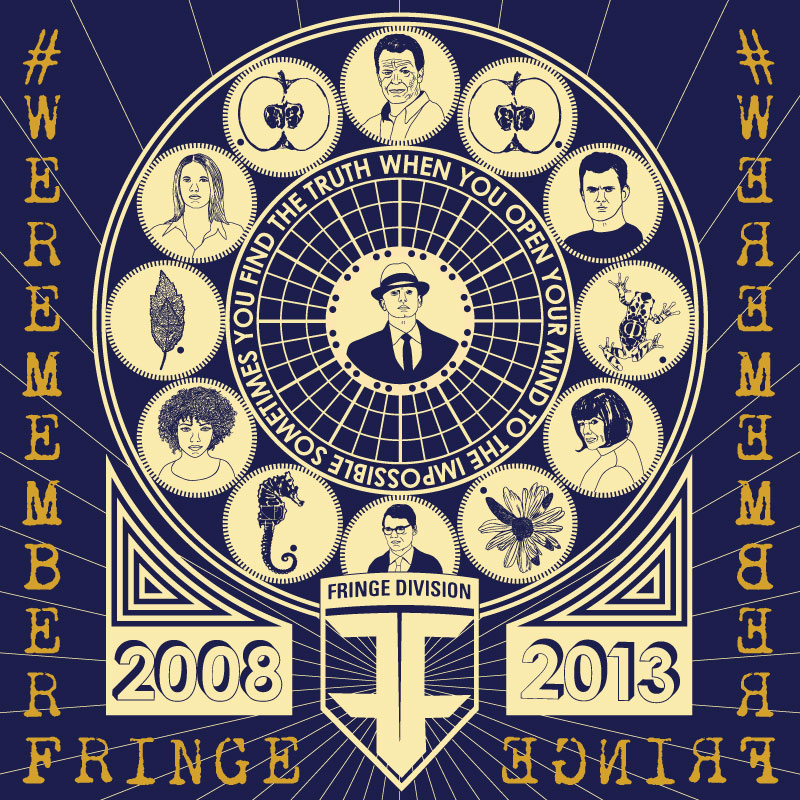 Time of The Doctor Poster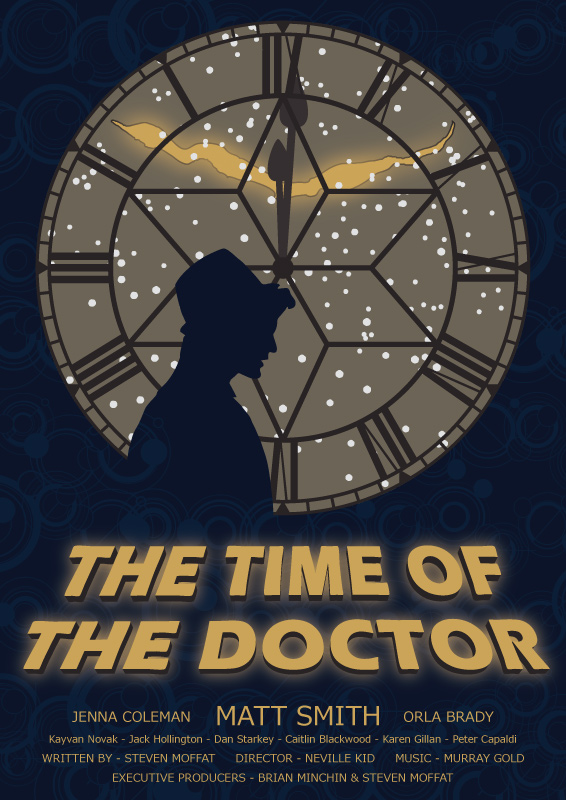 After watching this episode a couple of times, I'm convinced it tried to cram a years worth of story into 60 minutes.

However I don't think it is totally without merit and gave us some great moments if not a cohesive and complete story.

Anyway since watching it, and actually before when I saw the promo pictures, I thought about a poster incorporating the clock face from the tower.

In the end it ended up by being the view from inside the tower looking out through the snow of Christmas at the crack in the universe.

This was just for fun and isn't available anywhere, but I have submitted a t-shirt version to TeeBusters so if you have a moment please vote.

As none of the daily t-shirt sites have taken it up yet I have put a t-shirt version up for sale on my Redbubble store
Almost Human 50 Shades Of Purple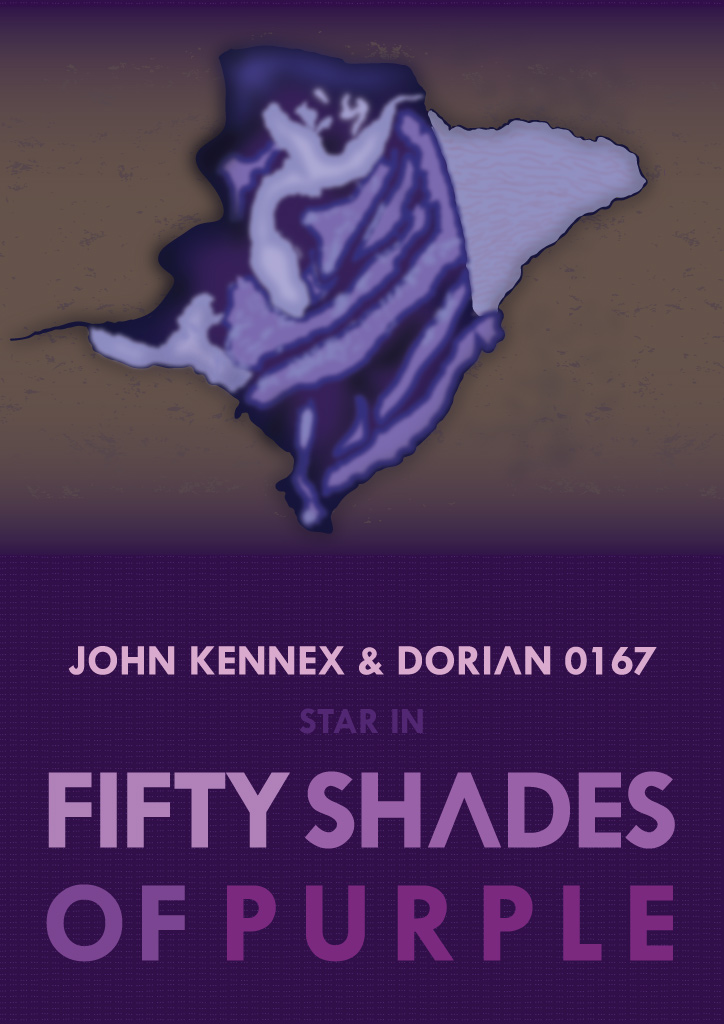 A quick poster idea based on the slightly disturbing image of the inside of Dorian's head in the third episode of Almost Human to be broadcast.

Any similarities to another famous work involving shades of another colour is complete coincidental ;-)
Futurama Poster - Ghostbenders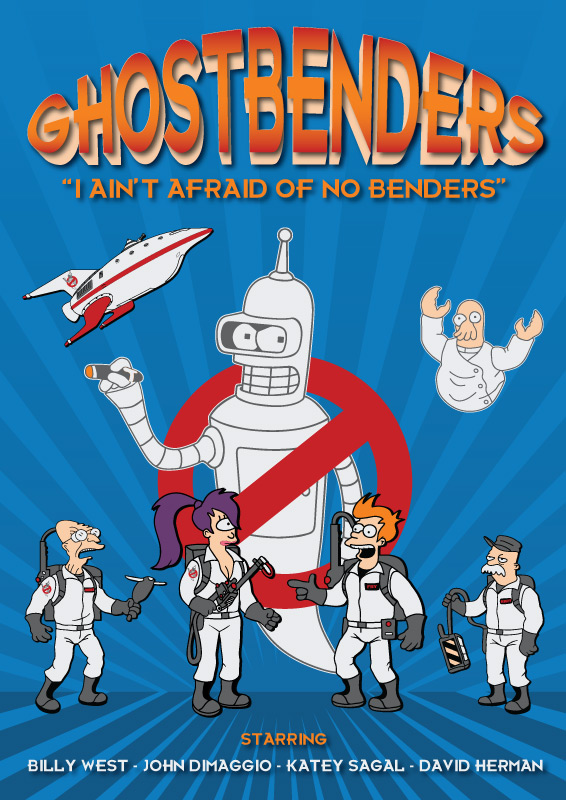 To celebrate the last episode of Futurama being broadcast (until the next time it is revived of course) I thought I'd create a poster to celebrate.

So my inspiration was the episode "Ghost in the Machines" and then the logical step was to mash Futurama up with Ghostbusters.

I was going to keep this as an exclusive poster to be launched and sold at Nerdfest in October, but as the final episode is in only a couple of days I had to show a preview now, but it will still be a Nerdfest exclusive, and if there are any left then I will sell it online.
Nerdfest Comic Con Nottingham
I'm very happy and terrified to announce that I will be attending my first Comic Con as an artist !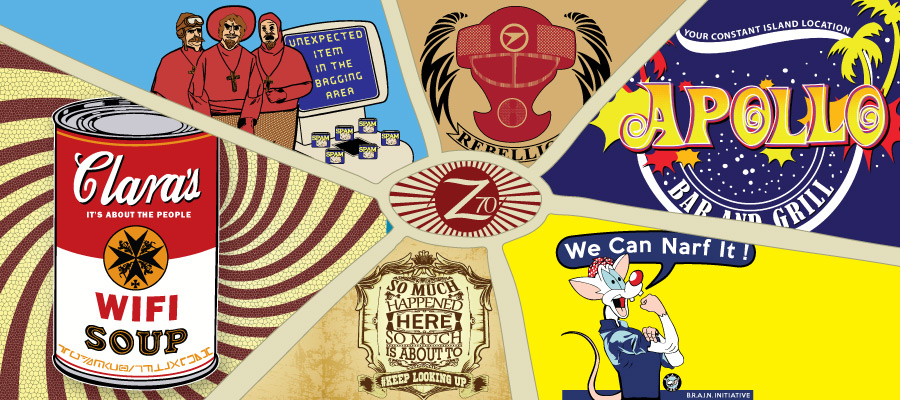 This is a new event for the UK and will be held in Nottingham on October 5th 2013 - Read more about the event here and you can follow @Nerdfestcc on twitter for all the latest details.

What I will be taking to Nottingham for people to look at and purchase is a mystery to me at the moment, but I will be formulating plans soon.
Born Free Tour Poster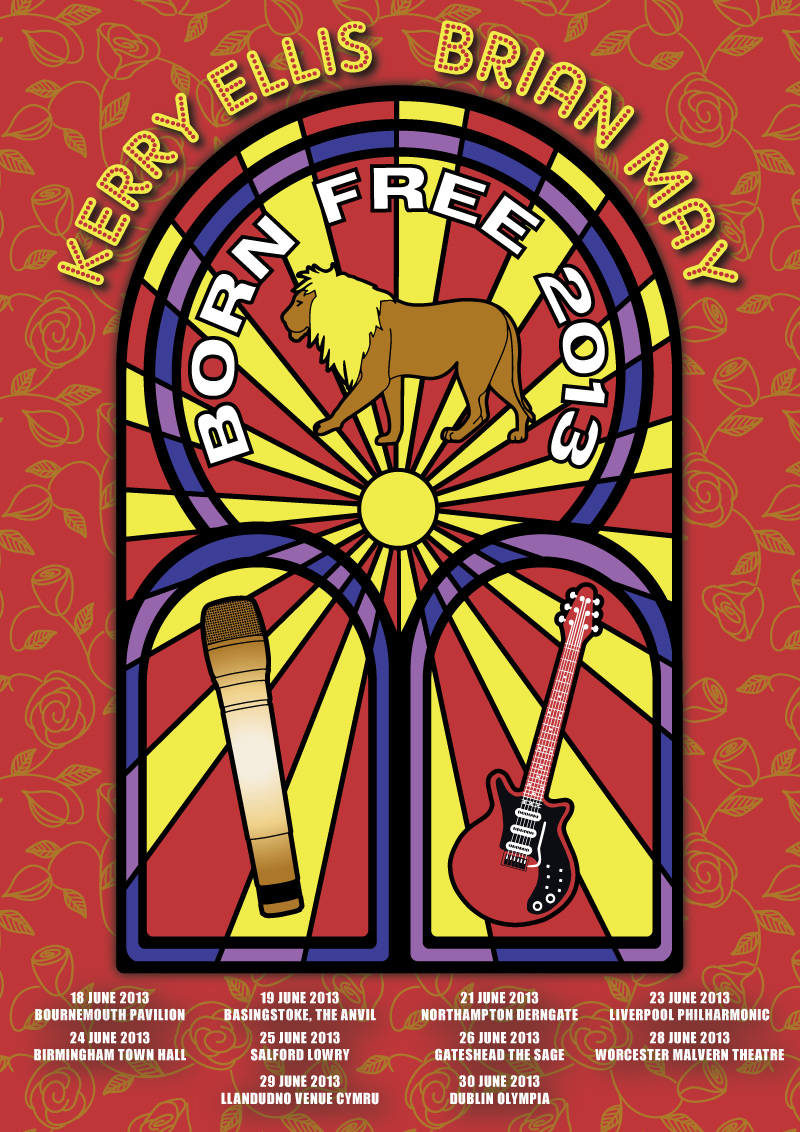 I decided to create an alternative tour poster for the Brian May and Kerry Ellis Born Free tour.

I'll have to print a copy out just for me and see if I can get them to sign it as I'm going to one of the shows on my Birthday :-)

That is if they like it of course !

Click on the image for a larger version.
A Real Life Fringe Celebration Poster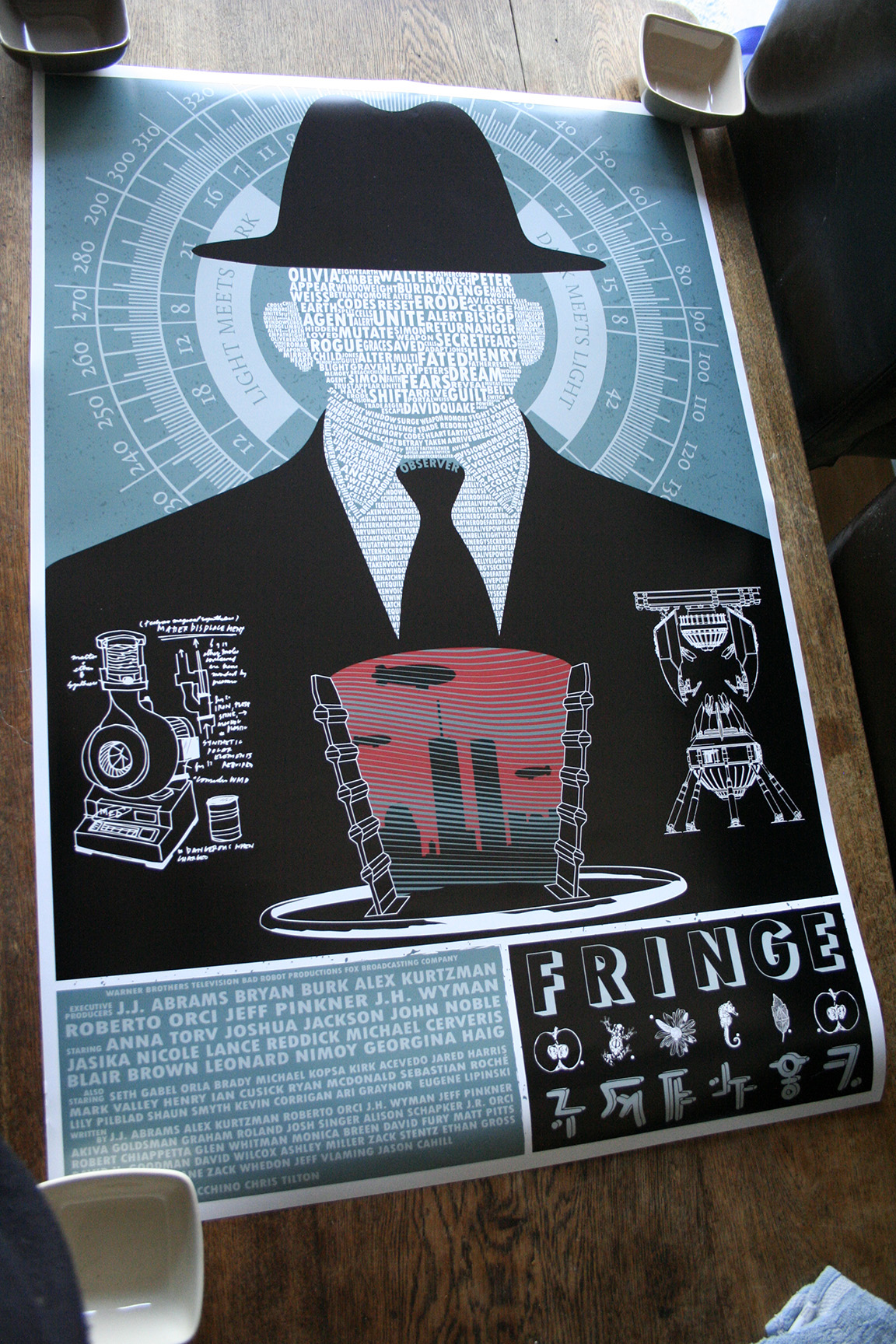 A fantastic Fringe poster arrived today !

Yes I know I created this, but it is such a great feeling when the real life version gets delivered and all the worries about how it will look are unfounded.

The poster is no longer available in the store, but the Fringe section with other goodies is still very much open.
Hello Nurse The Movie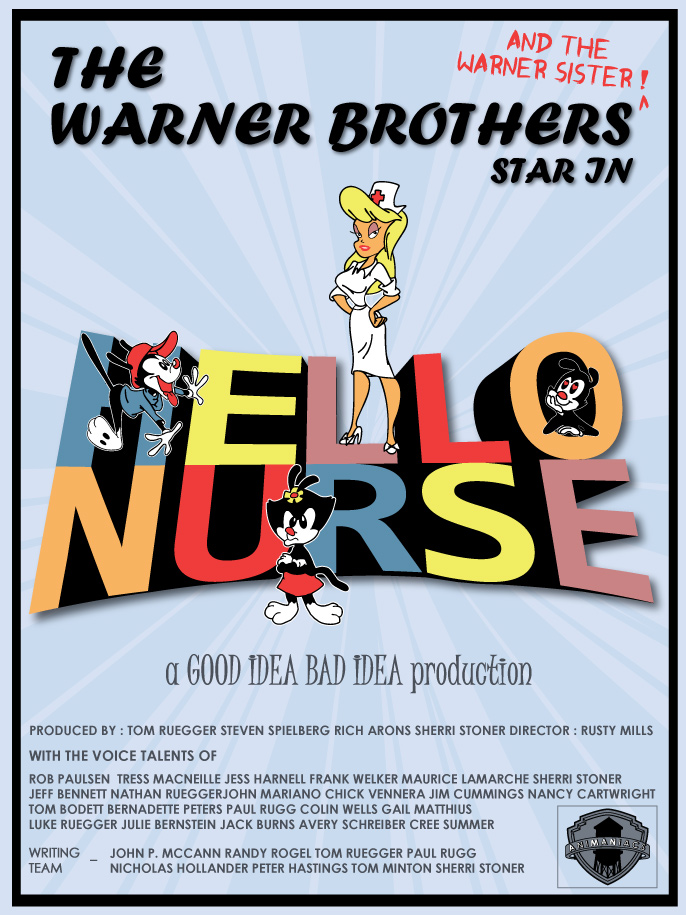 Great news Animaniacs is coming back with a movie called "Hello Nurse"

Ok ok, it isn't, but if it did this might be the movie poster for it.

Just something I did for fun to learn a little more about poster making.

Click on the image for a larger version.
Fringe Finale Poster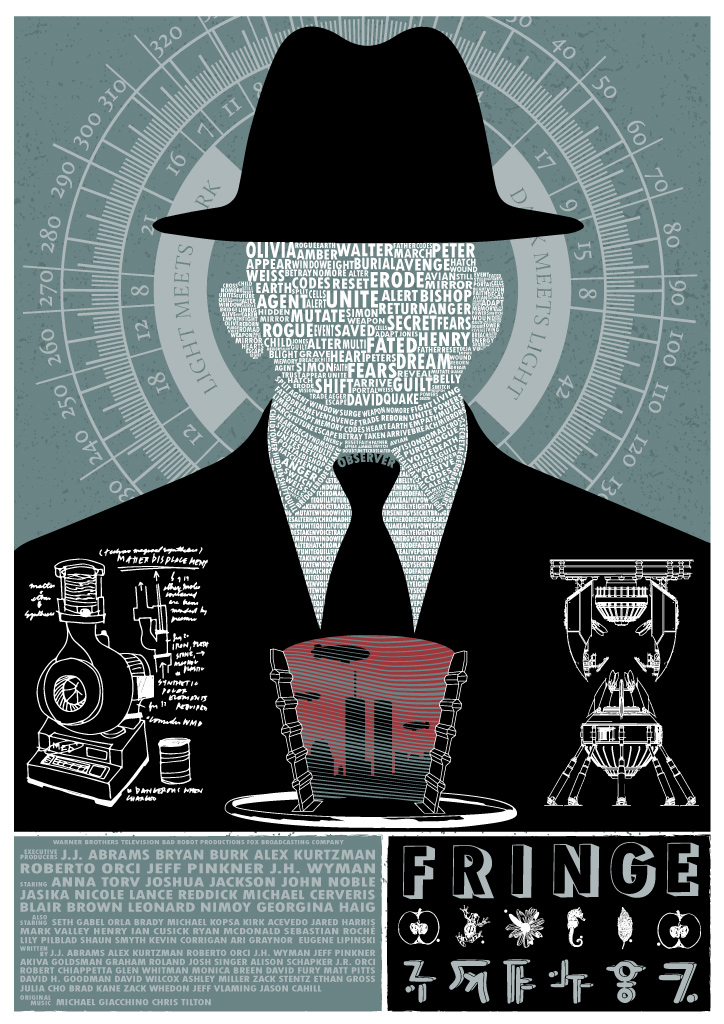 The final episode of Fringe is nearly upon us, very sad but true

To celebrate Fringe Gallery 1988 have been running the Fringe Benefits Project where posters are released based on episodes voted for.

However before that project was announced (you will just have to believe me on that !) I had decided to create my own poster and here is the result

A celebration of important elements in Fringe and one slightly frivolous one from Walter of course.

Click the image for a larger view.

The Observer typography has every Fringe glyph code word on it at least once and my intention is to update it slightly with the words from the final few episodes.

Now I have a question for you, would you like to purchase this poster in a large format ? Something like 18x24 inch or UK A2 size ?

There are really two options one is for me to add it to my existing Cafepress and Red Bubble stores or for me to investigate a higher quality option but in a limited run.

If you have the time I'd like you to let me know your thoughts via Twitter or any other method you think will get to me !

Thanks for reading this and above all I hope you enjoy my little tribute to the little show that could called Fringe.


---

If you are a regular follower of my work you will know that this isn't my first Fringe poster -


Monroe Republic Rebellion
Are you a fan of Revolution yet ? Well don't worry you soon will be once you get to see it.

This t-shirt design was inspired by an American Civil War propoganda poster I saw in a book a while ago and seemed to fit quite nicely with the setting of the TV show.

This t-shirt design is now on Qwertee for voting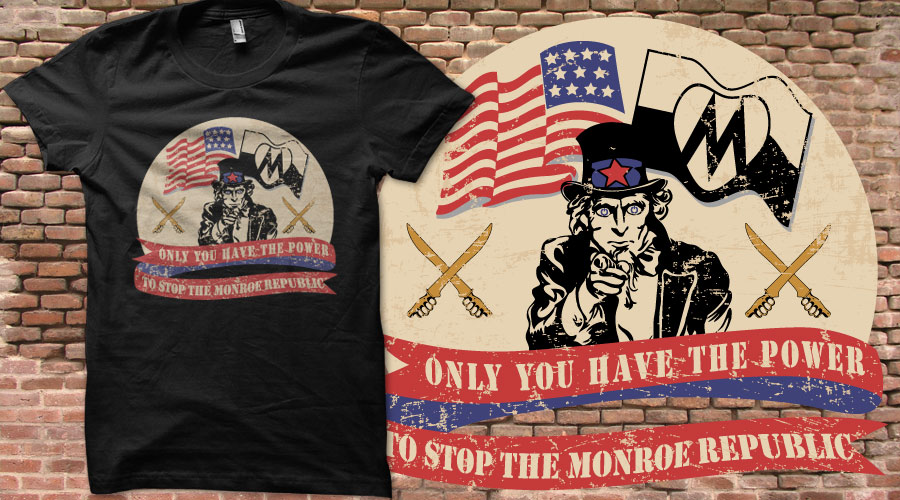 I actually came up with this poster design first but then decided to adapt it for a t-shirt.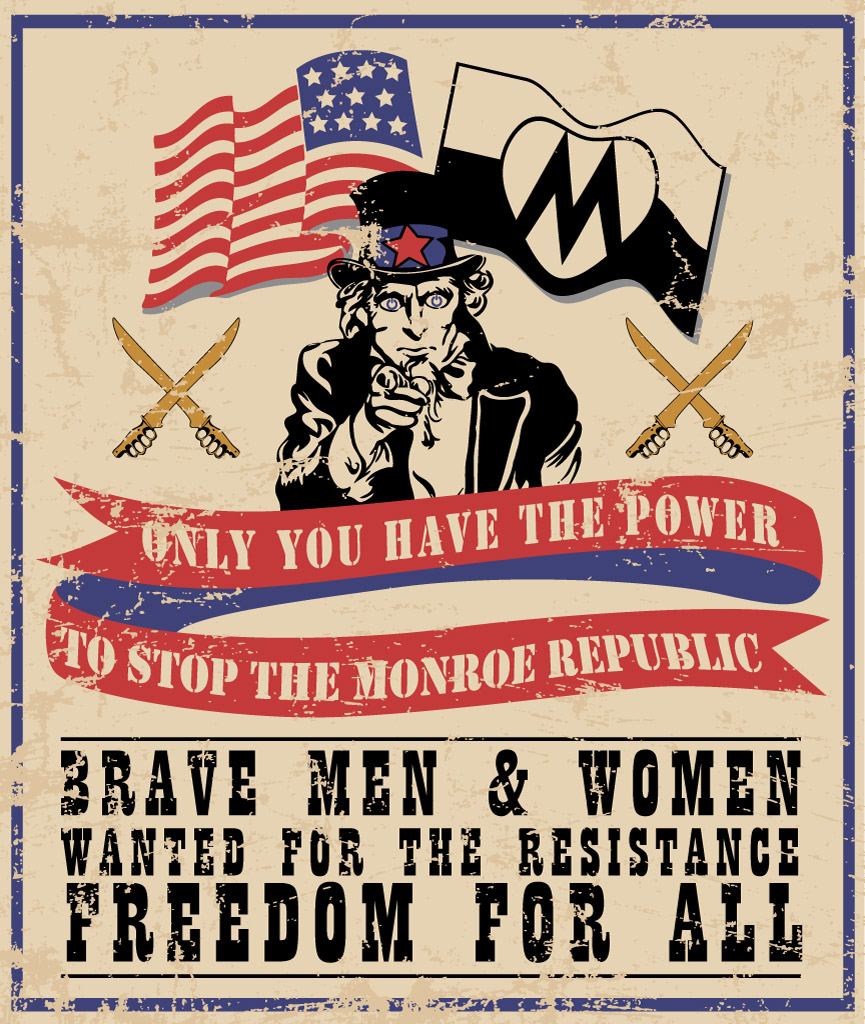 As you can hopefully see I have incorporated the Monroe republic flag, the power symbol, and a sketch of the swords used on screen. Also the US flag is taken from the tattoo that Nora Clayton has with the 11 stars on it, I'm not sure what the 11 represent yet, but hopefully we will find out.
Fringe Glyph Alphabet Poster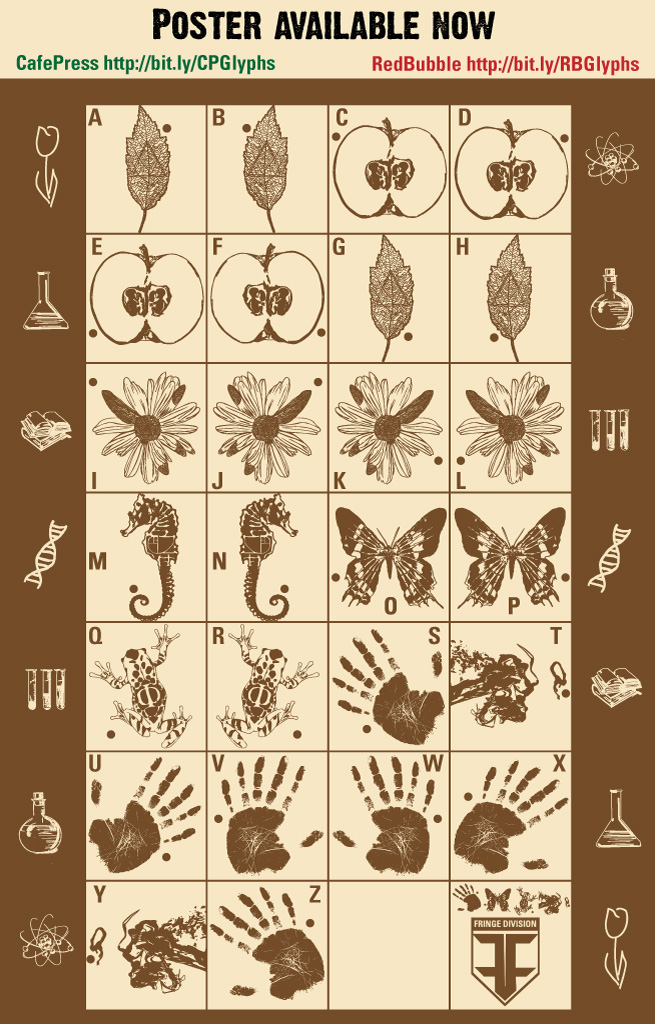 I've been wanting to create a whole Fringe Glyph Alphabet for some time now and I've finally managed it.

I didn't intend this to be a poster but once I'd created it it looked so nice I had to put in on my CP and RB stores

CafePress.com

RedBubble.Com

Also available in those two stores is a Fringe Glyph Message T-Shirt, based on a popular theme for t-shirts you might recognise.

I'm not going to tell you what it means but you have the alphabet poster to help you decode it.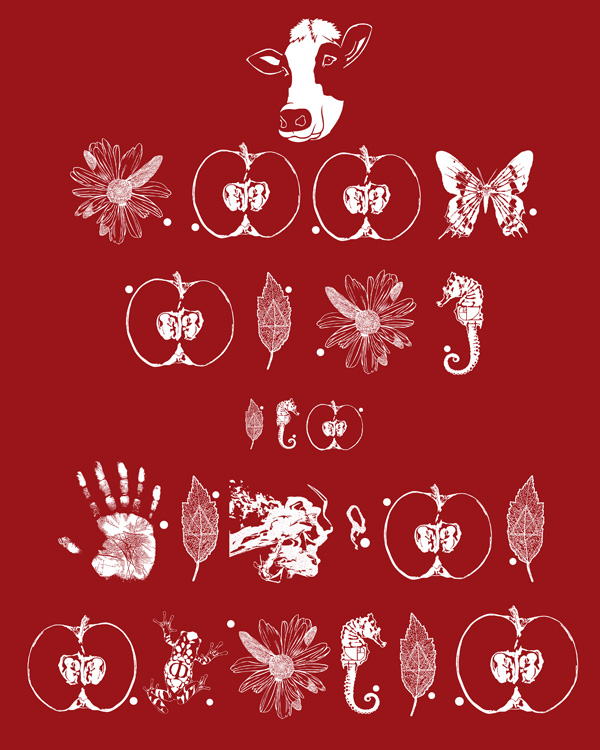 Jonny Coyne at Collectormania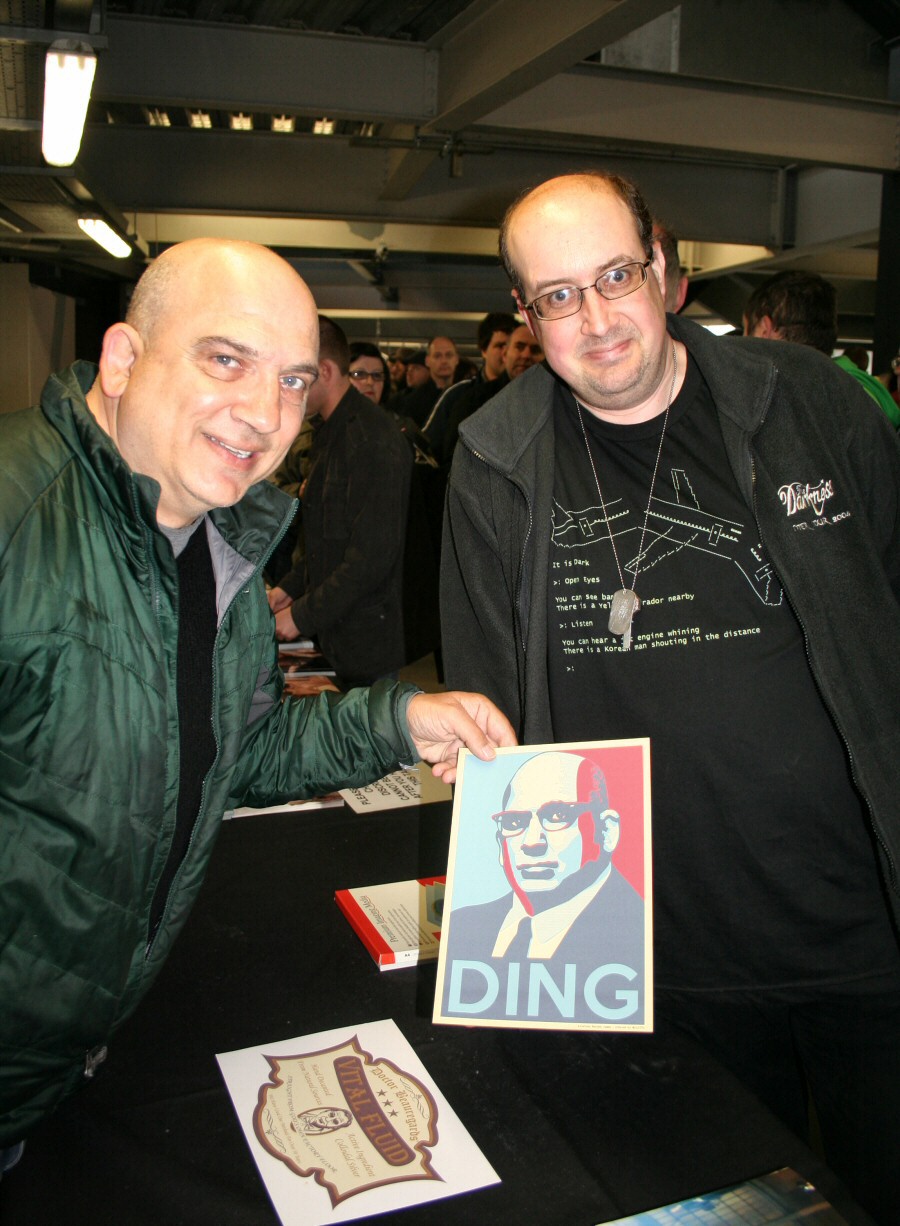 At Collectormania 18 in Milton Keynes on Saturday (02/062012) I finally got to meet Jonny Coyne.

If you have been following me online you would know all about the DING poster, so when I knew Jonny was coming back to the UK I had to take the opportunity to say hello.

Jonny is a really nice person and was happy to chat about all sorts.

His next project is a western, where he will get to fulfill a hollywood dream and ride a horse !

I also gave him a printed copy of the Beauregard's vital fluid design and he said he will pass it on to Doctor Beauregard himself, Leon Rippy.

So finally is the really lovely tweet he sent out last night.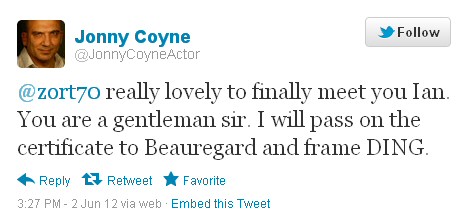 Face to Face With Warden James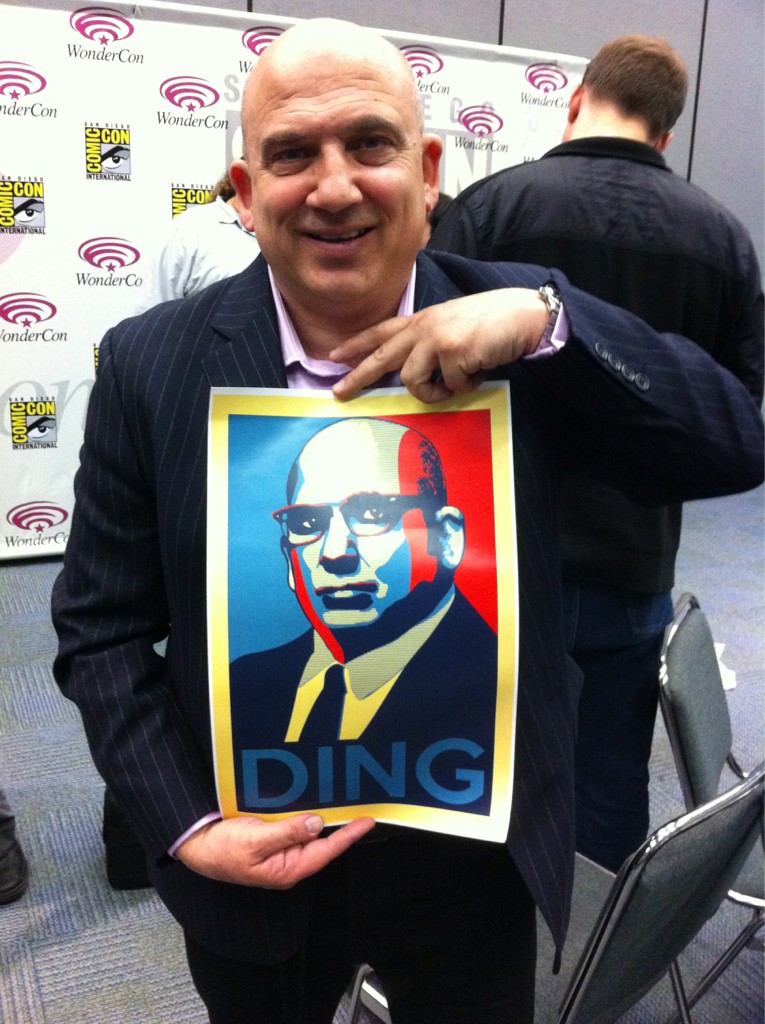 As you may remember I created the DING! image, inspired by Jonny Coyne as Warden James and Jo from Inside Alcatraz.

Jo took this one step further and asked me to create a poster sized version that she could print out and present to Jonny and to others that wanted one. So at Wonder con 2012 this picture was taken of Jonny holding himself :-)

The picture was taken and tweeted by Steve Lilien @StevenLilien which made the whole experience even more special for me.

Big thanks again to Jo for arranging this, Jonny for being fantastic as the Warden and the whole of the Alcatraz cast and crew for all their efforts on the show.

Enjoy the season 1 finale this Monday in the US and see you next year for the next season :-)

I also created some mobile phone versions and I have now updated these to the final image that was used for the picture.

Click the link for the size you want, or right click and save the file.

640 x 960 (e.g. iPhone 4)

320 x 480 (e.g. iPhone 3)

480 x 800 (e.g. Windows Phone 7)
Ding ! Alcatraz Warden James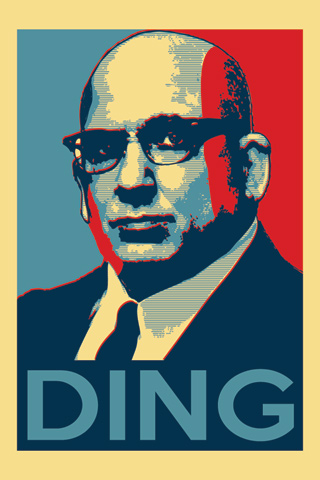 Warden Edwin James is fast becoming one of the best characters on the Fox TV show Alcatraz.

Jo from the Inside Alcatraz blog mentioned, in her writeup for the episode Johnny McKee, that she would really like an image of the warden saying Ding as he had said this several times in the episode.

So in a moment of late night inspiration I created this image for Jo, based of course on the Shepard Fairey Hope poster image.

When Jo retweeted the picture I got several comments including one from Michael Eslinger (@Monteray_Mike), who is a real life expert on Alcatraz, saying he had used it as a phone background.

So what I did was to create some versions of the image specifically for a few different mobile phone screens.
Click the link for the size you want, or right click and save the file.

640 x 960 (e.g. iPhone 4)

320 x 480 (e.g. iPhone 3)

480 x 800 (e.g. Windows Phone 7)

Finally a few hours later Jonny Coyne (@JonnyCoyneActor), who plays Warden Tiller on the show tweeted back to say, what else but - "Ding, Ding, Ding !"