Dont Touch Lola - T-Shirt For Sale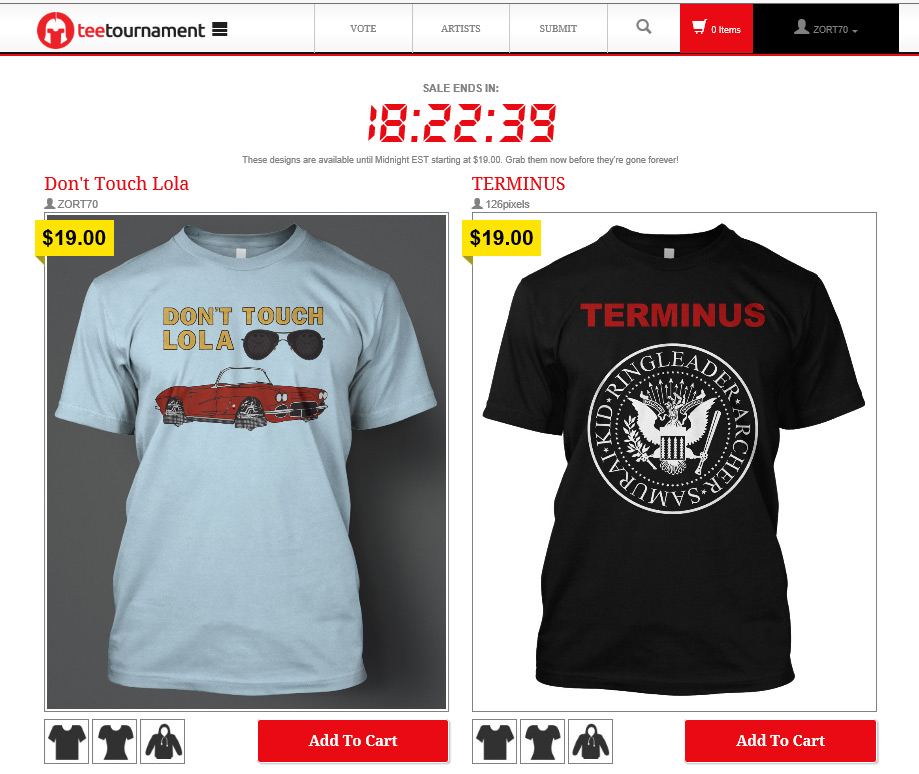 New player in the limited edition t-shirt market Tee Tournament have my Agents of S.H.I.E.L.D. Don't Touch Lola t-shirt up for sale today !

Head on over to their website to take a look and purchase it.

It is going head to head with a Walking Dead t-shirt design, so any support would be appreciated.

Below is the original version of this, originally conceived as a poster design, but never put into production.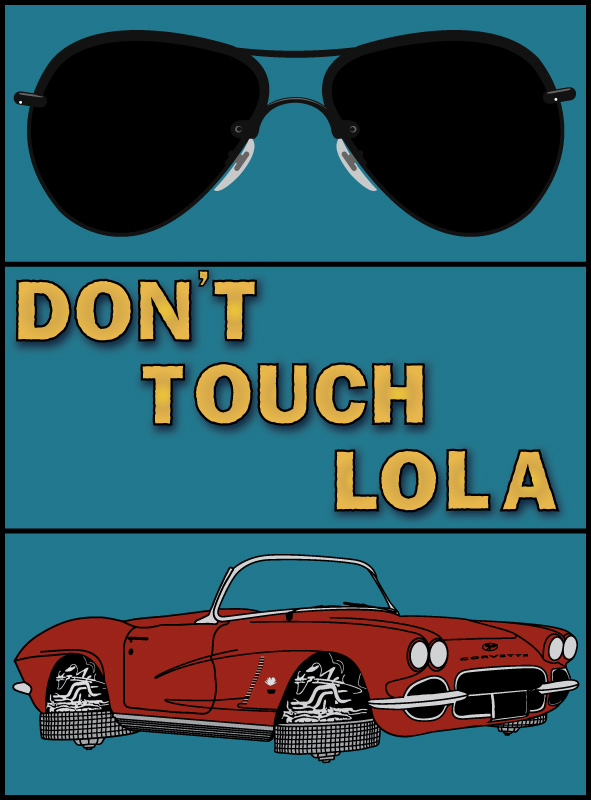 LOST - Drive Shaft - Not going to Guam Tour 2014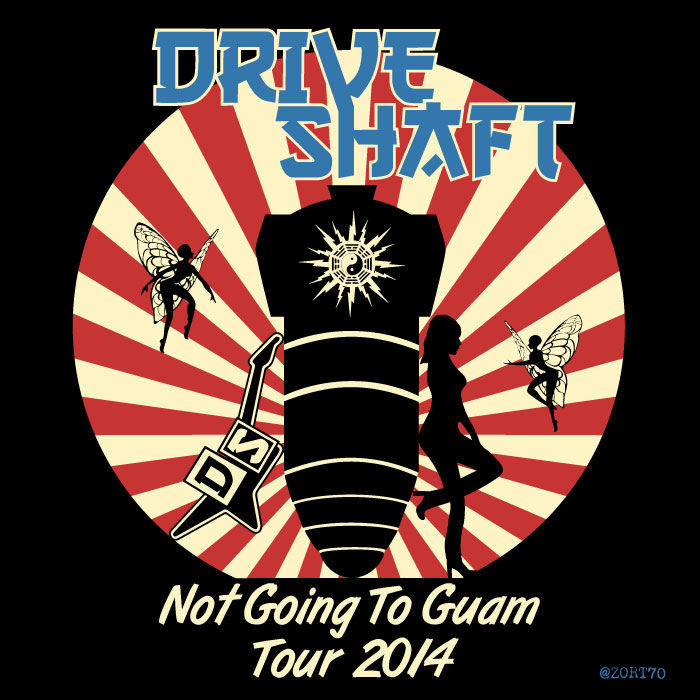 So after LOST 2014 and the emotional highs and lows that the even gave me I thought it was time to share a couple of things that were created for the event.

If you were at LOST 2014 in Hawaii recently you may have seen me wandering around in a few of my own t-shirts (I still get a kick out of saying I was there !)

One of those t-shirts you wouldn't have seen before and that's because I wanted to take something that I knew no one else would have.

A lot of you commented and very kindly said how cool it was so I decided to put it onto my Cafepress store for those that want it.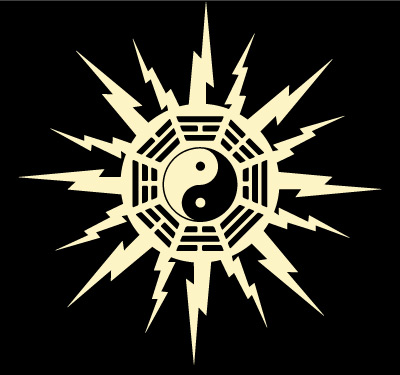 So what is it ? Well it isn't specifically about any moment in the show I just decided I wanted to create a Drive Shaft tour t-shirt, you could consider it a flash sideways kind of a thing.

I named the tour the "Not going to Guam" tour in honor of Lapidus and it features fairly prominently the Jughead, the Drive Shaft guitar logo, a few other rock and roll staples and no I won't say who the sillhouette of the woman is based on ;-)

The shirt on CP is actually a front and back print, on the back is the little DHARMA / Yin Yang / lightning burst symbol.

Link to my CafePress store

and just to prove I wore it, here is a picture of me in Hawaii, hiding from a smoke monster in a Banyan tree.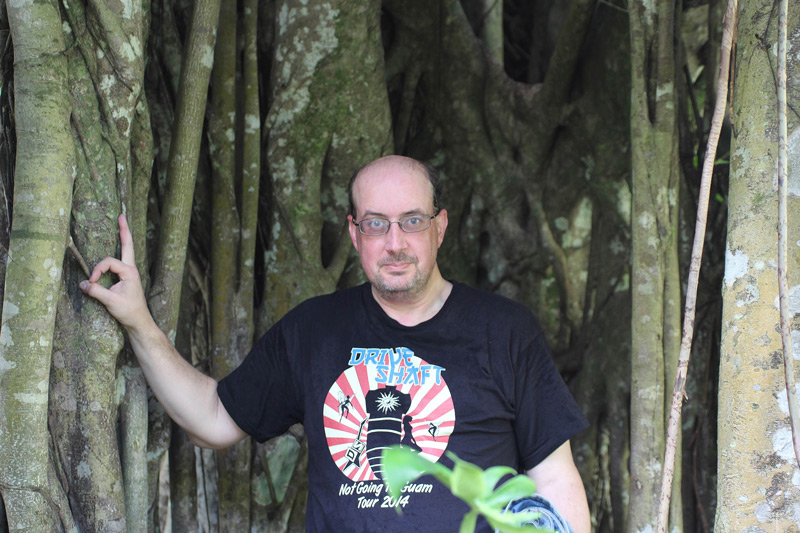 You can see all my LOST 2014 pictures on Flickr - Z70 Photos
Independent State of Eyebrows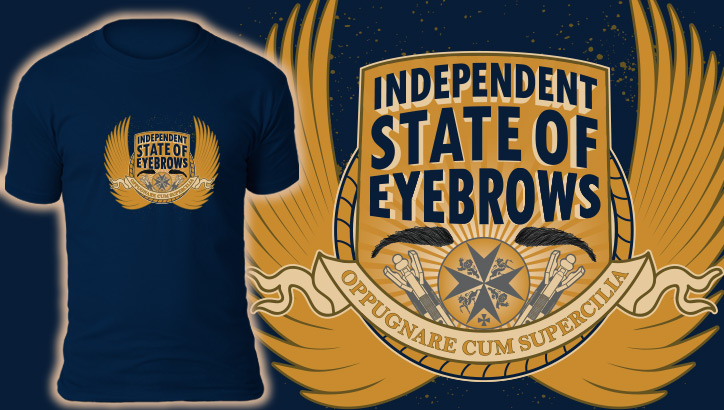 The new series of Doctor Who has started ! With a new Doctor !

I'm undecided on the first episode whether I'm fully on board the Capaldi train or not, but the next few weeks will be interesting.

During this first episode there was a quote by the 1st doctor about his eyebrows, so in the spirit of my Doctor Who quotes project I thought I would create something to mark the occasion.

If you don't read Latin the motto is "Attack with the Eyebrows"

It is now available in my Redbubble store in case you missed it a few months ago when it was printed by daily t-shirt site Tee Tournament
LOST Quotes T-Shirt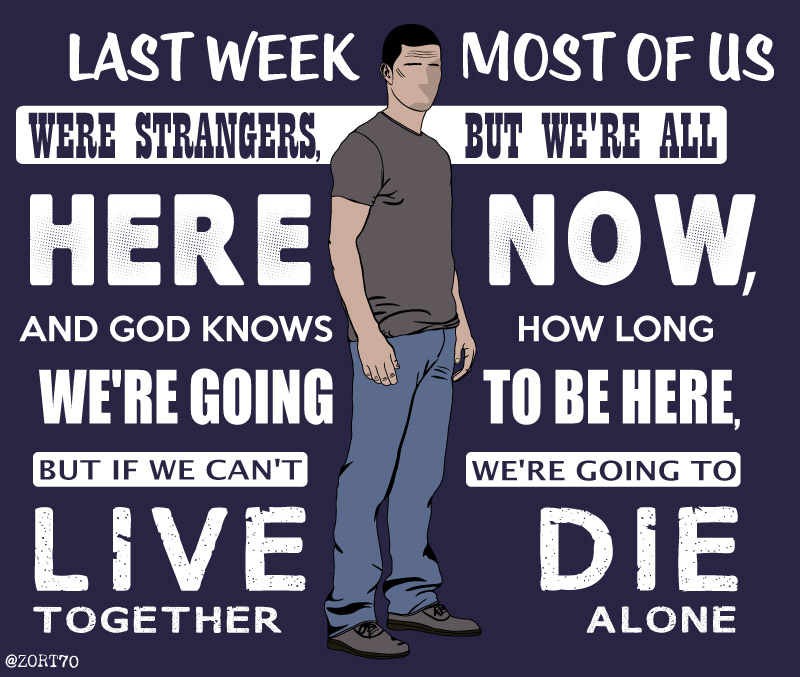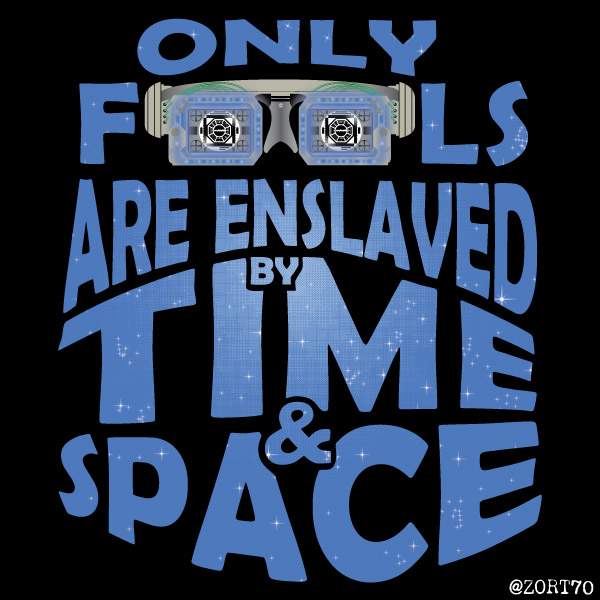 With the upcoming trip to LOST 2014 on the horizon I have created a couple of t-shirt designs featuring my favourite show.

The first features the famous Jack Live Together Die Alone speech.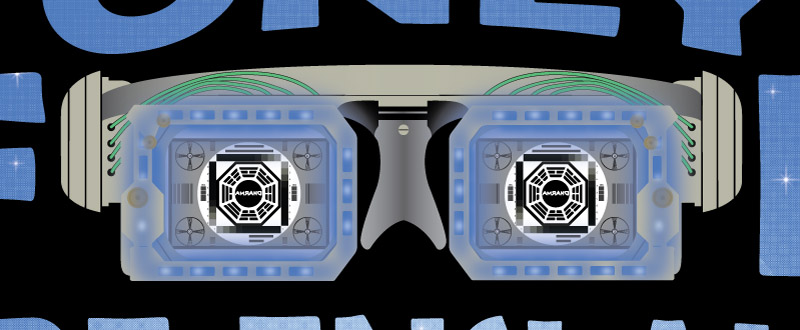 The second is a little more obscure, but a big part of LOST mythology, the glasses that are part of the design give the clue, as it is from the Room 23 scene.

In that scene, in amongst the noise and flashing images there is a voice played backwards that says "Only fools are enslaved by time and space"

I have put these designs in various places for purchase or voting, so here are the details of where to look -

Visit my LOST Cafepress Store

or

Vote for Live Together Die Alone on the daily t-shirt site Qwertee
Zombie Season
When watching The Walking Dead last week I tweeted "Time for The Walking Dead. Shhhh be very very quiet I'm hunting zombies". This then triggered a few thoughts about Bugs Bunny and Elmer Fudd and this is the result.

The t-shirt version is now up for voting on Qwertee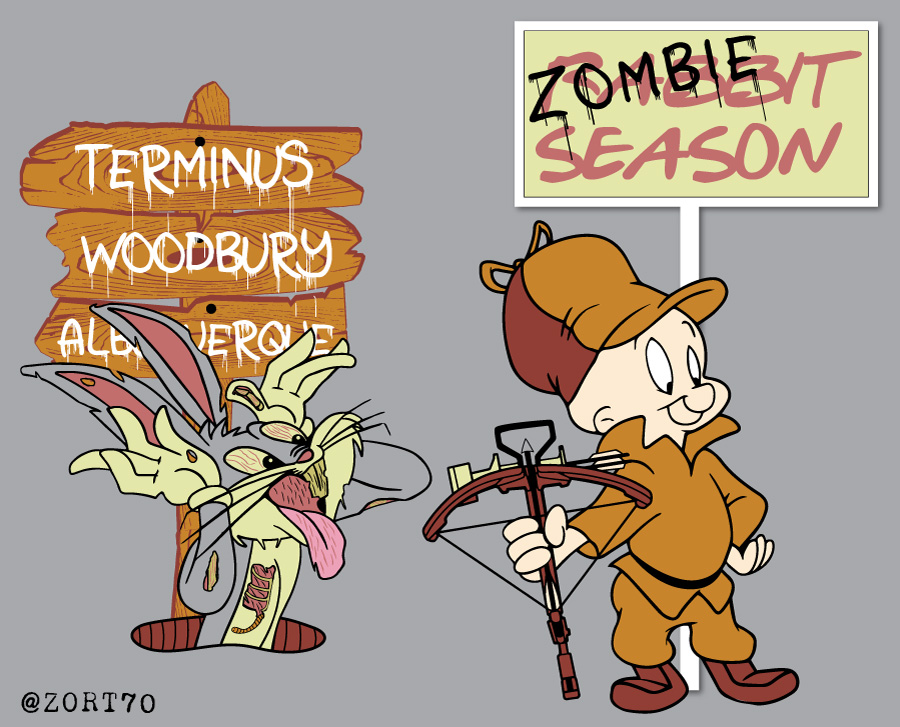 LOST MacCutcheon 10 Year Anniversary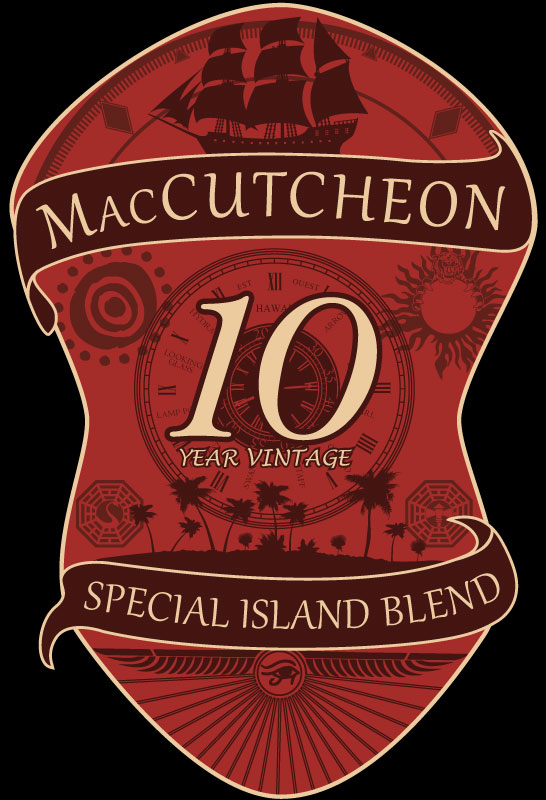 It is LOST's 10 year anniversary, and there are lots of things being lined up for this year.

Including of course LOST 2014 which I designed the bottle logo for that is available via the LOST2014 website.

As part of the competition for the logo I also designed an anniversary MacCutcheon whisky label, this wasn't chosen, but that give me an opportunity to update it and transform it.

This I have done and the result is shown here.

As this was already intended for a t-shirt design I have uploaded it to Qwertee and a few other t-shirt websites. I'd really appreciate it if you could vote for it so it could be available in time for the anniversary

If you really can't wait for then the image is available on my CafePress store in the LOST section (of course !)

I asked a couple of friends to use the CP store to order a couple of the items and you can see the results below, first are four t-shirts, mine are the two on the right, the ones on the left contain the other winning LOST 2014 logo. The image on the right is of a large drinking glass with the design.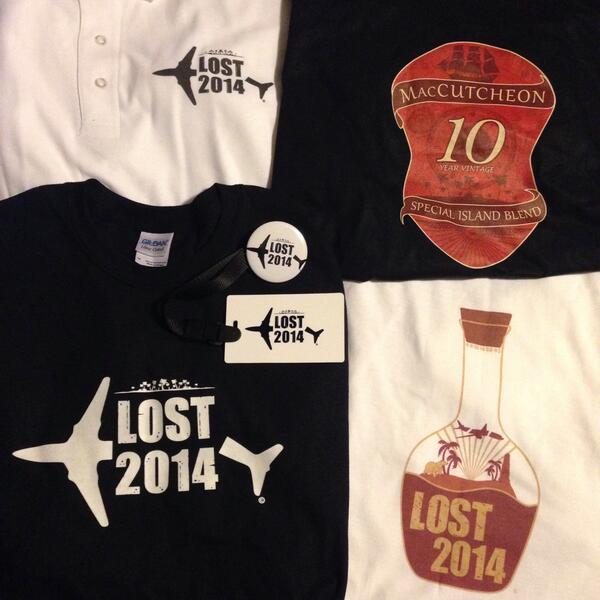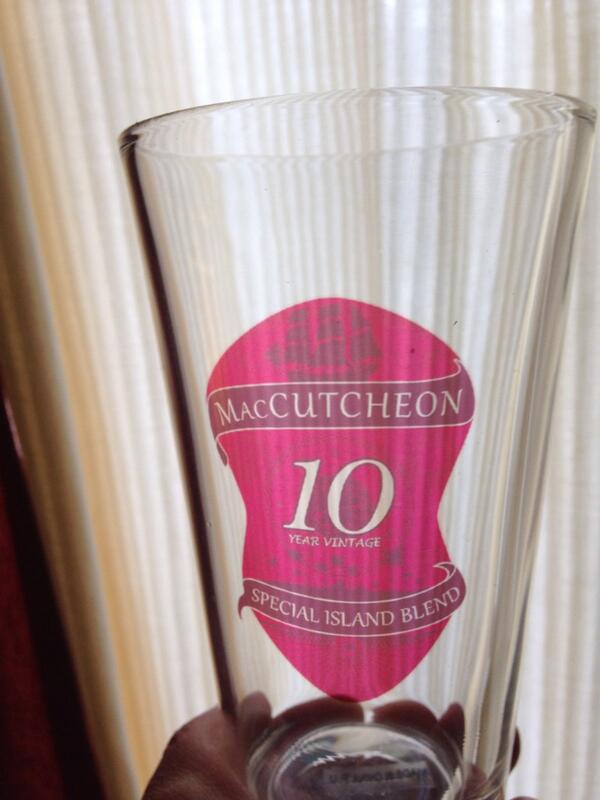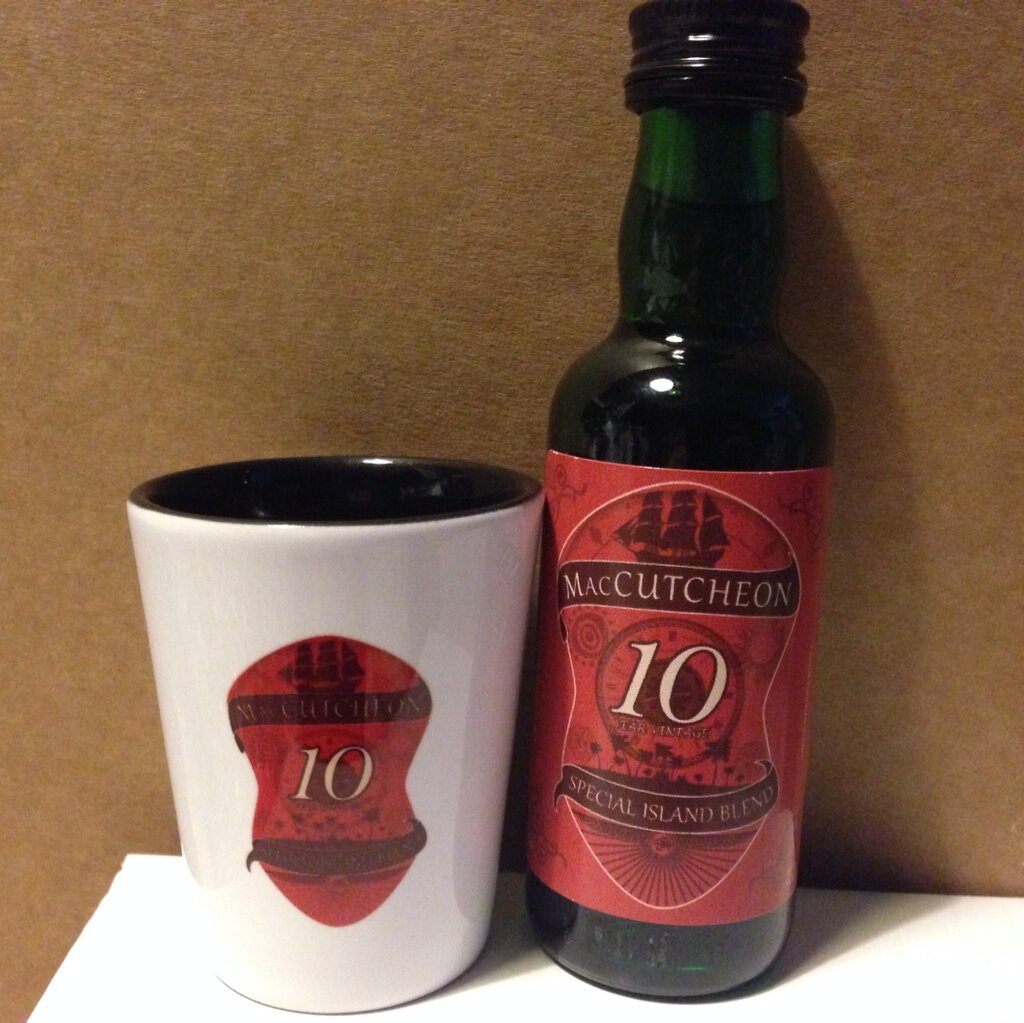 The #seeeekrits are out ! you might have seen if you follow me on Twitter that just before the LOST Paleyfest panel a fan dinner was held during which miniature whisky bottles and shot glasses with the label were handed out to the guests.

A bifg thanks to Paul (@TK10815) for suggesting, organising and arranging everything !
NIGHT NIGHT S.H.I.E.L.D.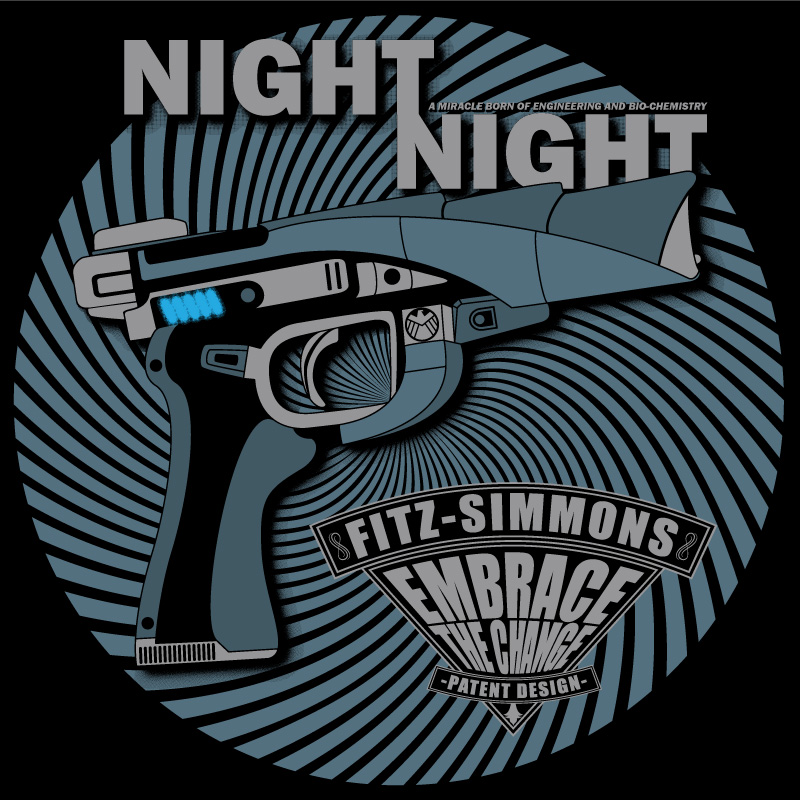 While watching the most recent episode of Agents Of S.H.I.E.L.D. I had an idea to create a t-shirt design based on the Night Night gun that Fitz and Simmons invented.

The initial idea was to create an advert for the gun with the Fitz-Simmons gun company.

The result was this, not exactly an advert, more of a statement.

I created the Fitz-Simmons logo based around the Embrace the Change quote that Fitz said a few episodes ago.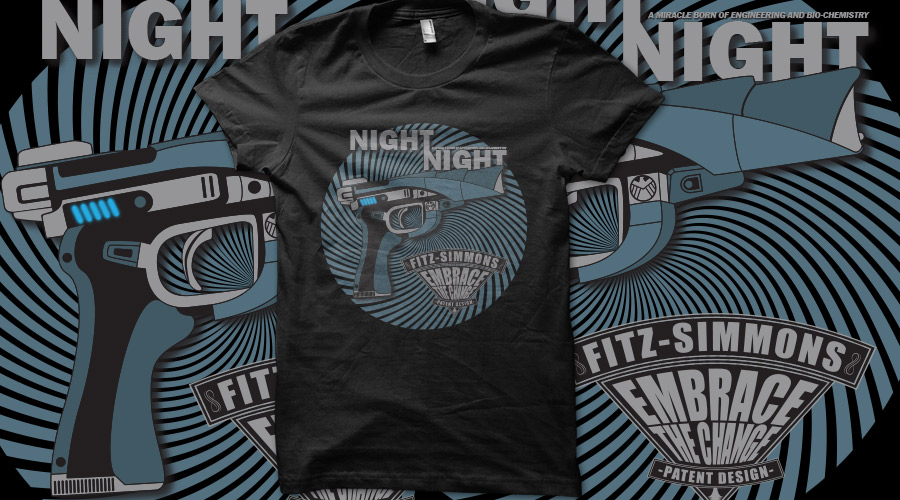 The design has been uploaded to Qwertee and has just been accepted, so if you have a moment and you like the design I'd really appreciate a vote.

As an added bonus for those reading and in case you missed these when I posted them on Twitter recently, here are another couple of AoS related designs.

The first is a recreation of the SHIELD Science Academy logo, and the second is my attempt at a logo for the Boiler Room club, incorporating some of the Avengers members logos.

If you want to use them yourselves as social media icons etc, then click on them for the larger versions.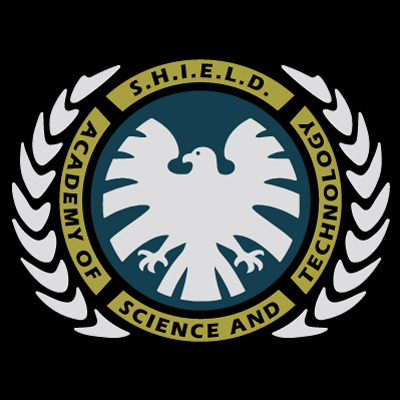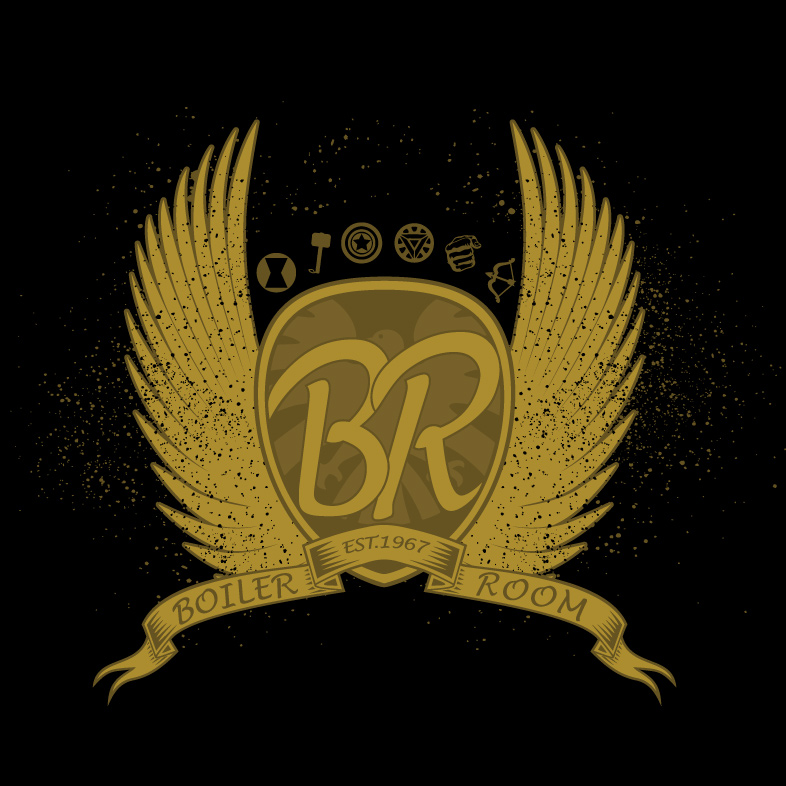 Time of The Doctor Poster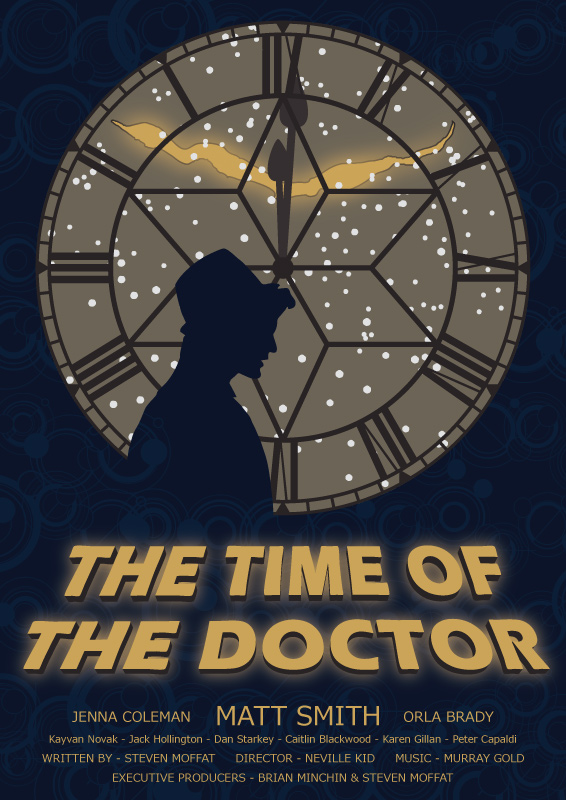 After watching this episode a couple of times, I'm convinced it tried to cram a years worth of story into 60 minutes.

However I don't think it is totally without merit and gave us some great moments if not a cohesive and complete story.

Anyway since watching it, and actually before when I saw the promo pictures, I thought about a poster incorporating the clock face from the tower.

In the end it ended up by being the view from inside the tower looking out through the snow of Christmas at the crack in the universe.

This was just for fun and isn't available anywhere, but I have submitted a t-shirt version to TeeBusters so if you have a moment please vote.

As none of the daily t-shirt sites have taken it up yet I have put a t-shirt version up for sale on my Redbubble store
John Watsons Stag Night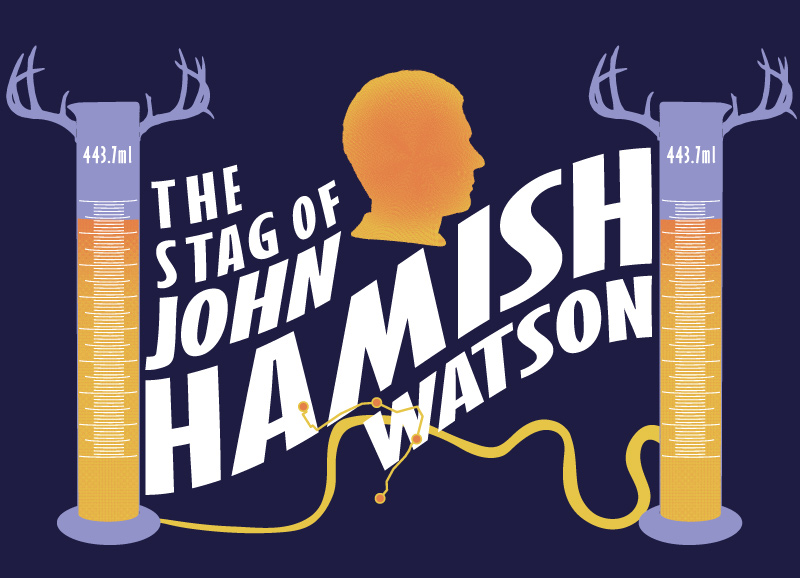 After the second episode of Sherlock series 3 I thought Sherlock might have been too busy to get Stag night t-shirts created, so I did it for him.

Featuring the preferred drinking vessel marked with the appropriate fill amount, a small map of the route and a subtle reminder of John's middle name.

This has been uploaded to Qwertee, and also to TeeBusters so if you have a moment please head on over and vote.
SG1 Ready For Action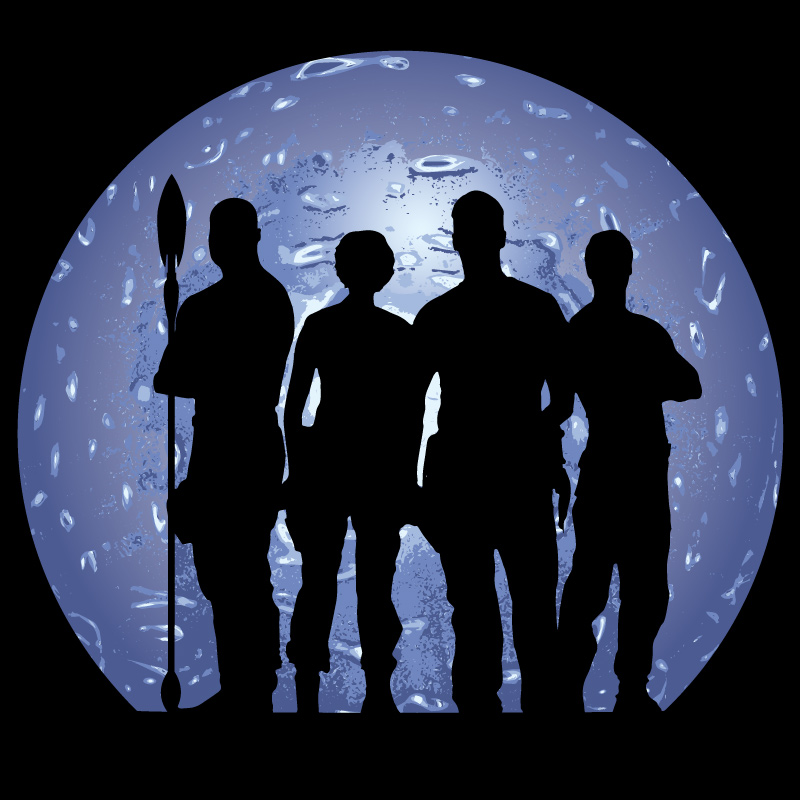 I have been playing around with this Stargate based design for some time but finally found a moment to finish it.

The idea was that all you could see was the event horizon of the gate and a silhouette of the SG1 team ready to go through.

I created it for a t-shirt and that is now uploaded to Qwertee, so if you have a spare moment please head on over and vote.
Hitch Hikers Live !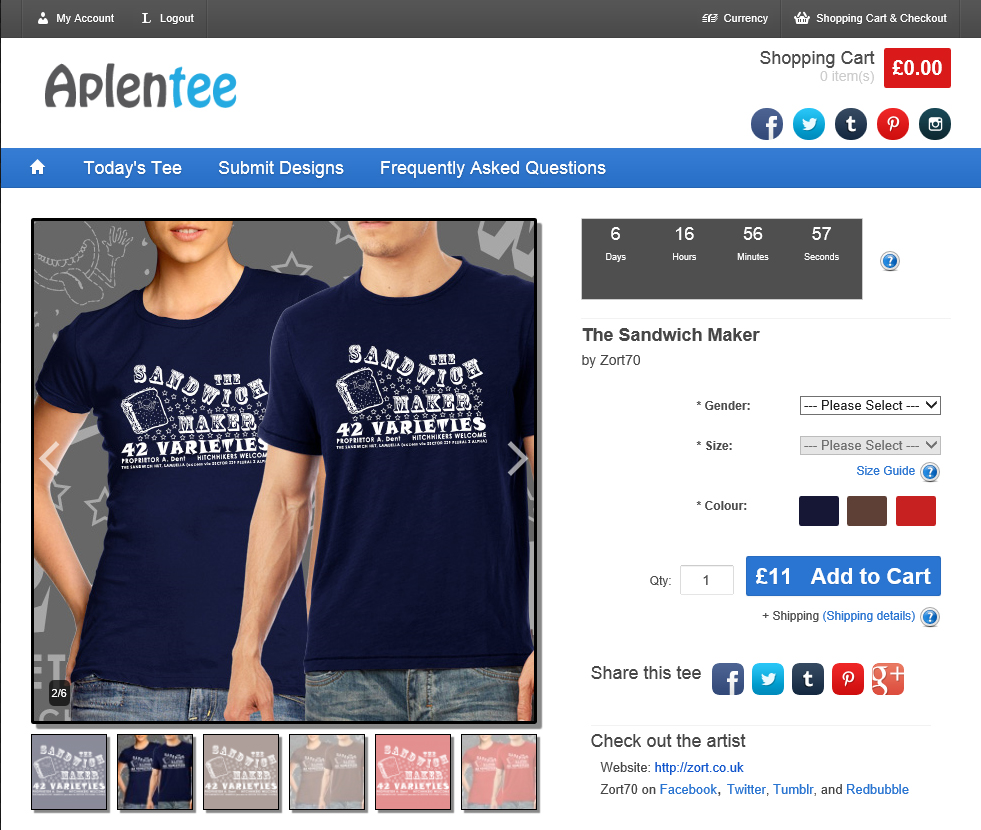 It's live !

The Sandwich Maker is live on Aplentee.com for 1 week only.

Don't forget to use discount code 14DB7 for money off this t-shirt and any future t-shirt at Aplentee.

If you do purchase the t-shirt let me know on twitter or on Facebook

Please use the social media icons below to share the details with all your Hitch Hikers friends.
The Sandwich Maker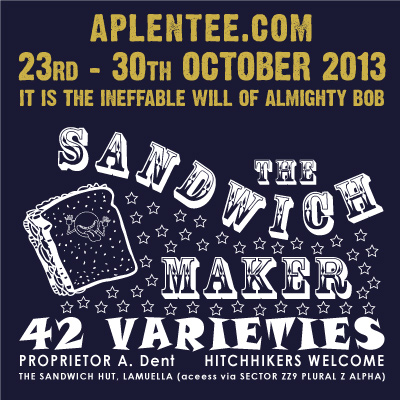 Newly launched weekly limited edition t-shirt site Aplentee.com will be printing my Hitch Hikers Guide To the Galaxy inspired "The Sandwich Maker" design in a couple of weeks.

More details when I know them, but if you want this t-shirt or any other t-shirt from Aplentee then use this discount code



14DB7



You can use this code at ANY time with any t-shirt design, not just for mine.
Winner !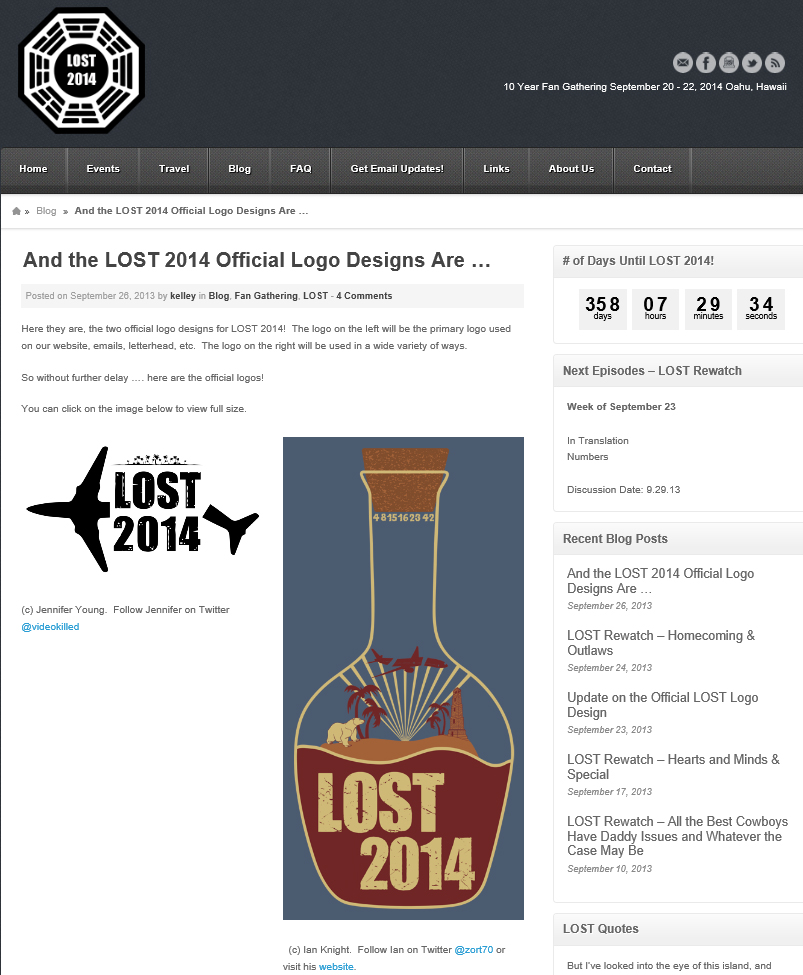 Following on from the LOST 2014 competition I am delighted to say I won !

In actual fact there are two winners as the bottle design is not 100% right for a simple one colour printed logo which I have to agree with.

Exactly how my design is going to be used is unknown to me at the moment but I'm sure the people behind LOST 2014 are working overtime and will let us all know soon.

Until then a special thanks to everyone that shared the details of the competition and voted for me !
A Clothing Revolution
As Cafpress announced a new NBC Revolution licence I thought it was way past time to upload some of my Revolution designs, including an all new Shut Up and Stay Here neon sign design.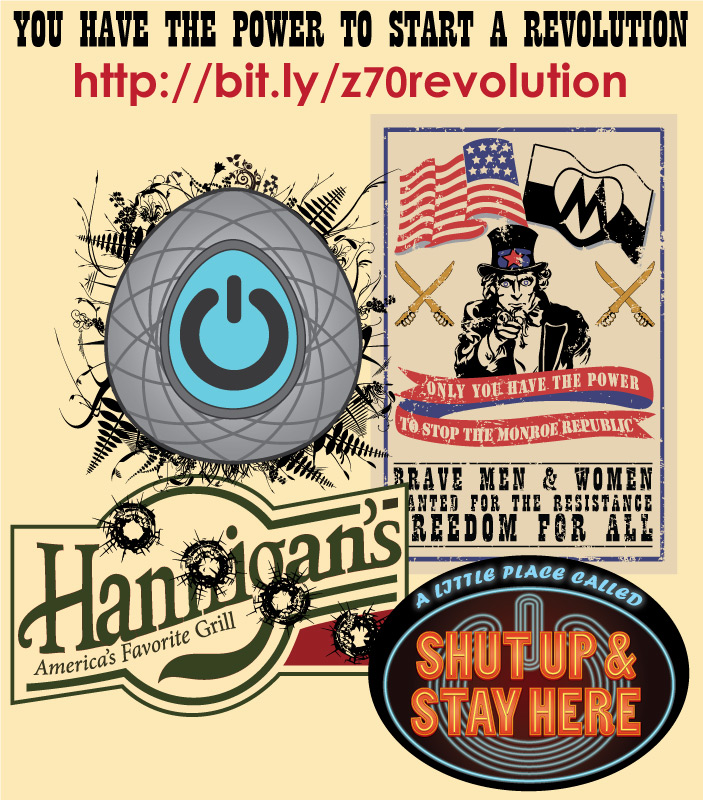 So if you want to join the Resistance against the Monroe Republic, dine out at Hannigan's or just show off your power pendant then go to my Revolution Cafepress store to see what you can get.
Opie & Thurstons Hot Sauce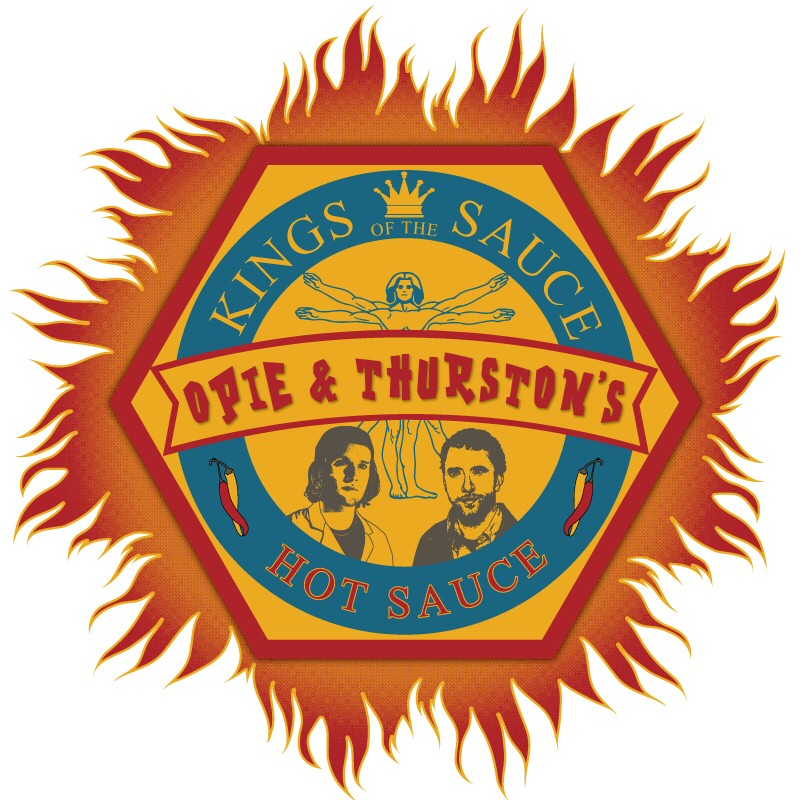 Anyone a fan of Bones ?

When I saw the episode "The Maiden in the Mushrooms" and the launch of Opie & Thurston's Hot Sauce I thought I would have a go at creating a sauce bottle label.

Here is the result, based primarily on the Jeffersonian Anthropology Unit badge with some added flames !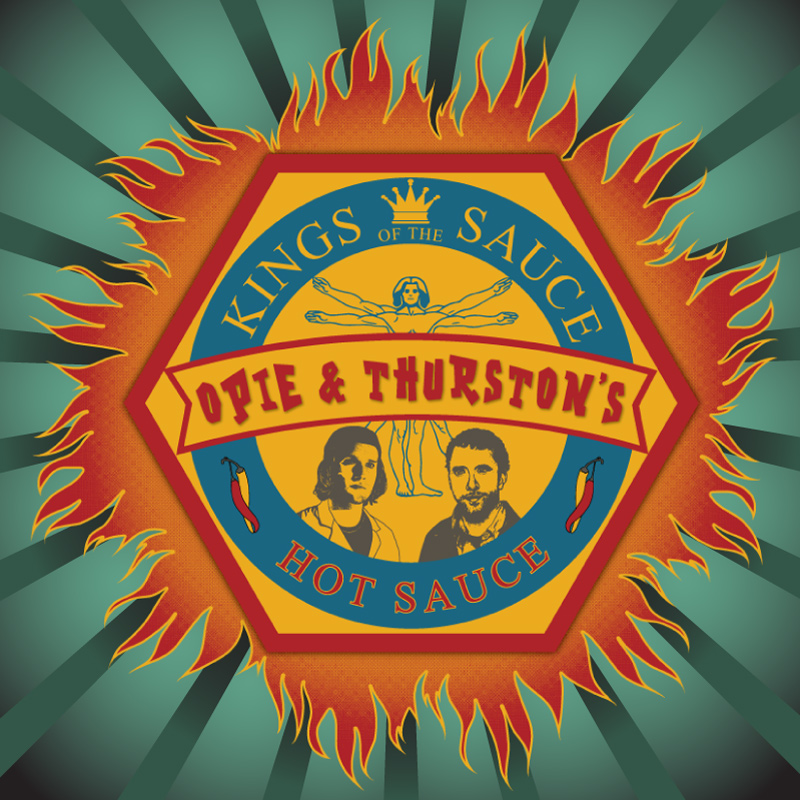 I've also created this icon version for anyone to use wherever they find themselves online.

Finally as usual I have submitted this to a few t-shirt sites so if you have a moment please go and vote for it on Qwertee
Big Bang Theory Professor Proton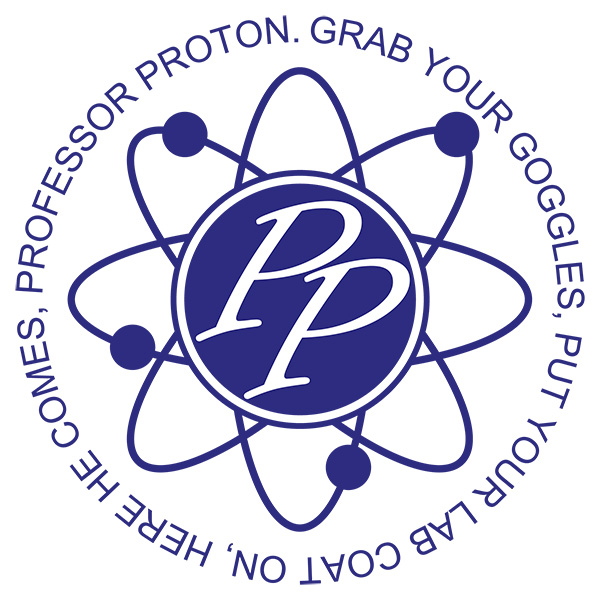 I'm a big fan of The Big Bang Theory and when I saw Professor Proton in an episode that aired in the UK a few days ago I knew I wanted to create this.

The first one created to the right is the original Professor Proton logo with the theme song.

The second, above, is my version of what the Professor Proton Junior logo might look like when Sheldon has been handed the reigns by the original Professor.

Of course it had to have the words Next Generation in it and I also thought I'd have a go at including Gino.

I have added these designs to my stores if you want to purchase t-shirts, mugs, stickers and more with the designs on, so make your choice if you have a preference -

Click here for Cafepress

Click here for Redbubble
Excellent Me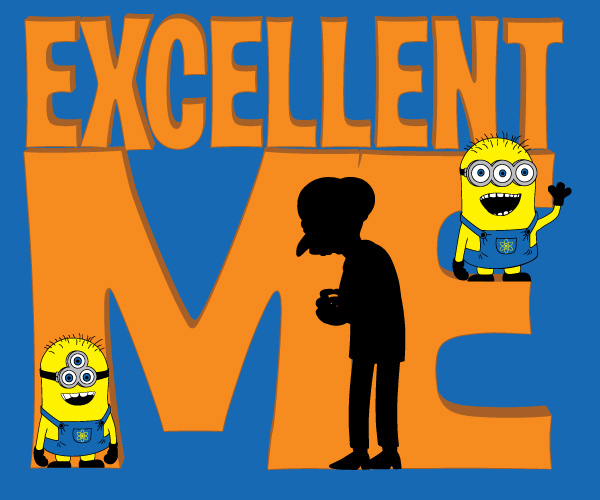 After watching Despicable Me 2 at the cinema the other night I wondered why there were no three eyed Minions

Then it hit me, they weren't working for Mr Burns at the springfield Nuclear Power Plant !

So taking my inspiration from Blinky the three eyed fish that was found at the lake near the nuclear power plant I created a couple of three eyed minions and made the sinister Mr Burns their master, altogether now....Exceeeeelleeeent.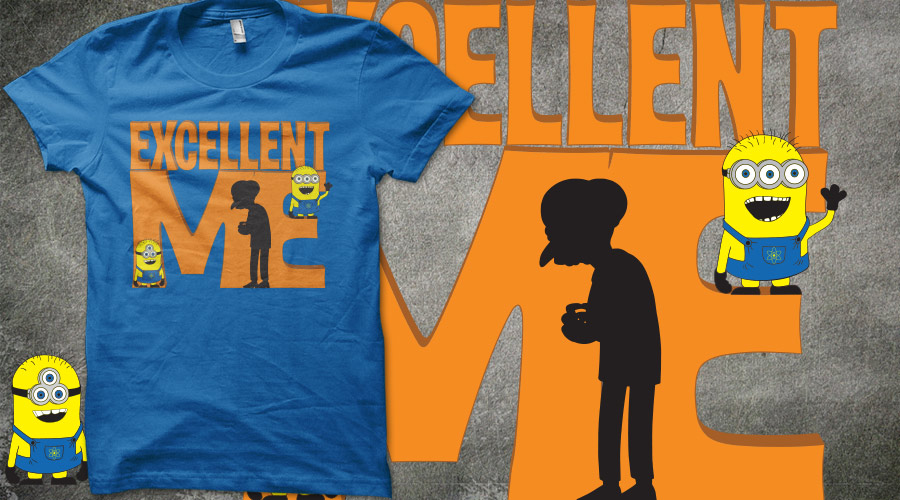 I've added the t-shirt to TeeBusters if you have a spare moment please head on over and vote.


Defiance Lawkeeper Idea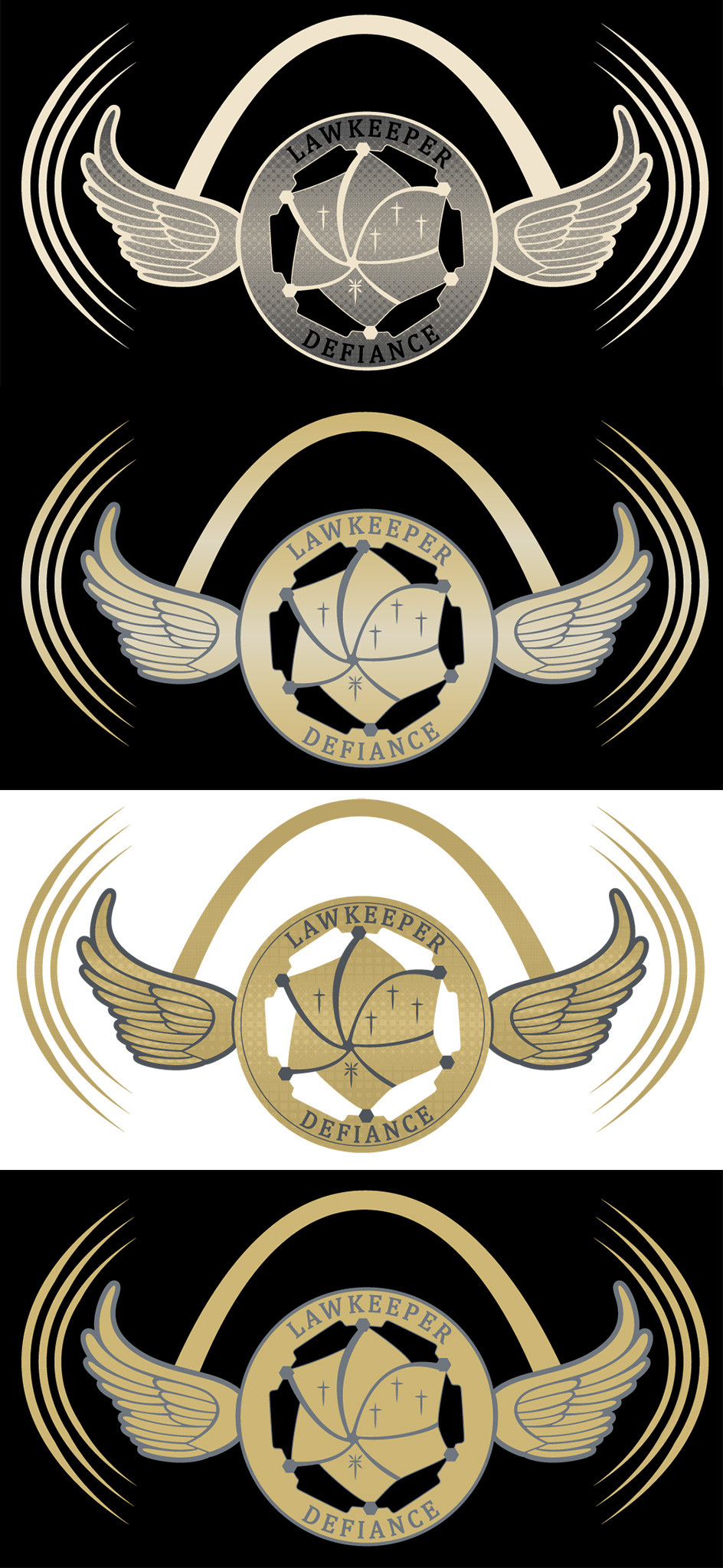 This is a little idea for a potential t-shirt design for the SyFy show Defiance.

I posted an initial version of the badge a little while ago, but wasn't entirely happy with it, so I went back and rebuilt the badge, and included the cross / star symbols seen in later episodes.

I then thought if this was going to be a larger t-shirt design then I needed to add the arch and decided to add some wings to tie the badge and arch together.

The arcs at the side were just to give a little more interest and width to balance the height of the arch. Although not everyone is sure about them.

The different colour versions are really just to experiment and I think the second one is my favourite so far.

If you have any feedback for me on what you think it would be appreciated.
IOU Sale on TeeBusters
Thanks to everyone who sent comments, shared the details and even bought one

No idea what the sales numbers are yet but I hope a few people bought some !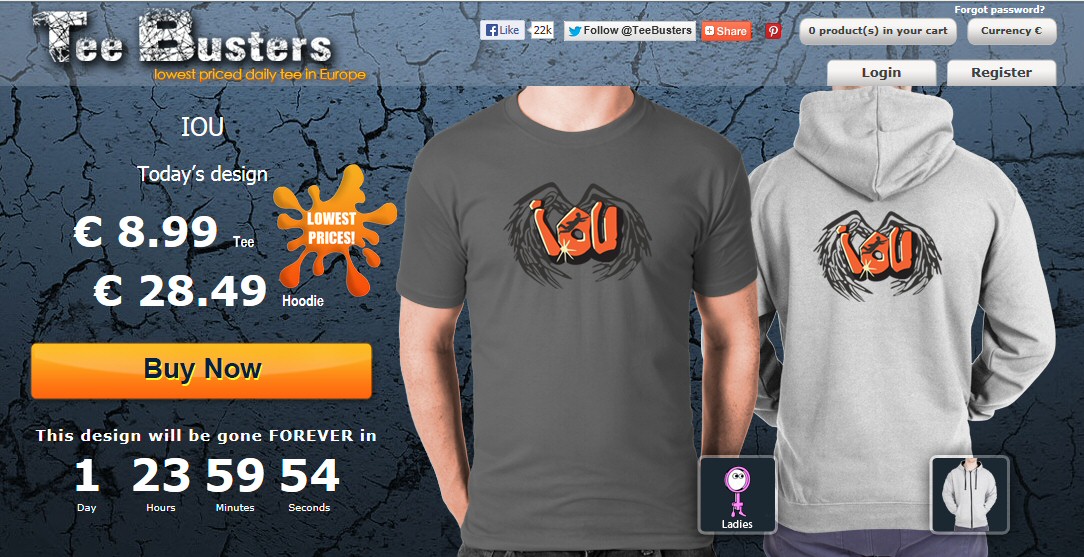 Bad Wolf Day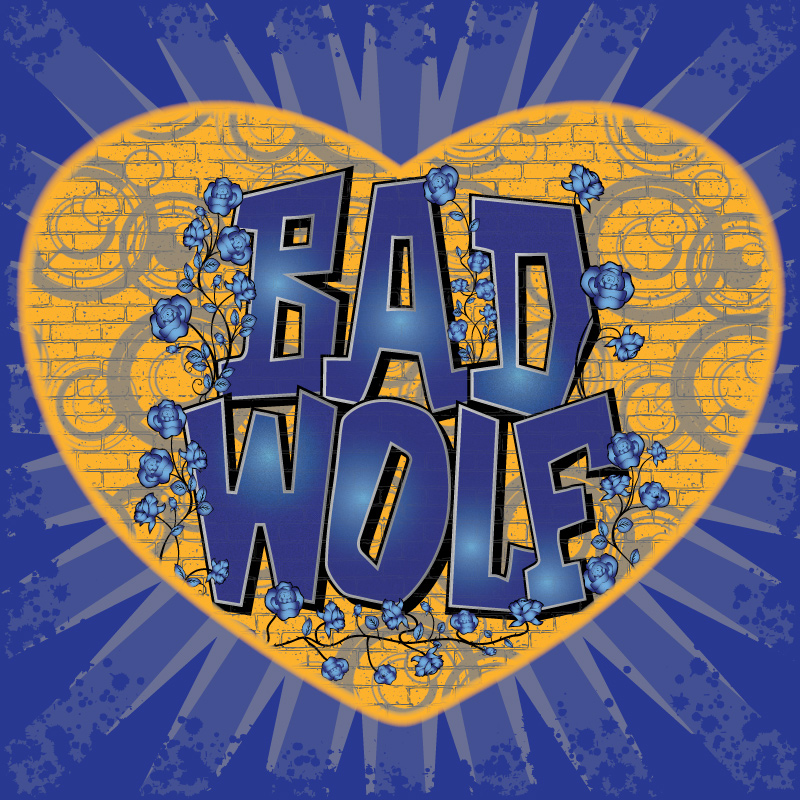 Love the Bad Wolf ? Then why not show it.

I read about the fans attempt to get Bad Wolf in as many places as possible on one day and thought I'd have a go at creating some Bad Wolf related graffiti art that might help spread the word.

I found the information on this Facebook group page and it has some more details there

The second image below was the first one I created as a simple wall style graffiti piece with Roses (what else) surrounding the words

Then I thought why not show some love for the Bad Wolf and added a heart around the design to give it a more focused look.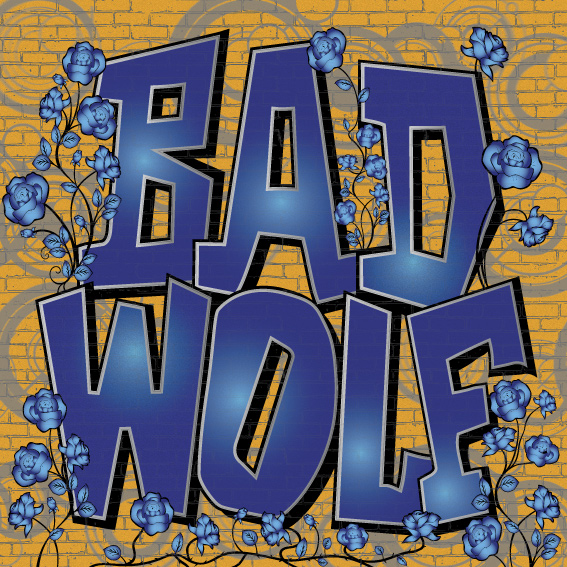 Click on either of the two images to show the larger size and feel free to use them on your preferred social media or other website, or simply print a copy off and pin it up at home / work / the nearest random place !

I have also uploaded the heart design to Redbubble and Cafepress

Click here to purchase Hoddies, t-shirts or stickers on Redbubble

Click here to purchase t-shirts, baseball jerseys and more on Cafepress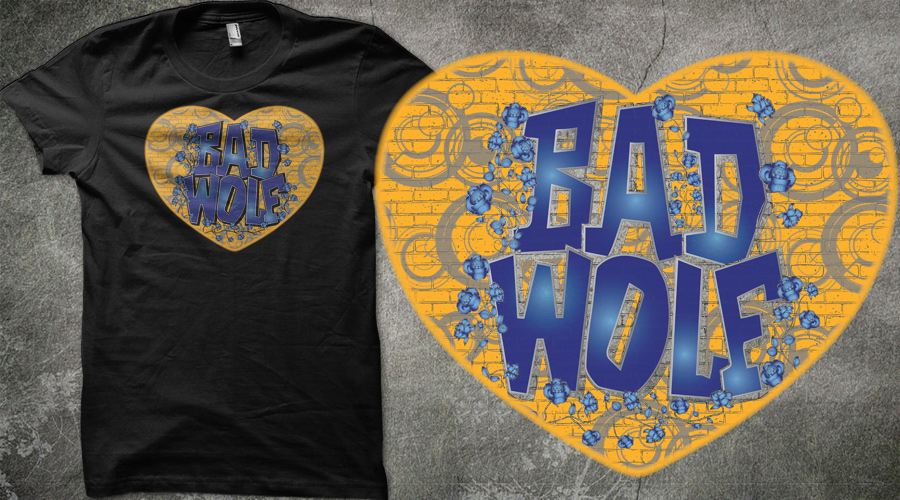 Hedgewicks World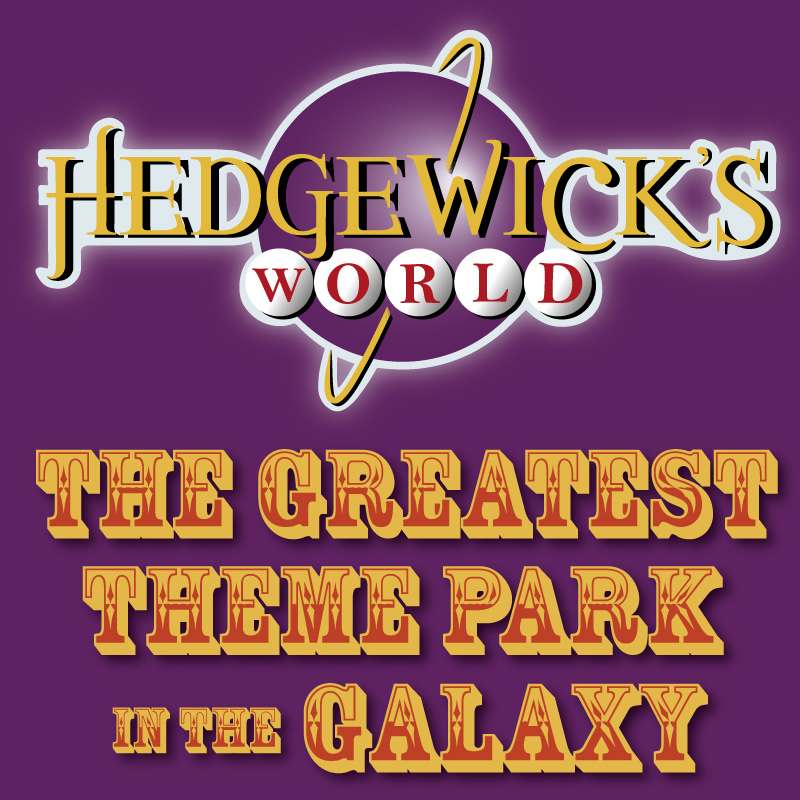 When is your next trip to Hedgewick's World, the greatest theme park in the galaxy !

This is my recreation of the logo from the Doctor Who episode Nightmare in Silver

This is based on some early promotional material that has been posted online, so may not be 100% right, but I thought I'd have a go anyway.

Now having watched the episode I've made a few teaks and it is available for voting on Teebusters.com as a t-shirt design, because all Gallifreyans who visit need a souvenir of their trip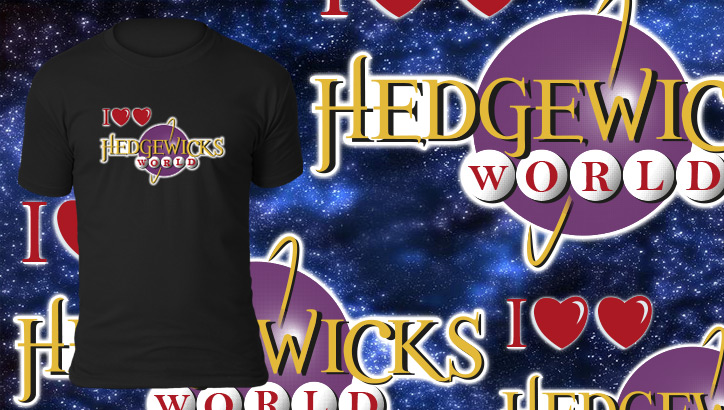 Iron Man 3 T-Shirt Design - Tony The Mechanic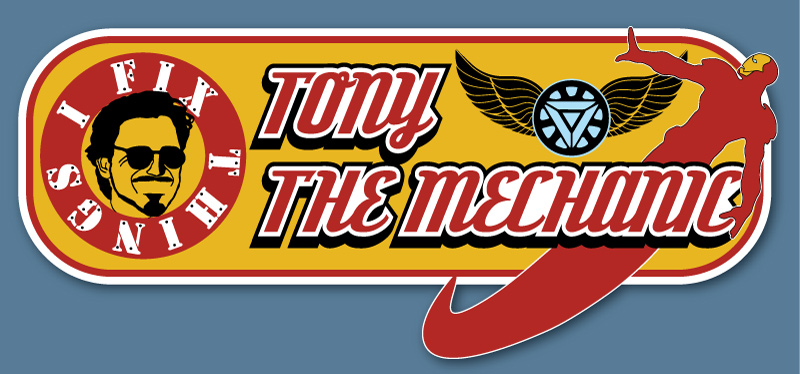 We saw Iron Man 3 in the UK last week and as soon as I heard the words Tony The Mechanic, I knew I had to create this.

Using garage / repair shop signs and adverts as my inspiration I came up with this that hopefully will appeal to Iron Man fans.

I have uploaded it to a few t-shirt voting sites, so if you have a moment please head on over to one (or all !) of them to vote.

Vote on Qwertee

Vote on TeeBusters

Vote on Limiteed


Nerdfest Comic Con Nottingham
I'm very happy and terrified to announce that I will be attending my first Comic Con as an artist !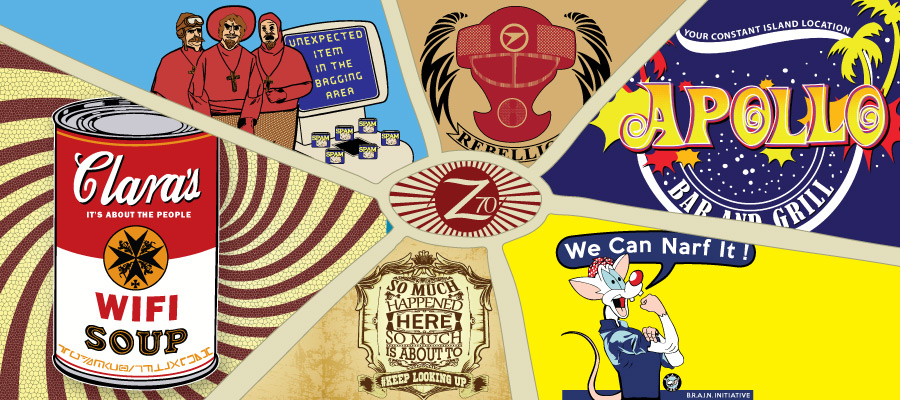 This is a new event for the UK and will be held in Nottingham on October 5th 2013 - Read more about the event here and you can follow @Nerdfestcc on twitter for all the latest details.

What I will be taking to Nottingham for people to look at and purchase is a mystery to me at the moment, but I will be formulating plans soon.
The Sontaran Clone Wars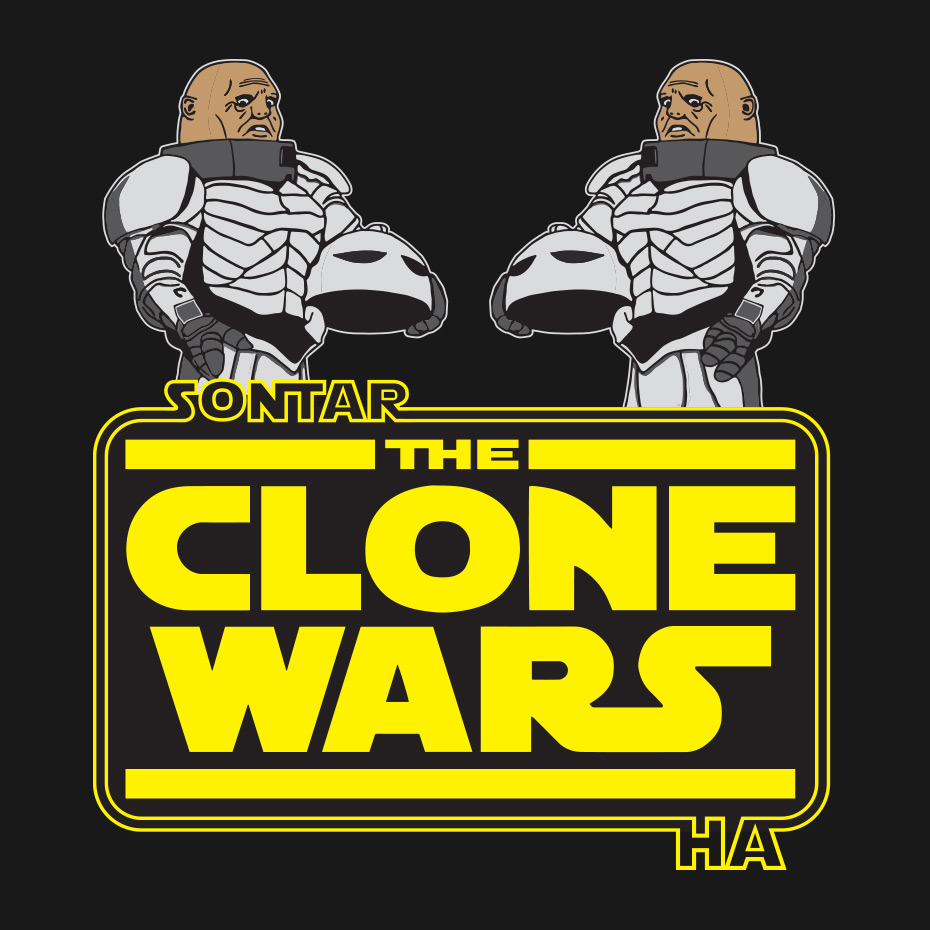 In a galaxy far far away the Sontarans are cloning themselves to fight a wars against the old republic...of the Rutans.

A Doctor Who / Star Wars Clone Wars mashup.

I have added this design to the TeePublic website, the way this site works is that if 30 people to want to buy this and then TeePublic will then print it using DTG technology.
Claras WiFi soup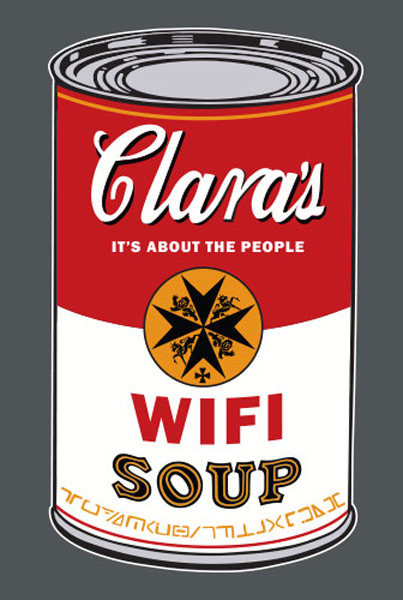 Clara's WiFi Soup, it's all about the people !

This a modern Doctor Who take on the Warhol Campbell's Soup can

Hopefully you can see the center element is the reason the "Bells of St John" got their name :-)

This is now available in my Redbubble store on t-shirts, Pillows, iPad cases, etc.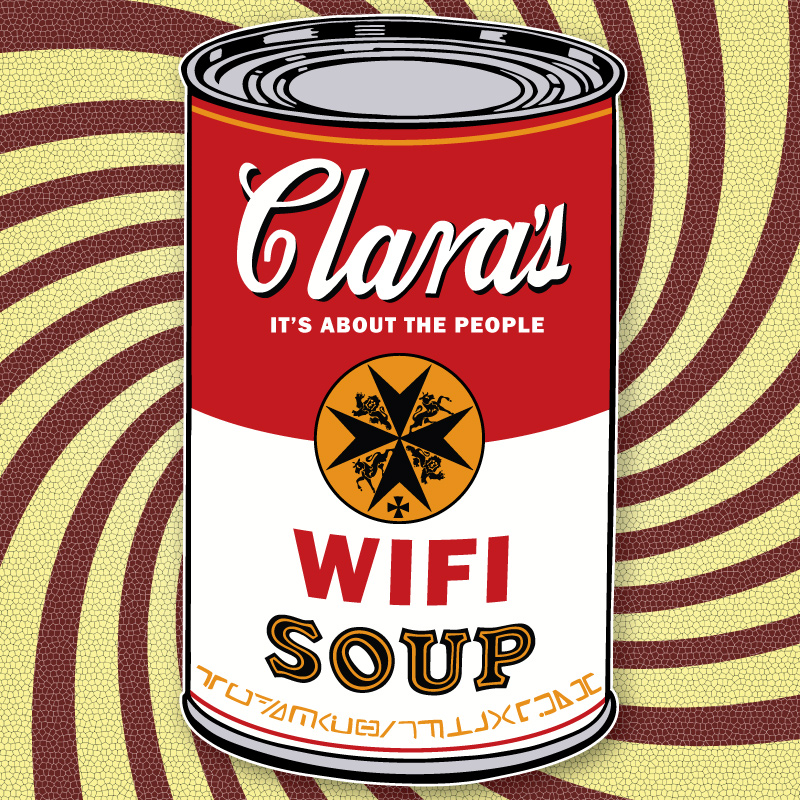 If you like the design then here is an icon version for you to use wherever you want to.
Game of Thrones The Seven at Limiteed.com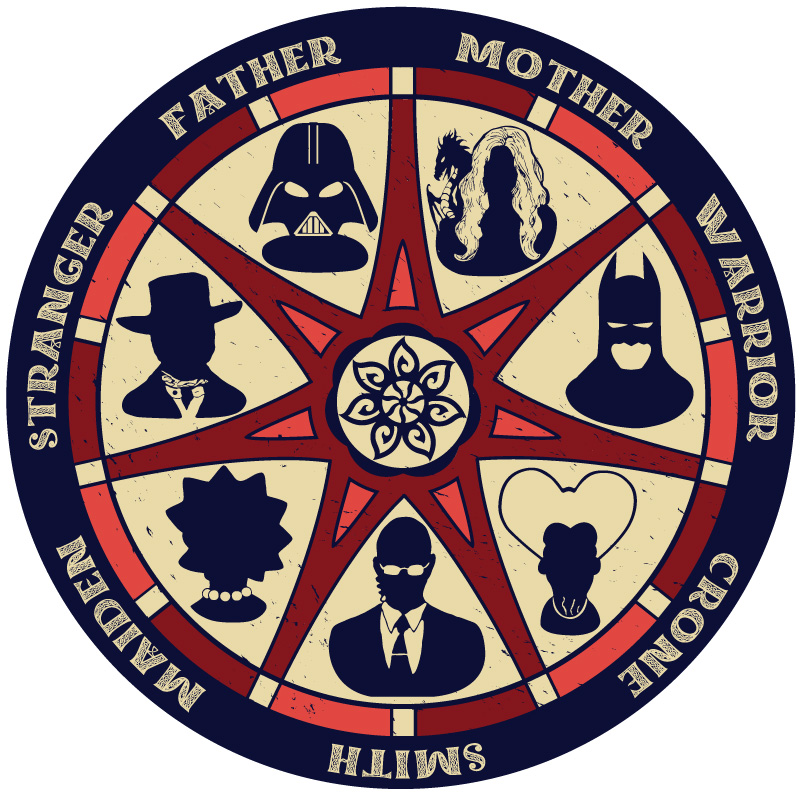 In case you haven't seen the updates on Twitter / Facebook / Pinterest / Tumblr etc. I have a t-shirt for sale on the new UK based daily t-shirt site Limiteed.com

If you don't recognise the main design it is a Game of Thrones based design with the Faith of the Seven represented by modern culture sillhouettes.

Please share the details with friends on whichever social media or other websites you use.

I hope to see some pictures of you in the t-shirt soon.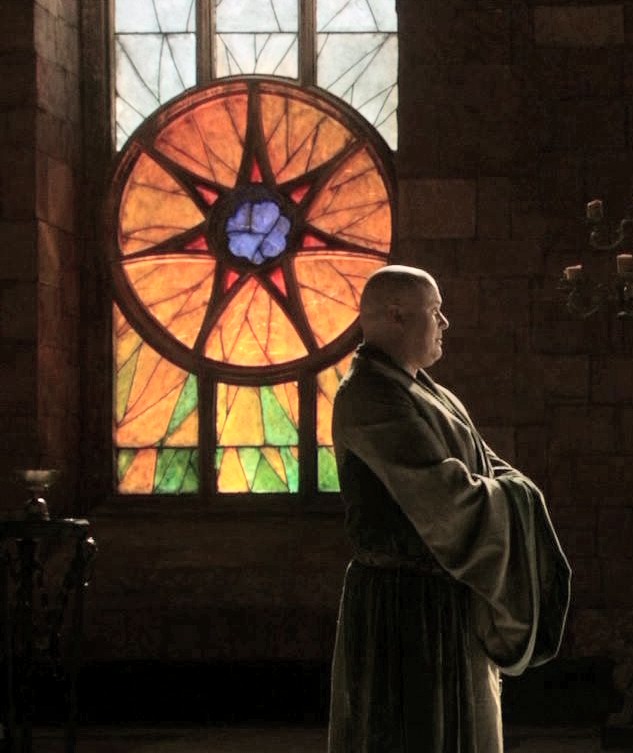 This is a screenshot from the HBO show and shows the inspiration for the main design theme.

Below is a screenshot from Limiteed.com showing the t-shirt on sale.

LOST fans may be able to spot a little something to amuse them.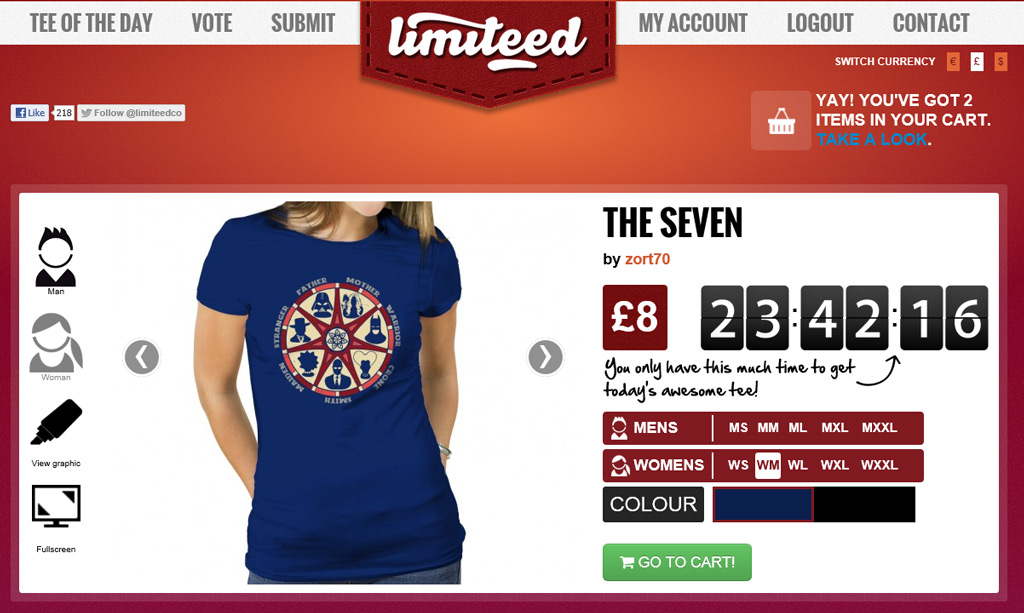 Unexpected Item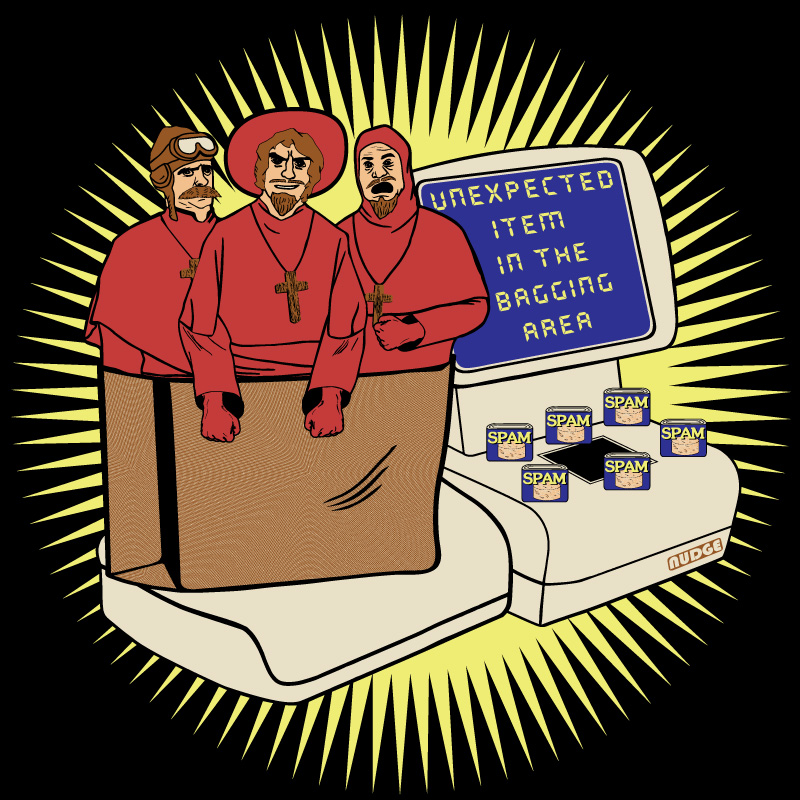 What ever the unexpected item in the bagging area is you wouldn't expect it to be the Spanish Inquisition !

I have been working on this for a while now, I had the idea bout 4 months ago but only got the time to work on it recently.

I've always loved Monty Python since I was old enough to understand it and this episode has to be one of my all time favourites.

I always had the idea of putting this forward as a t-shirt design so I have uploaded it to Qwertee, so please head over there and vote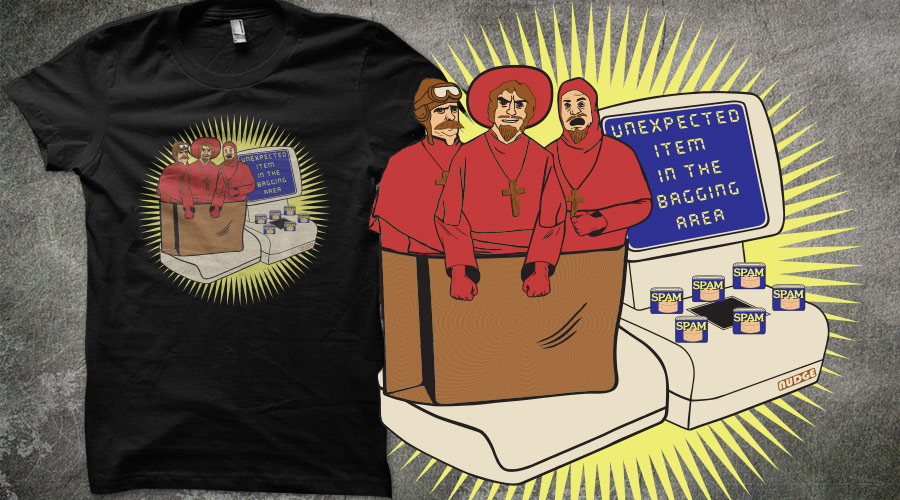 Walters Lab Rats on TeeBusters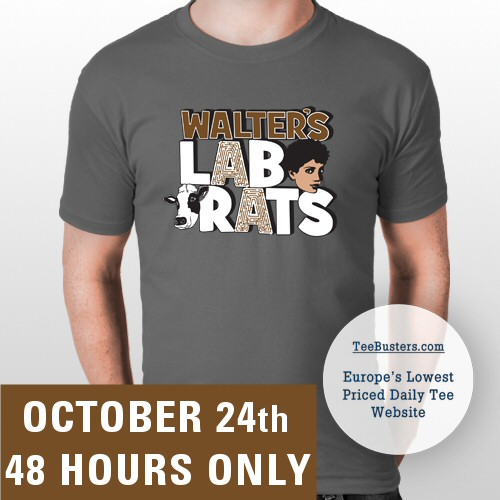 Calling all fans of Astrid, Gene and Fringe in general of course !

TeeBusters.com will be selling this t-shirt from midday on Wednesday the 24th of October for 48 hours.

You can use the code "LABR4TS" for a small discount at the checkout.

Please spread the word about this wherever you can.
Monroe Republic Rebellion
Are you a fan of Revolution yet ? Well don't worry you soon will be once you get to see it.

This t-shirt design was inspired by an American Civil War propoganda poster I saw in a book a while ago and seemed to fit quite nicely with the setting of the TV show.

This t-shirt design is now on Qwertee for voting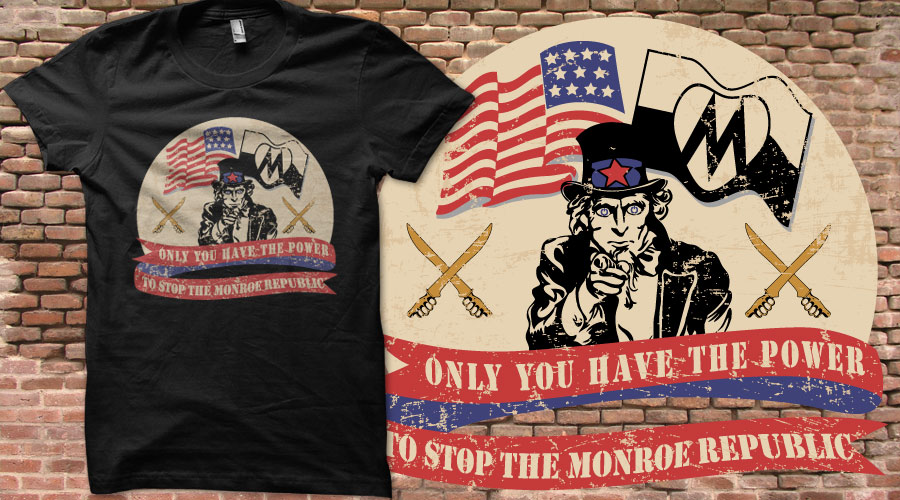 I actually came up with this poster design first but then decided to adapt it for a t-shirt.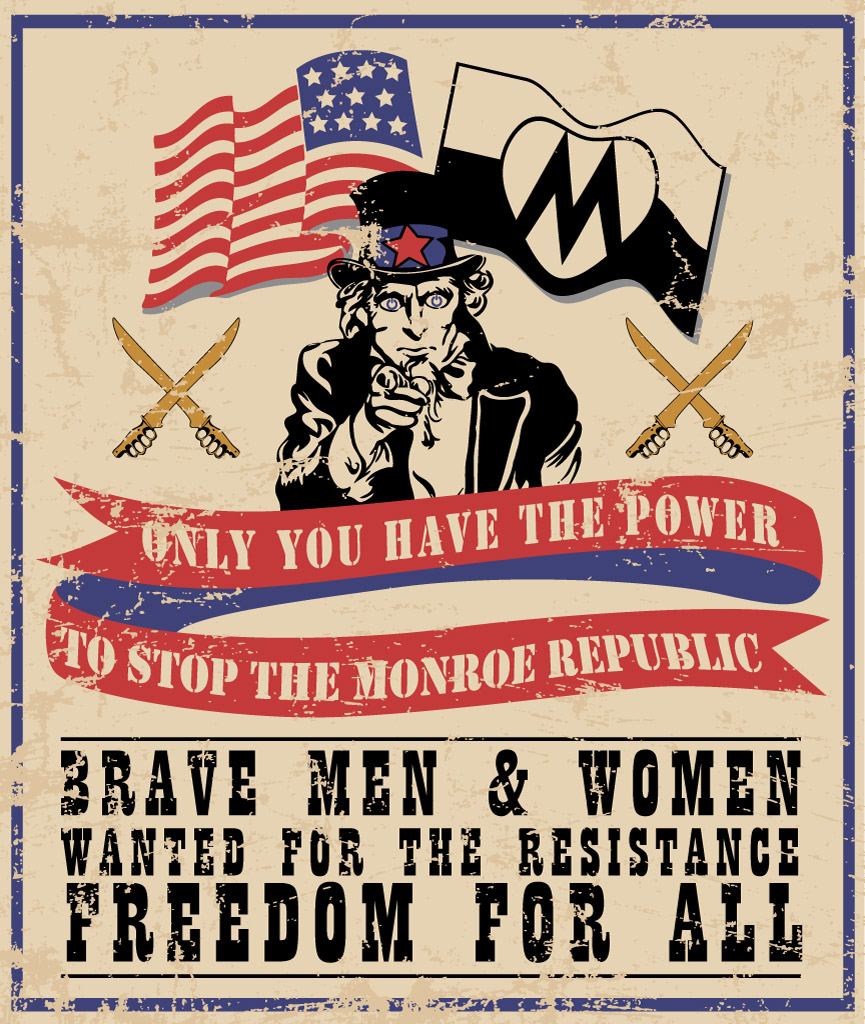 As you can hopefully see I have incorporated the Monroe republic flag, the power symbol, and a sketch of the swords used on screen. Also the US flag is taken from the tattoo that Nora Clayton has with the 11 stars on it, I'm not sure what the 11 represent yet, but hopefully we will find out.
Brightwell and Hyman Matches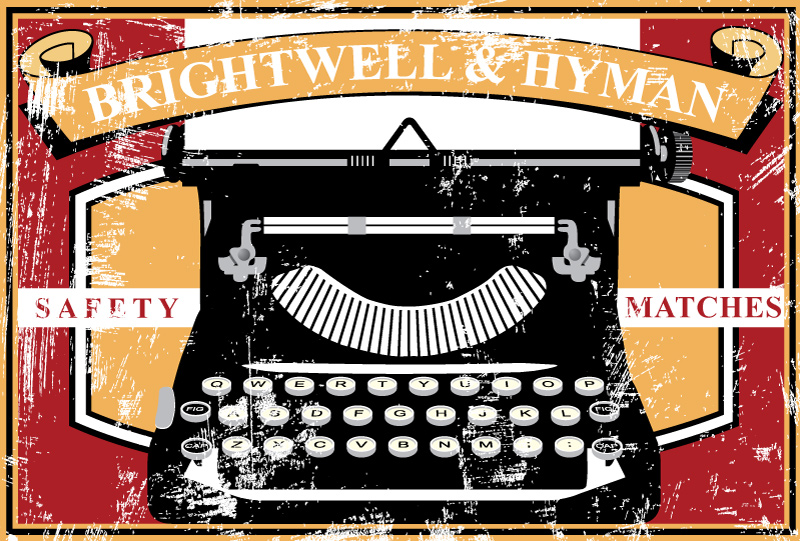 After watching the Angels Take Manhattan epsiode of Doctor Who I decided to look at the matchbox that was thrown to Rory.

I searched to see if it was a real brand of matches but found out that the brand will be used in a later episode, so my tip is don't Google the name if you don't want spoilers !
I decided to try and recreate the matchbox, which you can see here and then decided to create a t-shirt design based on it, which you can see below.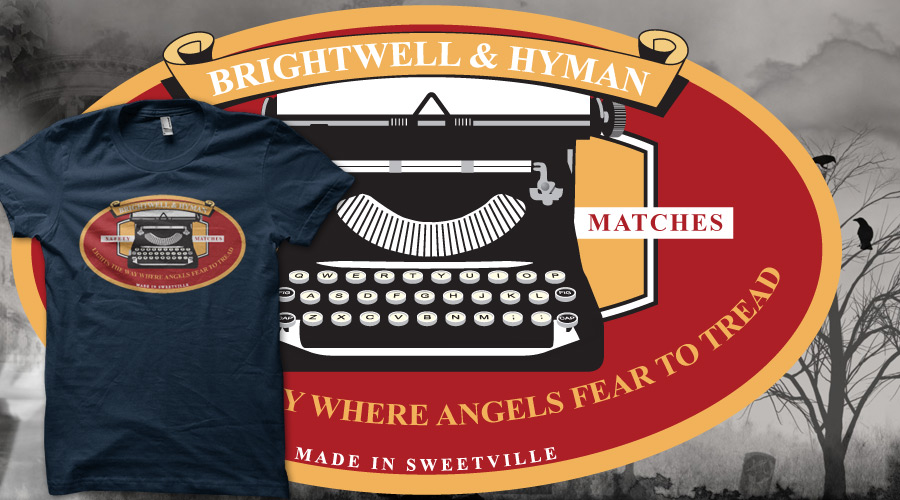 If you like it please head on over to Qwertee to vote for it.