2017 Calendar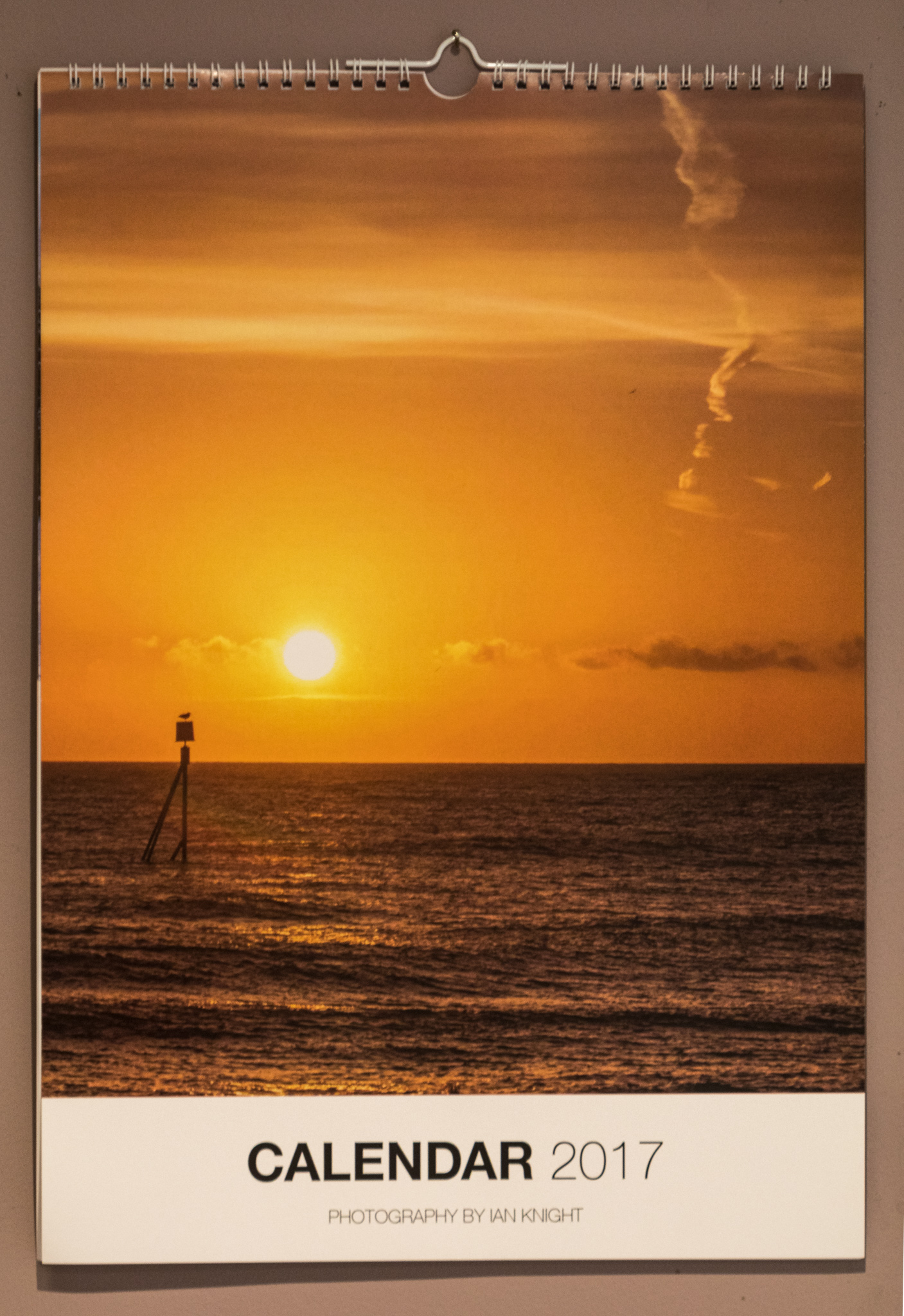 It's not too soon to hang the 2017 calendar is it ?

Yes as I've been taking lots of nice pictures this year I created a calendar. It started as a thought about sending out as Christmas presents, but a few people have asked if they can purchase one for themselves so it will be up for sale on my online store for a few weeks.

Please share the details if you like it, you never know it could be a collectors item one day !

Visit the online store page to see all the individual pages if you can't wait until next year :-)
Star Wars The Clone Wars - We Are Not Alone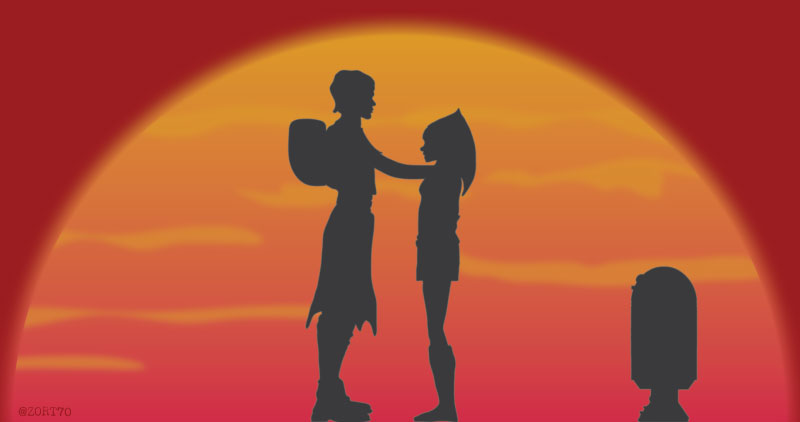 I watched the first, Dave Filoni helmed, animated Clone Wars movie again a few days ago and couldn't resist creating this.

In the desert on Tatooine walking to Jabba The Hut's Palace, Ahsoka and Anakin have a very touching moment in front of one of the setting suns.

Of course it means I'll also have to pick a moment from Star Wars Rebels to draw where they meet again in very different circumstances (Spoilers)
Dark Matter Season 2 Designs
I haven't done much design work recently but the other day I wanted a warm up so recreated a few of the new designs seen in Season 2 of Dark Matter.

I have also included two other designs that went onto social media based on the season 2 teaser trailers.

Click on each one for a larger version.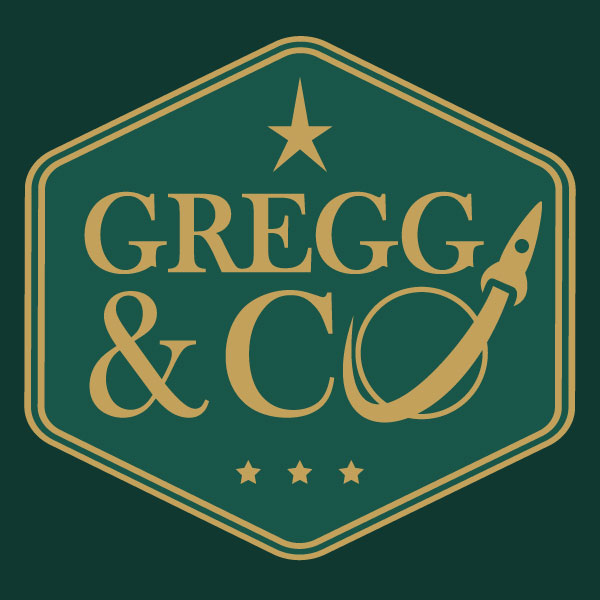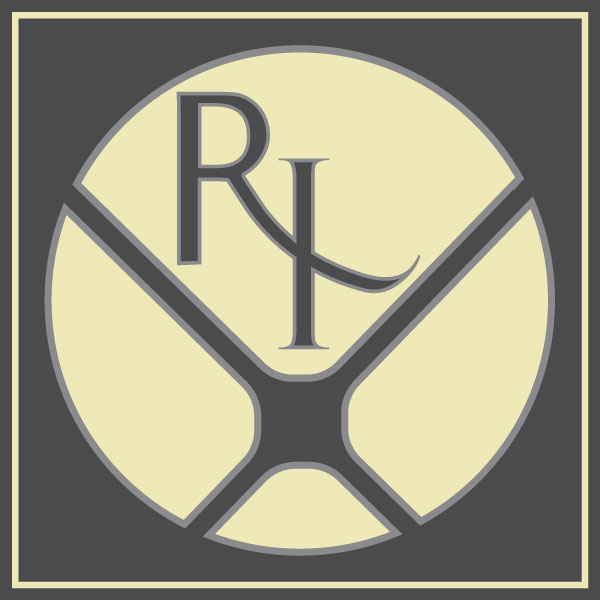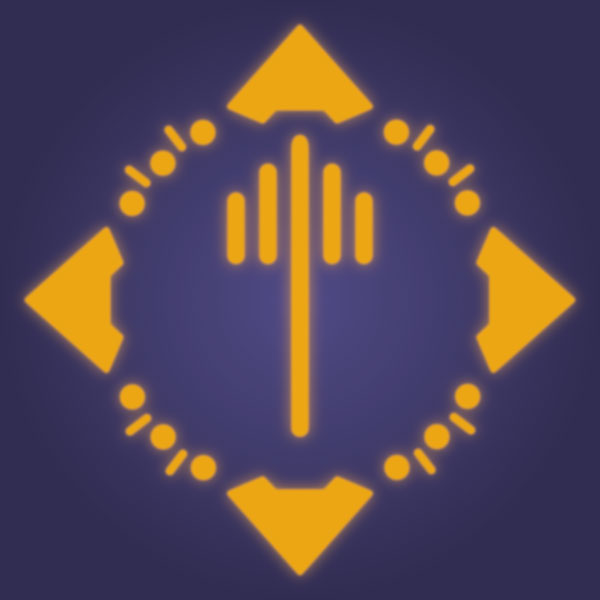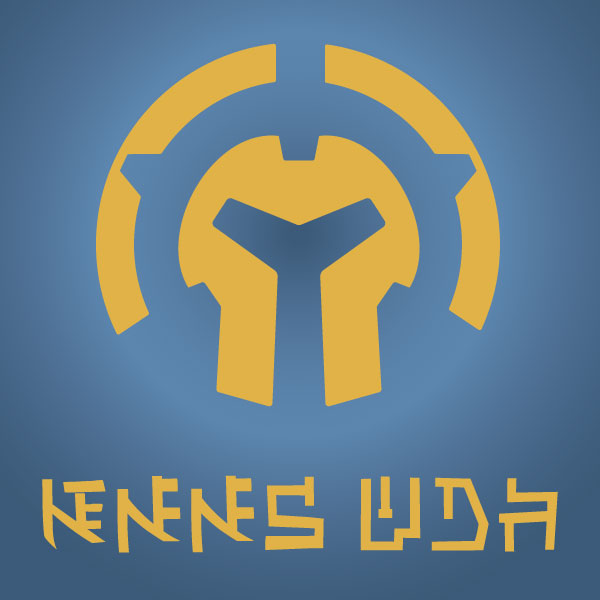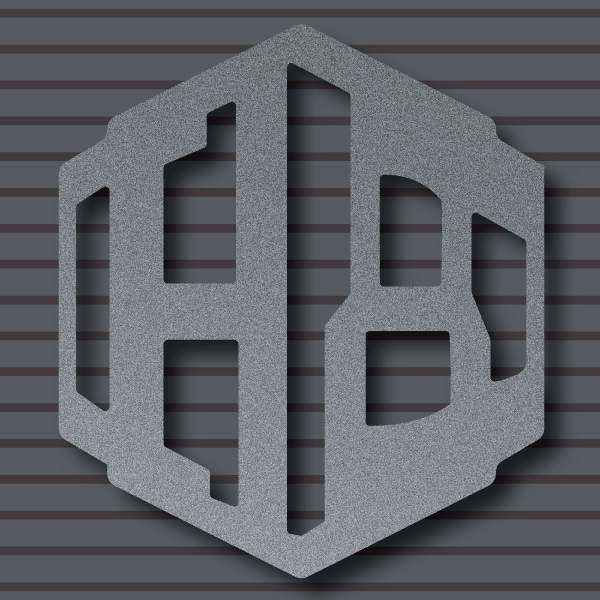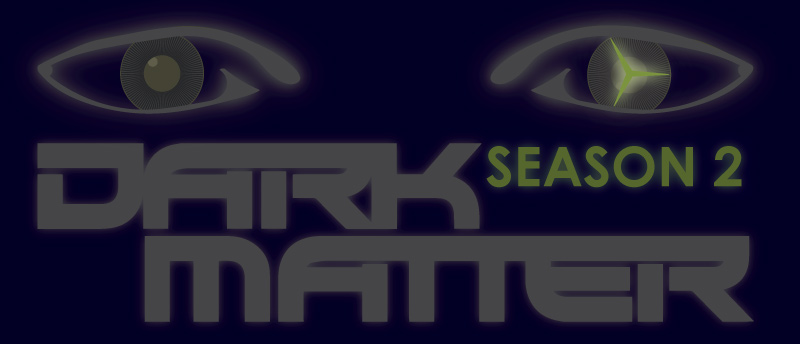 Clickasnap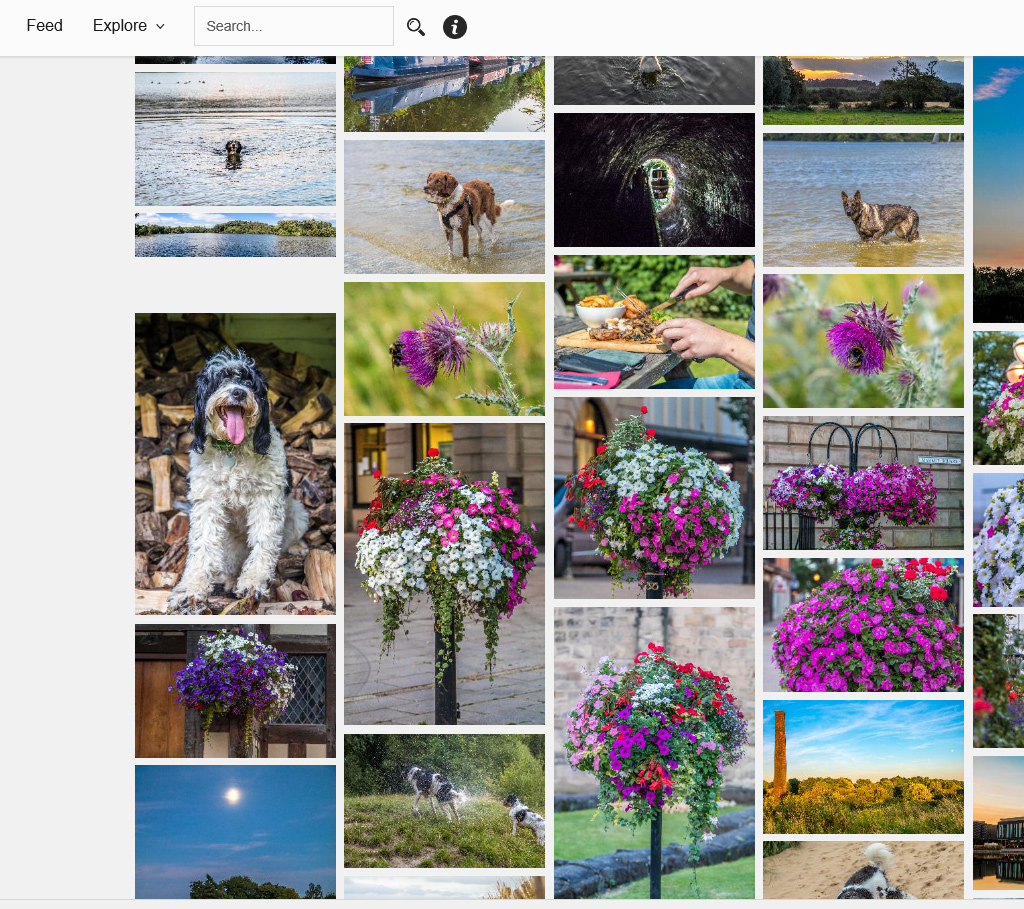 I have recently signed up to a new photograph sharing website called Clickasnap click the picture or here to view my uploads.

The difference with this site to many others is that if people view the photographs I might eventually get some money !

For each person that views a photograph for more than a few seconds then I get a fraction of a US cent, the idea is that all these views and micro payments add up over time and payments will eventually come through.

The small fraction per view that Clickasnap pay is actually the best rate on the internet today so I thought it was worth a go.
Star Wars Celebration Photogrpahs
Star Wars Celebration Europe at the Excel in London was a really great event. Huge amounts to see and do, something for every Star Wars fan.

I took quite a large amount of photographs at the event and at the Cantina gig the night before which was very special in it's own right.

In case you are wondering yes that is Carrie Fisher (and her dog) with Warwick Davies taking a selfie on the main stage !

Click the photograph or here to see all of the photographs on my Flickr site.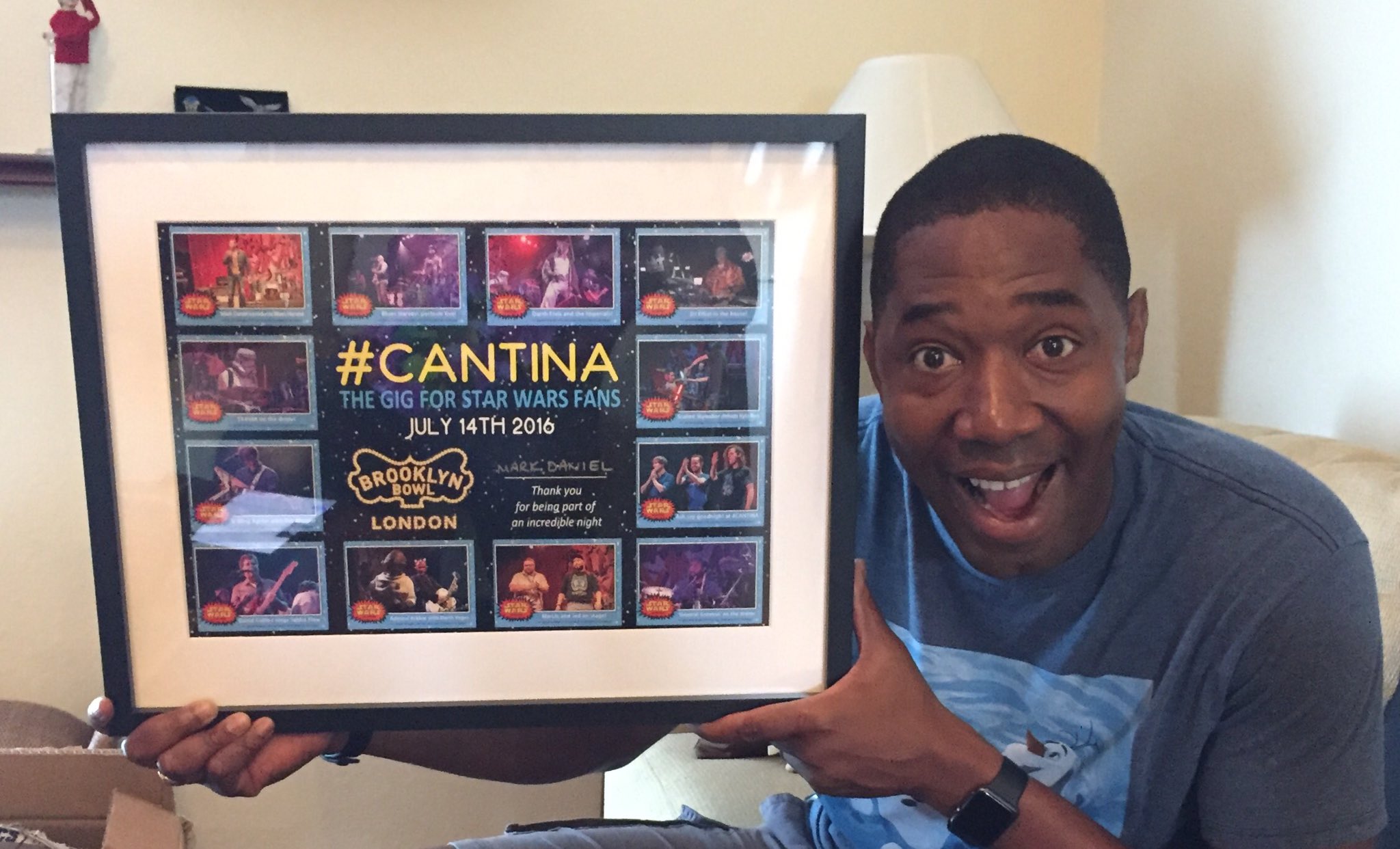 Talking of the photographs and Cantina, one of the organisers of the gig created a set of trading cards with the photographs and sent a framed set to Mark Daniel who compared the gig.

Have a look at Mark's twitter post where he posted this picture of him holding the framed set.
Star Wars Jakku Calling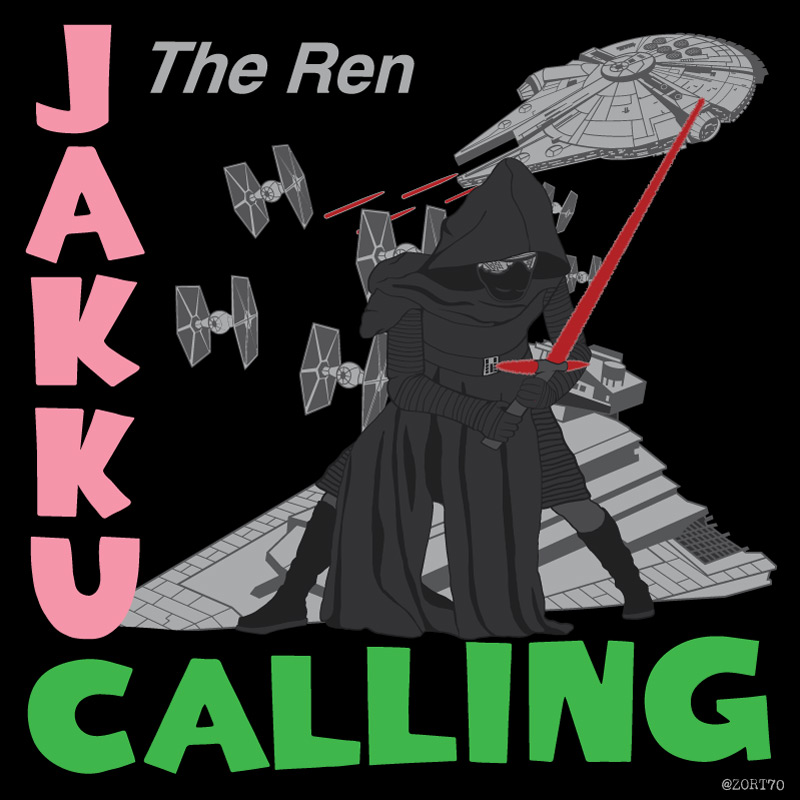 I was recently asked to create a concept idea for by someone in the Star Wars community (more of which later), while doing that design this idea was sparked off and I thought I'd create a t-shirt design of my own.

As you can see below it is of course a homage to The Clash's London Calling album cover. I even thought about creating some lyrics to go along with the song

Jakku calling, to the far galaxy The battle of Endor, was only the begining

Probably best I'm not a song writer !

This design is available on Redbubble but I have also got a surprise for those attending Star Wars Celebration Europe on the 15th, 16th and 17th of July.

If you come and find me, yes I will tweet about it on each day, I have some limited edition (100) art card versions of this design to give away.

If you found this website from me handing out a card at Celebration, then hello !

Have a look at all of my Star Wars related content by clicking on this link.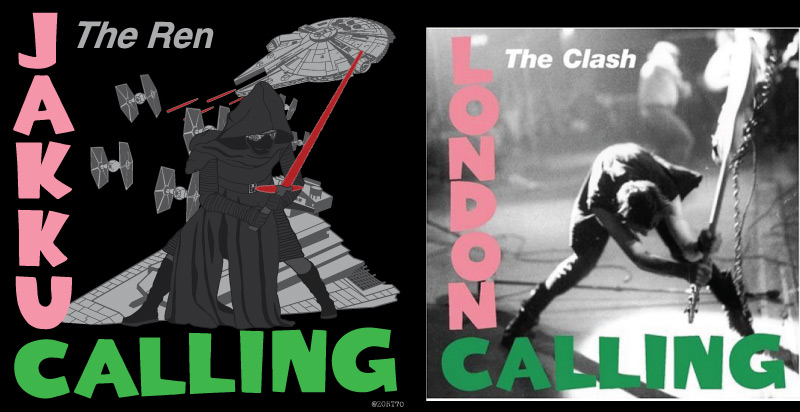 12 Monkeys Temporal Storm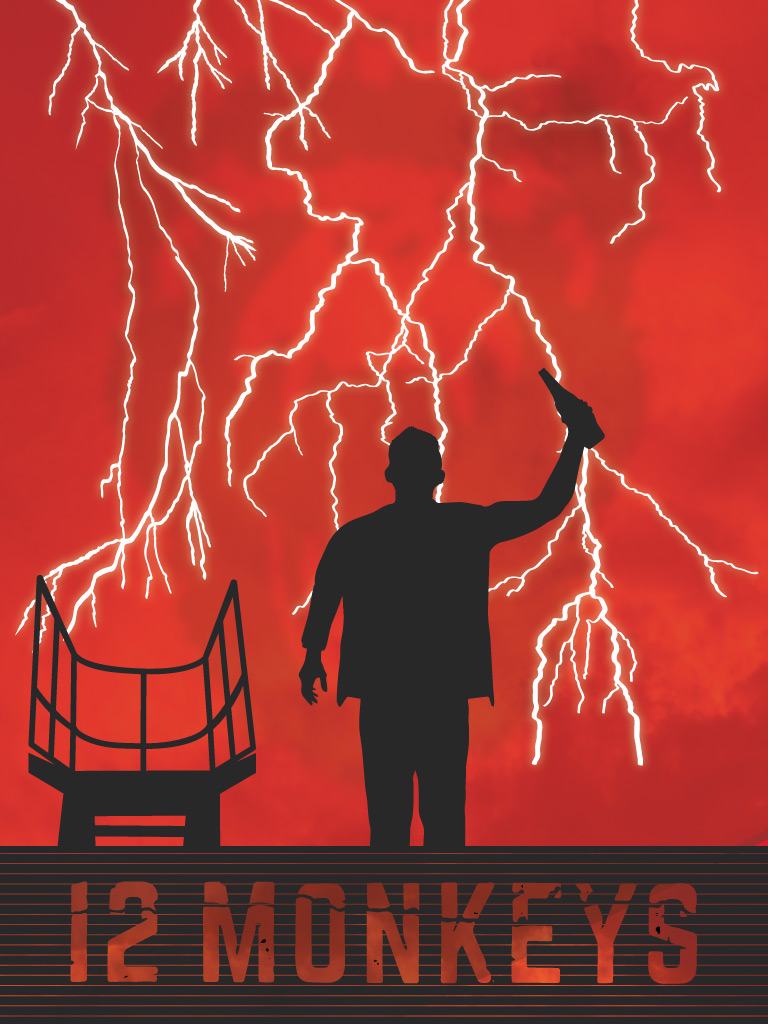 While watching a recent episode of Season 2 of 12 Monkeys I was struck by the final scene where Deacon (Todd Stashwick) is on the roof of the time travel facility drinking during a time storm that is threatening to end the world as we know it.
Z70 Photography
Something that has been a hobby of mine for many years is photography.

Recently I have been a little more organised with the pictures and started uploading them to Flickr

A few people have asked about getting some of the pictures made into prints so that is something I will be investigating soon, but for now have a look, or click on the new portfolio page on this website to see a slideshow of some of the very best.

The picture on this post is of our dog Paddy, and a fair proportion of my photographs feature him and his adopted sister Jem.
Cancer Gets LOST - 2016 Auction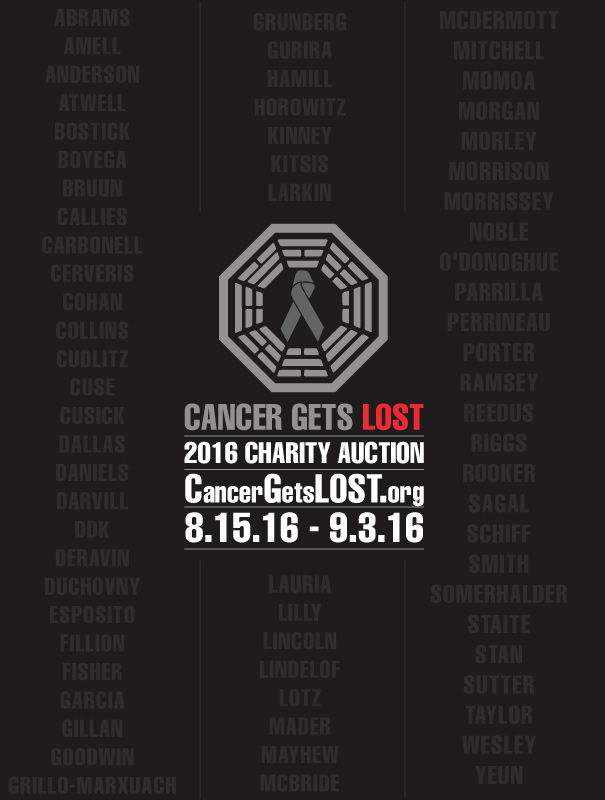 I recently updated the Cancer Gets LOST information flyer with all the details of the 2016 auction.

If you are not familiar with Cancer Gets LOST head on over to CancerGetsLOST.org and read all about the fantastic items on offer in this charity auction. Not just from LOST but from many TV shows and films across a broad spectrum of interests.

The auction begins on 8.15.16 and yes that is an American way of putting the date, but it makes perfect sense to us LOST fans.
Phantastic Geek Star Trek Essentials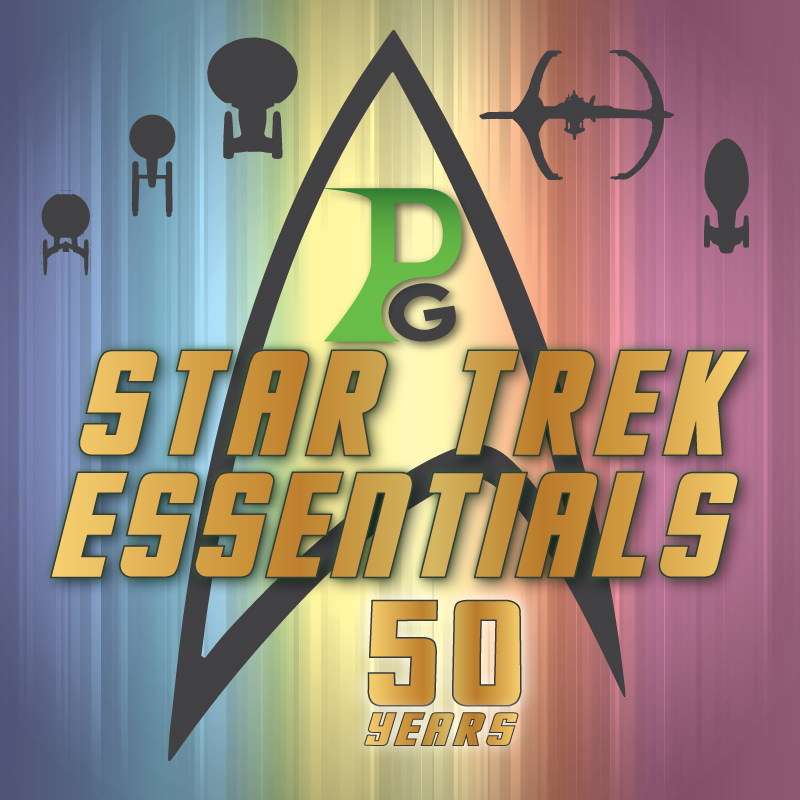 The dynamic podcasting Duo of Matt and Pete have decided for their summer podcast offering to talk about some of the essential Star Trek episodes.

Very fitting for the 50th anniversary of the beginning of the TV show.

It has been a part of my life in one form or another for as long as I can remember, there is a new film out this month and even a new TV series has been announced.

So it is a busy time in the Star Trek Universe.

This logo was created for the Essentials podcast and features the Starfleet logo, the various ships (and DS9) featured in the TV offerings. The background spectrum is a homage to the Motion Picture poster and more recently the new Into Darkness film marketing included a similar homage.

Visit the Phantastic Geek website to find out more about, and to link to, each of the podcasts as they are released.
12 Monkeys Designs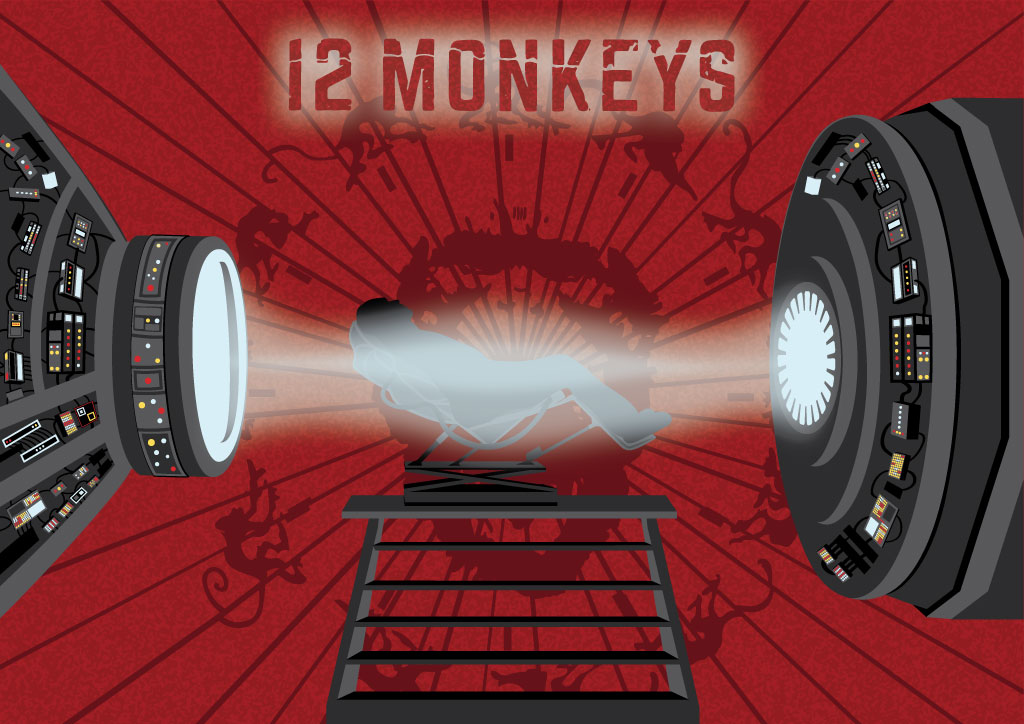 One of my favourite shows at the moment is the TV version of 12 Monkeys.

Far removed from the Terry Gilliam film version, but it does contain some nice easter eggs and references to the film.

One of the main sets / locations of the TV show is the splinter room where al the time travel magic takes place, and it is such an iconic part of the TV show that I wanted to try and capture it's essence on a poster.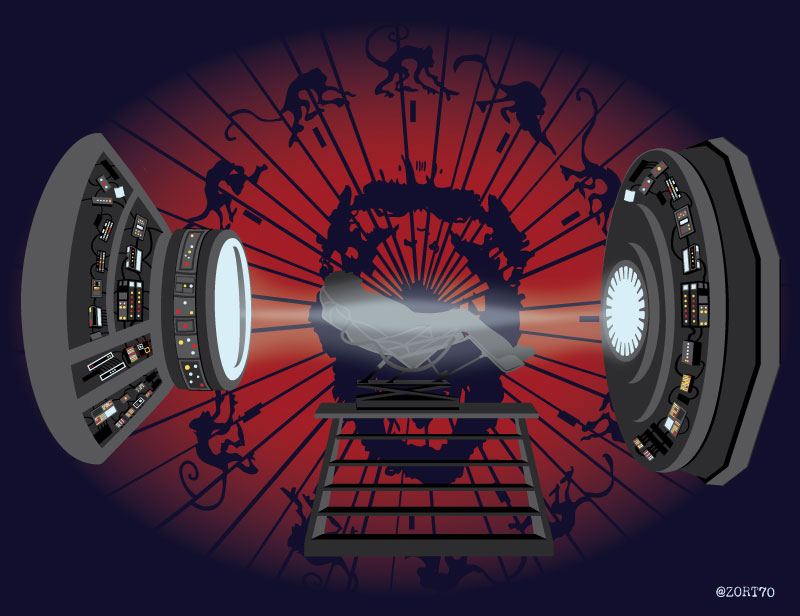 Hopefully you like my view of the Splinter machine.

I also created a t-shirt version that has been uploaded to Redbubble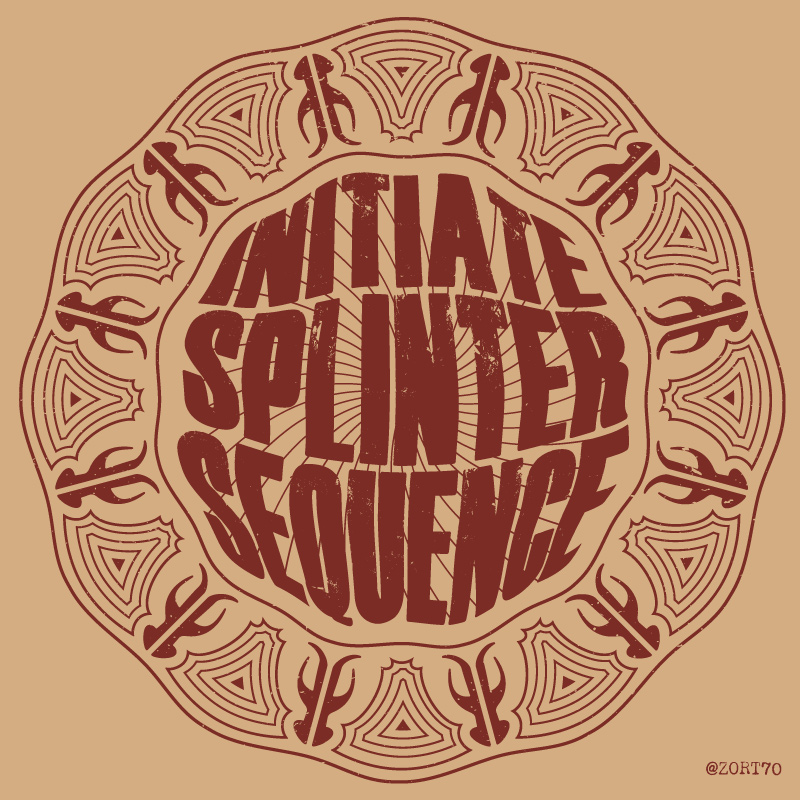 After the splinter machine, I thought I had to create something around the "Initiate Splinter Sequence" sound bite that Jones says before each time jump.

I went for a pretty simple text based design surrounded by the mysterious symbol that we have now found out means "Titan" in the style of the ancient plate containing the USB drive.

This is also available in various forms on Redbubble
Ultimate Salvage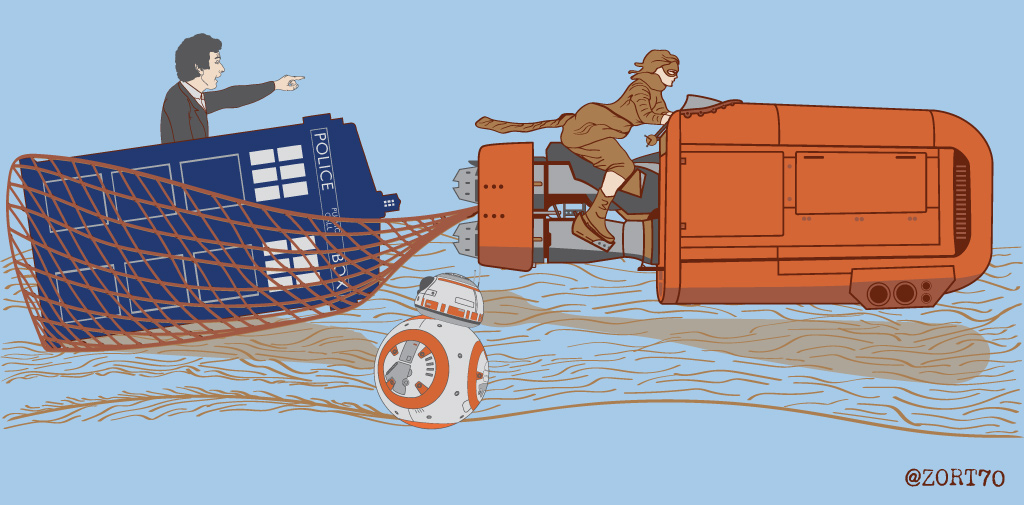 When you are on a planet far, far away and you come across a mysterious blue box it is time to salvage it.

Assisted by your round little droid, what could possibly go wrong.

This Doctor Who / Star Wars design was a little inspiration when I was watching The Force Awakens on a plane coming home from America, probably just drifting off to sleep and day dreaming, but this was the result !

I have put this up on Tee Public if you would like it on a t-shirt or small art print, it is available for $14 for the first few days, so go grab yourself a bargain.
Weasleys Wizard Wheezes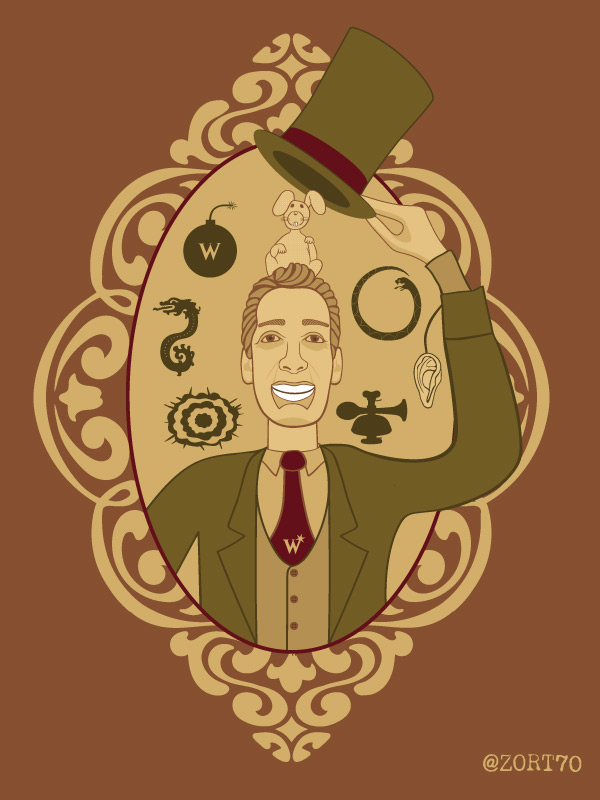 We were watching the Harry Potter films again recently and I thought I'd have a go at drawing the oversized animated mannequin outside the Weasley shop in Diagon Alley

The mannequin is of course based on Fred and George, the Weasley twins, but it is more than just a facsimile of them.

It turned into a little more than just the mannequin, almost an advert for the shop but I took the decision to not use any words on it just let the image speak for itself.

Surrounded by some of the magical products that the Weasley's produced and of course the rabbit under the hat. If I ever get a chance I'll produce a special edition of this with a glow in the dark rabbit that you can't see when it is light.

I have added this to my Redbubble store as a t-shirt design or small art print if you want one.
Doctor Who - The Long Way Round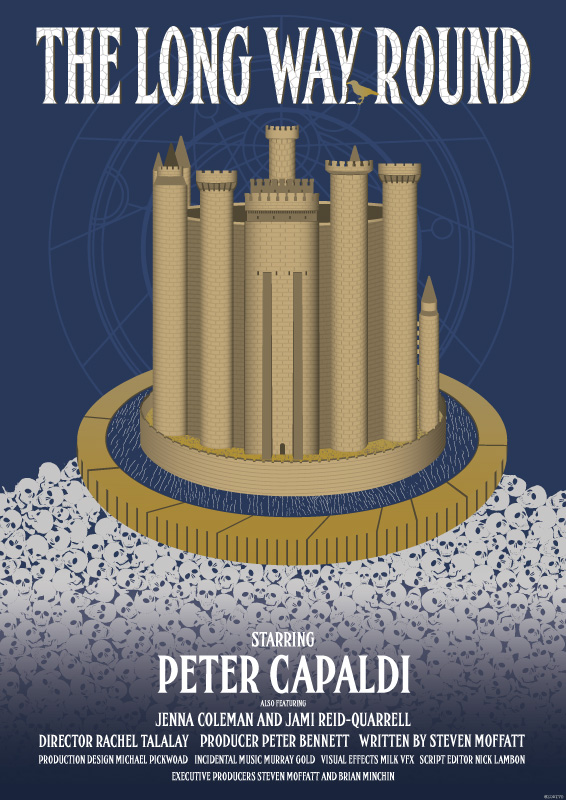 Say what you want about Peter Capaldi's incarnation of The Doctor, this episode of the new series was a tour de force of acting, writing and production.

It had me thinking and contemplating long after the episode was broadcast and that is a hard thing to do in today's instant gratification style of TV.

So I knew I had to create something based on the episode and this alternative episode title poster is what I came up with.

Even if you had seen this before the episode I don't think it gives away any mysteries fully and gives a few clues to the contents.

I wanted to feature so many things, and dropped quite a few along the way ! The castle had to be featured in what I think it would look like when fully rotated into it's starting position.

I haven't got any plans to make this avilable to purchase yet, but I may do in the near future so keep an eye out on twitter.

Below are a couple of closeups of some of the detail as you can't see all of it in the small preview, click on each one for a larger version.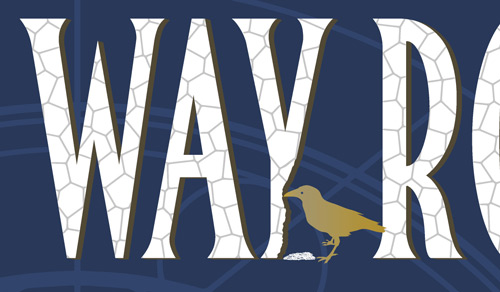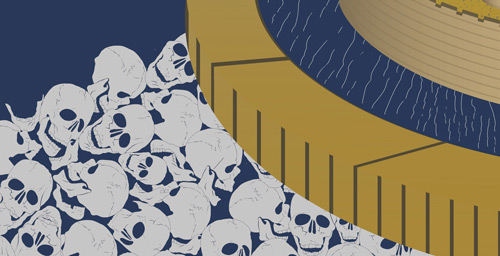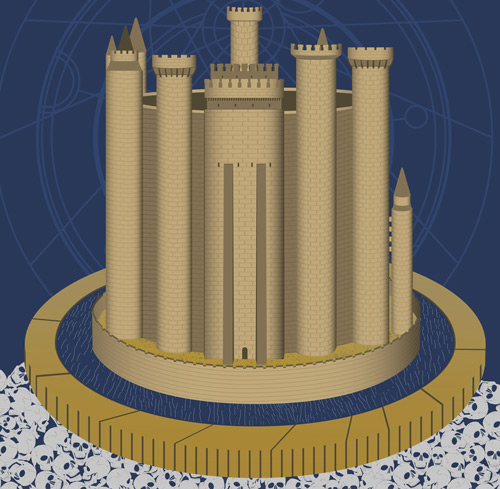 Whos Negan ?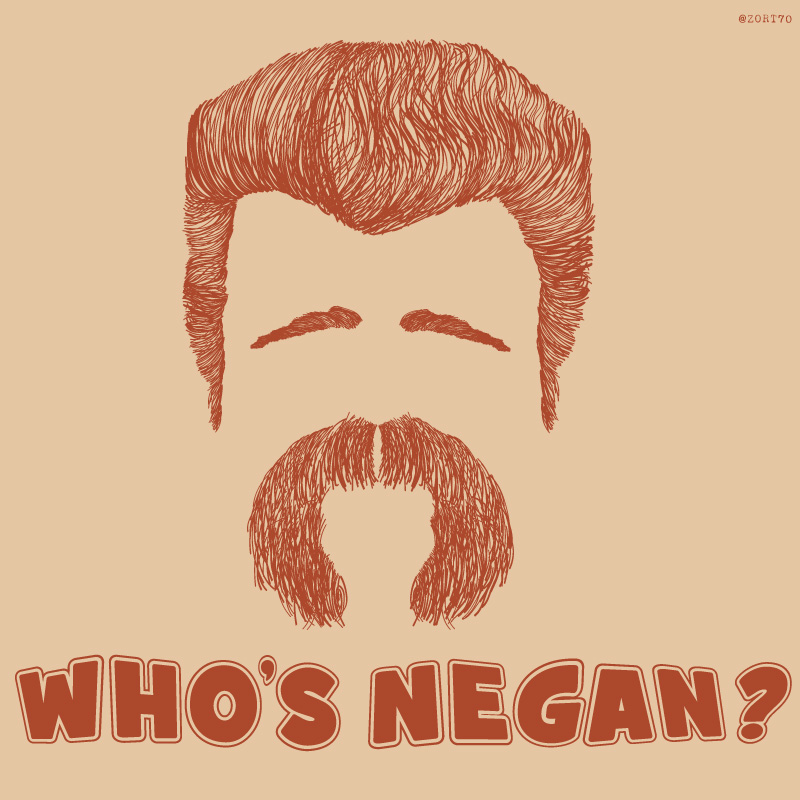 I was listening to a Walking Dead podcast the other day when the sound clip of "Who's Negan" was played in isolation and I immediately knew I wanted to create a quote t-shirt design

I saw Michael Cudlitz, star of LOST and that little known zombie TV show The Walking Dead, in London last weekend at Walker Stalker Con (some photographs here)

So I had some great reference shots, I created the face consisting only of hair, and I think it is instantly recognisable if you watch the tv series.

I added the text in style similar to the comic book title, it started off with about 4 colours but in the end I decided to make it all one colour.

It has been added to my Redbubble store if you want to get a t-shirt, mug or even a pillow with this on.

As to the question of who Negan is, I'm sure we will find out soon, and I am fairly sure he isn't good news for our favourite group of Zombie Apocalypse survivors.
Agent Carter - Council Of Nine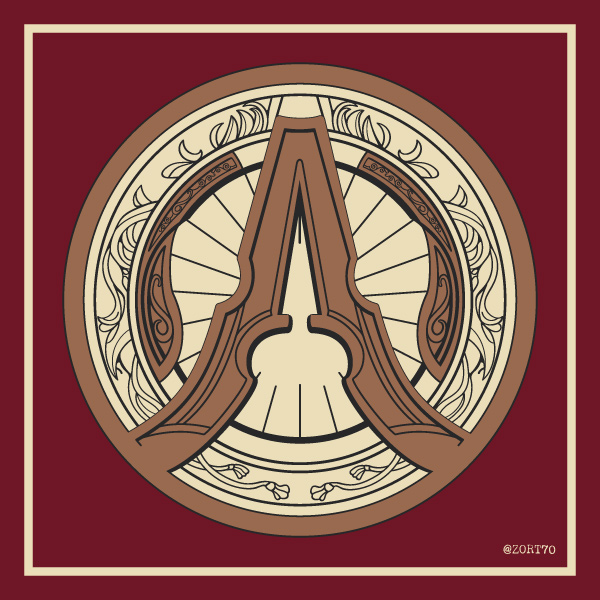 This symbol is quite prominent in Agent Carter Season 2, although that isn't the first time we saw it on screen.

It was first seen in an Agents of S.H.I.E.L.D. episode just before Christmas and is part of the Hydra legacy / history.

Since it was fairly significant I thought I'd have a go at producing my own version and this is it.

I have also added it to Redbubble if you want to see it on a t-shirt.

While I was creating it I also had a go at a couple of other Agent Carter season 2 items, the Isodyne Energy logo and the sign from the Talent Agency that hides the SSR in LA.

These haven't bee put anywhere yet, but if I get any feedback requesting them I could be persuaded :-)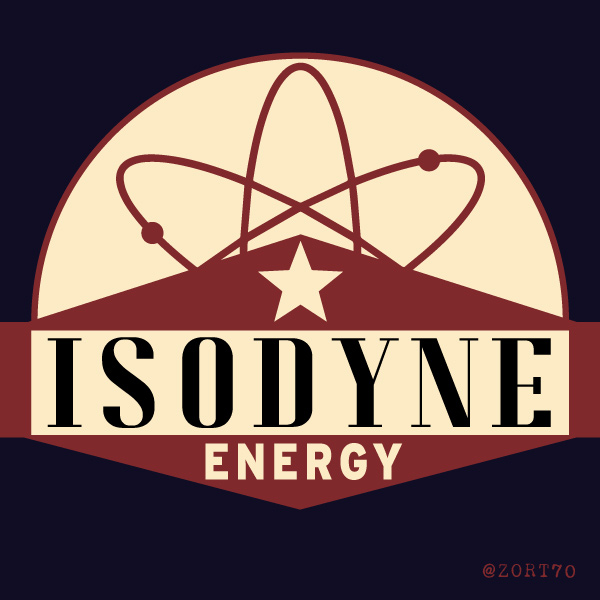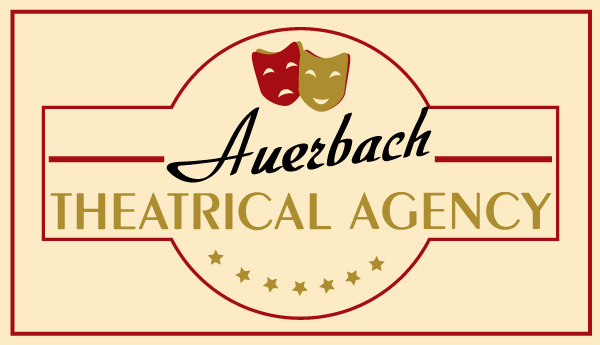 Rebel Ahsoka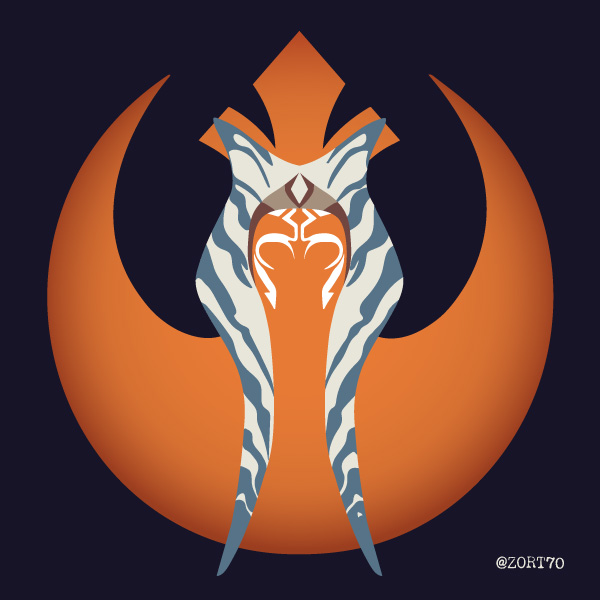 I have been wanting to do this for quite some time ever since her re-appearance in Star Wars Rebels.

An update of my Ahsoka Tano design created for Star Wars The Clone Wars quite a few years ago now.

This time, no longer a Jedi in training, and much changed since her youthful days, I wanted to make it fit with the previous design which meant of course using the Rebel symbol.

I tried may permutations of them together and I think this is the best combination.

I have now added this design to Redbubble so if you get one of these let me know via twitter, I'd love to see the finished product.

Below is a comparison of the Clone wars and Rebels versions that were created almost exactly 4 years apart.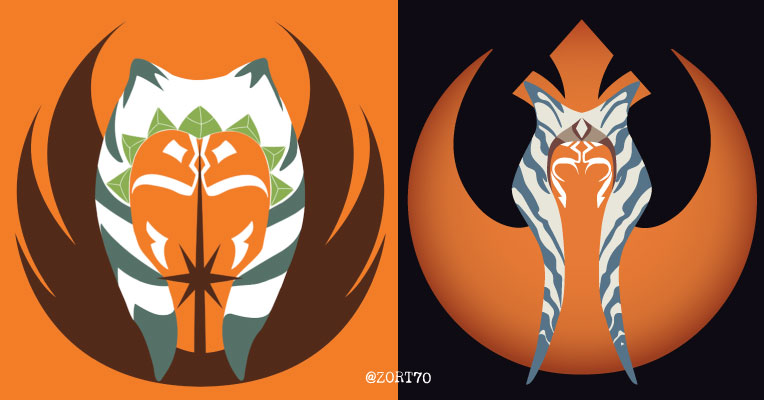 Reys Staff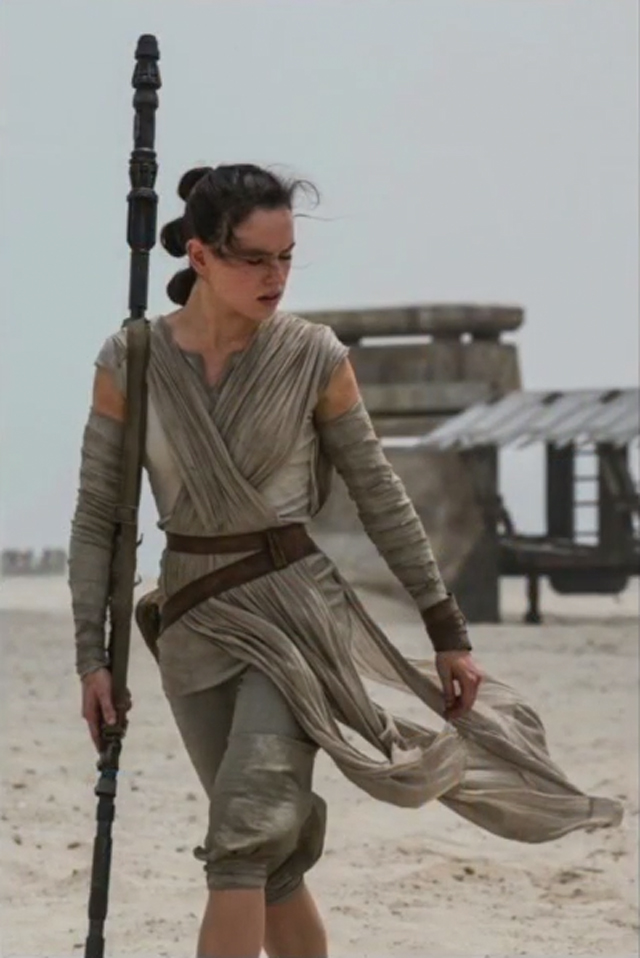 Star Wars The Force Awakens has been quite a phenomenon in terms of box office and proof that a great story can be continued if the right people are involved.

One of the most fascinating characters in the film for me, apart from BB8 of course, is Rey. Her unknown history which I'm sure we will find more about in the next two films, and the ability to harness the force seemingly without any training is quite an enigma and one I will definitely enjoy seeing unfold.

Her survival skills and time on Jakku have produced many things, but one thing really caught my attention, her staff, made out of scrap. Initially I wanted to create a t-shirt design to go along with my Pinky and the Brain / BB8 design, but something else clicked in my head and out came the notion to create my own staff made out of scrap.

Read the rest of the post



Partly I think it was doing something a little more practical other than digital design and partly so I had something unusual to take with me to Star Wars Celebration Europe in July.

I first had a look around to see what was available commercially, which isn't much, there are a few fancy dress items available but those seem to mostly be moulded plastic and are quite small. I then looked to see if anyone else had made one themselves and found a few people had.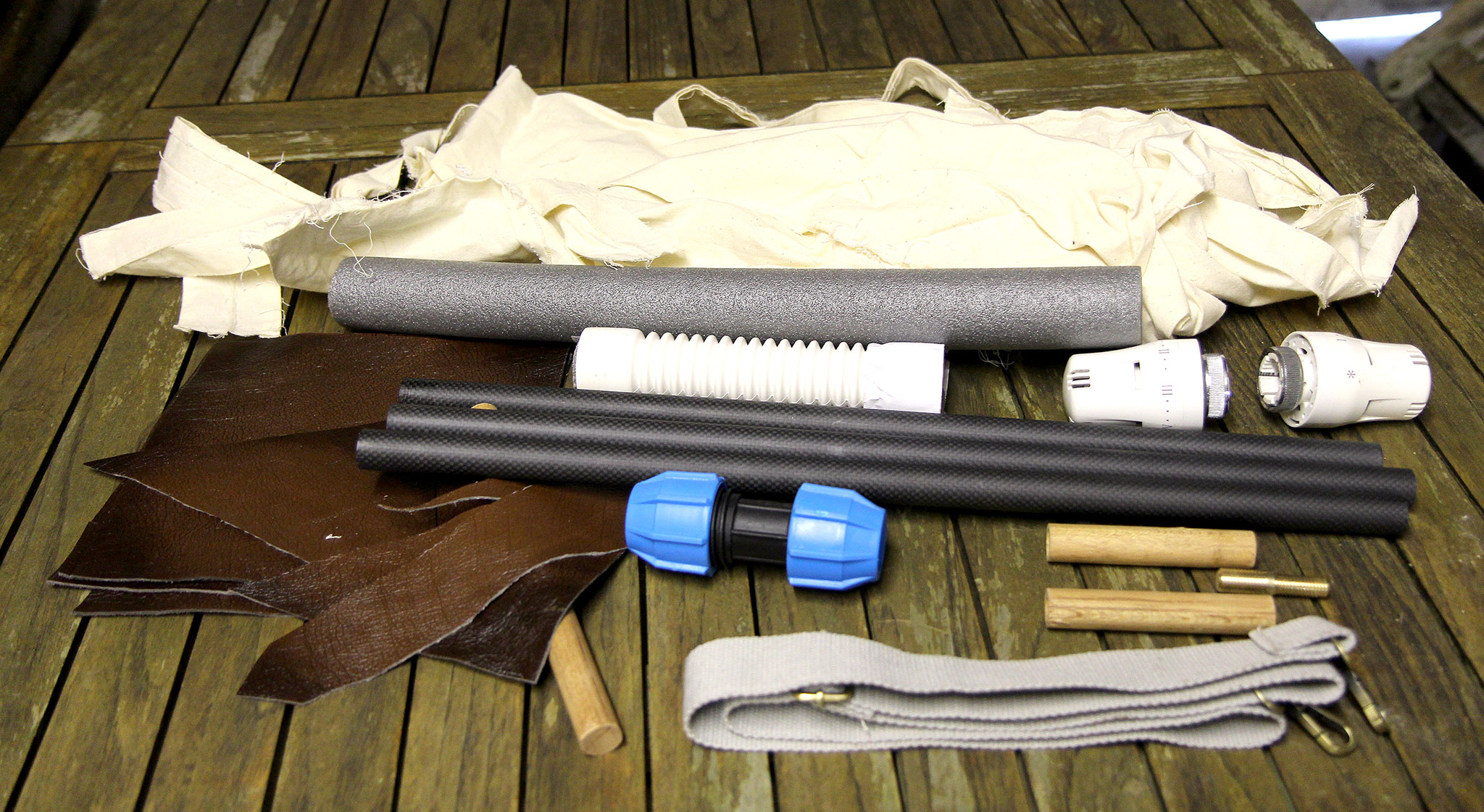 The Rey staffs I had seen were nice but in the end I felt that I didn't want to follow someone elses method and could do it in my own unique way. So the principals I set myself were to use as much stuff from around the house as possible, as I have collected a lot of useful rubbish over the years, but also make the staff portable.
The reason for the portable requirement was that carrying a 5 to 6 foot staff made out of junk on trains or through crowded streets when travelling to a convention could be a little awkward, so the more compact I could make it the better.
The picture above shows my initial haul of stuff, the only thing not recycled is the staff itself, and before you say there is no 6ft staff in the picture, I can assure you it is there.
The staff is the one thing I did purchase, after some research into plastic and metal plumbing pipes, as well as wood dowels, in order to keep it light but strong I decided upon carbon fibre.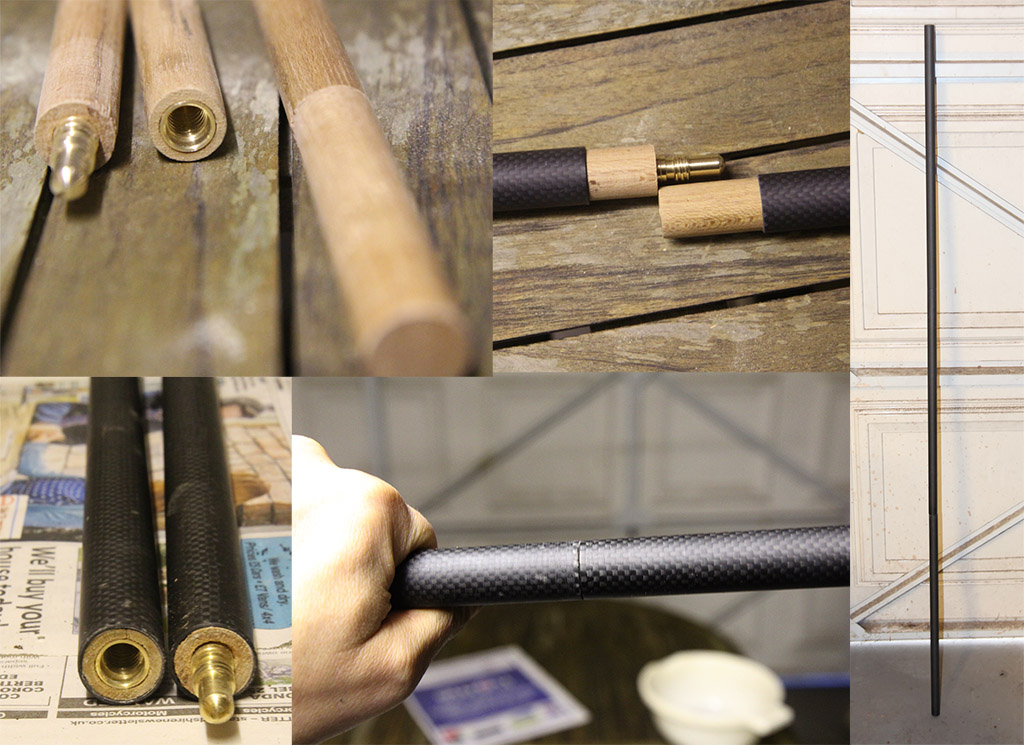 I ordered some from a company in Hong Kong via eBay at a very reasonable price and it was delivered very quickly. The next issue was joining the tubes to make one big staff that can easily be assembled and disassembled when required.
The solution was fairly simple, use some snooker / pool cue fittings that are used to extend the length of the cue. I also ordered some wooden dowells to fit inside the carbon tube, and my Brother in law kindly provided some much needed assistance to drill the holes in the end of the dowells.

As you can see on the right of the picture above I had a staff that is approximately 150cm tall as each carbon fibre tube was 50cm in length. I knew I was going to add something to the ends so the length would be between 150 and 200 cm.
Here you can see the staff with a couple of the junk items I had available just loosly fitted. I chose a diameter of 20mm for the tube as I knew I had some 22mm plumbing parts and these have an internal diameter of 20mm which fit very nicely onto the tube.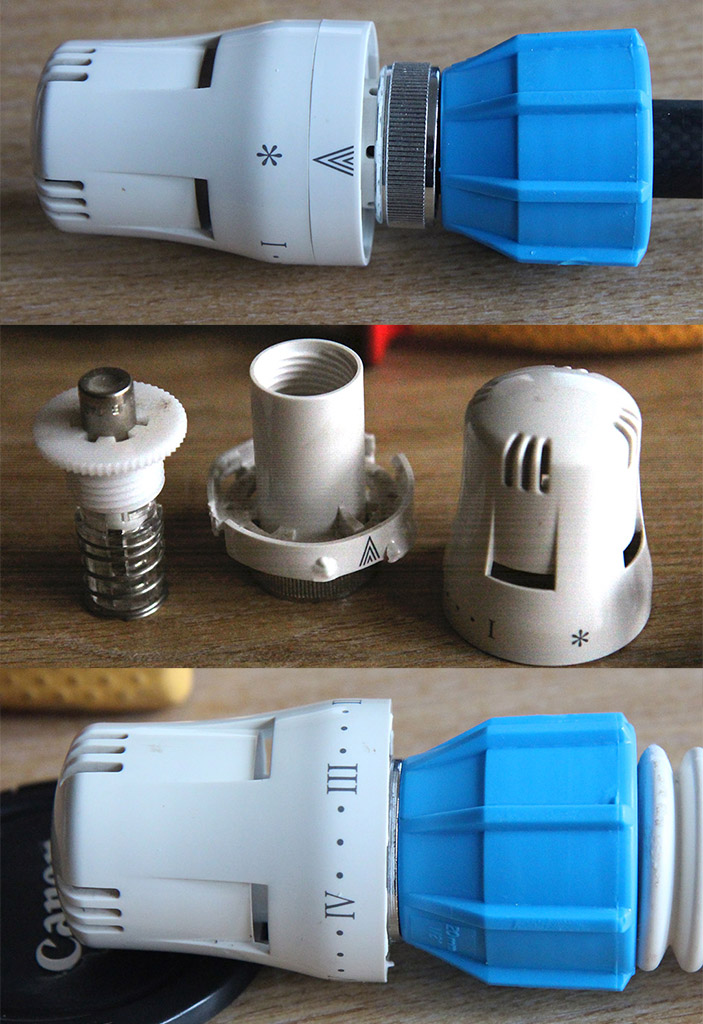 The two things you can see fitted are a radiator valve and a simple plastic plumbing pipe connector. If you look in the initial junk picture above you can see it in one piece, I just sawed the ends off and it fits like a glove because of the rubber O ring in it that keeps it in place.
The radiator values at either end have been in the house for about 5 years when we had our heating re-plumbed. If you wander around our house you will see them on the radiators. I wanted three of these to try and match the look of the staff in the film, but more on the third later.
As you can see at the top of the photograph the metal collar and plastic shaft stick out a bit when it is in its unaltered state. This didn't look right so I knew it would have to be altered. I took it apart and you can see the contents, I cut off the collar at the bottom and reglued the shaft back inside and it looked about right. I later took of the metal ring altogether as it really wasn't needed.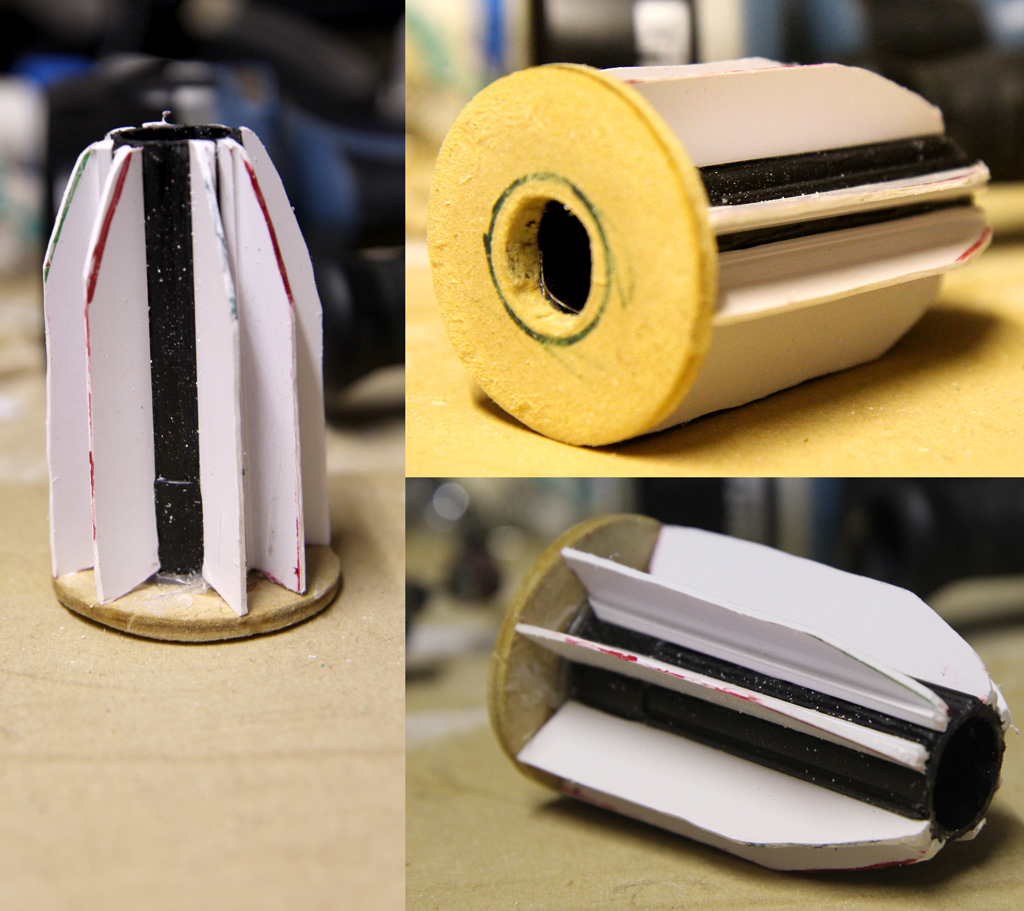 Next I needed to tackle an item I had no clue about what it was, it is possibly an impellar from some sort of Imperial / First Order pump, but in reallity I was stuck. The only option I had was to create one. I used a piece of plastic tubing from an old fish pond fountain as the core, cut a disc of scrap wood for the base and cut some blades / fins from some scrap plastic trunking, shaving down the ends to approximate the part seen on Rey's staff.
The end result, when painted a uniform colour, is something I am very pleased with.

Next I wanted to look for some of what appears to be ridged grip in quite a few places along the length of the staff.
I knew I had some electical trunking that would do the job, but I didn't want to use that for every part so I started looking around. I found a couple of tile scrapers that were purchased many years ago and hardly used in a bathroom renovation. The handles looked about the right size and indeed they fitted almost perfectly, I say almost as they are a very tight fit, and I don't think I'll be able to get them off now they are properly in place. I moved the from where they are in the picture, which took a lot of effort, as they were better suited in another position.

I then went back to look for the electrical trunking for the rest of the grips and while I was hunting it out I serendipitously found a third spare radiator valve ! Fantastic news as it saved me having to try and find something else that fitted. I simply drilled a hole in the top and fitted a wooden disc at the base to make it a simple thing to slide onto the staff.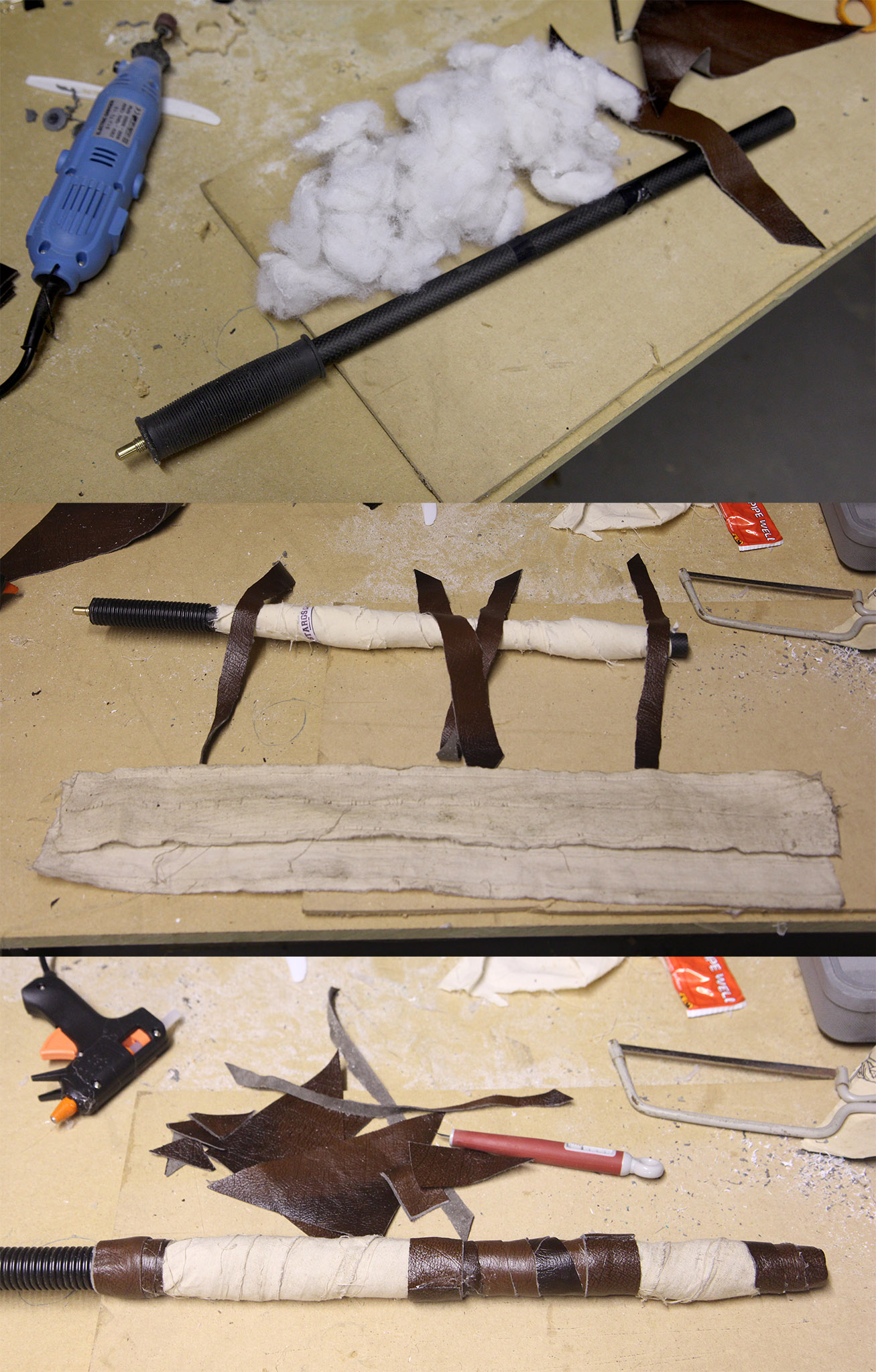 As you can see in the picture above this is a third of the staff with all the components dry fitted. The large white ridged section is an old waste pipe that was cut down to fit in the space, it isn't as close to the section on the screen prop as I'd like, but it was the best thing I could find. Also shown is the cog like item that is on the staff, again I had nothing that would match it so I created my own version, just cut a disc out of some scrap wood and cut some rough teeth into it.
The next think to tackle was the middle section and the fabric and leather handle. I had some off cuts of leather, the fabric is an old cotton shopping bag and I used a little stuffing from a cat bed to pad out the fabric sections for more comfort.
I hot glued the stuffing lightly in place, wrapped one layer of fabric over it and then a top layer that had been aged (rubbed in mud, washed in pond water and air dried), followed by the leather strips.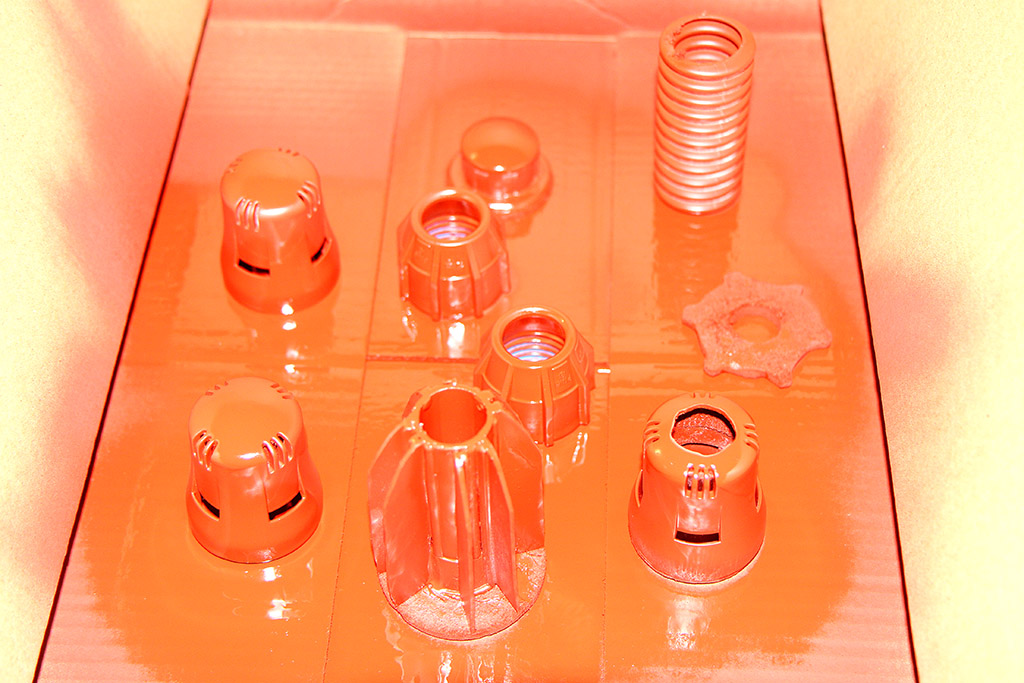 Then it was time to start painting, all the removable components got a couple of coats of red primer as you can see.
I did contemplate painting the whole thing, apart from the fabric and leather, but in the end decided to leave the staff and conduit pieces as they were to keep it looking as though they are all separate junk items, which they actually are !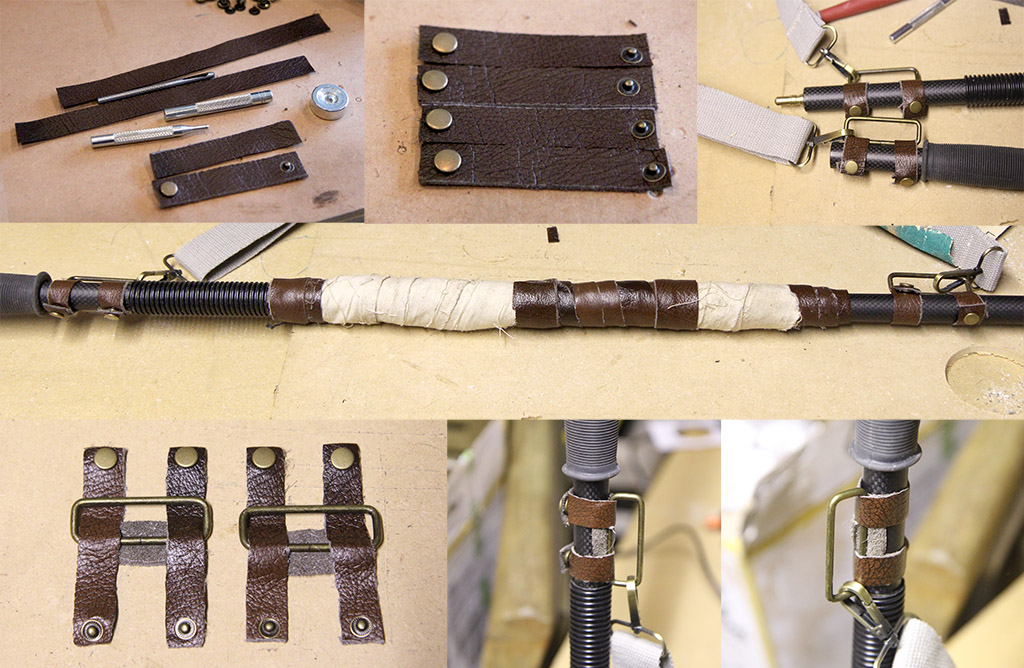 While the paint was drying the next job was to create the fastenings for the carrying strap. As I already had some leather that seemed the logical choice to use, all it would take was creating the right sized strips, adding some press stud fastenings and trying it out.
The metal loops you can see were just something that was in an old drawer of bits it seemed to be about the right size and I think it looks good.
A small alteration to the original plan was to glue another strip of leather between the two used on each end of the strap to keep the metal ring and straps together if I remove it when there is a Jakku / First Order battle to fight at Celebration :-) I have seen pictures with the strap removed so apart from being practical it is also more realistic.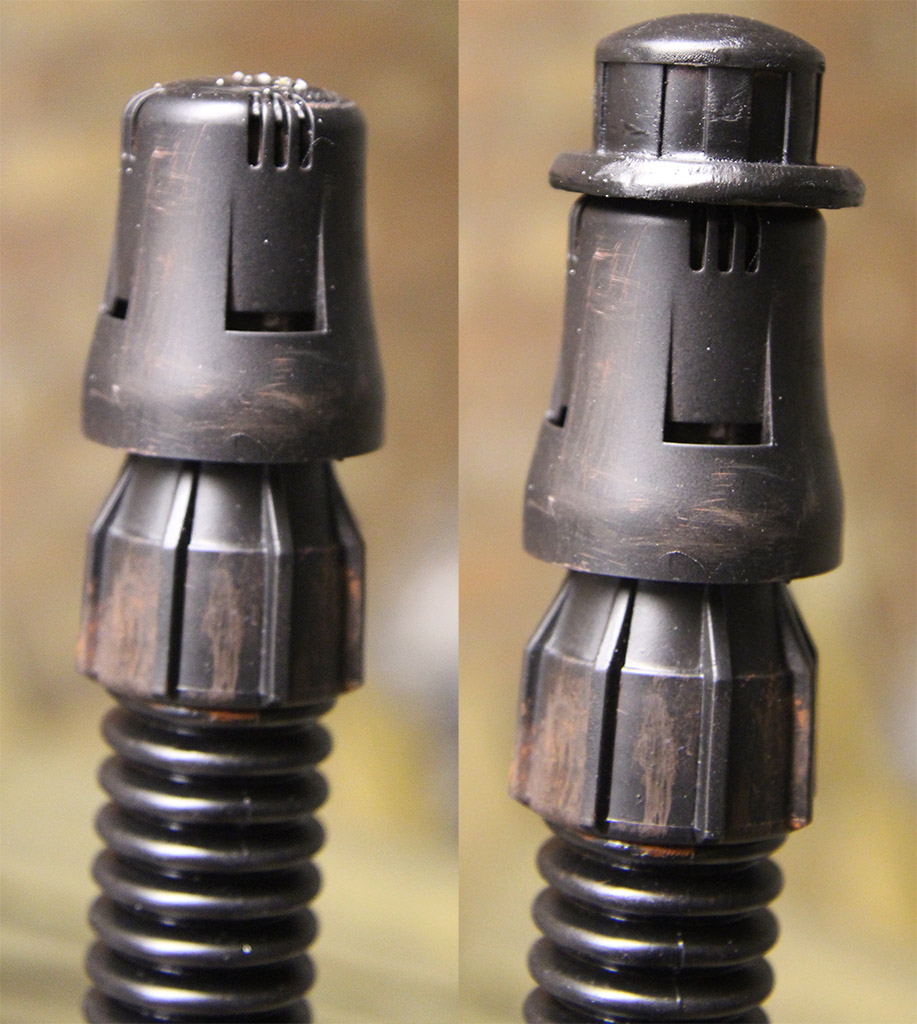 This next picture shows the painted items, with a little distressing, fitted to the end of the staff. If you look at the screen version there is an extra little section at the end, I created a version out of some scrap plastic discs and a radiator end cap.
Not sure if I like it at the moment, so I may not fit it, or I may have another go at creating it.
Here is a picture of the staff in its disassembled state, ready for transport.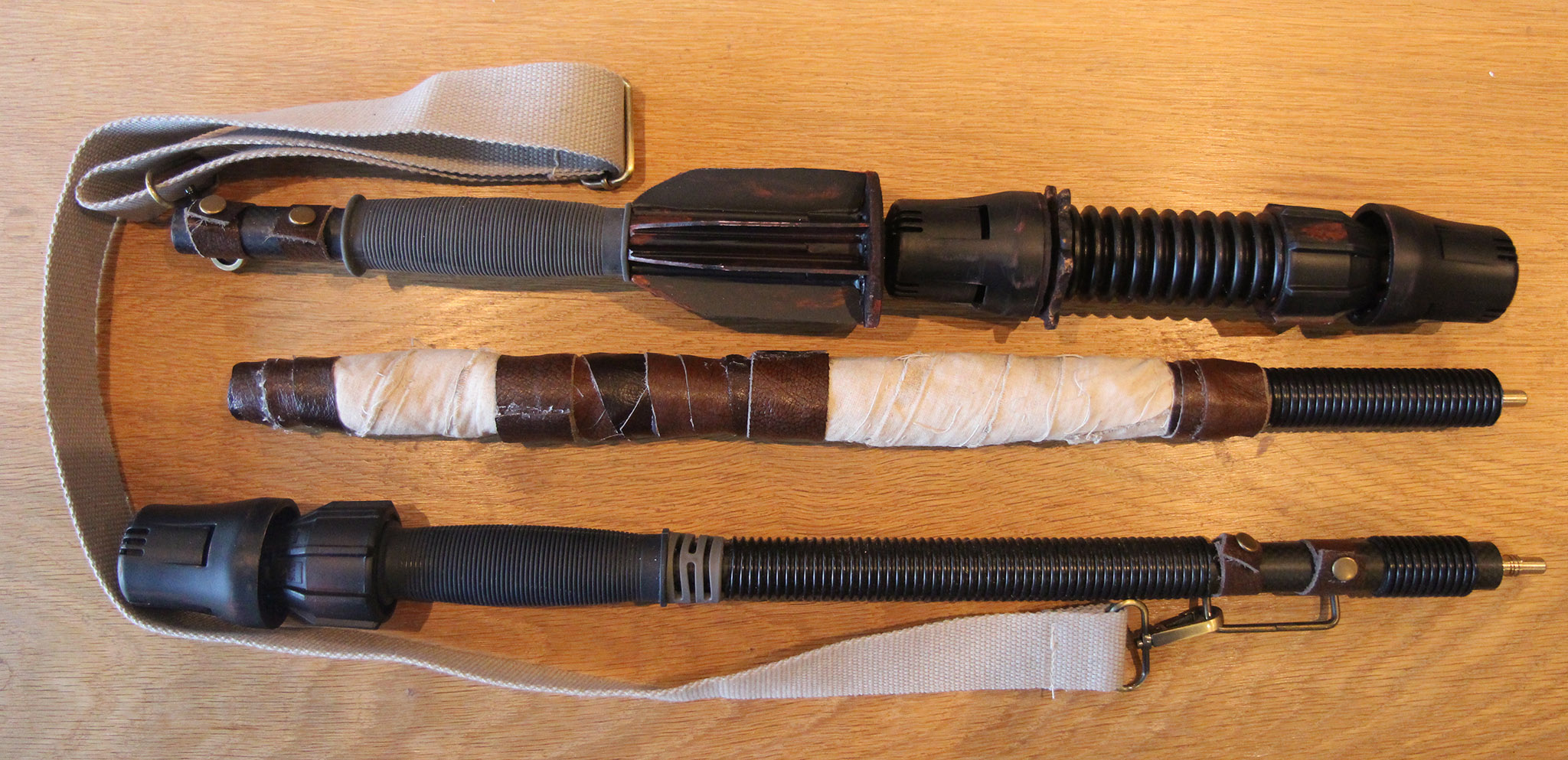 Finally a couple of pictures of me holding the staff in various action poses, ready for scavenging duties on Jakku !
I took the staff to a local comic con a couple of days ago to see what issues there might be in carrying around and it was surprisingly easy. When I arrived I started assembling it and a little boys voice made its way to my ears "Dad, dad that's Rey's Staff" that sort of made it all worthwhile and I knew what I had created wasn't simply a pile of assembled junk !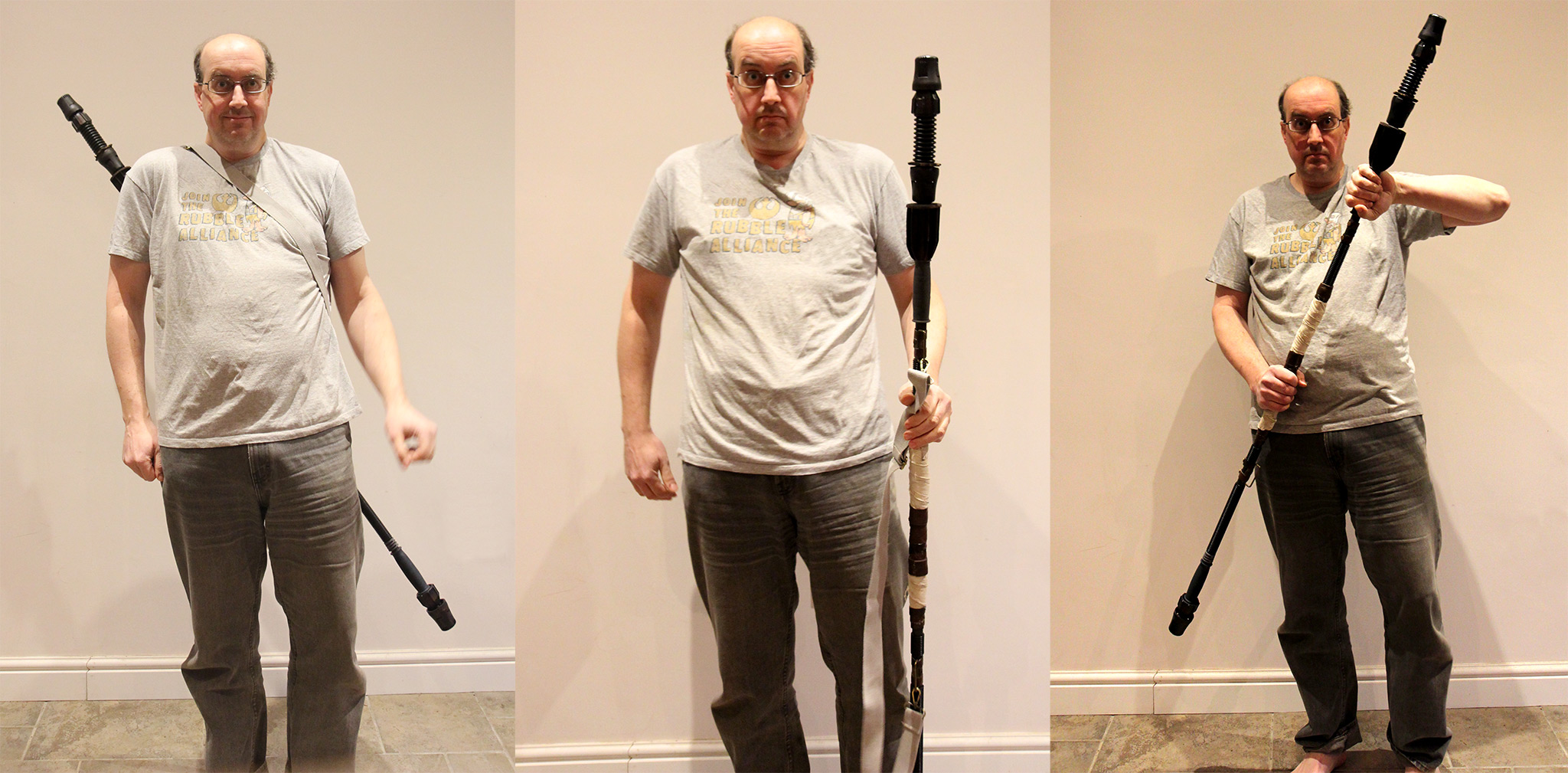 Brain Ball Mk-VIII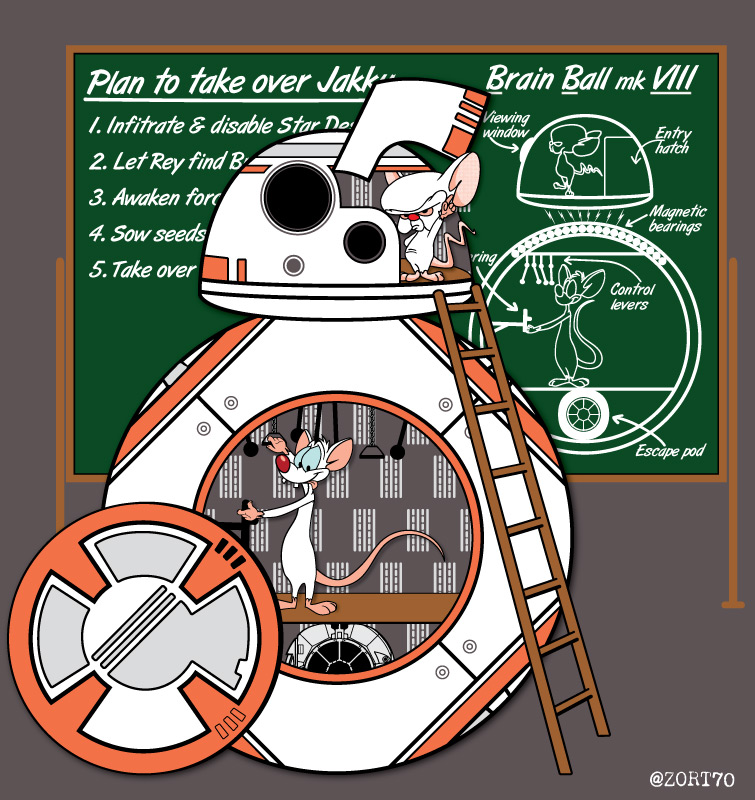 Spoiler Alert !

Ok so this scene may not make it into the final cut of the new Star Wars film, but I bet you now won't be able to watch The force Awakens without thinking about this :-)

Pinky : What are we going to do tonight Brain ?

Brain : The same thing we do every night Pinky, try to take over a Galaxy far far away.

My favourite mice staring in my favourite movie series.

I have had lots of requests for this, so it is now available on Redbubble
Time Of The Doctor at TeeBusters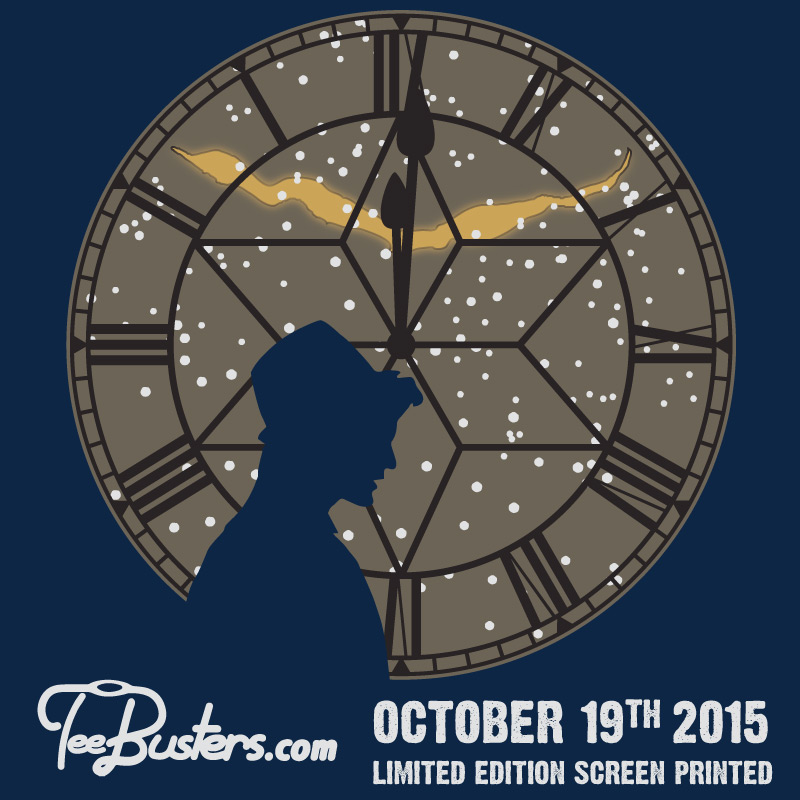 The good folk at Teebusters.com, the limited edition, screen printed, t-shirt website, have chosen my Doctor Who "Time Of The Doctor" design to go on sale, starting on Monday the 19th of October.

It will be available for just 48 hours on a high quality screen printed t-shirt and hoodie at the incredibly cheap price of just £7.50.

I am also giving away a poster version of the design to someone who purchases the t-shirt, simply tweet a picture of it to me (@ZORT70) or post it on my Facebook page and I will draw a random winner.
Librarian Window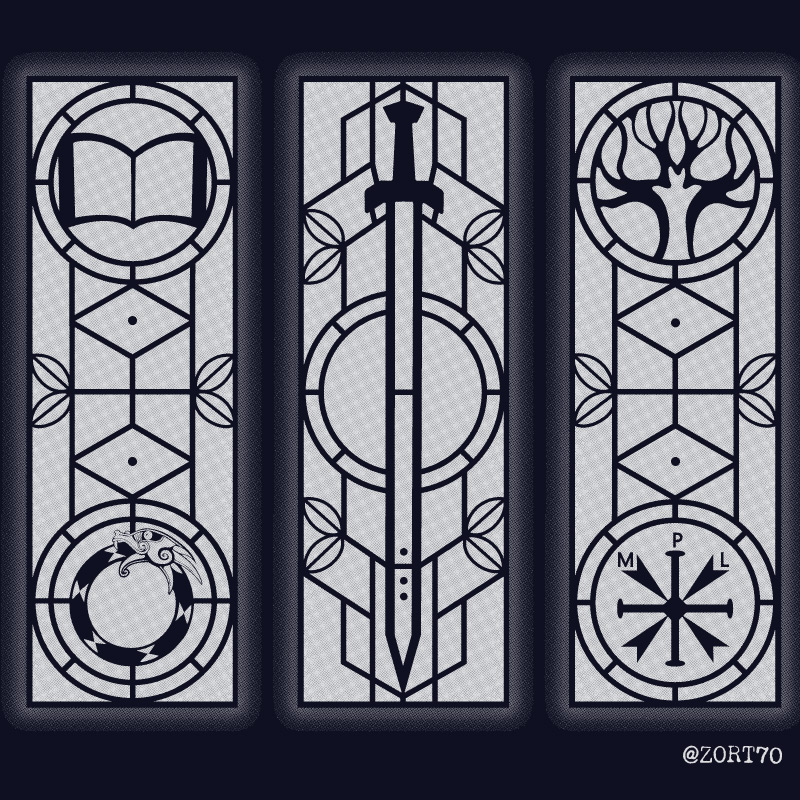 Would you like to work in a Library ?

I was always a fan of the funny little Librarian movies, they had a sort of rustic charm, an action adventure series that managed to rise above its limited budget. Plus it had Noah Wyle in it which was always going to be a good move.

When a TV series based on the stories was announced I was as usual sceptical, but again the TV show is rising above its humble beginnings, it sort of fills a gap that Warehouse 13 and Eureka left when they ended.

It actually took me six months to finish this ! Not six months drawing it, but to get it ready for Redbubble and actually adding it.

Hopefully it was worth the wait, and if you are a true Librarian you will be able to decode its meaning.

I have put it up onto Redbubble if you want to go take a look.